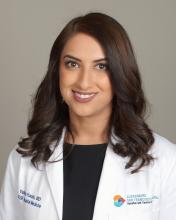 Assistant Professor at UCSF, Founder and Director of the Refugee and Asylum seeker Health Initiative at UCSF
2018 International Research Conference at UC Davis Speakers
2018-19
United States
Bio
Fatima Karakiis an assistant professor at the University of California, San Francisco, Division of Hospital Medicine. She is board certified in internal medicine and cares for adult inpatients on the hospital medicine service and resident inpatient service at Zuckerberg San Francisco General Hospital.
Her academic and clinical interest is in refugee and asylum seeker health, with a focus on the Syrian refugee crisis in the Middle East. Her scope of work includes needs assessment, non-communicable disease burden, barriers to accessing care, and health disparities research. 
Karaki is the founder and director of the Refugee and Asylum seeker Health Initiative (RAHI) at UCSF, which aims to foster academic activity, research, education and community awareness in refugee health. Additionally, she is a founding member of the North American Society of Refugee Healthcare Providers. She is a member of the UCSF Global Health Sciences Faculty Affiliation Program and the Global Health Core.  

Karaki collaborates with experts at Zuckerberg San Francisco General Hospital and University of California, Berkeley, to advance refugee health research and education in the academic field. She has provided emergency medical relief to patients in refugee camps and slums throughout Europe, the Middle East and India. She has volunteered and performed research in Beirut, Lebanon; Lesvos, Greece; and along the Balkan route in Europe, in the context of the Syrian refugee crisis. She also has worked and done research in Bangladesh in the context of the Rohingya refugee crisis. Karaki is a leader in the refugee awareness movement in the Bay Area.

Karaki is passionate about clinical teaching, diversity in medicine and physician well-being. She is enrolled in the Clinical Teaching Certificate program at UCSF and is a member of the Residency Diversity Committee. She has taught social and behavioral sciences, foundations of patient care and serves as a clinical microsystems clerkship preceptor in the Bridges curriculum, in addition to teaching on inpatient wards. She also is developing curriculum on Middle Eastern refugee health for graduate students and residents in collaboration with UC Berkeley. Her work includes developing novel programs to increase physician well-being and caregiver support at UCSF, and she serves as a Schwartz rounds steering committee member at ZSFG.
Karaki completed her bachelor's degree in biology at the American University of Beirut and her M.D. at University of Michigan; completed internship and residency in internal medicine at Washington University in St. Louis.
Program Type
Year
Country