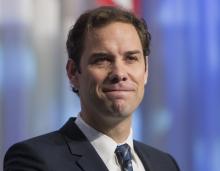 Bio
John W. McArthur is a senior fellow in the Global Economy and Development program at the Brookings Institution. He is also a senior adviser to the United Nations Foundation and a board governor for the International Development Research Centre.
His previous roles include the chief executive officer of Millennium Promise, a senior fellow with the Hong Kong-based Fung Global Institute, a faculty member at Columbia University's School of International and Public Affairs, and policy director at the University's Earth Institute.
McArthur also has served as deputy director of the United Nations Millennium Project and was a research fellow at the Center for International Development at Harvard University, where he supported the World Health Organization's Commission on Macroeconomics and Health and co-authored the Global Competitiveness Report.
He co-chaired the International Commission on Education for Sustainable Development Practice and founded the global network of Masters in Development Practice programs that has since been launched across five continents.  Additionally, he chaired the World Economic Forum's Global Agenda Council on Poverty and Sustainable Development, serves as a member of the Forum's Advisory Board on Sustainability and Competitiveness, and was recognized as a Young Global Leader in 2009. He currently serves as a member of the Global Futures Council on International Governance and Public-Private Partnerships.
A native of Canada, McArthur's work has been published in a variety of academic journals including the Brookings Papers on Economic Activity and Journal of Development Economics, and his writing for more general audiences has appeared in venues such as Foreign Affairs and The Chronicle of Higher Education. His work and perspectives have been cited across many media outlets, including The Economist, BBC, CNN, CBC,  USA Today, U.S. News & World Report,  Bloomberg, Reuters, Al-Jazeera and the Washington Post.
McArthur received his bachelor's degree from the University of British Columbia, his master's degree from Harvard University and his doctoral degree from Oxford University, which he attended as a Rhodes Scholar.
Senior Fellow in the Global Economy and Development program at the Brookings Institution; Senior Adviser to the U.N. Foundation
Program Type
Year
Country