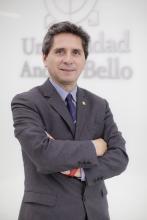 Vice Chancellor, Life Sciences School, Universidad Andrés Bello
2018 International Research Conference at UC Davis Speakers
2018-19
Chile
Bio
Ariel Orellana is the vicerrector de investigación y doctorado at Universidad Andrés Bello.
He started his career at the department of biology at the Universidad de Chile, Santiago. He spent 10 years there before moving to Universidad Andrés Bello where he founded the Center for Plant Biotechnology. In 2011, he was appointed by the President of the Chile to become a member of the Higher Council for Science, becoming its president during 2013. He served in this position until 2014.
Orellana´s research has led to more than 75 articles published in peer review journals including prestigious journals such as Science, Nature Genetics and the Proceedings of the National Academy of Science. He has been invited as speaker at different conferences and meetings including the Gordon Research Conferences. In addition, he has been invited to give seminars in a number of institutions worldwide including University of Cambridge, University of California, Boston University and Max Planck Institute among others. His work has been cited 3025 times and his H-Index is 31. 
He has taught cell biology for undergrads and Ph.D. students and trained more than 50 undergraduate students. He has also mentored 13 Ph.D. students and 12 postdoctoral fellows. He has served in different committees at national level (accreditation of doctoral programs, Fondecyt grants study section and doctoral degree scholarship, among others). He also served as advisor for the Ministry of Economy in Chile and the Chilean Senate on the DNA Registry Law. 
Orellana has received a number of awards and honors during his career: Outstanding Young Scientist award by the Chilean Society of Biology (1996); President of the Chilean Society for Cell Biology (2001-2002); member of the Frontiers in Science Program by the Chilean Academy of Sciences (2004-2007). 
Orellana obtained his Ph.D. in biological sciences from P. Universidad Católica de Chile. Then, he spent three years as a postdoctoral fellow in biochemistry and molecular biology at the University of Massachussetts Medical Center, supported by fellowships from The PEW Charitable Trusts and the National of Institutes of Health.
Program Type
Year
Country