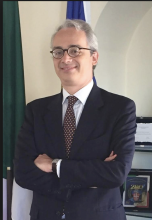 Bio
Lorenzo Ortona is consul general of Italy in San Francisco.
After graduating from the Universita' La Sapienza di Roma with a law degree, Ortona began his diplomatic career in 2002 with his first assignment at the office dealing with Organization for Security and Co-operation in Europe (OSCE) issues and then with the Russia and former USSR countries desk at the Italian Ministry of Foreign Affairs.
From 2003 to 2004, he was the deputy chief of staff for the undersecretary of state at the Foreign Affairs Ministry, responsible for Europe and the Balkan States. From 2004 to 2006, he served as part of the crisis unit of the Ministry of Foreign Affairs.
From 2006 to 2010, he was assigned to serve in the Permanent Representation of Italy to the European Union in Brussels, dealing specifically with foreign and security policy of the EU in the Political and Security Committee (PSC).
In 2010 he was assigned to the Italian Embassy in Israel as the head of the economic, scientific and commercial office.
From December 2013 through 2016 he worked as the chief of staff of the directorate general of the European Union at the Ministry of Foreign Affairs and International Cooperation.
In Sept. 2016, Ortona has assumed his role as Consul General of Italy in San Francisco.
Consul General of Italy in San Francisco
Program Type
Year
Country