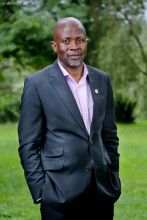 Executive Director, African Academy of Sciences
2018 International Research Conference at UC Davis Speakers
2018-19
Botswana
Bio
Nelson Torto is the executive director of the African Academy of Sciences (AAS)—a pan African organization headquartered in Kenya that aims to drive sustainable development in Africa through science technology and innovation.
Prior to joining the AAS, Torto was the founding chief executive officer of the Botswana Institute for Technology Research and Innovation, a national research institution.
His other appointments include full professor in analytical chemistry and head of the chemistry department at Rhodes University, and associate professor at the University of Botswana where he undertook several responsibilities, including coordinator of analytical chemistry and founding director of the Centre for Scientific Research Indigenous Knowledge and Innovation, which is credited with the establishment of the indigenous knowledge policy for Botswana.
Torto has published over 130 papers which have been cited more than 2000 times, and he has an H-index of 25. He has helped 19 Ph.D. students and several master's degree students graduate, and has successfully applied for research patents in material chemistry.
He is a recipient of several international awards including the American Chemical Society's Young Investigators in Separation Science Award, the Award for Collaboration in Analytical Chemistry from the Nigerian Chemical Society, and Osuni Chapter.
An internationally recognized speaker, Torto has also served in various capacities in pan African and international networks and organizations, including as Founding Secretary General for the African Network of Analytical Chemists. He is currently a panel member of the Research Council U.K. and an editorial board member for the international journal Chromatographia. He is a fellow of the following science academies: the Botswana Academy of Sciences, the African Academy of Sciences and the Royal Society of Chemistry.
He received his bachelor's degree in Chemistry (honours) from University of Manchester Institute of Science and Technology, a master's degree from the University of Botswana and a doctoral degree in analytical chemistry from Lund University in Sweden.
Program Type
Year
Country