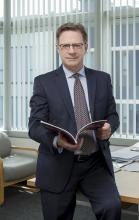 Secretary General, Association of Pacific Rim Universities (APRU)
2018 International Research Conference at UC Davis Speakers
2018-19
Hong Kong
Bio
Christopher Tremewan is the secretary general of the Association of Pacific Rim Universities (APRU). He is APRU's fourth secretary general and has held the role since June 2011. During his tenure, Tremewan has led a consensus-building process to re-focus the organization by implementing a new strategic framework that delivers increasing value to its members.
A specialist on social regulation in Southeast Asia, Tremewan's research has recently focused on internationalization and diversity, national growth strategies and the politicization of ethnicity. He was recently a member of a European Union-funded collaborative research project on the globalization of higher education.
Before heading the APRU secretariat, he was the vice president and pro vice-chancellor international of the University of Auckland—New Zealand's leading research university. He also has held previous positions as a visiting professor at Peking University and a visiting fellow at Georgetown University. He was elected a senior associate member of St. Antony's College at Oxford University, where he published the book The Political Economy of Social Control in Singapore.
He is the founding director of the New Zealand Asia Institute—a role he served for four years. Previously, he held positions as a senior consultant, executive secretary and research director for international development organizations based in Hong Kong, Singapore and Tokyo.
Tremewan is a member of the international board of Regional Action on Climate Change and was previously a member of the Ministry of Education New Zealand and an advisory trustee of the Chinese Language Foundation. He was the founder of The Cambodia Trust. He has led reviews of university international strategies and operations as well as being a member of a U.S. accreditation panel. 
Tremewan holds bachelor's and master's degrees in social anthropology from the University of Auckland, a doctoral degree in political science from the University of Canterbury, and a master's degree in public administration from Harvard University.
Program Type
Year
Country