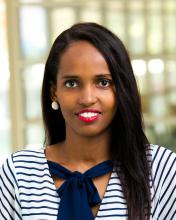 Mandela Washington Fellowship
2018-19
Djibouti
dagan.y.awaleh@gmail.com
Bio
Dagan Yahya Awaleh has three years of experience in the energy field. She is currently working in the energy department of Djibouti telecom as an energy engineer where she takes part in various projects related to renewable energies and energy in the telecommunication sector.
Dagan is also working on the organization of the energy department with the senior engineer by using Computerized Maintenance Management System (CMMS). Her work covers the following areas: renewable energy, energy efficiency, energy management and maintenance management system.
Dagan holds a master's degree in renewable energy with special focus on solar energy. Upon completion of the Mandela Washington Fellowship, Dagan will continue her work focusing on promoting sustainable development through the use of renewable energy and improving energy efficiency, as well as raising awareness and educating people about energy issues.
Program Type
Year
Country