Global Aggies: MBA Change-Maker Competes in U21 Innovation Challenge
UC Davis MBA Student Daniel 

Student Takes 

on 

Global 

U21 

Challenge
Daniel Student, a Full-Time MBA student at the Graduate School of Management (GSM), recently represented UC Davis in the Universitas 21/PwC Innovation Challenge, an international distance learning competition. Ultimately, he was selected as one of two runner-up winners among contestants from 10 universities across three continents. As a runner-up winner, he'll benefit from PwC Academy faculty coaching sessions tailored to his career focus: social entrepreneurship and impact investing.
The experience is one of many now available through UC Davis' membership in Universitas 21 (U21), a global research network of campuses committed to multinational collaboration. With UC Davis as one of only three universities in the United States and six in North America among U21's 27 members, Aggies can take advantage of student competitions and research collaborations the world over.
"I am surprised and humbled to have been chosen as a winner for this challenge," says Student. "One of my goals while earning my MBA is to learn to lead and facilitate intercultural teams to have a global impact. So when I heard about the topic I would be tackling in this challenge, it felt too good to be true."
For the U21/PwC competition, participants produced a short video on the idea of working in a world where "Corporate" is king.
"Preparing for my video presentation allowed me to take a deep dive into exploring the future of our world through the lens of a 'corporatocracy,'" Student says. 
Along the way, he uncovered fascinating insights, projections and perspectives on how a global economic system works.
This includes the findings that people are increasingly placing greater trust in corporate leaders, and that they see the impact potential of a more mobile, globally connected world—findings that will also impact the work of the graduate chapter of UC Davis Net Impact, of which Student is president. 
"UC Davis students like Daniel are doing groundbreaking work, and I am proud to see their accomplishments being recognized around the world," says Joanna Regulska, vice provost and associate chancellor of Global Affairs. "U21 provides tremendous opportunities for our students to participate in competitions, in addition to opportunities through funding programs, joint partnerships and global learning experiences."
"Given how interconnected our world is, it's more important than ever for our students, faculty and staff to be engaging on a global level," she says.
Scaling Global Engagement 
Student is quick to recognize the U21/PwC challenge as an opportunity that pushed his thinking beyond more typical or mainstream solutions currently being practiced in the U.S., which resulted in the envisioned outcome of a more sustainable, educated world.
"As the world becomes more global, it's really vital to stop seeing each other through the lens of 'other' and recognize the learning opportunities that come from interacting with people who aren't from here," he says. 
"I chose the GSM purposely because of this. It's a place to really take advantage of the opportunity to learn how to collaborate, which in business has always been the answer."
And there's no better way to act as this bridge, he affirms, than by getting out of your comfort zone—in your country—and beginning to develop interpersonal skills that connect across cultural and national boundaries.
"I have been invited to have hot pot dinners with our Chinese students a few times this year," he says. "They mostly speak in Mandarin. And that's a great learning opportunity for me—not just the challenge of being different, but also recognizing some of our similarities."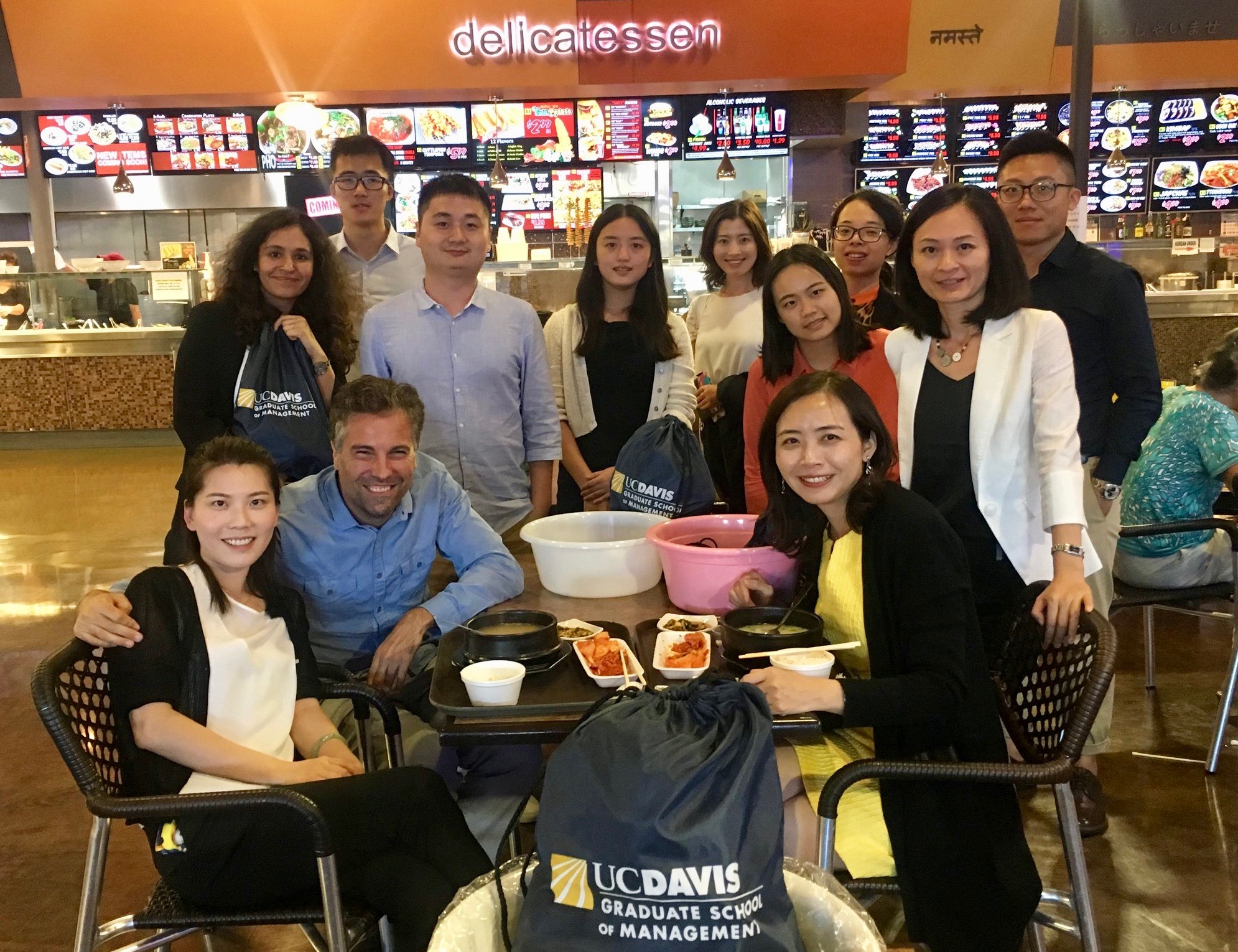 At the end of the day, the work he's undertaking is all about scale and impact. Going forward, Student hopes to bridge his MBA skills and knowledge with the community engagement model he previously honed during his tenure leading arts development initiatives and theatre organizations (he's directed over 30 plays) in order to serve the most people—and have the most impact at UC Davis. 
"By utilizing curiosity, empathy and innovation to build new processes and products, I have a chance to really engage in a more creative, long-term thinking process following business school," Student says. 
---
This is part of a series featuring Global Aggies – members of the UC Davis community who are living the Global Affairs mission: to inspire global curiosity, understanding, and engagement. Learn more about Global Aggies at UC Davis. 
---
Getting Involved in U21 Opportunities
U21 enables UC Davis students, faculty and staff to develop new international working relationships, participate in educational and research initiatives, and share best practices, resources and data. The network offers opportunities for international study and internships, research workshops and funding at the graduate and postgraduate levels. UC Davis has formal agreements of cooperation with U21 member-universities in Australia, Chile, China, Ireland, Japan and New Zealand.
For additional information, visit the U21 website or contact Jennie Konsella-Norene, assistant director of global professional programs in Global Affairs, at jknorene@ucdavis.edu.
---
About Global Affairs at UC Davis
Global Affairs brings the world to UC Davis, welcoming more than 10,000 international students, scholars and leaders, and hosting programs that inspire global curiosity, understanding and engagement. Compelled by the valuable outcomes of thinking globally, we make transformative opportunities a reality by supporting the thousands of students and faculty studying and researching internationally—and by facilitating collaborations that tackle the world's most pressing problems through more than 150 international partnerships.
Putting our vision of a UC Davis community that engages, thrives, and leads in this interconnected world into action, Global Affairs is now in pursuit of an ambitious goal: Global Education for All.
Primary Category
Tags