Graduate Studies Announces 2021 UC Davis Grad Slam Finalists
Graduate Studies is thrilled to announce the top ten finalists for the 2021 Grad Slam competition at the University of California, Davis.  At UC Grad Slam, master's and doctoral students across UC campuses are challenged to share their research story, concisely and compellingly, in three minutes or less. 
This year's competition was unique in it was completely virtual. Over 25 master's and doctoral students submitted videos about their research. Volunteer faculty and staff judges reviewed and scored the videos based on the participants presentation skills.  The top ten scores were selected and will move forward to the campus final round on April 8. 
These top 10 finalists will present their research to a new panel of external judges and an external audience for a chance to win $2,500! The champion of the UC Davis Grad Slam competition will go on to compete with winners from other campuses at the UC Grad Slam annual competition held in May.
Congratulations to the following UC Davis Grad Slam Final Round participants:
Veneese Brown, Ph.D. Candidate in Integrative Pathobiology
School of Veterinary Medicine
"Can What You Eat Protect Your Lungs From Air Pollution?"
Lindsay Cameron, Ph.D. Candidate in Neuroscience
College of Biological Sciences
"Rethinking Psychedelics"
Spencer Dahl, Ph.D. Candidate in Chemical Engineering
College of Engineering
"The Battery Roadblock to Our Electric Vehicle Future"
Paul Kasemsap, Ph.D. Candidate in Horticulture and Agronomy*
College of Agricultural and Environmental Sciences
"Mission N Possible: Let there be (nutritious) bread"
Global Education for All Recipient: "Paul Kasemsap not only engages a critical global challenge—United Nations Sustainable Development Goal 2: Zero Hunger—but also reminds us of the human side of food and why research on sustainable practices is critical. "
Chelsea Kelland, Ph.D. Candidate in Immunology
School of Veterinary Medicine
"The Impact of Inflammation on Bone-Eaters in Arthritis"
Amelia Munson, Ph.D. Candidate in Animal Behavior
College of Biological Sciences
"Does What Doesn't Kill You Really Make You Stronger?"
Lizette Navarette, Ed.D. Candidate in Educational Leadership (CANDEL)*
School of Education
"Time To Begin Adulting"
Global Education for All Recipient: "Lizette Navarette helps us delve into a key global challenge—United Nations Sustainable Development Goal 4: Quality Education—exploring it from the perspective of the adult learner, engaging us to consider the power imbalances that exist in the university classroom and how to address them."
Abby Niesen, Ph.D. Student in Biomedical Engineering
College of Engineering
"A Knee'd For Individualized Care & Implant Longevity"
Alea Skwara, Ph.D. Candidate in Psychology*
College of Letters and Science
"Compassion is a skill that can be learned"
Global Education for All Recipient: "One of the key UC Davis Global Learning Outcomes concerns helping students explore global diversity and collaborate equitably across cultural and geographic boundaries.  Doing so requires cultural humility, which is built upon critical self-reflection to build empathy.  Alea Skwara presentation is unique in providing a deeper rationale for how such practices lead to fundamental change at the level of our brains."
Samantha Werth, Ph.D. in Animal Biology
College of Agriculture and Environmental Studies
"To Eat Meat or Not To Eat Meat: What's really at Steak?"
*Recipient of a "Global Education for All" Designation.

Additional Awards and Designations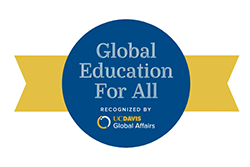 Global Education for All Designation
These three individuals have received the "Global Aggie" designation, with at least a majority of selection committee members having agreed that their projects: (1) help accomplish at least one of our global learning goals, and/or (2) clearly address at least one UN Sustainable Development Goal while grappling with the complexity of doing so. The "Global Education for All" prize recognizes a Grad Slam submission that illustrates how a graduate student embraces global learning. Global learning at UC Davis is a combination of local, regional, national, and international experiences through which the student develops key skills, knowledge, and networks that help them build global awareness, engage global diversity and pursue collaborative and equitable global action. A global education-oriented project might illustrate global awareness by confronting a global challenge as articulated by the UN Sustainable Development Goals--no matter where in the world that happens. It might illustrate engagement with global diversity by describing the navigation of cultural differences or power dynamics in research or community action. It might illustrate how to take global action by focusing on multi-disciplinary problem solving or by showing growth in personal reflection about how to most effectively bring about change. We look forward to reviewing outstanding presentations that illustrate one or more of these critical global learning goals. The finalists will have the opportunity to have their video showcased at the Global Learning Conference hosted by the Global Learning Hub in Global Affairs in April of this year.
Public Scholarship and Engagement Award
Public Scholarship and Engagement will also be awarding an additional prize of $500 at this year's April 8 UC Davis Grad Slam Final Round. Details about the Public Scholarship and Engagement prize will be released before the event.

Join Us for the Campus Final Round Virtual Competition
This year, the continuing COVID-19 pandemic has added a new video component to the already challenging public speaking event. The finalists will compete against each other at the UC Davis Final Round during National Graduate and Professional Student Appreciation Week. Cheer on the Grad Slam finalists virtually on Thursday, April 8, from 1:00 p.m. - 3:00 p.m. RSVP to reserve your spot!
The winner of the campus final round will have the opportunity to compete at the University of California-wide competition on May 7.  In 2019, UC Davis champion and Plant Biology Ph.D. candidate Katie Murphy went on to win the top University of California prize of $6,000.
For more information about UC Davis Grad Slam, visit the Grad Slam website or contact Kathryn Raley, Program and Events Manager for Graduate Studies, at knraley@ucdavis.edu.
See the original story at the UC Davis Graduate Studies website. 
Primary Category
Tags