UC Davis is a Top Producer of Fulbright Students in 2022-23
The U.S. Department of State's Bureau of Educational and Cultural Affairs named UC Davis a Fulbright Top Producing Institution for U.S. Students. This recognition is given to the U.S. colleges and universities that received the highest number of applicants selected for the 2022-23 Fulbright U.S. Student Program. Eleven UC Davis students were selected for Fulbright awards for the 2022-23 academic year.
It is an honor to be recognized as a top producing institution. The Fulbright Program provides critical cultural learning and exchange opportunities that inspire and promote mutual appreciation and understanding," said Joanna Regulska, Vice Provost and Dean of Global Affairs. "UC Davis students create lifelong connections that benefit them and their communities academically, professionally and personally."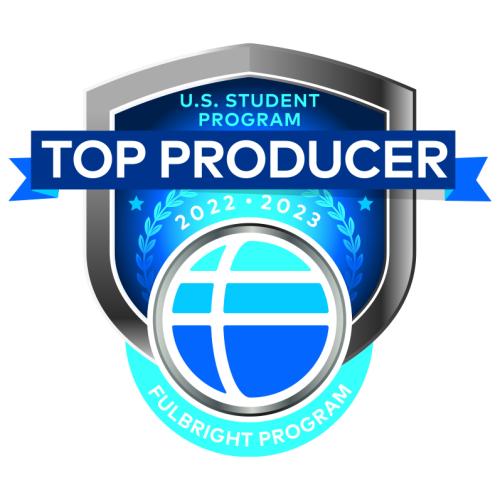 Fulbright is the U.S. government's flagship international educational exchange program. It is among the largest and most diverse exchange programs in the world. Since its inception in 1946, more than 400,000 participants from many backgrounds and fields have participated in the program. Fulbright alumni have returned to their home countries to make a lasting impact on their communities.
The Fulbright U.S. Student Program is a program of the U.S. Department of State, funded by an annual appropriation from the U.S. Congress to the Bureau of Educational and Cultural Affairs, and is supported in its implementation by the Institute of International Education.
The Fulbright U.S. Student Program competition is administered at UC Davis through the Undergraduate and Prestigious Scholarships office, with Global Affairs welcoming and supporting visiting Fulbright Scholars and Students who arrive on campus from across the world to teach and study.
The application for the 2024-25 Fulbright Student competition will open on March 30, 2023. UC Davis regularly hosts informational webinars, writing workshops and drop-in essay review sessions to help support students applying to the Fulbright program. Learn more about the Fulbright program.
2023-23 UC Davis Fulbright Finalists
Undergraduate Students
Teja Dusanapudi, United Kingdom
Hope Fisher, Colombia
Diana Garcia, Mexico
Brittaney Key, Iceland
Anna Kristina Moseidjord, Colombia
Andrew Ngo, Mexico
Michael Wheeler, Germany
Graduate Students
Aaron Anderson, Italy
Patrick Cunningham, Germany
Melissa Taha, Jordan
Christina Thomas, New Zealand
---
About UC Davis Global Affairs
Global Affairs brings the world to UC Davis, welcoming more than 10,000 international students, scholars and leaders, and hosting programs that inspire global curiosity, understanding and engagement. Compelled by the valuable outcomes of thinking globally, we make transformative opportunities a reality by supporting the thousands of students and faculty learning and researching globally—and by facilitating collaborations that tackle the world's most pressing challenges through more than 150 global partnerships.
Putting our vision of a UC Davis community that engages, thrives, and leads in this interconnected world into action, Global Affairs is in pursuit of an ambitious goal: Global Education for All.
Primary Category
Secondary Categories
Tags