UC Davis Welcomes 24 Leaders from Sub-Saharan Africa
Newest cohort of UC Davis Mandela Washington Fellows arrive for a six-week leadership in public management program
On June 19, the University of California, Davis, welcomed 24 leaders from 18 African countries for a Leadership in Public Management Institute as a part of the Mandela Washington Fellowship, the flagship program of the U.S. government's Young African Leaders Initiative. The UC Davis Mandela Fellows are in Davis June 19 through July 28 for an institute organized by UC Davis Global Affairs, focused on public finance and planning, public relations and transparency, community engagement, and policy evaluation.
Peter Hartsough, assistant project scientist in the Department of Land, Air and Water Resources, and Jennie Konsella-Norene, assistant director of global professional programs in Global Affairs, are leading the fellowship at UC Davis for the fourth year, as the academic director and administrative director respectively.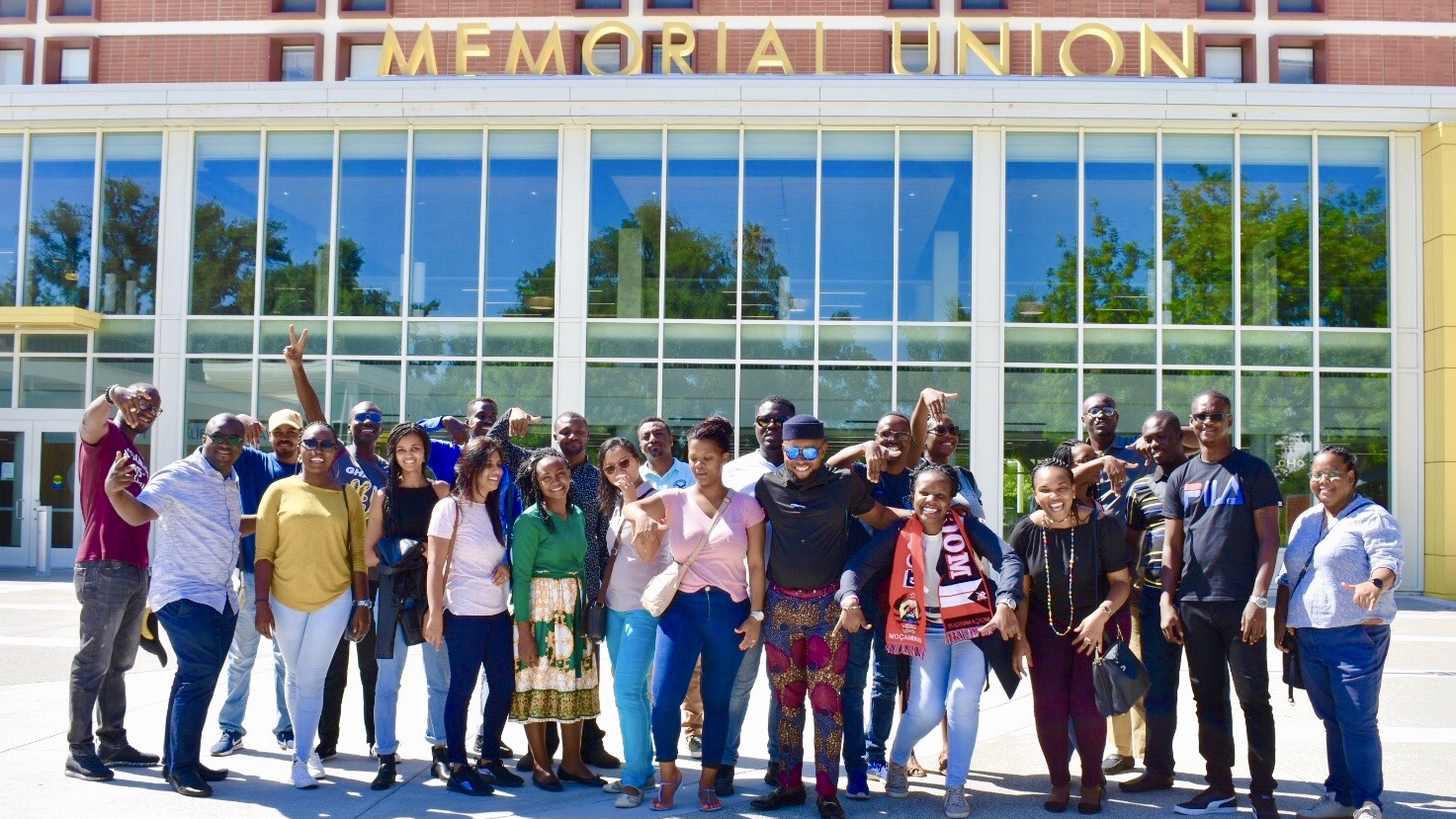 Among this year's fellows are engineers, scientists, and leaders in agriculture, water resources, occupational health and safety, governance, and public management.
Michael Asiamah-Bampoe, Ghana

O Theophilus Baah, Liberia

Kemo Bojang, The Gambia

Yuckmila Chooneea, Mauritius

Salem Sintavehu Gizie, Ethiopia

Ikechukwu Iwuala, Nigeria

John Steve Kabore, Burkina Faso

Larissa Kambani, Republic of Congo

Neo Dorothy Kgokong, South Africa

Wofa Kwarteng, Ghana

Abdulkarim Mayere, Nigeria

Lavinia Mbongo, Namibia

Mustafa Mohemmed, Sudan

Ruth Mumba, Malawi

Winfred Mutinda, Kenya

Saara Aune Niitenge, Namibia

Beryl Payet, Seychelles

Hasina Ratovonirina, Madagascar

Homangnefaih Richmond, Cote d'Ivoire

Keletso Seabo, Botswana

Cremilda Sitole, Mozambique

Girum Feleke Wolde, Ethiopia

Eric Yeboah, Ghana

Kemal Zeinu, Ethiopia
"We are thrilled to welcome this year's Mandela Fellows and celebrate our nearly 100 former and current fellows, each of whom bring such impressive experience, knowledge, and passion to our community, contributing to our mission of inspiring global curiosity, understanding, and engagement," said Joanna Regulska, vice provost and associate chancellor of Global Affairs.
"Having the unique opportunity to host this fellowship and being able to learn from each other always leads to meaningful intercultural and interdisciplinary exchange and collaboration."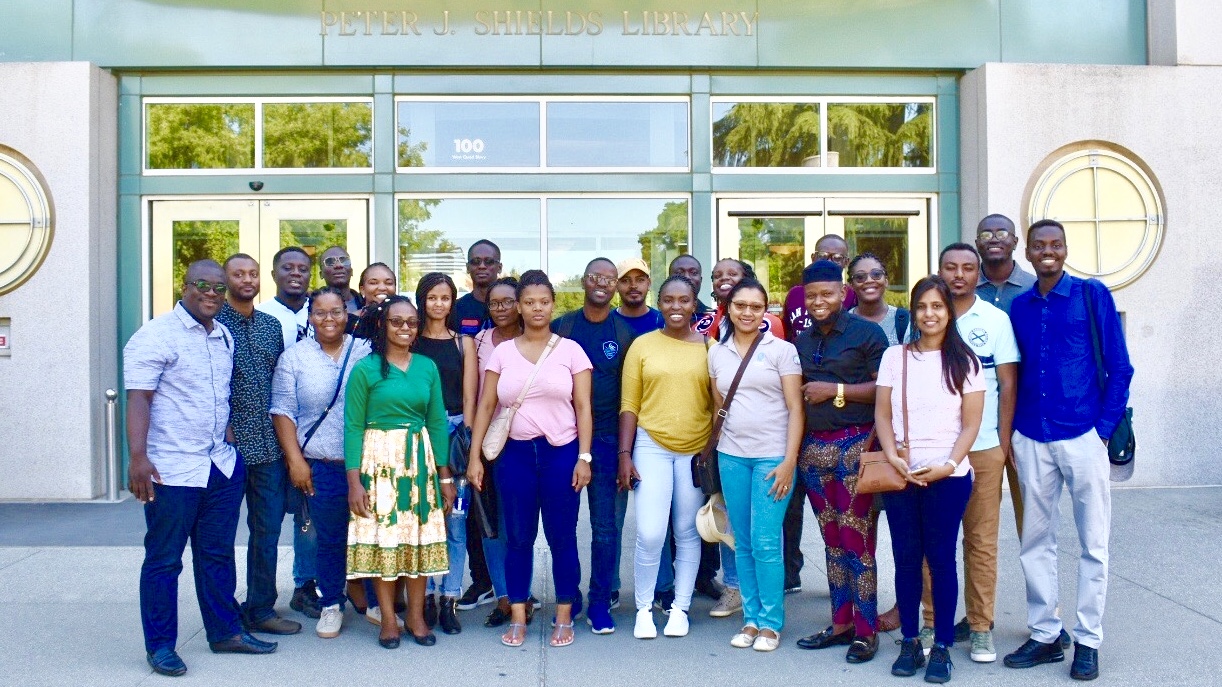 The 2019 Leadership in Public Management Institute integrates opportunities at UC Davis, Sacramento, and areas of Northern California, ending with an annual summit in Washington, D.C. During their first week, the UC Davis Mandela Fellows will travel to nearby Lake Tahoe to visit the UC Davis Tahoe Environmental Research Center (TERC), and the next week, they are scheduled to be introduced at the State Capitol in Sacramento before meeting with government officials. 
A visit to the California ISO – the Independent System Operator that oversees the operation of California's bulk electric power system, transmission lines, and electricity market – and a tour of the UC Davis West Village and Honda Smart Home are scheduled for the third week, which centers on energy and transportation.
Week four is focused on agriculture and water, with academic sessions on water systems and climate change and site visits to the Woodland Davis Clean Water Agency and the UC Davis Horticulture Innovation Lab. The final two weeks cover topics related to public health and environmental quality and include visits to Yolo County, Davis, and San Francisco technology and transportation agencies.
Academic sessions led by UC Davis faculty and guest speakers are interspersed into the weekdays along with leadership, team building, and professional skill workshops. UC Davis Mandela Fellows will spend weekends fulfilling community service projects and experiencing the highlights of the city, such as the Davis Farmers Market. 
"The Mandela Washington Fellowship is an incredible learning opportunity for both these young professionals from Sub-Saharan Africa as well as for those they meet and for the networks they develop during their time here," said Konsella-Norene. "We are continually proud to see long-term collaborative projects develop out of the relationships that are built through the fellowship experience."
---
About Global Affairs at UC Davis
Global Affairs brings the world to UC Davis, welcoming more than 10,000 international students, scholars and leaders, and hosting programs that inspire global curiosity, understanding and engagement. Compelled by the valuable outcomes of thinking globally, we make transformative opportunities a reality by supporting the thousands of students and faculty studying and researching internationally—and by facilitating collaborations that tackle the world's most pressing problems through more than 150 international partnerships.

Putting our vision of a UC Davis community that engages, thrives, and leads in this interconnected world into action, Global Affairs is now in pursuit of an ambitious goal: Global Education for All.
---
About the Mandela Washington Fellowship
The Mandela Washington Fellowship for Young African Leaders is a program of the U.S. Department of State, administered by IREX. The University of California, Davis, is a sub-grantee of IREX and is supporting the U.S.-based academic program of the Fellowship.
Primary Category
Tags