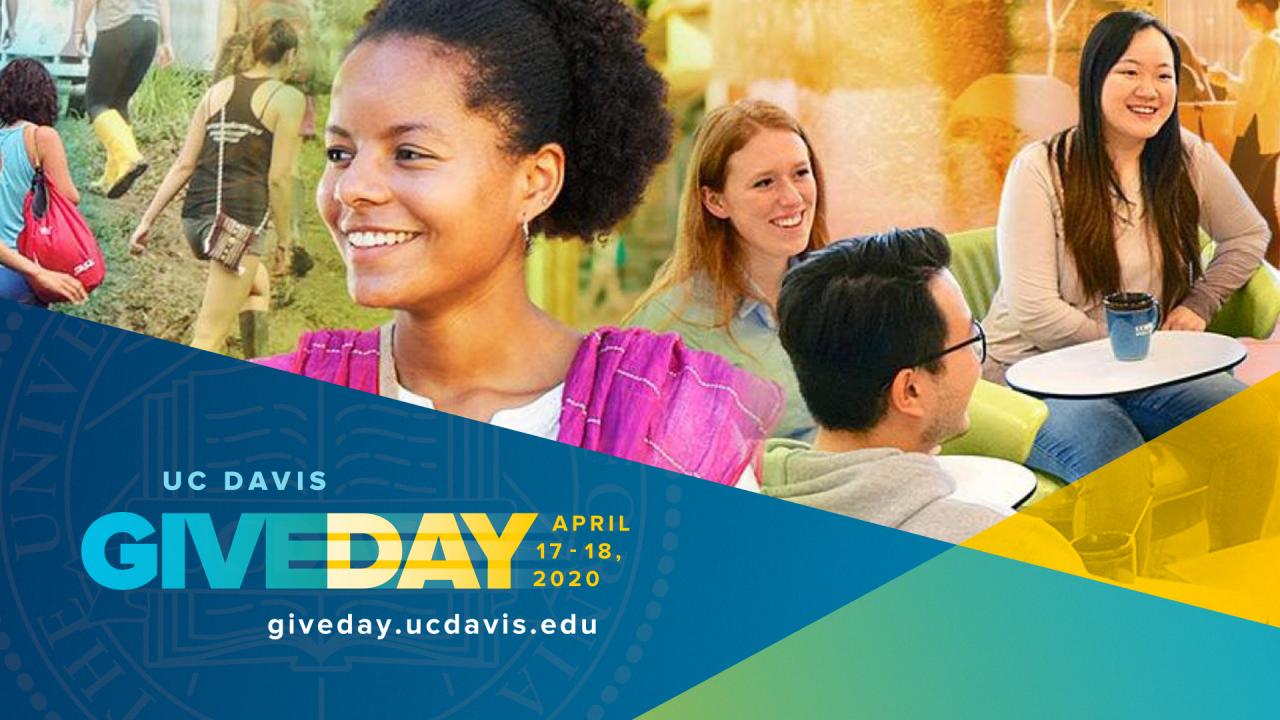 Invest in the Future of Global Education this UC Davis Give Day
Dear friends of UC Davis Global Affairs,
I hope you and your loved ones, in California and around the world, are safe and healthy. We recognize that these unprecedented and challenging circumstances impact everyone in different ways. We are thinking of you and we thank you for your continued support of UC Davis. We are all Global Aggies and we will get through this together.
UC Davis' fourth annual Give Day, a 29-hour online fundraising drive to support initiatives at UC Davis, will be held this year on April 17-18. As always, the goal of Give Day is to bring our community together to celebrate the Aggie spirit by sharing, following or financially supporting programs that have made an impact on the lives of people everywhere. We hope participating in this UC Davis online event reminds you that you are an important member of our Aggie community.
As our Aggie family comes together, we remain committed to educating the next generation of problem solvers and change makers through Global Education for All, a Provost's Priority and campus goal to provide 100% of our undergraduate, graduate, and professional students with global learning opportunities that change their lives and our world.
Now more than ever, as we address the impact of COVID-19, we acknowledge that though we may be temporarily restricted in our location, our world is still interconnected and our well-being still relies upon interdependence. It is therefore critically important that we prepare our students for global challenges and opportunities by expanding innovative global and intercultural experiences in new ways.
Given the current challenges we face, this year's UC Davis Give Day contributions on or before April 17-18 will support student participation and faculty and staff engagement in virtual programming such as:
Online academic courses that include virtual international or intercultural collaboration
Virtual activities and community-engaged projects that tap campus and regional cultural diversity
Online global research and internships
Online workshops or seminars that help students develop skills in areas such as intercultural leadership, effectively communicating their global experience to prospective employers and advanced degree programs, and more.
As we support our students and faculty in these experiences, we are building the skills, knowledge, and understandings needed to address global challenges, fight social inequities, and improve livelihoods within our community and our world—now and in the years to come.
As we invite you to join us this Give Day, we thank you for playing a vital role in supporting our UC Davis global community! I'd like to especially thank Eivind Lange and Mary Puma for their challenge that 30 gifts to Global Education for All will unlock $10,000, and to Peter and Marion London for their challenge that 10 gifts to Global Education for All will unlock $7,000.
Warm regards,
Joanna Regulska
Vice Provost and Associate Chancellor for Global Affairs
Professor of Gender, Sexuality and Women's Studies
University of California, Davis
Category
Tags