Campus Global Theme Call for Proposals
Global Affairs announces a second round call for mini-grant proposals for the inaugural Campus Global Theme— Food for Thought: Feeding Ourselves, Feeding the Planet—program for 2020-21. Students can request up to $250 and staff and faculty up to $1,000. Despite the shelter-in-place imperatives currently in place, we would like to encourage innovative and fun proposals that connect students, staff, faculty and community members to Food for Thought: Feeding Ourselves, Feeding the Plant. Proposed programs/events can include speakers, workshops, films or performances, informational videos, virtual tours or others.  We will support your creative ideas in any way we can.
The 2020 Call for Proposals is Now Closed.
Guidelines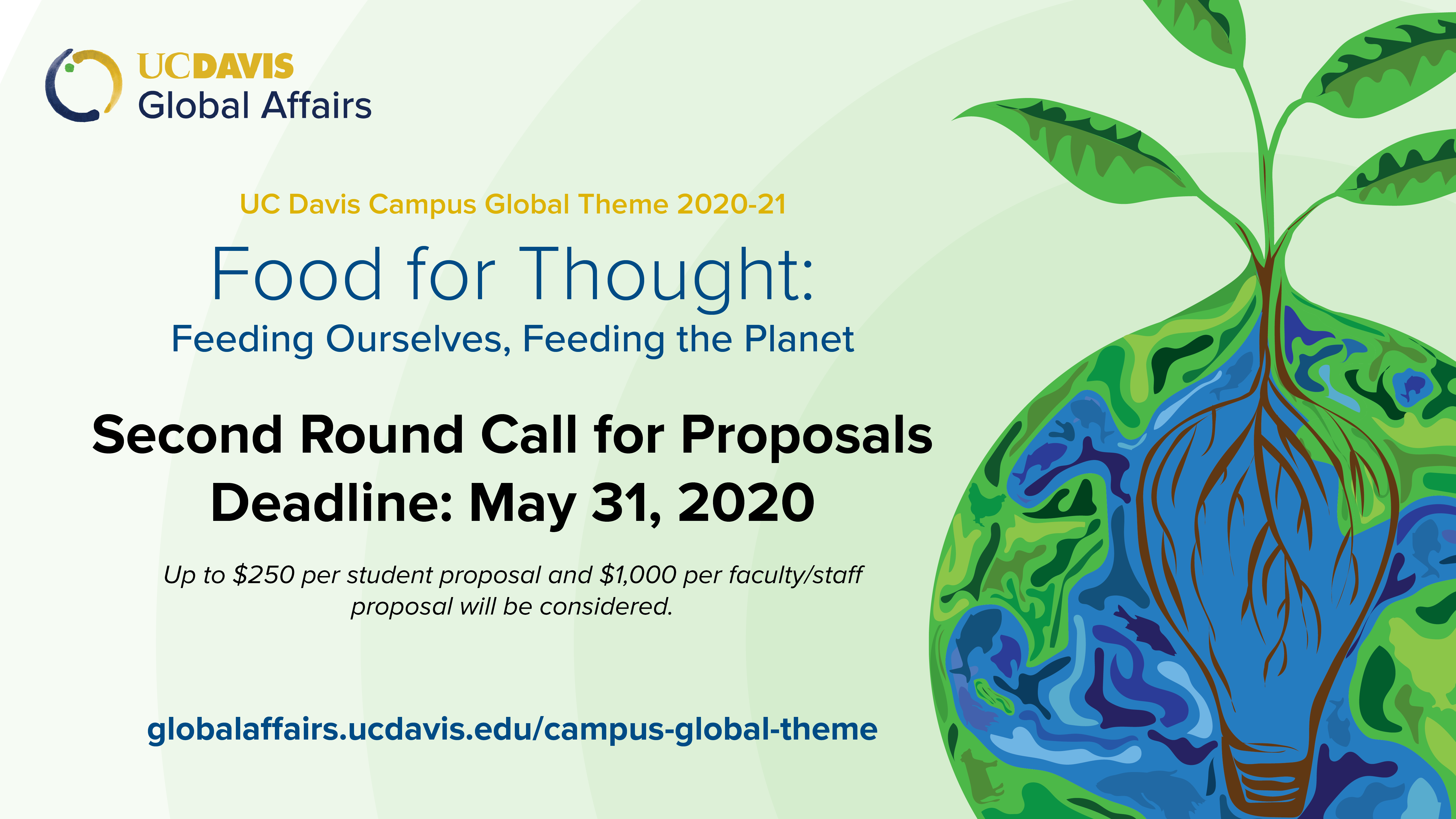 The Campus Global Theme program will identify a topic every other year that reflects a global issue related to one or more of the UN Sustainable Development Goals (SDGs). The entire UC Davis community is invited to explore and address the theme from multiple disciplinary or interdisciplinary perspectives.
The inaugural year's theme (2020-21), Food for Thought: Feeding Ourselves, Feeding the Planet, roots itself in the strengths of UC Davis to call for activities and events that can help our community reflect on the work of nourishing our world. The theme encompasses programs and events that focus on topics such as food (in)security around the world, food cultures in California and beyond, the science of taste, climate change implications, food in and nourishment from art and literature, the effects of different foods on human bodies and the human genome, gender and food in comparative contexts, the relationship between agriculture and transnational immigration, ethical dimensions of food and agriculture, how technologies are shaping what and how we eat, personal health, the histories or sociology of food cultures, and much more.
And given the new challenges related to COVID-19, we are interested in exploring the impact on farmworkers, the emergence of much more threatening social inequalities, alteration of food supply chain, exposure of people who have to choose between work and health, the impact on seasonal workers/migration, and others.
The theme welcomes submissions from every college, professional school, and discipline across campus.
We are also very interested in receiving proposals that speak to feeding ourselves and the planet in a more metaphorical sense: how we nourish our communities and our minds to create better health and well-being for all.
Read more in the Campus Global Theme Statement of Purpose, written by Ermias Kebreab, associate dean of Global Engagement in the College of Agricultural and Environmental Sciences, and director of the World Food Center, and Erica Kohl-Arenas, faculty director of Imagining America, and associate professor of American Studies, who are serving as the faculty co-chairs for this theme.
Mini-Grant Application and Submission
Eligibility
All UC Davis community members are eligible to apply. All UC Davis locations are eligible.
Deadline
The 2020 call for proposals deadline is May 31, 2020.
Requesting Funds
Up to $1,000 per faculty/staff proposal and $250 per student proposal will be provided. You are welcome to apply to have your program listed as an official event without applying for funding by completing the proposal and requesting $0 in funding.
Timeline
Proposed activities must take place between September 1, 2020 and April 30, 2021. We are especially interested in events that will take place during International Education Week, November 16-20, 2020, as they will also be promoted as part of related communications.
Proposal Submission Requirements
Proposals should include these elements:
A description of the proposed project, including type of activity, purpose (500 word maximum, expected outcomes (250 word maximum), relation to the Campus Global Theme (250 word maximum), and your funding request.
If selected, you must provide specific details about your event/activity to Global Affairs by June 15, 2020, and all funds must be dispersed (not spent) by June 30, 2020.
Please submit only one request per individual.
Submit your proposal application via the online application form by May 31, 2020.
Evaluation Criteria
A review committee will review all proposals and make funding recommendations to the theme co-chairs who will make a final decision on all applications.  Key criteria for proposal evaluation will include those that:
Strongly relate to the theme of Food for Thought: Feeding Ourselves, Feeding the Planet;
Include participation of undergraduate and graduate students;
Foster global collaborations related to the theme;
Highlight UC Davis' research and innovation related to the theme;
Enhance the global engagement of student, faculty, and staff;
Promote dialogue that adheres to UC Davis' Principles of Community.
More Information
Submit your Proposal Application

Contact Information