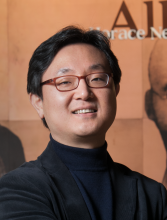 Director, Institute for Global Engagement and Empowerment of Yonsei University
2018 International Research Conference at UC Davis Speakers
2018-19
South Korea
Bio
Shinki An is the director of the Ban Ki-moon Center for sustainable development of the Institute for Global Engagement and Empowerment at Yonsei.
An was trained in internal medicine after graduating from Yonsei University College of Medicine. When he completed his cardiology fellow training at the Severance Cardiovascular Hospital, he became a member of the faculty at the department of Internal Medicine in 1997. Working in the cardiology division, his area of expertise was arrhythmia.
An's career then took a fascinating turn when he worked as a medical missionary between 2002 to 2006 in Uzbekistan. During this stint, he served as the director of the All Nations Friendship Hospital, an NGO hospital in Tashkent. He also coordinated various programs focusing on health science and medical education in developing nations, notable of which was the exchange program between the Tashkent Pediatric Medical Institute and the Yonsei University College of Medicine.
 
A man of many passions, An then studied theology at the Gordon-Conwell Theological Seminary in Boston from 2006 to 2010. In 2010 he was invited to return to Korea to become the director of the Medical Mission Center at Yonsei University Health System. As part of the Medical Mission Center's goals to develop healthcare capacity via medical education, he coordinated educational programs in numerous countries— ranging from Mongolia to Kenya to Tanzania. As a research professor in the department of medical education at Yonsei University College of Medicine Department, he actively participates in the curriculum development and the reformation of medical education. 
Program Type
Year
Country