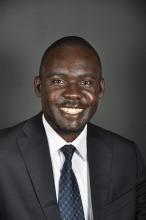 Bio
Anthony Egeru is an academic at Makerere University and program manager at Regional Universities Forum for Capacity Building in Agriculture (RUFORUM), which is dedicated to overseeing graduate training and networks of specialization in the Common Market for Eastern and Southern Africa.
Previously, Egeru served as an assistant lecturer and teacher at Merryland High School in Entebbe, Uganda. Egeru is an emerging researcher with a ResearchGate Score of 13.22 and h-index of 4. He has 5,012 ResearchGate reads and 14,998 reads and reviews in academia.
Egeru has multi-faceted experience in research, including in systems ecology with a focus on management of dryland ecosystems, early warning system, rangeland health monitoring, land use planning, pastoral livelihoods and agro-forestry systems.  Additionally, he has research experience in climate change, adaptation and resilience programming and analysis, development processes and curriculum development.
Egeru is currently engaged in the advancement of ecology and hydrological integration research, which includes running an ecohydrological project and research team. Within the development continuum, Egeru's current engagement is facilitating the transformation of African agricultural universities to meaningfully contribute to Africa's development. This requires in-depth engagement with youth across various sectors, including agricultural value chains, as well as the identification of young talent potential in entrepreneurship and enterprise development. Within that role, Egeru also is facilitating efforts to focus on youth incubation and agribusiness, and on building a cadre of focused change agents and leaders for Africa within Africa.
Manager of The MCF@RUFORUM project, Regional Universities Forum for Capacity Building in Agriculture (RUFORUM)
Program Type
Year
Country