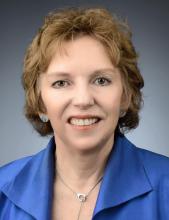 Bio
Patricia Conrad is the associate dean for Global Programs at the UC Davis School of Veterinary Medicine, which is consistently ranked one of the top veterinary schools in the world. She also is co-director of the University of California's system-wide UC Global Health Institute.
Conrad is a veterinarian and distinguished professor of parasitology. Her research is focused on the transmission of protozoal parasites between wildlife, humans and domestic animals. She joined the faculty of the UC Davis School of Veterinary Medicine soon after she conducted post-doctoral research on the molecular epidemiology of tick-transmitted diseases at the International Laboratory for Research on Animal Diseases in Nairobi, Kenya.
Conrad has published more than 225 scientific papers and book chapters in the fields of emerging infectious diseases, parasitology, ecology of fecally-transmitted waterborne pathogens and one health. She is the recipient of the Carl J. Norden Distinguished Teaching Award, Pfizer Award for Research Excellence, the Oscar W. Schalm and Norman E. Levine Lectureships and an Aldo Leopold Leadership Fellowship. Conrad was elected to the National Academy of Medicine (formally IOM) in 2011, awarded a Fellowship in the American Academy of Microbiology in 2012 and selected as an American Association of the Advancement of Science Fellow in 2018. In 2017, she received the American Veterinary Medical Association Lifetime Excellence in Research Award for her research and contributions to the veterinary profession, taking a one health approach that addresses the interconnectedness of humans, animals and the environment. Recently, she was awarded the UC Davis Chancellor's Award for International Engagement.
She received her D.V.M. degree from Colorado State University and Ph.D. from the University of Edinburgh, Scotland.
Associate Dean for Global Programs; Professor of Parasitology, UC Davis Veterinary Medicine
Program Type
Year
Country