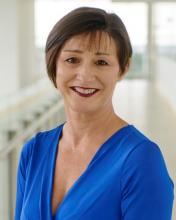 Director of University College Dublin Institute of Food and Health, Vice President for Global Engagement at University College Dublin
2018 International Research Conference at UC Davis Speakers
2018-19
Ireland
Bio
Dolores O'Riordan is director of the University College Dublin's Institute of Food and Health, and vice president for global engagement at University College Dublin.
In her role as the university's vice president for global engagement, she is responsible for developing and implementing the university's global strategy. This involves implementing best practice in international activities, developing active global partnerships at university level, diversifying the student body and embedding a global culture within university life. 
In her role as director of the university's Institute of Food and Health, she is responsible for the development and implementation of the university's Agri-Food and Health research strategy, spanning from food production at farm level through to human health. She joined the food science team at University College Dublin in 1995 and is now a full professor of food science. 
O'Riordan'sresearch focuses on the physico-chemical properties of food ingredients and creating food structures that enhance health benefits; she has secured substantial research funding (~€40 million) from competitively won grants, to conduct research in this area. She has supervised 45 postgraduate students (19 Ph.D. students and 26 graduate students) to completion and has more than 100 peer reviewed publications in high impact journals and has an H factor of 33. She has generated patents and licensed her research output to industry. She is University of College Dublin's principal investigator in two large private-public research partnerships: Food for Health Ireland, and the Dairy Processing Technology Centre. Her research programme has active links with colleagues in Europe, the U.S., Australia and China. She has been the recipient of academic and commercial awards for her contribution to food research. 
O'Riordan completed a bachelor's degree in dairy science and a Ph.D. in food protein chemistry. Additionally, she was a research fellow at University College Cork and Cornell University before she moved to commercial research in the food sector. She had six years of international experience as an employee of Kerry Ingredients, Plc., where she developed and promoted the application of innovative ingredients for the global markets.
Program Type
Year
Country