5 Ways to Engage with Global Challenges at UC Davis
By Christal Juarez, Global Affairs SDG intern
In 2015, the United Nations set out a new agenda for 2030 with 17 Sustainable Development Goals (SDGs) to guide us into a better future. These goals address poverty, quality education, and climate action, among other big challenges. While these goals are not legally binding, they reflect a global consensus and a universal framework that is relevant to both global and local needs.
How You Are Already Adopting SDGs 
Here are some ways you may already be working with SDGs in your everyday life:
Recycle
Ride a bike to reduce carbon emissions
Use a reusable water bottle
Join a community-based organization
Work with disadvantaged youth
Consciously reduce your use of plastic
Use reusable bags
Limit water use
Volunteer with a local humanitarian group, clinic, homeless shelter, or pet shelter
Buy local produce
Learn more ways you may already be adopting the SDGs in your daily life and find inspiration to begin others.
Each one of us can play a significant role in the implementation of this agenda. In fact, the SDGs are already part of our daily work as students, in our coursework, in the clubs we join, the research of our professors and work of university staff, and the interests of our peers—you just need to look around to see how connected you already are. There are some simple ways to engage with the UN SDGs at UC Davis.
As students at UC Davis, it may seem daunting to try to multitask coursework, extracurriculars, and personal lives while pushing for the achievement of the 17 global goals by 2030.  By recognizing ways we are already engaged, we can begin to recognize how these goals are relevant to our lives as students and utilize this common agenda as a local and global call to action. 
No need to fear a possible added workload. Here are five ways UC Davis students can take action:
1. Become familiar with the SDG agenda 
Learn more about what the 17 SDGs mean and why they are important, and discover how UC Davis is engaging with the SDGs. 
Download the SDGs in Action app to learn more and stay connected to the latest news and information, and learn about actions and events near you.
Similarly, downloading the image of the SDG Agenda is a great way to stay familiar with different SDGs, and showcase your knowledge! I use my interests of SDGs as a fun fact when I interact with various groups on and off campus:
"Hi, my name is Christal Juarez, my pronouns are she/her/hers, and a fun fact about me is that I want to focus my research on the UN Sustainable Development Goal #4, Quality Education."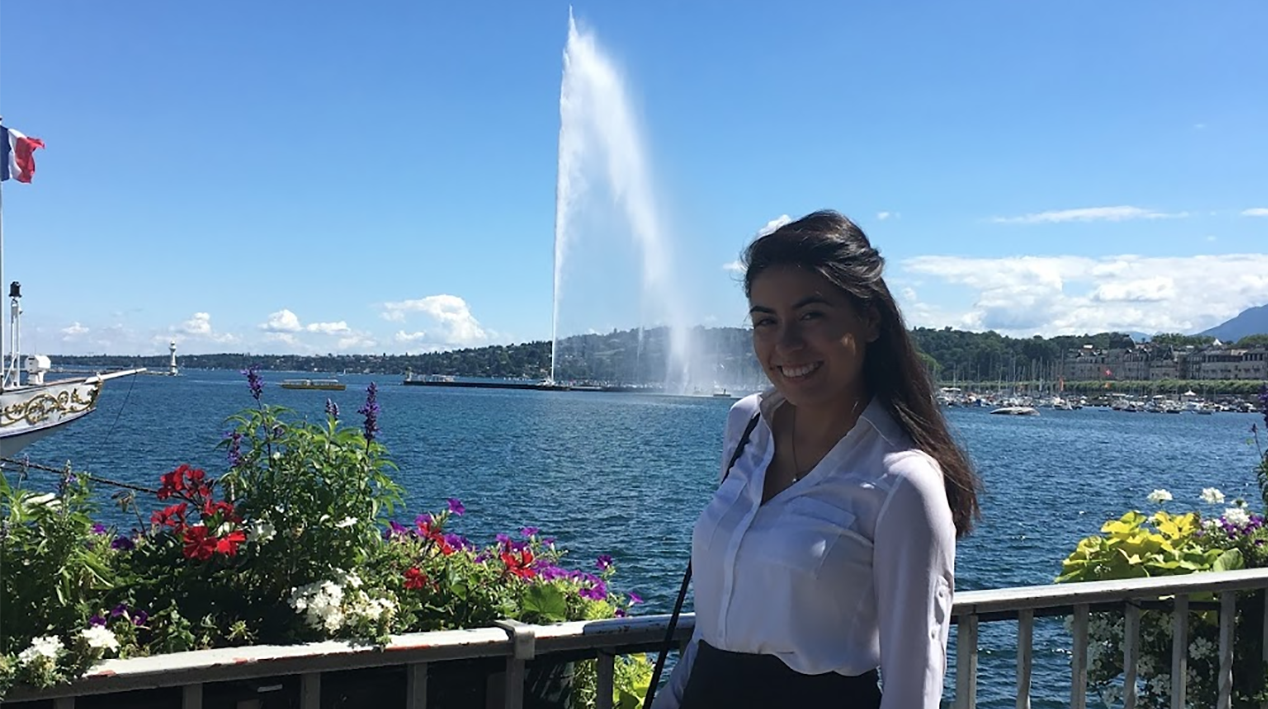 2. Use your SDG knowledge at office hours
A Global Affairs survey that was distributed to UC Davis faculty showed that there is ongoing work on all 17 SDGs already happening on campus. There is also growing interest from faculty in incorporating this global agenda into courses and supporting student opportunities! Talking to your professors about the SDGs will support more dialogue on how you can connect with their research.
I have used the SDG image (above) when attending office hours as a way to find out more about my professor's and TA's research. Try this!
"Hi, I was wondering if you are familiar with the UN Sustainable Development Goals? I am really interested in Goal 13, Climate Action, and would love your insight."
3. Speak to your clubs or extracurriculars about the SDGs
You may wonder what the SDGs have to do with your club or extracurricular organization. Look carefully at the SDG Agenda image, and you will likely be surprised by just how many goals your club is already concerned with! 
Talking to your club's executive team may be a great way to agree on what goals best align with the mission of your club, and ways members would like to see that goal achieved. Want more club members? Advertise your club's dedication to a certain SDG goal or set of goals to help improve outreach, for students who are also interested in those goals.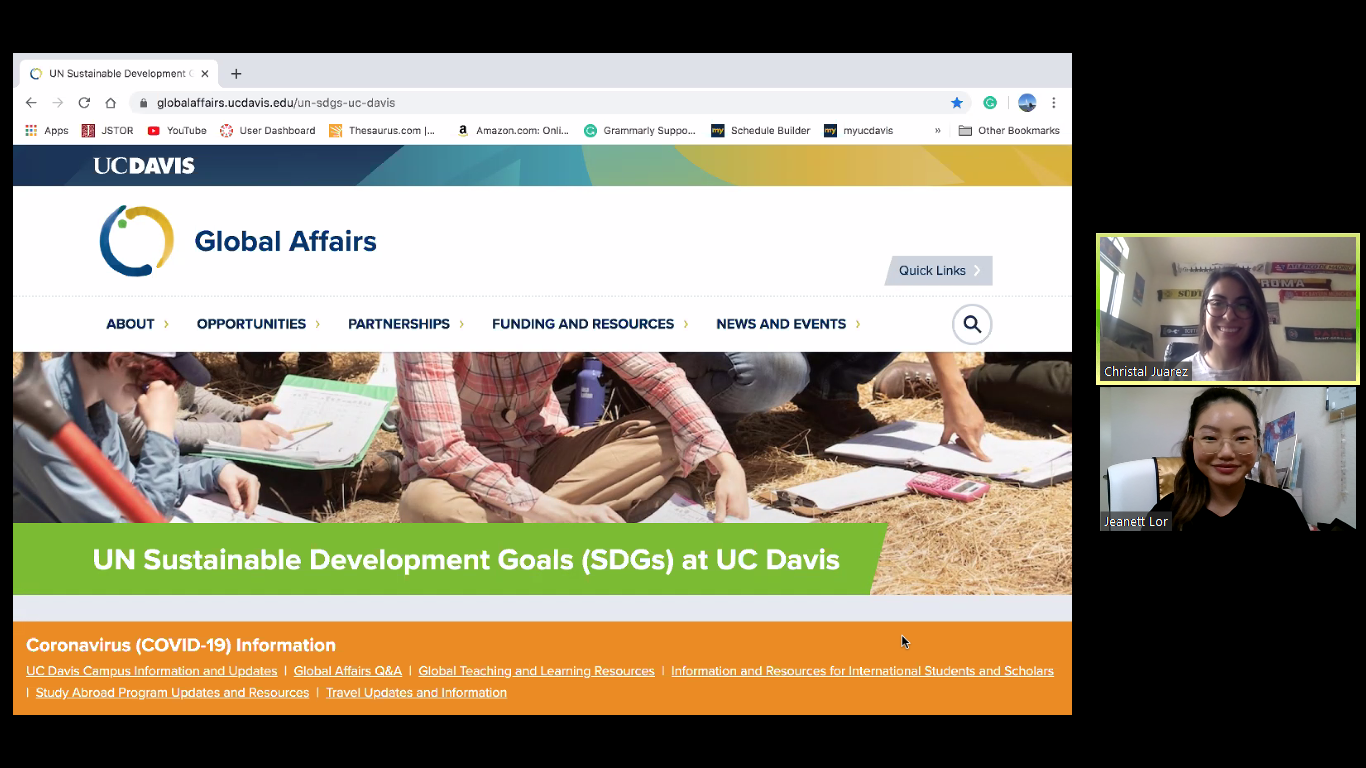 4. Attend events dedicated to bringing awareness about the SDGs
Global Affairs and other units around campus often host events and discussions that connect to the SDG Agenda. Once you have a copy of that SDG image above to refer to, it will become easier to find events that align with SDGs and even your areas of focus. 
Sign up for the Global Affairs events list for information about future events. 
5. B

e vocal!
Would you like to see more action with UC Davis and the SDGs? Students are a phenomenal force for change, and the university welcomes our thoughts. Let our campus community know how you would like to see our university implement the SDGs further. If you are interested SDGs like Goal 7 affordable and clean energy or Goal 13 climate action, download the Little Book of Green Nudges for more ideas to encourage sustainable choices on campus. Your voice is the most important tool you have to make real, lasting change, and it starts right here at UC Davis.
---
About Global Affairs at UC Davis
Global Affairs brings the world to UC Davis, welcoming more than 10,000 international students, scholars and leaders, and hosting programs that inspire global curiosity, understanding and engagement. Compelled by the valuable outcomes of thinking globally, we make transformative opportunities a reality by supporting the thousands of students and faculty learning and researching globally—and by facilitating collaborations that tackle the world's most pressing challenges through more than 150 global partnerships.
Putting our vision of a UC Davis community that engages, thrives, and leads in this interconnected world into action, Global Affairs is in pursuit of an ambitious goal: Global Education for All.
Primary Category
Tags