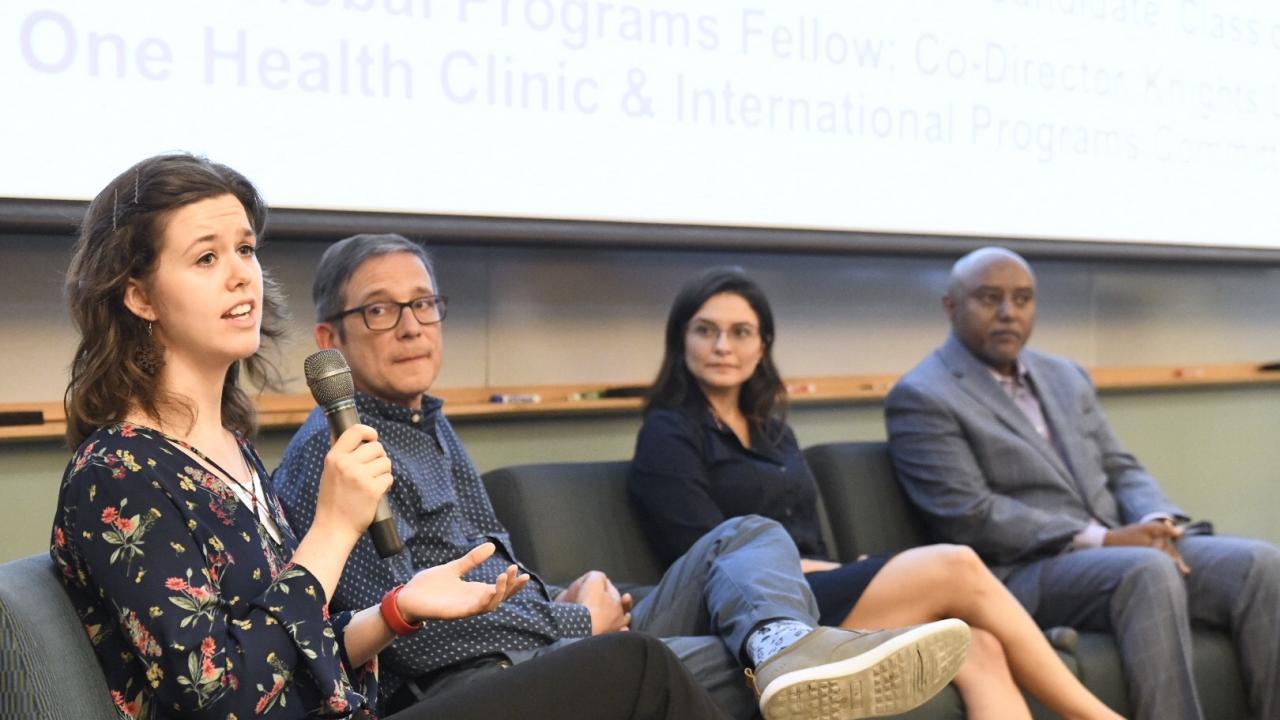 "The school's second annual Global Programs Day, held on September 12, focused on the importance of cultural awareness. Whether working at the Knight's Landing One Health Clinic just 30 minutes from the Davis campus or in a village in Tanzania, developing this awareness can help veterinarians be successful in their careers. The day's events were partnered with UC Davis Global Affairs.
A noon-time panel session kicked off with introductions by Dean Michael Lairmore and a brief talk by Associate Vice Provost of Global Education and Services Fadi Fathallah. Dr. Pat Conrad, associate dean for Global Programs and Co-Director of the UC Global Health Institute, moderated the panel discussion, which provided veterinary students and others in the audience with perspectives on integrating cultural awareness.
Panel participants included:
Dr. Wondwossen Gebreyes, DVM, PhD Diplomate ACVPM - Executive Director, Ohio State Global One Health Initiative
Dr. Fernanda Ferreira, DVM, MS, PhD - Assistant Specialist in Cooperative Extension for Dairy Cattle Production Health Management, UC Davis School of Veterinary Medicine
Dr. Michael S. Kent, MAS, DVM, DACVIM, DACVR - Director, Center for Companion Animal Health; Professor, Surgical and Radiological Sciences, UC Davis School of Veterinary Medicine
Amanda Crofton, BS, BA, DVM candidate, SVM Class of 2021 - SVM Global Programs Fellow; Co-Director, Knights Landing One Health Clinic and International Programs Committee Representative
Gebreyes, who grew up in an urban farming area in Ethiopia highlighted the need for communication to gain cultural competency. Even in his home country, he encountered cultural differences between his community and the rural pastoral villages where he began to work after obtaining his DVM. 'Cultural awareness is important not just for international travel, but in diverse communities in your own country,' he said.
Crofton echoed that experience. As an undergrad, she began volunteering at the Knights Landing One Health Clinic in a rural agricultural area just 30 minutes north of Davis. She found that speaking Spanish and making the effort to learn the language of people she was helping made a big difference in how they opened up to her. 'Learning some of the language and expressing an interest helps reduce barriers to health care.' She now serves as the co-director for the clinic."
Read the full story at UC Davis Veterinary Medicine. 
Category
Tags