Global Aggies: Bridging Technical and Cross-Cultural Skills to Improve Access to Clean Water
UC Davis engineering alumnus turns a global experience into a career for the global good
Tiven Buggy, a 2020 graduate of the UC Davis College of Engineering's civil and environmental engineering master's program, now serves as director of water and sanitation for the nonprofit Puente, based in Constanza, La Vega, Dominican Republic. In this role, Buggy relies on data collection and analysis technology to help solve water crises in remote parts of the region. His passion for improving access to clean water ignited during his time in the Peace Corps and continued to be fueled by his global experiences while at UC Davis.
"From 2014 to 2016, I was serving as a Peace Corps volunteer in a remote community that didn't have access to running water, where we could go a couple of days without electricity," he recalls. "So, I would switch between collecting rainwater from my roof in the wet season and collecting water from the river during the dry season. And although my primary responsibility was to teach literacy in the elementary school, the community kept saying, 'We want water; we need water.'"
During his second year in the Peace Corps program, Buggy began addressing this need, helping to drill a well, build latrines, and construct a gravity distribution system. The experience highlighted the connection between community health problems and lack of access to clean water—sparking his desire to return to working on water quality in the Dominican Republic after his service ended.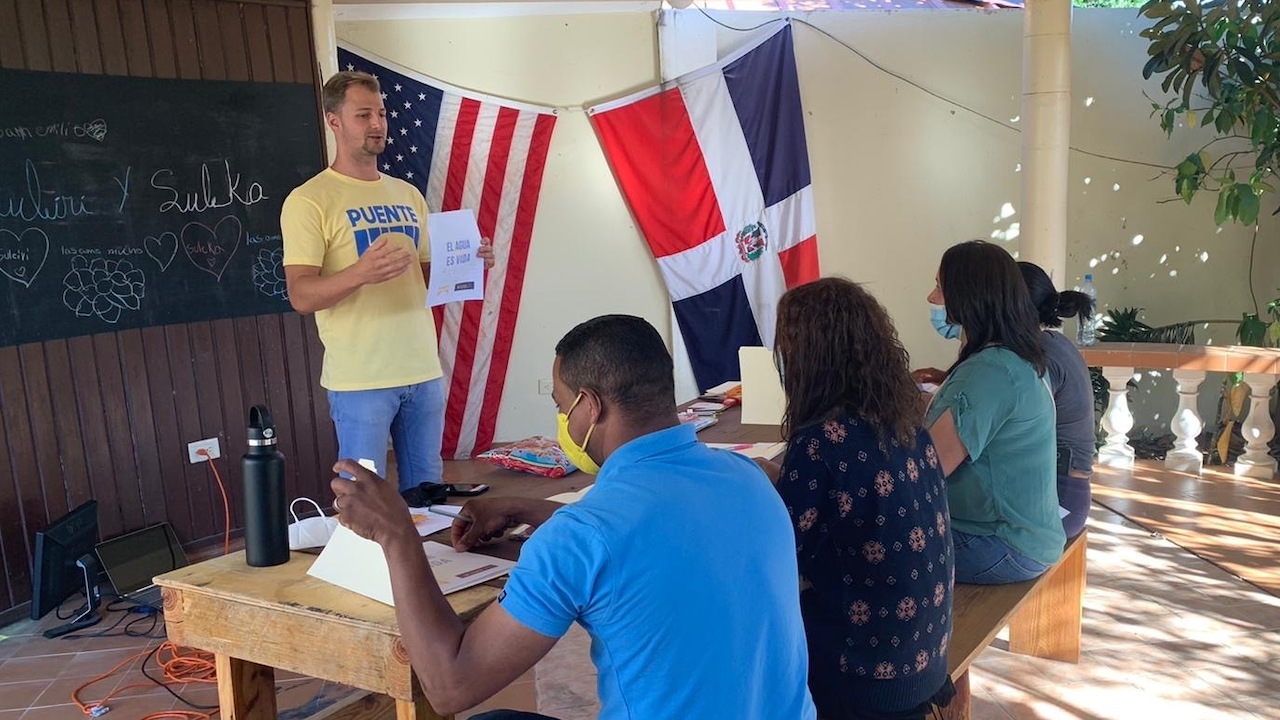 However, with an undergraduate degree in history, not engineering, seeing this vision through would first require Buggy to attend graduate school at UC Davis and, ultimately, join the ranks of Puente, co-founded in 2018, by Scott Coppa, his friend and colleague from the Peace Corps.
A Global Education, Continued
Once at UC Davis, Buggy took the course Design LabWater, Sanitation, and Hygiene (WaSH), taught by Maureen Kinyua, assistant professor in the Department of Civil and Environmental Engineering. This hands-on course required Buggy to choose a real-world client from a developing nation and propose a project to support its mission.
After briefing Kinyua on the development work of Puente, the organization was cleared to be one of the course's clients, paving the way for Buggy and his classmates to design a rainwater harvesting manual for the organization to use in surrounding Constanza communities.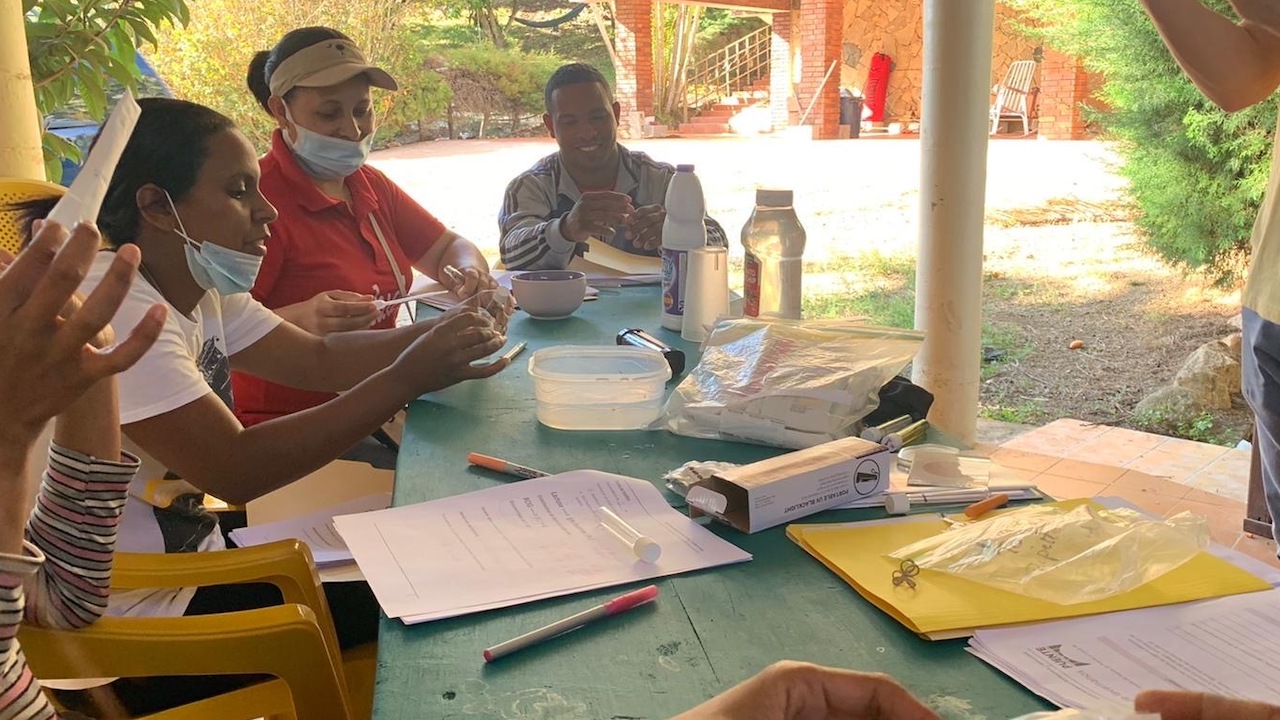 "The ability to think about big systems, to break them down into smaller components, and design each of those components to work together, to ensure the final solution is culturally appropriate, cost-effective, and easy for the community to maintain—I learned it all in the course," he says, emphasizing how WaSH programming is foundational to his work at Puente.
Under the guidance of Civil and Environmental Professor Bassam Younis, Buggy was awarded a UC Davis Global Affairs Blum Grant to further investigate water challenges in these remote Dominican communities. Global Affairs also supported Buggy in expanding his professional network by connecting him with two other non-profits focused on clean water, the Worldwide Child Relief Foundation and with Bright Water Foundation, opening doors for future global social impact projects in Latin America.
"We worked for five weeks in Constanza," Buggy says. "After our initial investigation, we decided to build a rainwater harvesting prototype, which served as a pilot project. My hands-on experience is why I'm now working for Puente at the community level in Cruz de Cuaba."
From Desktops to Hilltops
Roughly five miles outside of Constanza lies Cruz de Cuaba, a remote agricultural region located nearly 5,000 ft. above sea level. There is no plumbing or water, and many of the town's 35 houses run off a single solar panel. Reaching the community is not easy and requires Buggy to travel by motorcycle up a dirt road that scales a mountain.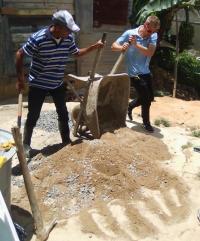 Since becoming the director of water and sanitation in March 2020, Buggy has been working with Cruz de Cuaba community leaders and volunteers to collect data that aligns with the town's priorities. This work has resulted in the need to address water issues through a collaborative community project based on the UN Sustainable Development Goals (SDGs) and, specifically, SDG 6: Clean Water and Sanitation.
"We've gone up to Cruz de Cuaba 10 or 15 times to plan our next steps," Buggy says. "We're looking at current infrastructure, taking field measurements, collecting data about water usage, doing water quality tests in the field, and of course getting to know the community."
In addition, Buggy says his experience serving underrepresented communities in Bolivia as the design and construction lead for UC Davis Engineers Without Borders has been key for navigating this process. From developing designs to producing reports to completing post-project evaluations, this background in cross-cultural exchange has helped him execute the SDG framework for Puente.
Sustainability and Accessibility
The hard work is paying off. Buggy just received word from Puente's partner organization, Friends of the Dominican Republic, that the final grant for this large-scale water access project has been green-lighted.
"At Puente, the UN SDGs act as our Bible. They help us make sure that when we ask a question and gather data, there's a purpose to it. All of the areas we ask about in our surveys—demographics, water, sanitation—we try to put them in line with the SDGs and with the specific indicators," he says. "This approach gives our projects clear goals and measurable outcomes."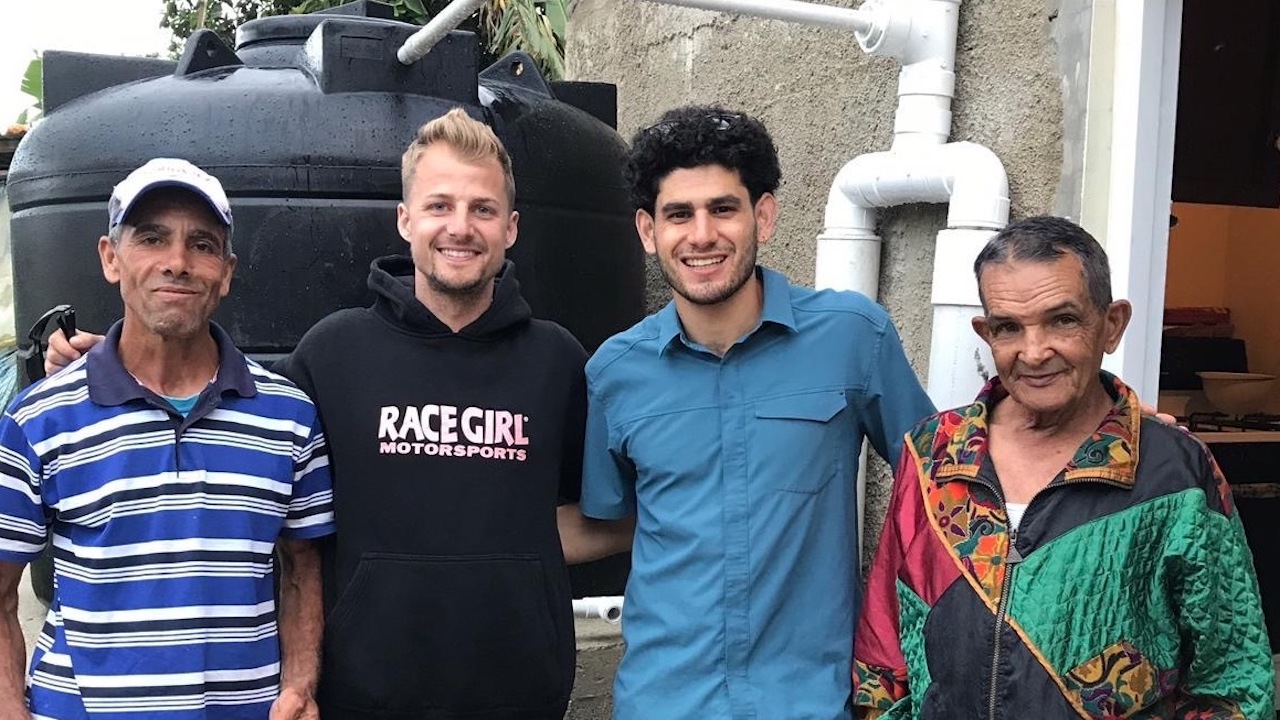 For the ongoing water project in Cruz de Cuaba, Buggy made sure to map the survey form to Goal 6: Ensure availability and sustainable management of water and sanitation for all—and especially Indicator 6.1: access to improved drinking water for all.  
"To have safe drinking water and sufficient water to wash their clothes, clean their houses, flush their toilets—that's what this community water project is all about," he says. "Thanks to the SDGs, we are able to see results and help tell a story."
This is part of a series featuring Global Aggies—members of the UC Davis community who are living the Global Affairs mission: to inspire global curiosity, understanding and engagement. Learn more about 
Global Aggies at UC Davis
.
---
About Global Affairs at UC Davis
Global Affairs brings the world to UC Davis, welcoming more than 10,000 international students, scholars and leaders, and hosting programs that inspire global curiosity, understanding and engagement. Compelled by the valuable outcomes of thinking globally, we make transformative opportunities a reality by supporting the thousands of students and faculty learning and researching internationally—and by facilitating collaborations that tackle the world's most pressing challenges through more than 150 global partnerships.
Putting our vision of a UC Davis community that engages, thrives, and leads in this interconnected world into action, Global Affairs is in pursuit of an ambitious goal: Global Education for All.
Primary Category
Tags