Global Aggies: The Okaranchi Story—An Ingenious Tale of "Recycled" Food
A team of international food science students is revolutionizing how soy is sustainably consumed around the world
Throughout Asia, okara is a household name. It can be prepared as a side dish, a tempeh starter, even as ice cream. In the United States, however, okara's story is one of mistaken identity: for decades, soy and tofu processing plants have been inadvertently tossing this key soy by-product.
A UC Davis team of five international undergraduate students is determined to disrupt this narrative, with their work in bringing okara's real story and product potential to light earning them a spot in the finals at the 29th Annual Institute of Food Technologists Student Association (IFTSA) Product Development Competition.
Hailing from Vietnam, Indonesia, Thailand and Taiwan, team members Vy Phung, Jonathan Su, Jeremy Chuardy, Gary Adrian and Siriyakorn Chantieng (food science and technology majors from the College of Agricultural and Environmental Sciences) have engineered an innovative food using okara—from concept stage through production and marketing—just like a commercial product development team would.
The result: Okaranchi Crackers, a nutrient-packed cracker made from okara, the soy pulp by-product of soybean processing.
The IFTSA competition has provided a chance for the food science majors to combine their academic expertise and diverse Asian heritages to address the very real issue of food shortage around the world. Winners of the IFTSA competition will be announced at the IFT19 Feed Your Future Meeting & Food Expo on June 5, 2019, in New Orleans—with 17,000 food industry professionals watching.
Okaranchi in the Running
As one of the largest events of its kind, the annual International Food Technologists expo brings together food science professionals who represent all segments of the profession—from quality assurance and supply chain to policy and academics—in order to help advance food safety, nutrition and sustainability around the globe.
When it comes to UC Davis' entry into the Institute of Food Technologists competition, team lead Vy Phung is responsible for overseeing the team's day-to-day prototyping sessions in the "kitchen"— aka the innovation lab — as well as Okaranchi's marketing and business plans to ensure the product continues to align with the consumer segment found in the U.S.
"As team members from different Asian backgrounds and upbringings, the most challenging part has actually been developing this product for a U.S. market," says Phung. "But it's exciting to work with the people on my team because I get to learn about the way my friends from different countries think. They're all very passionate, talented people."
Within the UC system, Okaranchi Crackers' full-circle sustainability has already garnered the team a third-place win at the annual Big Ideas@Berkeley competition, which challenges students from the 10 UC campuses and five USAID Higher Education Solutions Network schools to take on real-world social and environmental challenges.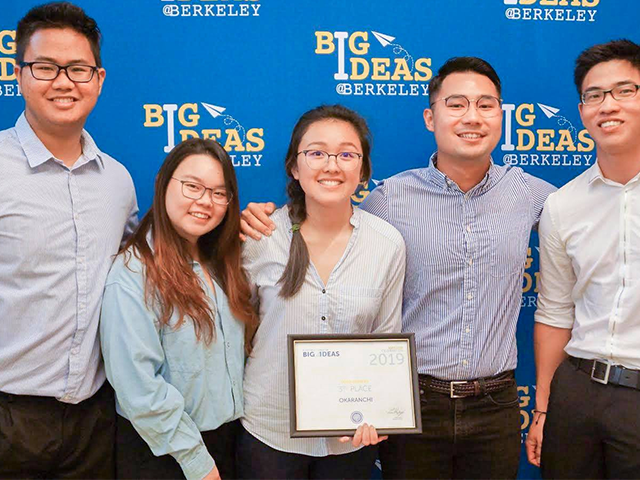 For team member Jonathan Su, who has been interested in food "behind the scenes" for most of his life, this emphasis on addressing sustainability head-on is what attracted him to the project.
"One of the main topics right now in the food industry is sustainability, so that fit into what we're trying to do with okara, and what the future could promise," he says.
While the team is well versed in the myriad ways okara is nutritionally reused back in their respective homelands, very few people in the U.S. know that the soybean by-product is packed with nutritional content. Because of this, it's often dumped into landfills, where its greenhouse gas emissions wreak environmental havoc.
"People in the U.S. are not aware of the potential of okara because it's usually thrown into waste—they just don't know what to do with it," says Phung. "But through this project, we are trying to make it into something that Americans can regularly consume, owing to how healthy it is and how good the crackers taste."
This food "waste" conundrum is a prime example of the critical need for international research collaboration among students studying in the U.S.
"I hope this brings more awareness to opportunities like this being available to international students," says Phung. "I've long been an advocate for international students and the international student experience. There are a lot more stories out there about how international students are working very hard in the U.S. on what they like to do and what they're passionate about."
Why Food … Science?
Growing up in Ho Chi Minh City, Vietnam, food played an integral role in Phung's family life. "Because we have a lot of family gatherings and holidays, food is basically how we start the conversation—and create a sense of belonging," she says. "That's the reason I chose to study food science."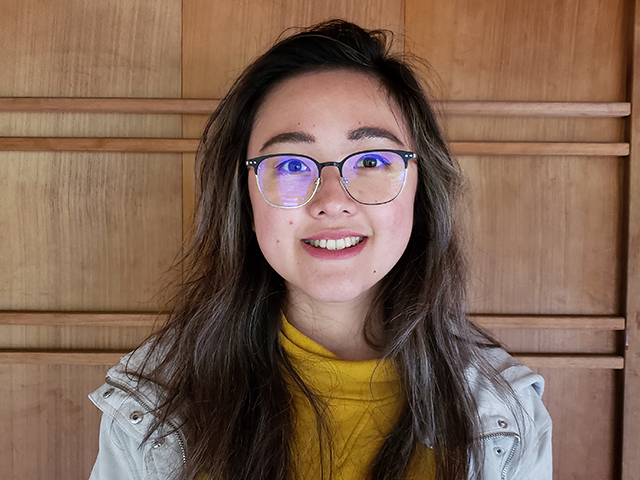 After discovering that UC Davis has one of the best food science programs for undergraduate students in the nation, she decided to look more into the university as a whole.
She soon found out about the school's diverse and multinational student body, which was a non-negotiable in her decision-making process, as well as the California aura of tranquility the region emulates.
"When I took the virtual tour online, I just fell in love with the campus, with how green and peaceful it felt," says Phung. "At that moment I could imagine spending four years of my life at UC Davis."
In addition to her food science studies, Phung has been part of the UC Davis Food Tech Club, the student chapter of the Institute of Food Technologists. In 2018 she served as activities chair, organizing the annual Picnic Day ice cream event and teaching volunteer recruits how to make ice cream, which ultimately produced 3,000 cups for attendees to enjoy.
And when Su thinks back on why he decided on food science as his major, he recalls the global causes the university champions—and how that ethos connected to his own interests in food, technology and sustainability.
"UC Davis is a research institution, a big school, but at the same time it's actually making a real impact on the environment we live in," he says. "When I was deciding what to study in college, there were a couple of articles I read that stressed how so many people are still malnourished, undernourished. One article particularly struck me, which talked about the percentage of food produced worldwide that goes to waste. That's what ultimately brought me to food science."
In addition to his academic coursework and time spent on developing Okaranchi Crackers, Su has been heavily involved in the Global Ambassador Mentorship Program, which helps first-year and transfer international students successfully adjust to UC Davis. Born in Taiwan, Su benefitted as a mentee while transitioning to campus life, ultimately becoming a mentor himself—and serving as co-coordinator of the entire mentorship program and as MC of the 2018 International Graduation Celebration.
"It's always a bit tough coming to a place from a different culture, so people need some guidance, myself included," he says. "When I first got here, even though I had studied in the U.S. in high school, it was a very different environment. Having a mentor to lean on when you had questions, maybe even a billion questions, carried on from me to the student I mentored. For me, the whole process felt like you were just making another friend."
---
This is part of a series featuring Global Aggies – members of the UC Davis community who are living the Global Affairs mission: to inspire global curiosity, understanding, and engagement. Learn more about Global Aggies at UC Davis.
---
About Global Affairs at UC Davis
Global Affairs brings the world to UC Davis, welcoming more than 10,000 international students, scholars and leaders, and hosting programs that inspire global curiosity, understanding and engagement. Compelled by the valuable outcomes of thinking globally, we make transformative opportunities a reality by supporting the thousands of students and faculty studying and researching internationally—and by facilitating collaborations that tackle the world's most pressing problems through more than 150 international partnerships.
Putting our vision of a UC Davis community that engages, thrives, and leads in this interconnected world into action, Global Affairs is now in pursuit of an ambitious goal: Global Education for All.
Primary Category
Tags