Grad Slam Finalist Profile: CANDEL Ed.D. Student Lizette Navarette
Meet Lizette Navarette, Educational Leadership (CANDEL) Graduate Student and Grad Slam Finalist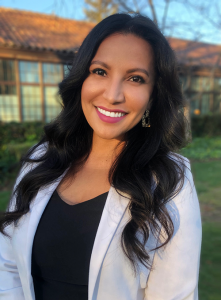 "Name
Lizette Navarette (she/her)
Program, Degree & Year of Study
School of Education, Capital Area North Doctorate in Educational Leadership (CANDEL), 2021
Research Interest
Higher Education, Community College Policy, Educational Equity, College Finance
Previous Degree & College
Bachelor of Arts from the University of California Riverside
Master of Public Administration from the University of La Verne
Title of Grad Slam Presentation
Time To Begin Adulting
Describe your presentation style in three words.
Working Adult Learners
What did you do to prepare for Grad Slam?
As a first generation college student, I've had to learn to describe my research and educational endeavors to friends and family in ways that connect and have meaning to their lives. If I can't interest my loved ones in my research, then I need to reframe its value—that's been the best practice for Grad Slam.
What initially attracted you to your field of study?
My goal in life is to remove the reliance on luck from the student success equation. I chose the education field because it can enable me to pursue my purpose. 
Grad Slam is about presenting complex ideas for a general audience. Why would people want to learn more about your research?
My study focuses on working learners in community colleges, an under-recognized group of students. Students have indicated they struggle balancing school and work, yet some institutions continue to see work as an unfortunate distraction from academics rather than a basic necessity, especially for students of color. While adults are part of the comprehensive mission of community colleges, degree programs and supports are not intentionally designed with a working adult student's schedule, basic needs, and life demands at the forefront. I believe more can be done to support working adult learners, especially now as we face further social and economic stratification exacerbated by the pandemic.
What do you like to do in your free time?
As a working learner myself, free time is limited but when I have it I like to run with my dog and garden with my husband.
Do you have any mentors who helped you develop your interest and strength in research communication? If so, how did they help you?
I've been fortunate to have had many great teachers and professors throughout my life. I thank them for always challenging me and providing tailored and constructive feedback that has enabled me to grow as a scholar.
Where do you see yourself in 10 years?
Fighting for equity in higher education!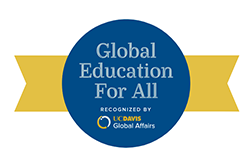 Global Education for All Recipient
Lizette's presentation has received the Global Affairs' Global Education for All designation. This means the majority of selection committee members have agreed that the recipient's project: (1) helps accomplish at least one of Global Affairs' global learning goals, and/or (2) clearly addresses at least one UN Sustainable Development Goal while grappling with the complexity of doing so. The "Global Education for All" prize recognizes a Grad Slam submission that illustrates how a graduate student embraces global learning. Global learning at UC Davis is a combination of local, regional, national, and international experiences through which the student develops key skills, knowledge, and networks that help them build global awareness, engage global diversity and pursue collaborative and equitable global action. The finalists will have the opportunity to have their video showcased at the Global Learning Conference hosted by the Global Learning Hub in Global Affairs in April of this year. Learn more about this designation. 
"Lizette Navarette helps us delve into a key global challenge—United Nations Sustainable Development Goal 4: Quality Education—and explores it from the perspective of the adult learner, engaging us to consider the power imbalances that exist in the university classroom, and how to address them. " - Global Affairs Selection Committee Members" 

Read the orginal story at the UC Davis Graduate Studies website. 
Primary Category
Tags