The Irony of Climate Change
As part of the Mandela Washington Fellowship Program, Fellows develop Ignite Talks, short and poignant speeches that spotlight issues facing their communities, their lives and the world. This is the Ignite Talk delivered by Daniel Oladoja (Nigeria, 2022), in his own words.
I am a harbinger of death!
A messenger of terror!
A prophet of doom!
I guess that is what comes to your mind immediately after I introduce myself as a climate change evangelist. But that is not who I am. I am a climate change opportunist, a creative rebel and a rational optimist who believes that climate change, rather than a problem, is the best thing to have happened for Africa!
For more than 200 years, Africa watched from behind in the shadows of poverty and inequality as the rest of the world leaped forward on the wheels of civilization and industrialization only to realize that the path they have taken is not sustainable.
While the rest of the world is trying to make a U-turn, Africa is rising like the sun from its nesting place to show the world the path to a truly sustainable and inclusive future.
In Kenya, people in the remotest villages are sending money from mobile phones without the internet—yes, we pioneered fintech. We are lighting up our communities with solar, growing our food with sustainable agriculture, constructing roads with recycled plastic, and that is just the tip of the iceberg!
I have devoted the last three years of my life to spreading the virus of climate opportunity and making people see climate change as a gift, a blessing, and the golden gate to a green resilient and inclusive future for Africa.
Sustainability is living today with the future in mind but more importantly, sustainability is a shift in how we think. I grew up hearing that we children are the future but I watch in horror and disgust how adults make decisions about the future without engaging the so-called "future." I wanted to fix that. I wanted to give tomorrow a seat at the table of today. I wanted to include young people and teenagers in the conversation about climate opportunity.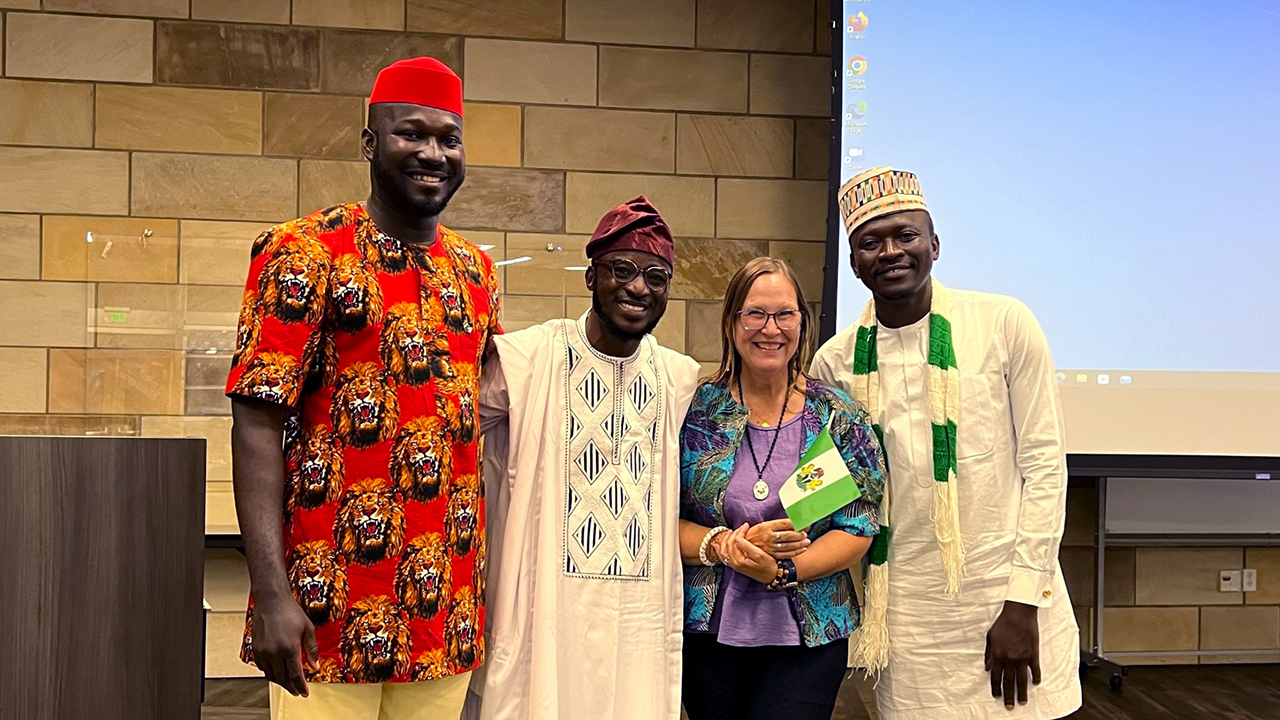 So, in 2021, we rolled out a climate literacy program called Students With Awesome Green-Ideas (SWAG). SWAG was a green enterprise program that placed in the hands of these kids the tools to reinvent their own future. We did not give them placards to protest for their future. Instead, we gave them crayons to paint us a picture of their future and we stood back to see a glimpse of a future without walls.
A week before I arrived at UC Davis we had a demo day for 12 of these students to present their innovative green solutions. The kids came up with radical solutions covering everything from architectural models to a sustainable fish pond made by a team of girls. One of them, Mensah Immanuel, came with a simple compelling message: a climate countdown clock that says, "We don't have time but we have enough time to do something." That is avant garde advocacy!
I thought the world needed to see Immanuel's work, so I asked if he would sell his artwork. Immanuel asked for $11 to reproduce the work and I agreed on the spot. Another Mandela Washington Fellow in the audience requested an additional piece. Right there, Immanuel made $22 from selling his artwork. The minimum wage in Nigeria today is the equivalent of $73! I know a young lady who works 12 hours a day, seven days a week for twice what Immanuel made in one day!
Much of the progress we have made as a species has come from necessity not negativity. Some people want to argue about climate change but I want to show people what climate opportunity looks like.
Thomas Edison didn't spend all his life arguing with darkness. Instead, he created the light bulb for darkness to see. The unemployment rate in Nigeria today is 33%. That is 66 million people! Sixty-six million people is two times the population of Ghana, 11 times the population of Liberia and 66 times the population of Djibouti. At the start of the SWAG program, I wanted to reach 5,000 students but, in the end, I could only reach 1,000! Because I cannot do it alone!
It takes a spark to start a fire! What if each and every one of you can go back to your communities and ignite the young people around you with the fire of climate innovation? We should not squander this opportunity, we need to ACT:
Amplify this message of climate opportunity
Collaborate with other climate opportunists
Take bold steps in pursuit of climate opportunities
The hindsight of the west is the foresight of Africa. The time to ACT is NOW!
---
Primary Category
Tags