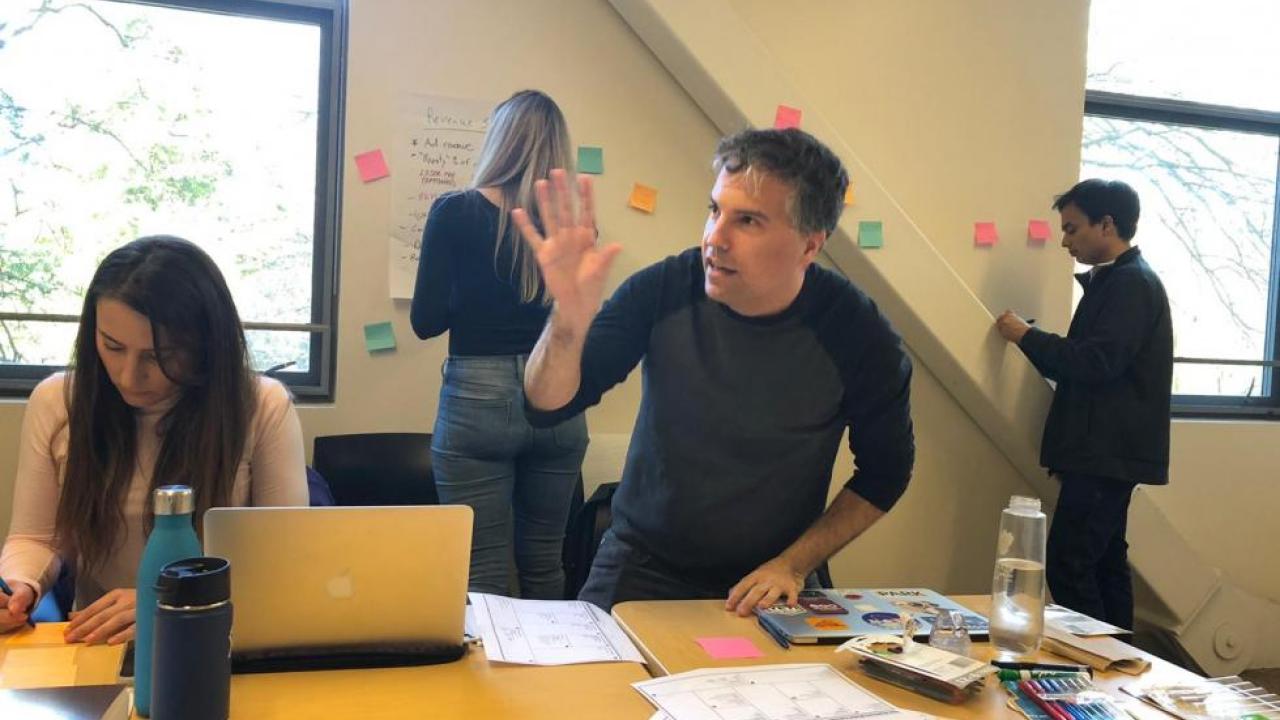 By Daniel Student, MBA 20
"'The momentum for transformational change is growing,' says UN Secretary-General Antonio Guterres. 'The green economy is the future.'
I was humbled this past week when I was named one of three winners of the 2019/2020 Universitas 21 (U21)/PwC Innovation Challenge. We earned an expenses-paid week-long trip to Dubai, along with career development coaching sessions with the PwC Academy. 
In my three-minute video entry, I concluded my talk by reminding viewers that business students have the responsibility to use their voice to strive for global environmental justice.
'Change ultimately comes from student voices,' I noted. 'Voices that say even in a masters of business, especially in a masters of business, the planet isn't just one thing. It's everything.'
I have been fortunate to participate in this challenge in each of my two years in the UC Davis MBA program. Graduate students from UC Davis are among those eligible to compete from the 28 member universities of U21 across 18 countries in five continents. Each university can select up to four submissions for consideration. This year's challenge attracted 44 entries that were forwarded to PwC's panel of judges.
My goals in pursuing my MBA included thinking globally in my coursework, engaging with international classmates and scholars, and traveling abroad for my studies whenever possible. The scope of the Innovation Challenge—including the possibility of meeting PwC's leaders and clients in Dubai—checked all the boxes.
An Opportunity for Personal Discovery
However, the PwC/U21 Innovation Challenge is also a unique opportunity for personal discovery and expansion.
While there are many valuable, team-oriented case competitions in business school that test skills like collaborative leadership, it is important to have an opportunity to research, write and perform a presentation individually. By seeking answers to challenging global questions, you are forced to look beyond your own community—and your home country—for inspiration from which to build your own theories and opinions.
In the inaugural challenge in 2018/2019, I was fortunate to be chosen as a runner-up for my presentation on the 'Workforce of the Future.' As a result, I earned valuable coaching sessions from Gavin Aspden, a director in the PwC Academy in the Middle East.
Our work together also engaged big topics, going beyond typical career elements of resume and interview prep to an exploration of who I wanted to be in the world in a larger sense.
The Challenge: Developing Talent for the Green Economy
This year, PwC challenged students to respond to the following prompt: "How can universities help individuals gain a broader perspective on the long-term impact and consequences of their day-to-day actions on people, society and the environment? What types of jobs will an environmentally-sensitive economy need, and what is the best way to prepare students for them?"
These are not easy questions to answer in just a three-minute presentation with only a single PowerPoint slide allowed to aid in your storytelling.
After deep research, I initially crafted about 10 minutes of material, which would be great if this was a typical-length TED talk. But I had to think critically and creatively about how to concisely support my point."
Read the full story at the Graduate School of Management website.
Category
Tags