UC Davis Alumni Using Solar Power to Fight Jaundice on Global Scale
By Rowan O'Connell-Gates, Student Writer, UC Davis Global Affairs
Cancer. HIV. These are the illnesses that come to mind when we think of dangerous diseases. Along with their lethal traits, the two are known for their lack of a true cure. For Nicolle Ma, her focus lies in improving and raising awareness of actively curable diseases. As a co-founder and CEO of the Los Angeles based Compassionlit, Ma is honing in on her focus by creating a more sustainable and effective cure for jaundice.
If you haven't heard of jaundice, you're not alone. The disease can be an afterthought in developed countries due to its seemingly simple cure. In reality, however, Compassionlit reports an annual total of thirteen million jaundiced newborns, with only six million of the thirteen million receiving treatment.
"I was introduced to jaundice via my interest in health care and human rights," Ma said. "The disease is easily cured in countries such as the United States with phototherapy, but in developing nations the technology is often unreliable."
A result of elevated bilirubin levels, jaundice turns newborns skin yellow and their urine dark. If left untreated, the disease can cause serious developmental issues and even death. To effectively treat these symptoms, phototherapy devices are used. The devices produce blue light which is absorbed by the infant's body, breaking down the bilirubin.
Due to the electricity dependence of phototherapy, jaundice often remains untreated in developing countries where access to a reliable power grid is limited. Having learned this, Ma came up with a plan to help those in need by creating a solar powered phototherapy device.
UC Davis Graduate School of Management (GSM) alumnus Scott He has known Ma since high school. Having spent the last two years working at HP in Palo Alto, He has gathered a wealth of professional and academic business experience. Given Ma's masters in biology from UC San Diego, the two friends form a formidable duo in business and health.
"Nicolle is great at innovation and solving real world problems," He said. "When I heard her product pitch I knew she was on to something special. I wanted to help her make this a reality."
When posed with the question of where to take their unique product, He did not hesitate: Ma's unique idea was perfect for the UC Davis' Big Bang! Business Competition.
Since 2000, the UC Davis Graduate School of Management has hosted the Big Bang! Business Competition for prospective entrepreneurs within the UC Davis community. The event pits the business ideas of current and former UC Davis students against one another, all in the hopes of winning a prize that small businesses cherish: funding.
In the fall of 2017, Ma and He took their idea to the first of many Big Bang! workshops. Having previously entered the competition, He leaned on his past experiences to guide both himself and Ma through each grueling round.
"I had previously participated in the Big Bang! when I was a full-time student at the GSM, and can attest to its value in helping startups," He said. "While I did not reach the final round before, I learned a great deal each time I participated."
By May of 2018, He's experiences and Ma's idea literally paid off. Chosen as one of the Big Bang! Competition's five finalists, the duo was awarded fifteen thousand dollars in prize money by a panel of judges at The Walter A. Buehler Alumni Center, a Global Poverty Alleviation Award sponsored by the UC Davis Blum Center for Developing Economies within Global Affairs and a Health Sector Award sponsored by Bayer Crop Science.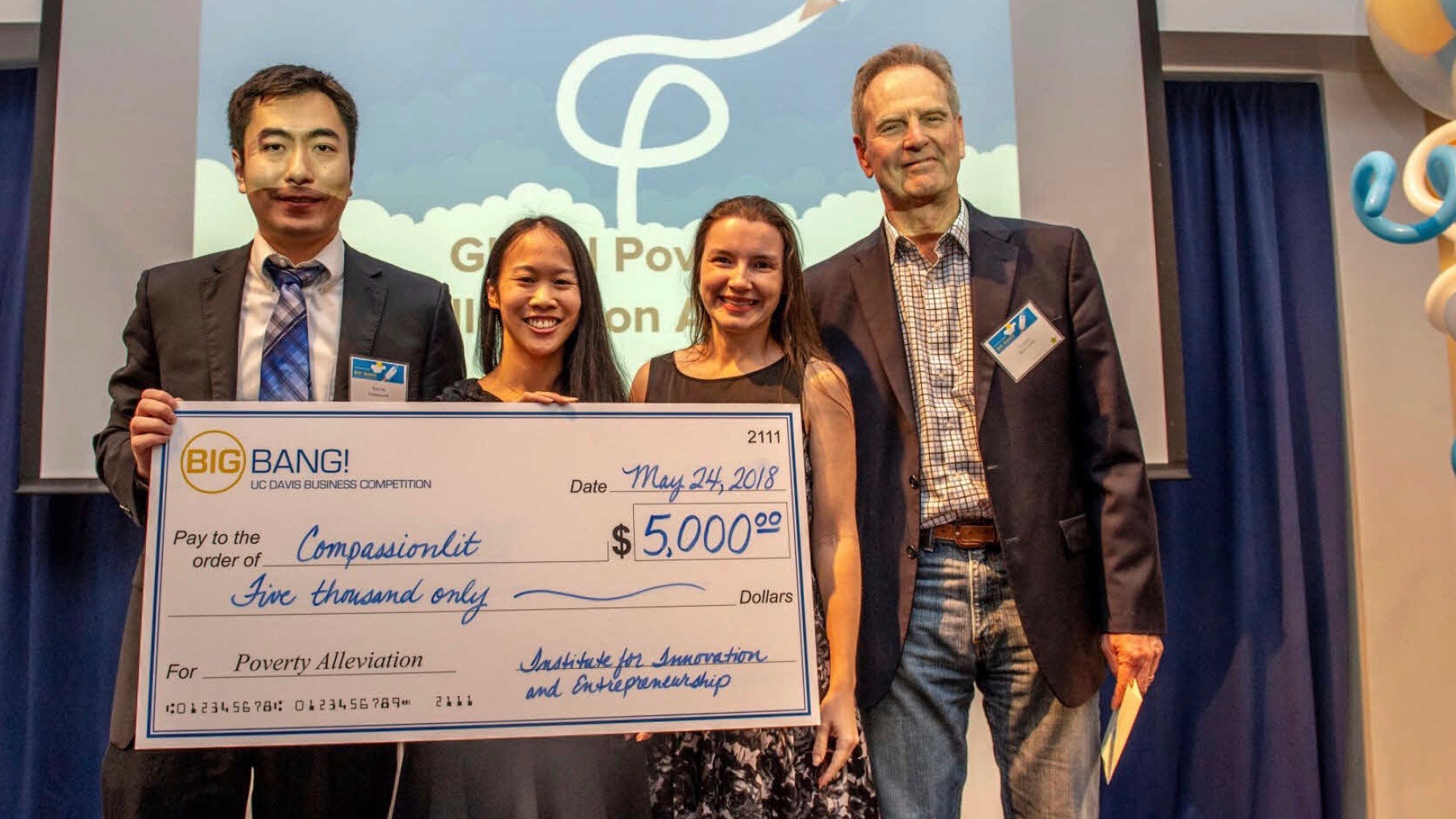 With funding in hand, Ma and He have begun the journey of establishing Compassionlit into a fully functioning company. Ma serves as the company's CEO while the business savvy He slots in at CFO. Currently, the two have taken their prize money from the Big Bang! Competition and used it to gain product patents and start pilot studies for their solar phototherapy device. While Ma and He are proud of their progress to date, they are wary of their own success. Even with initial funding, most businesses find themselves in a make-it-or-break-it period during the first few years. He is readily aware but unworried by this fact; in his eyes, Compassionlit's product is primed for success.
"I wouldn't have signed on to help Nicolle if I didn't think this business was viable," He said. "In addition to benefiting society, our product is a cheaper, more portable, better functioning device than anything on the market."
Ma is quick to add that in addition to portability and price, Compassionlit's phototherapy device will use lights that differ from traditional phototherapy. Much like other medical treatments, mainstream phototherapy often subjects patients to uncomfortable side effects. With Compassionlit's alternative lights, their phototherapy device will eliminate the skin rashes and dehydration characteristic of traditional devices.
As the executive director of the UC Davis Blum Center, Liliane Larson has closely followed Compassionlit's story. Larson revels in her organization's ability to aid young entrepreneurs in their pursuit of helping disadvantaged communities.
"It is inspiring to see brilliant minds such as Nicolle's and Scott's working for the common good," Larson said. "The UC Davis Blum Center for Developing Economies within Global Affairs is fortunate to be playing an important role in supporting a breakthrough that will help save lives around the world."
By next year, Compassionlit has set the goal of distributing their phototherapy devices to hospitals throughout India and Thailand. During that time, Compassionlit hopes to garner interest from nonprofits with the goal of gathering further investments to aid in the commercialization of their product.
"Our vision is to revolutionize jaundice treatment worldwide," He said. "We have an opportunity to really improve the lives of underprivileged newborns, one device at a time."
---
About the Blum Center for Developing Economies
Integrating education and experience, the Blum Center for Developing Economies prepares and funds UC Davis students to thrive in tackling projects that are transformative for students and for communities in more than 50 countries around the world. As a part of Global Affairs at UC Davis, the Blum Center aims to inspire global curiosity, understanding, and engagement.
Primary Category
Tags