Global Aggies: Exploring Cultural and Linguistic Diversity
By Jesse Rodriguez, B.A. '13, MBA '19
I grew up in LA, in a city called South Gate. Like much of LA, it's a predominantly Latino immigrant community where all the stores and billboards are in Spanish. As a first-generation son of immigrants, it felt like an extension of my home. My parents immigrated to this country from El Salvador to afford me opportunities they could only dream of. And like many families, we would watch telenovelas and see the characters travel around the world, including Europe, which always seemed unreachable.
I am a double Aggie, completing my undergrad and my MBA at UC Davis.
During my undergrad experience, UC Davis study abroad made traveling to Europe a reality for me. It made the world so much smaller and it helped me obtain internships and ultimately a job after graduation.
I began working in public policy in Sacramento and got involved with the Latino organizations including Cien Amigos, a professional group associated with the Mexican Consulate. Through this network, I was nominated and selected to participate in an international trip for young professionals to Mexico City to meet with leaders in government, business, and nonprofits.
It was one of the global experiences that prepared me for my capstone project at the Graduate School of Management here at UC Davis. I was part of a team selected to work for Global Affairs to study the viability and opportunity for a Global Center in Chile.
After visiting Mexico and El Salvador, Spain, and growing up in LA, I thought my Spanish was pretty good. But man, Chilean Spanish is a different story.
In all seriousness though, my Spanish was an asset for my team, and went a long way in both in navigating the city and in establishing relationships in our business meetings.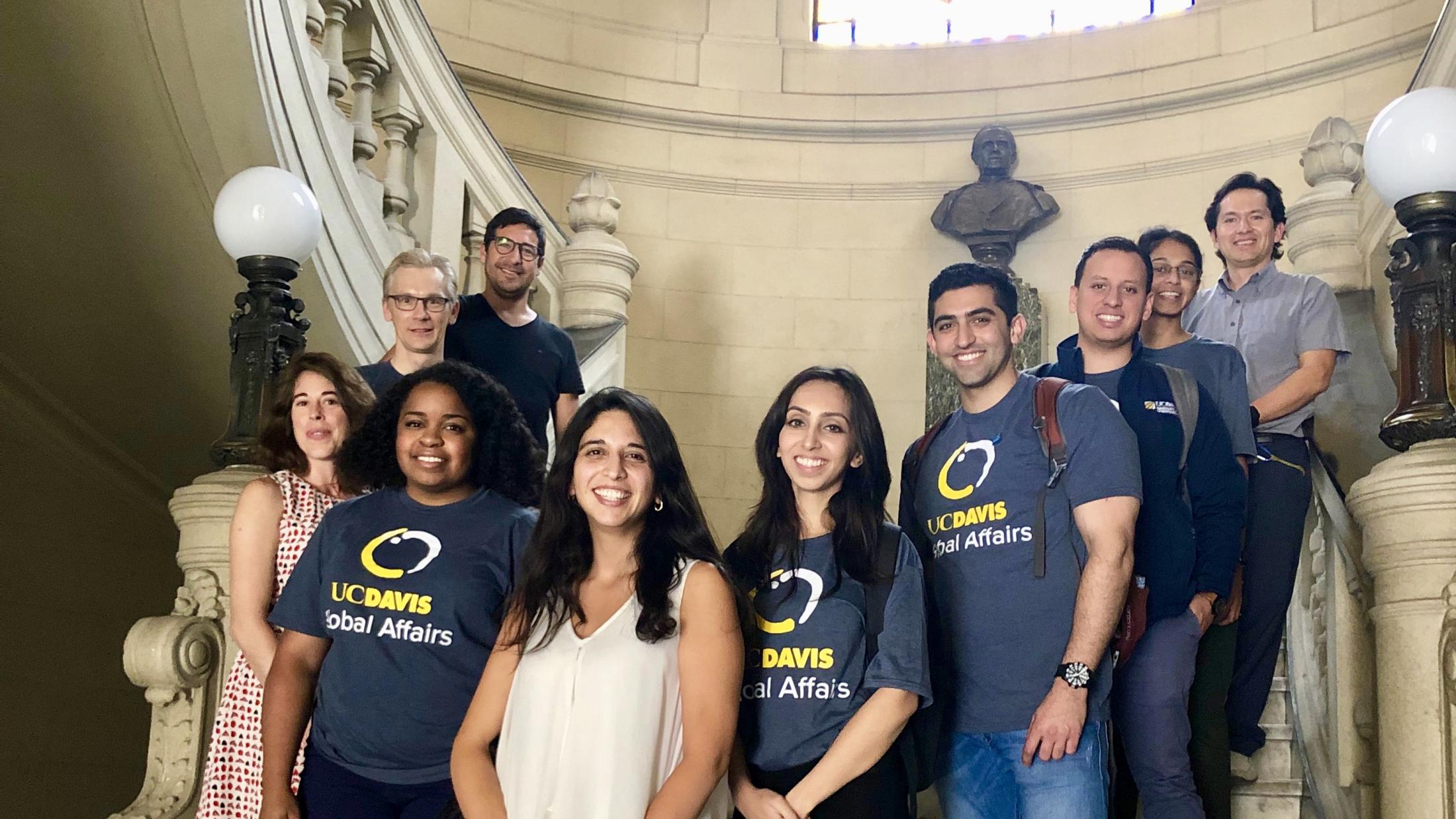 This global, hands-on experience in Chile exposed me to yet another culture and to linguistic diversity, which just kept in context for me the importance of a global education.It amplified the skills I already had, helped me develop as a professional, provided value to my MBA program, and set me up for my new career in investments and finance, where a lot of clients and partners are in different countries, including in Latin America.
As I reflect on the Global Education for All Big Idea, my hope for all UC Davis students is that they also realize the value their backgrounds and experiences bring to campus—and that they have opportunities to take their pursuits to the next level through global learning experiences.
---
Jesse Rodriguez, B.A. '13, MBA '19, pursued his bachelor's degree and MBA degree at the University of California, Davis. While at UC Davis, Rodriguez completed an Integrated Management Project at the UC Davis Global Centers and won the CAAA Young Alumnus Award in 2018. Rodriguez is currently a financial analyst at Upwelling Capital Group. 
This is part of a series featuring Global Aggies – members of the UC Davis community who are living the Global Affairs mission: to inspire global curiosity, understanding, and engagement. Learn more about Global Aggies at UC Davis. 
---
About Global Affairs at UC Davis
Global Affairs brings the world to UC Davis, welcoming more than 10,000 international students, scholars and leaders, and hosting programs that inspire global curiosity, understanding and engagement. Compelled by the valuable outcomes of thinking globally, we make transformative opportunities a reality by supporting the thousands of students and faculty learning and researching internationally—and by facilitating collaborations that tackle the world's most pressing challenges through more than 150 global partnerships.
Putting our vision of a UC Davis community that engages, thrives, and leads in this interconnected world into action, Global Affairs is in pursuit of an ambitious goal: Global Education for All.
Primary Category
Tags