Global Aggies: Mentoring Underserved, Undocumented, and Refugee Students
Paulina Carmona-Mora is wrapping up her time as an international postdoctoral researcher at UC Davis—she will soon join the UC Davis Health Department of Neurology as a biochemical scientist at the MIND Institute. Throughout her years of lab research in her home country of Chile, as well as Australia and the U.S., she has honed in on biomarkers for the early diagnosis of stroke, the occurrence of new inflammation after a stroke, and the transcription of DNA into RNA in stroke and hemorrhage patients.
Although her work as an international scholar has taken her to locations all over the world, for Carmona-Mora, science is what makes her experience global.
"It feels like science is this universal language, so you are able to understand everything," she says. "You feel you are in a world of scientists, regardless of whether you are on another continent. That's what I love, it just feels natural. You can have colleagues who grew up in China, in Sweden, in countries in Africa and other parts of Latin America, and we all have a common language at the end."
"I am very passionate about the universality of science," she says. She brings that same enthusiasm to mentorship as she forges connections.
Transnational Diplomacy
In addition to her day-to-day research on stroke, Carmona-Mora's passion for science education has resulted in her serving as the Central and North America representative for Ekpa'palek. This international nonprofit empowers Latin American students through professional development and mentorship as well as engages with organizations working to achieve the United Nations Sustainable Development Goals (SDGs) through its UN Youth Sustainable Development Solutions Network partnership.
"Through mentorships, we help these students apply for jobs, scholarships, internships," she says. "We walk them through the process of leaving their home countries to study around the world. When I became a representative, I started to realize that science is a very impressive method for diplomacy and can bridge countries that may not have so much contact."
Carmona-Mora's mentoring work doesn't end with Ekpa'palek, and neither does her work promoting UN SDGs like (1) No Poverty, (3) Good Health and Well-Being, and (5) Gender Equality. This approach to global diplomacy through science has also resulted in an altogether new opportunity: the Global Young Academy.
"When I found out about the Global Young Academy I was like, 'Wow, there are institutions that take science diplomacy seriously and are trying to build bridges between countries through science!'" she recalls.
Because participation in this international society of young scientists is capped at 200 members, Carmona-Mora felt like her acceptance was a long shot. She was wrong.
"Once I got into the Global Young Academy, I saw that my passion was legitimized," she says. "You have social scientists, physicists, people from all the disciplines. Seeing how they approach the same questions in different ways shows how nicely we complement each other through science."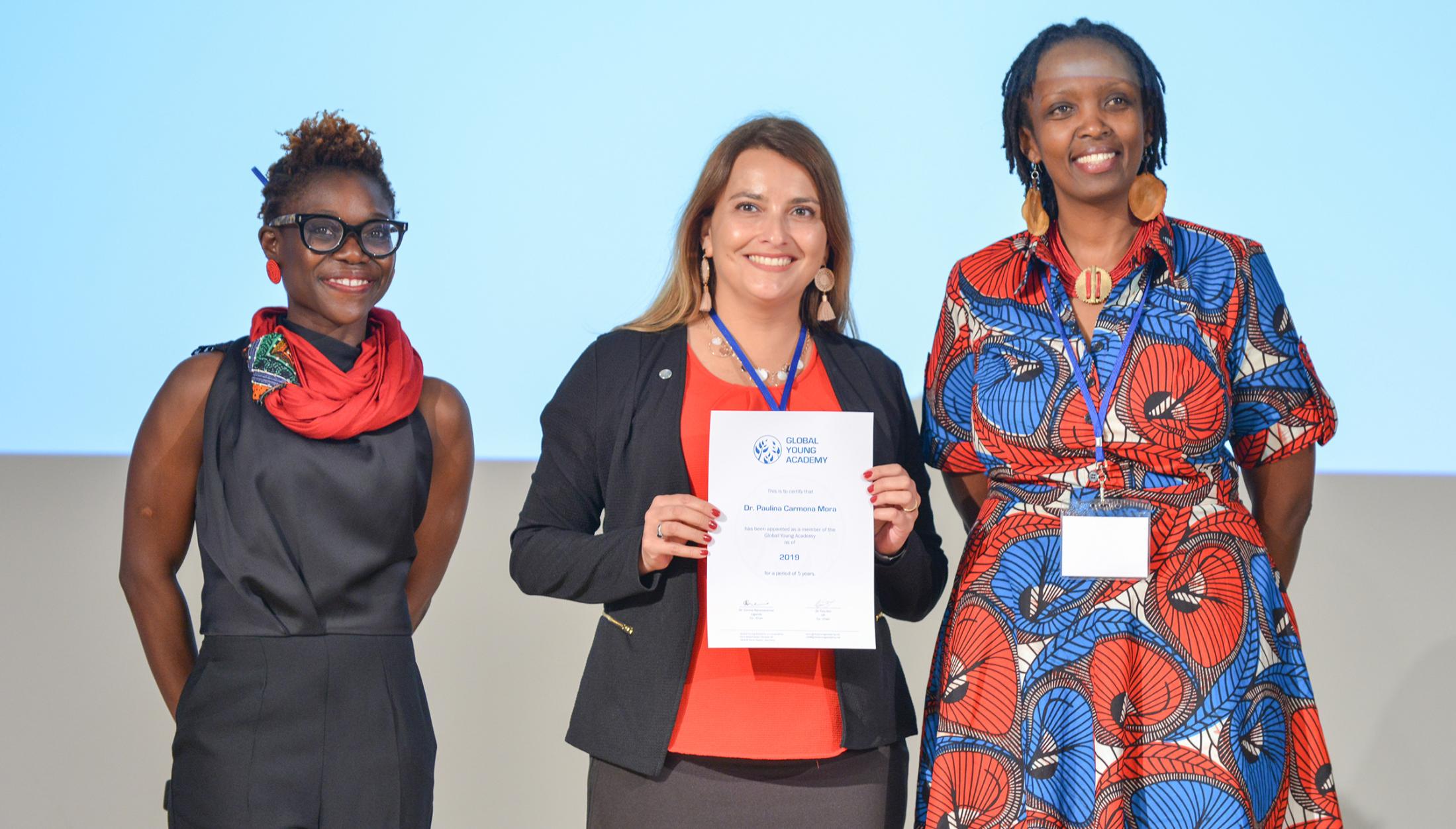 As Carmona-Mora puts it, traveling brings you into contact with people from various countries and cultures. At first you may see the differences, but once you start to see what you have in common, the differences no longer divide.
"In that sense, it changes you," she says. "By exposing yourself to different cultures, you just become more flexible."
On account of Carmona-Mora's rigorous academic training, she was able to hit the ground running, taking on a number of projects: the Global Health Working Group, the Young Scientists Ambassador Programme, and the At-Risk Scholars Initiative, where she mentors refugee scientists who have been forced to flee their home countries.
"It's been a different challenge to mentor someone who had a life, for example, in the Middle East, and then they had to flee," she says. "But in the past, I also mentored undocumented students at UC Davis through the AB540 and Undocumented Student Center, so I've gotten used to understanding each person's unique situation. It all connects through science."
An Interdisciplinary Campus
While Carmona-Mora has been working with neurodevelopmental disorders for over a decade, her research had been contained at the molecular level. That expanded at UC Davis.
"I kept noticing that people never took the time to go further and learn about the patients, their families, their struggles," she says. "But when I came to UC Davis, I received a fellowship for interdisciplinary research through the Autism Research Postdoctoral Training Program, and that made things so different."
She saw patients throughout her day and observed diagnostic sessions for autism. "We had seminars with parents sharing their struggles to understand how the system works, how the government services work. I was in an institute that was truly interdisciplinary."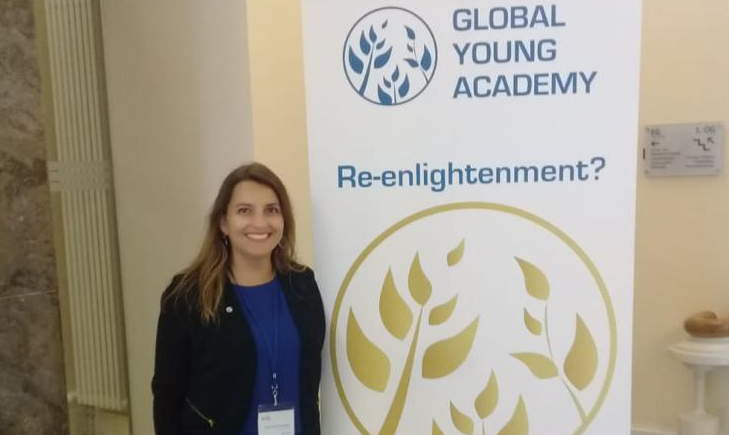 The impact of this interdisciplinary exchange between research scientists and clinicians led to her participation in the Graduate Certificate Seminar Series, offered by UC Davis Global Affairs as part of Services for International Students and Scholars.
"When I attended the seminars I found what I thought I would find: people who wanted to get together, who wanted to talk and brainstorm what could happen to this campus if we all connect," Carmona-Mora says. "And what I also saw in those seminars is that so many people showed interest in knowing what international scholars have done."
"Because UC Davis is home to people from all over the world, it's crucial to connect the dots between the disciplines and exercise our global potential," she says.
This is part of a series featuring Global Aggies – members of the UC Davis community who are living the Global Affairs mission: to inspire global curiosity, understanding, and engagement. Learn more about Global Aggies at UC Davis. 
---
About Global Affairs at UC Davis
Global Affairs brings the world to UC Davis, welcoming more than 10,000 international students, scholars and leaders, and hosting programs that inspire global curiosity, understanding and engagement. Compelled by the valuable outcomes of thinking globally, we make transformative opportunities a reality by supporting the thousands of students and faculty learning and researching internationally—and by facilitating collaborations that tackle the world's most pressing challenges through more than 150 global partnerships.
Putting our vision of a UC Davis community that engages, thrives, and leads in this interconnected world into action, Global Affairs is in pursuit of an ambitious goal: Global Education for All.
Primary Category
Tags