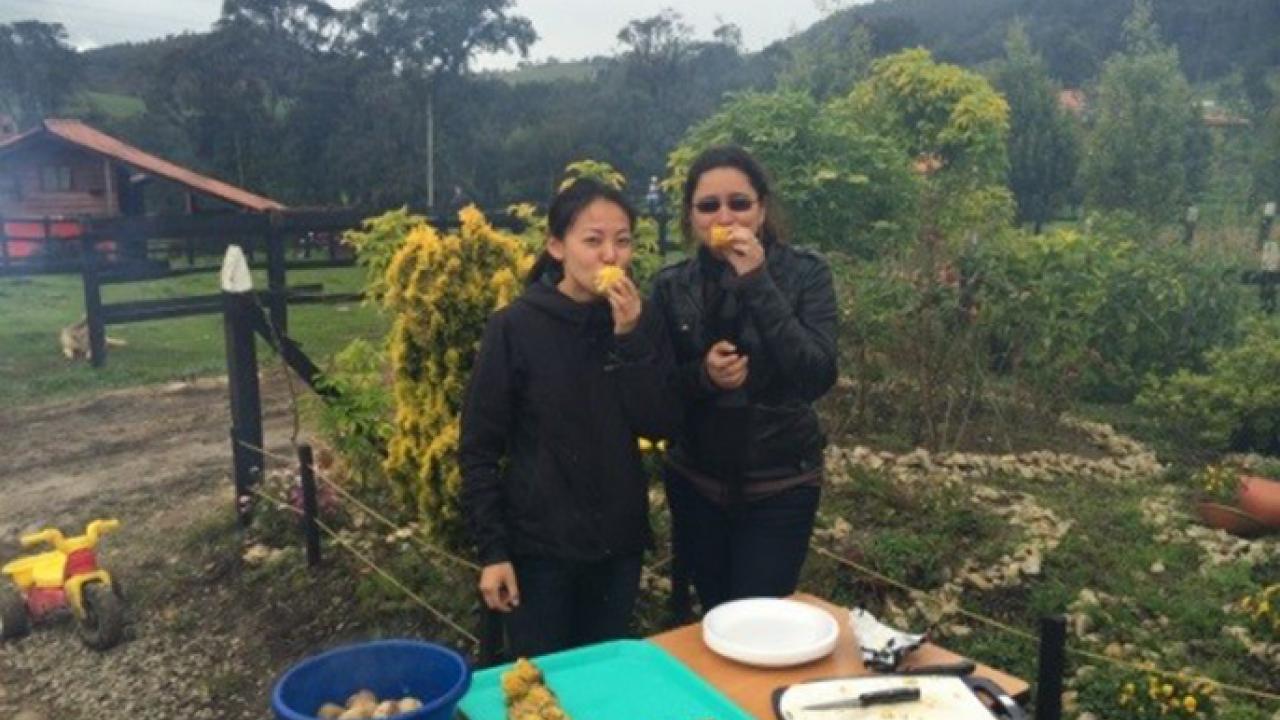 By Alec Rosenberg, UC Newsroom 
"Jonathan Yates knew he wanted to work in the developing world after volunteering on projects in the Philippines as a teenager and seeing shocking levels of poverty.
Yates, who grew up in Taiwan, nurtured his passion for international development while serving an internship in Kosovo and participating in an agricultural training academy in South Africa.
All of that experience is building towards a career-shaping opportunity: Yates and his wife, Kaitlyn Le Baudour – both international agricultural development graduate students at UC Davis – will be traveling together to Nepal to help Himalayan farmers recover from last year's devastating earthquake.
Yates and Le Baudour are among approximately 40 graduate students from four University of California campuses – Berkeley, Davis, Riverside and Santa Cruz – selected for U.S. Agency for International Development fellowships co-sponsored by the UC Global Food Initiative.
The 2016 UC-USAID fellows, with their country, project and host institution, include:
UC Davis
Sarah Adcock, Sri Lanka, developing an on-farm welfare assessment tool for dairy cattle, University of Peradeniya
Rodrigo Bonilla, Mexico, supporting organics in Mexico, Oregon Tilth
Alyssa DeVincentis, Colombia, environmental impacts of land use change and intensive agriculture in the Colombian Orinoco basin, Universidad Nacional de Colombia
Elizabeth Hohenberger, Zambia, research on women's empowerment and participation in farmer groups and savings and internal lending communities, Catholic Relief Services
Hanyuan Jiang, Philippines/Japan, Ifugao Satoyama Meister Training Program for the preservation of traditional rice paddy terraces as agricultural heritage, Ifugao State University
Kaitlyn Le Baudour, Nepal, Himalayan Farmers: The Key to Recovery in Nepal (organic production and soil evaluation), Aythos
Austin Peterson, Liberia, empowering and investing in Liberia's rural women farmers, The Bridges Institute
Katherine Polakiewicz, Honduras, value chain mapping analysis for the Blue Harvest program, Catholic Relief Services
Leah Puro, Vietnam, integrated agricultural technologies for enhancing adaptive capacity and resilient livelihoods in climate-smart villages of Southeast Asia, CIAT
Laura Reynolds, Nepal, Himalayan Farmers: The Key to Recovery in Nepal (everything), Aythos
Jamey Smith, Vietnam, boosting eco-efficiency on smallholder livestock-crop systems, CIAT
Tsz Wai (Sammi) Wong, Vietnam, soil health and pest suppression in Southeast Asian agrolandscapes, CIAT
Michael Wallace, Kenya, value addition marketing moringa and roselle for nutrition, Development in Gardening
Katherine Wilkins, Vietnam, food resilience in upland and coastal communities of the Asia Pacific, CIAT
Jonathan Yates, Nepal, Himalayan Farmers: The Key to Recovery in Nepal (new crop development), Aythos"
Read the full story at the University of California Newsroom.
Category