International Research Conference Draws New Perspectives, Sparks New Ideas
By Bonnie Shea, director of communications, Global Affairs
This September 17 and 18, leaders in research, international education, government and industry converged at UC Davis with a common purpose: developing innovative strategies for international research within today's rapidly changing political and research environments. 
The 2018 International Research Conference at UC Davis, hosted by Global Affairs, drew over 200 experts and just as many different perspectives from every corner of the world. From 22 countries and 15 states within the U.S. to be exact.
"Today's most pressing challenges are inherently global in scope and, therefore, can not be solved by one discipline, or by one institution, or in one country," said Joanna Regulska, vice provost and associate chancellor of Global Affairs at UC Davis. 
"Particularly during these times of great change, we must work across disciplines, sectors, and borders to create strategies and find solutions. We saw this conference as an auspicious way to bring leaders together to ask challenging questions, learn from one another, and set the stage for continued conversations," said Regulska.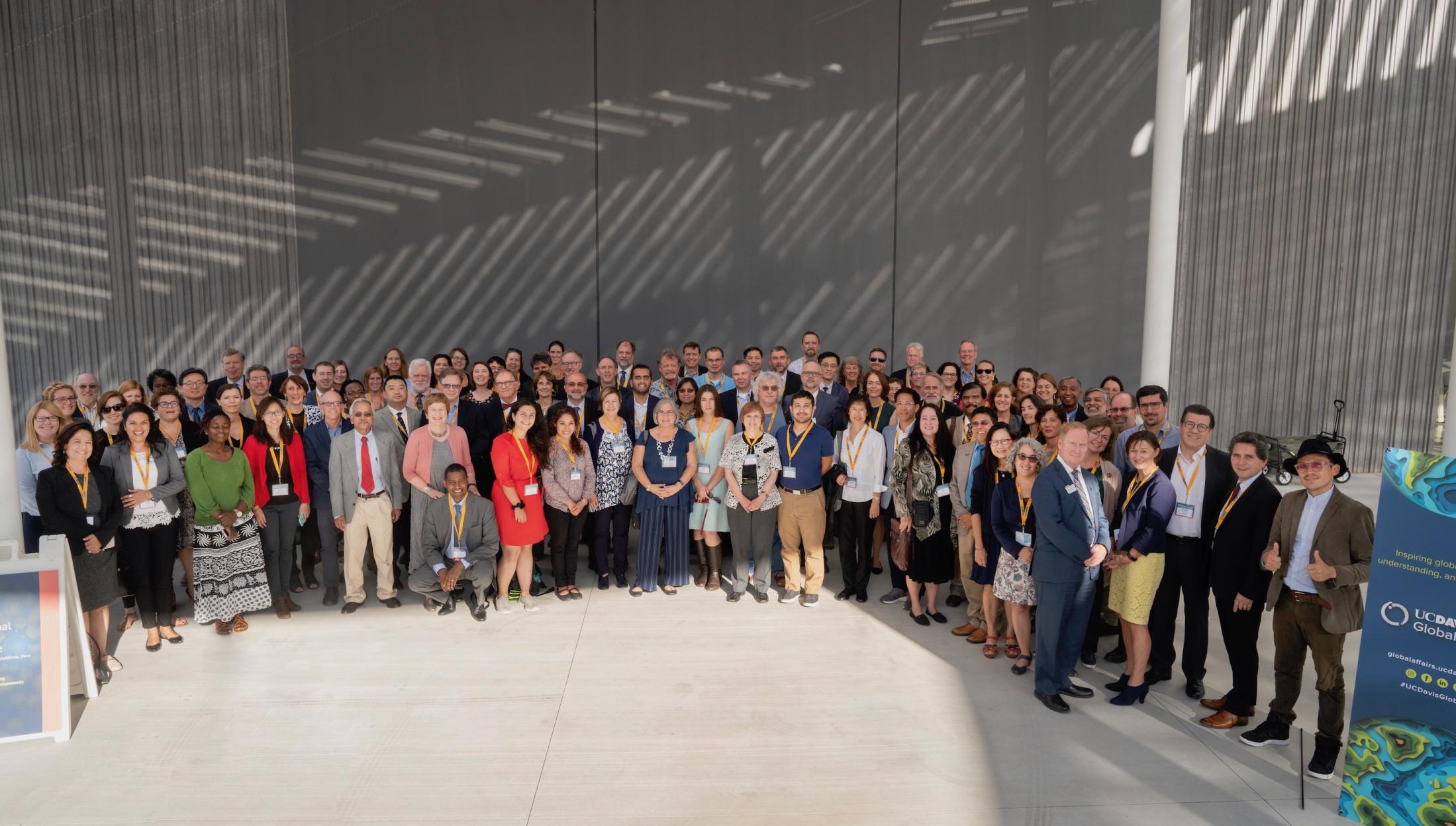 Topics to Tackle Emerging Challenges
A mix of keynotes, panels, "TED-style" talks, networking breaks, and a graduate student poster session framed the conference. Dozens of speakers engaged participants in timely topics related to the changing research environments, the increasing importance of networks, the role of transdisciplinary research, and best practices in educating the next generation of researchers.
As such, sessions ranged from exploring how emerging priorities are reshaping research and how to connect with multiple stakeholders to best practices in academic-industry partnerships and the future of graduate education. International leaders in academia were joined by experts from national science agencies, government departments, and international organizations and networks such as the Association of Pacific Rim Universities (APRU), Association of Public and Land Grant Universities (APLU), and Universitas 21 (U21)—all three of which count UC Davis as a member.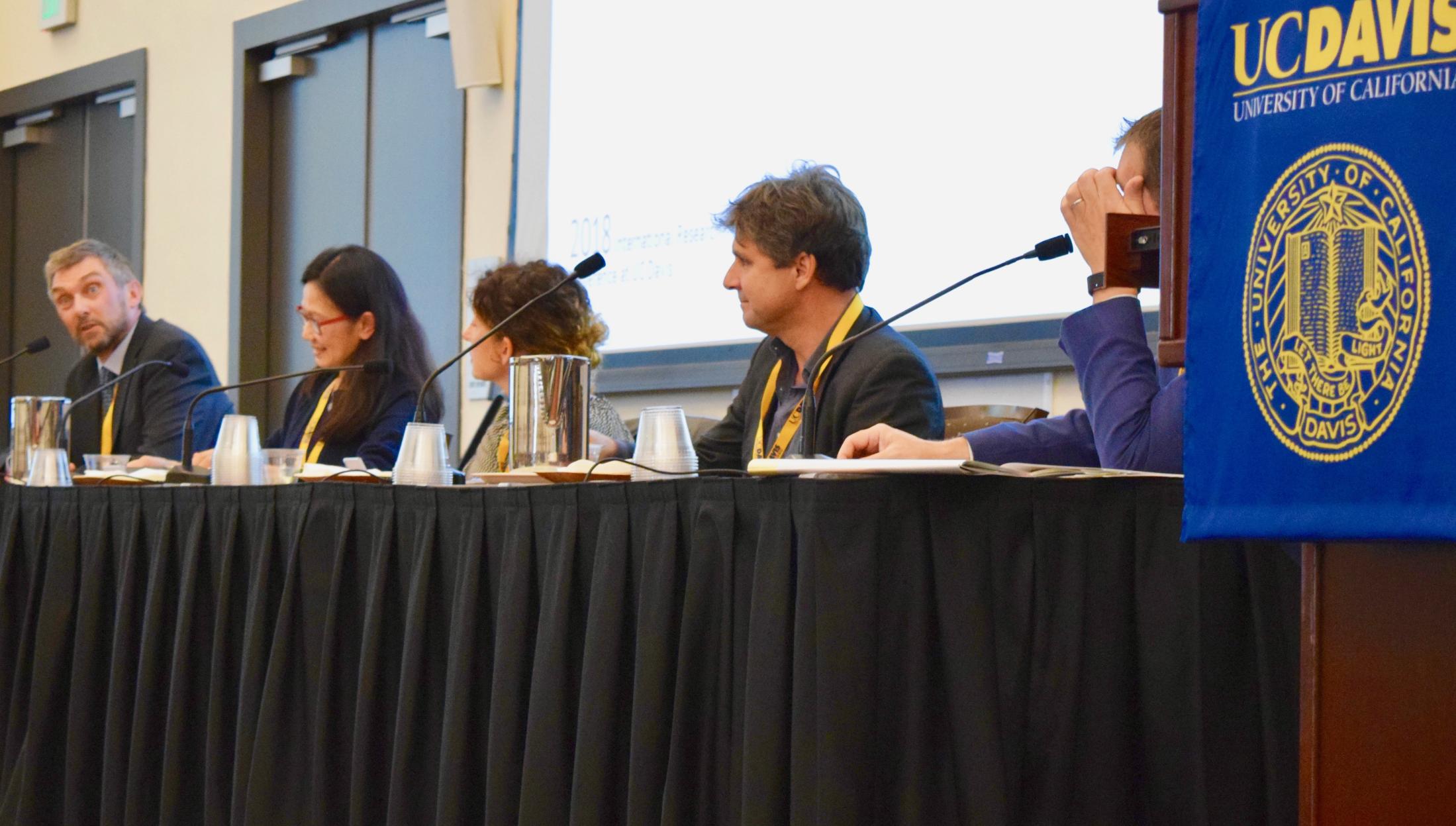 Inclusivity was a key theme throughout the talks and was the focus of Mills College President Elizabeth L. Hillman's keynote address. A national leader in promoting gender and racial equity, Hillman analyzed the path-breaking report on sexual harassment, which she co-authored as a member of the National Academies of Sciences, Engineering, and Medicine advisory panel.
Hillman's keynote provided insights on the report's findings of the continued prevalence of sexual harassment of women in academia, the negative effects on research and innovation, and the recommendations to prevent sexual harassment. 
"Everyone needs to be a part of the answer," Hillman said in her presentation, which proposed changes for academia, professional societies, policy makers, and other institutions.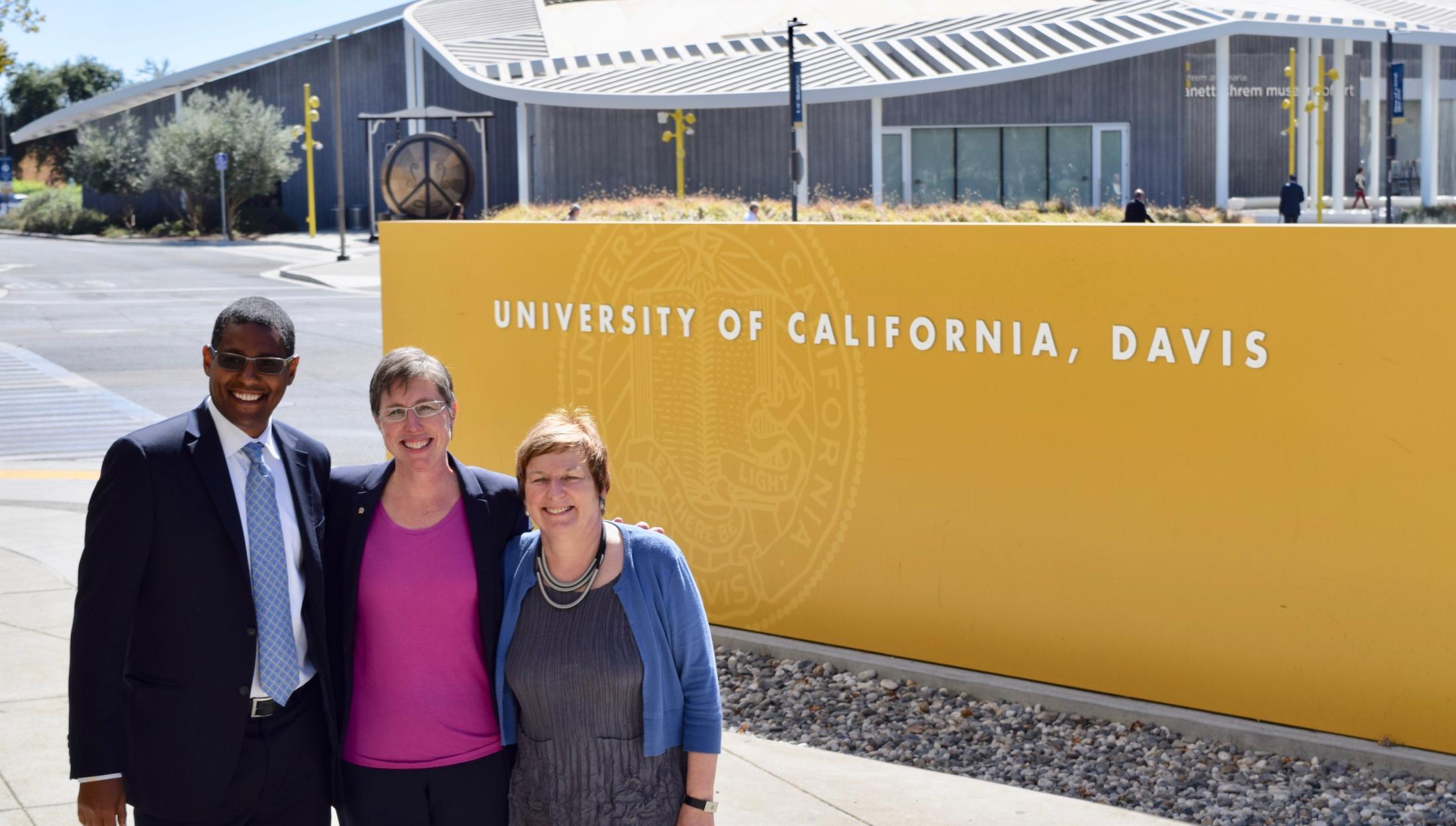 U.S. Congressman John Garamendi, who has been representing California's 3rd District since 2009, provided the introductory keynote, drawing from his nearly four decades of public service and time as a Peace Corps volunteer in Ethiopia. During the second day's luncheon, a Q&A session with consuls general and representatives of Colombia, Germany, India, Italy, and Mexico spurred discussions on opportunities, challenges and ways in which researchers can engage with government and other stakeholders to inform public policy.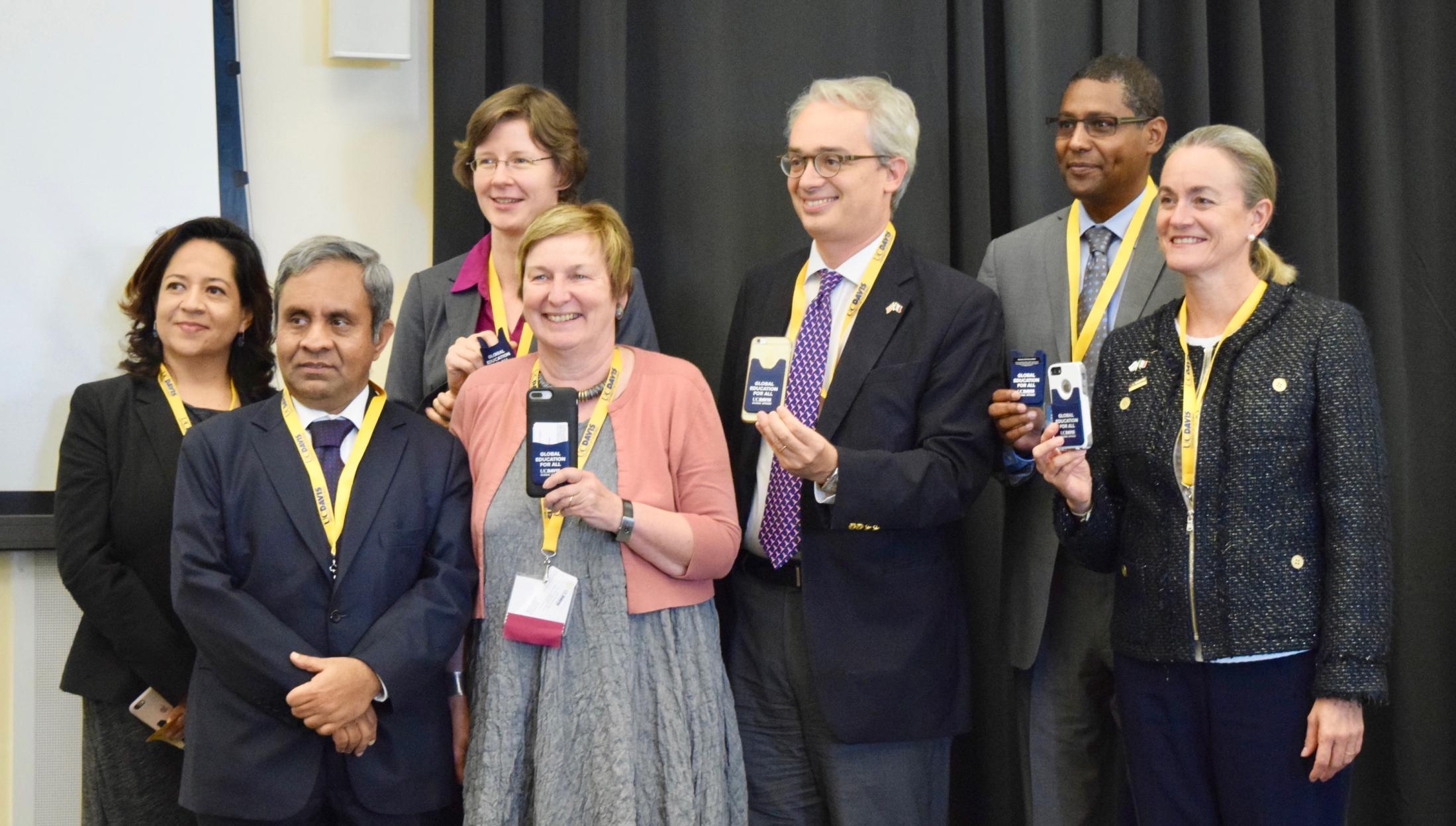 Six graduate students presented on research topics ranging from agricultural development to the #MeToo movement. Among the selected presenters was Alyssa DeVincentis, a UC Davis hydrologic science Ph.D. student, who shared about her experience researching climate smart agriculture as a form of community development in Ecuador. 
University of California in the Mix
Among conference speakers and participants were faculty, scholars, graduate students, and administrators from the UC Office of the President and seven UC campuses.
Welcoming remarks were provided by UC Davis Chancellor Gary S. May, Provost and Executive Vice Chancellor Ralph J. Hexter, Vice Chancellor for Research Prasant Mohapatra, in addition to Regulska and Associate Vice Provost for Academic Programs in Global Affairs Ermias Kebreab, who served as the conference chair. Faculty and administrators spanning the College of Agricultural and Environmental Sciences, Graduate Studies, Office of Research, School of Veterinary Medicine, and the UC Davis Library, served as panelists and speakers.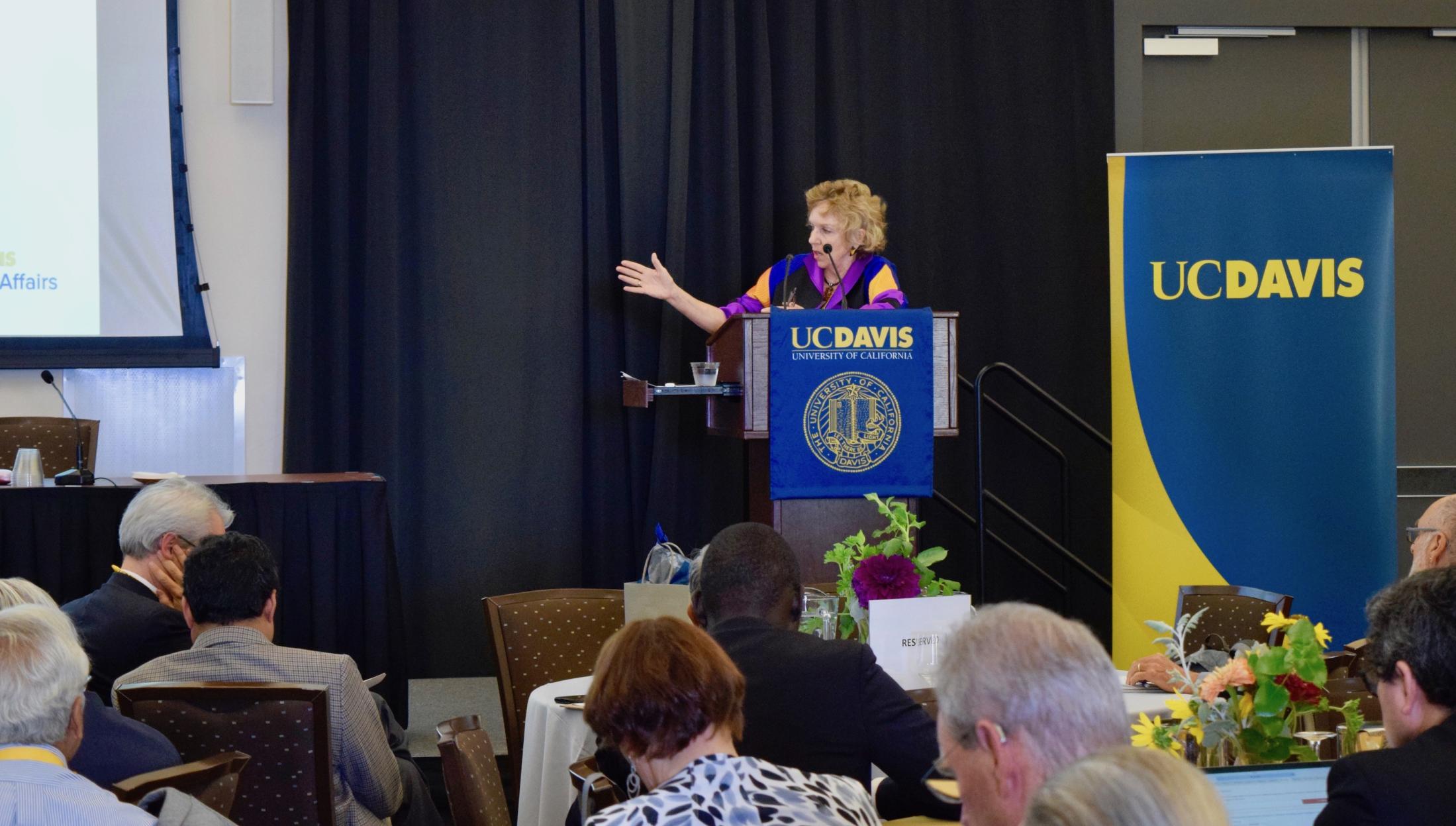 "We encourage and support our faculty to be international in their research, so to hear some of our most collaborative faculty sharing about their experience or otherwise participating in this conference was fantastic," said Kebreab. 
"The expertise we already have here on campus, combined with the conference discussions and networking of the past few days, will lead to some very exciting connections and collaborations," he added.
UC Davis alumni also were among the list of speakers: Liliana Ferrer, the Consul General of Mexico in Sacramento and UC Davis College of Letters and Science alumna, was featured on the consul general panel; Brad Fenwick, the Senior Vice President of Global Strategic Alliance at Elsevier and UC Davis School of Veterinary Medicine alumnus, presented on assessing the impact and significance of international research; and Olivia Graeve, professor of mechanical and aerospace engineering at UC San Diego and UC Davis College of Engineering alumna, presented on programs that connect researchers and students across borders. 
In Good Company
The week before the conference brought influential leaders from around the world to the Global Climate Action Summit in San Francisco, while the week of the conference coincided with international delegation visits to UC Davis from China Agricultural University, Montpellier SupAgro, U21, University College Dublin, and University of Sydney. 
The 2018-19 UC Davis Humphrey Fellows—leaders from 12 different countries spending the academic year collaborating on campus and in the community—were also in attendance at the conference.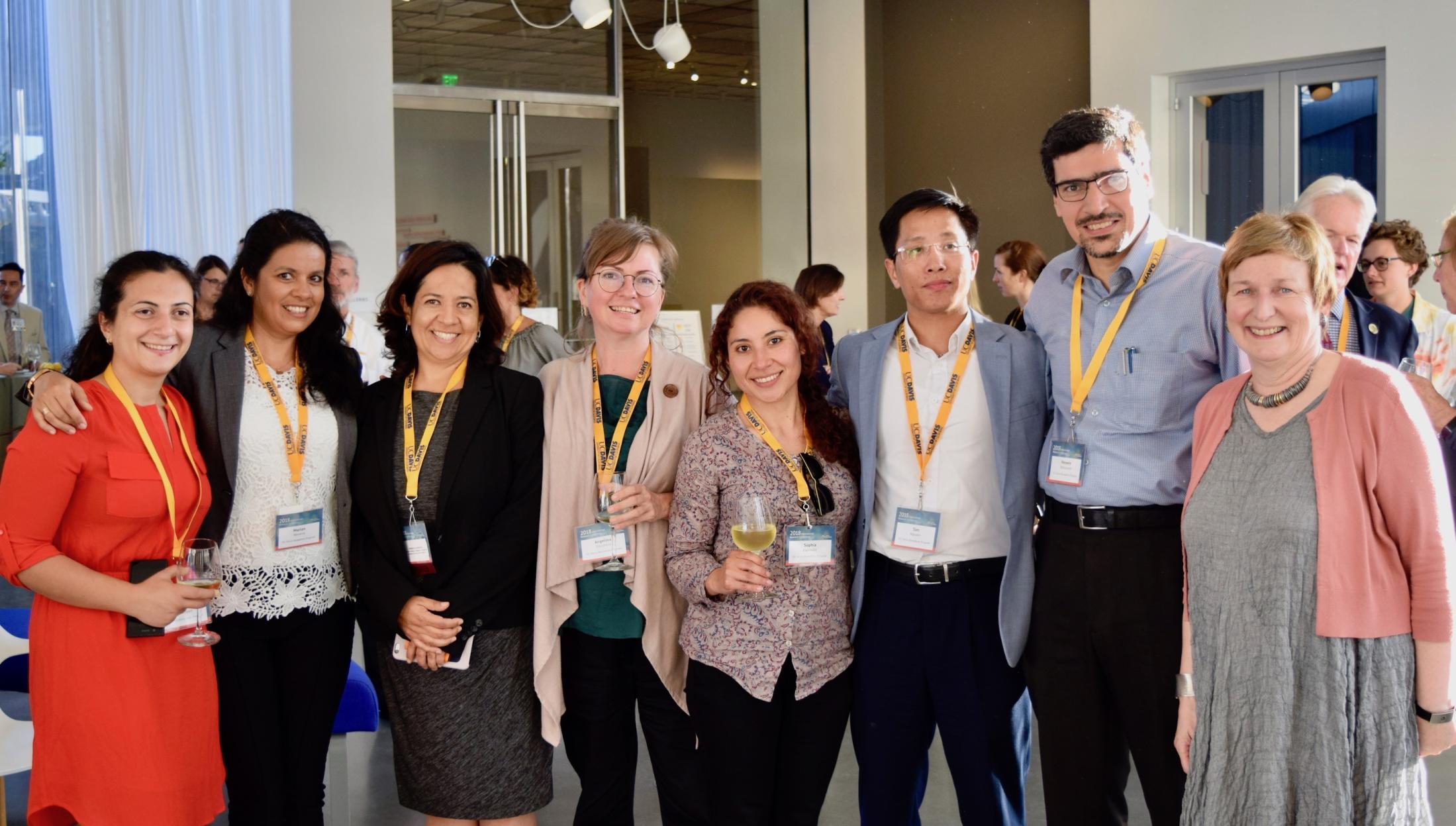 "In Global Affairs, we like to say we welcome the world to UC Davis, and this week we were thrilled to do just that," said Regulska. "Given the complexity of today's challenges, we must continue to come together across disciplines and across borders to share knowledge, create new opportunities, and find solutions."
---
About Global Affairs at UC Davis
Global Affairs brings the world to UC Davis, welcoming more than 8,400 international students, scholars and leaders, and hosting programs that inspire global curiosity, understanding and engagement. Compelled by the valuable outcomes of thinking globally, we make transformative opportunities a reality by supporting the thousands of students and faculty studying and researching internationally-and by facilitating collaborations that tackle the world's most pressing problems through more than 150 international partnerships.
Putting our vision of a UC Davis community that engages, thrives, and leads in this interconnected world into action, Global Affairs is now in pursuit of an ambitious goal: Global Education for All.
Primary Category
Tags