Mandela Fellows Find Spirit of Community Engagement Through Service
By Tene Goodwin, student writer, Global Affairs
Community service is one cornerstone of the Mandela Washington Fellowship and during their six weeks in California, the 25 young African leaders at UC Davis explored a myriad of ways to uplift and give back to the local communities.
Jennie Konsella-Norene, administrative director of the Mandela Fellowship Public Management Institute at UC Davis and assistant director of global professional programs in UC Davis Global Affairs, has planned and managed the program for three years and knows the service activities are a way to expose fellows to a variety of local organizations that are embracing the concept of servant leadership.
"Whether working with the Yolo Food Bank or Davis Community Meals to fight food insecurity or with the Woodland Tree Foundation to improve the city of Woodland through the planting of trees, we hope the fellows realized their collective impact towards our local communities and to those in need," Konsella-Norene said.
When not in academic and leadership sessions on campus at the UC Davis International Center, fellows visited public agencies throughout Sacramento and tech giants in the Bay Area, and had time to enjoy networking and social events. At the end of each week, a community service activity allowed them to connect with each other and their host community in a different way and to experience a side of America beyond the usual comforts and abundance.
Stephane Dan, an oil and gas project engineer from Côte d'Ivoire, reflected, "when we think of the U.S., we think often of California, Hollywood and Silicon Valley but like all societies there are people who live in difficult conditions. In America, where individualism is a dominant value, we got to experience a community solidarity of volunteering and helping others."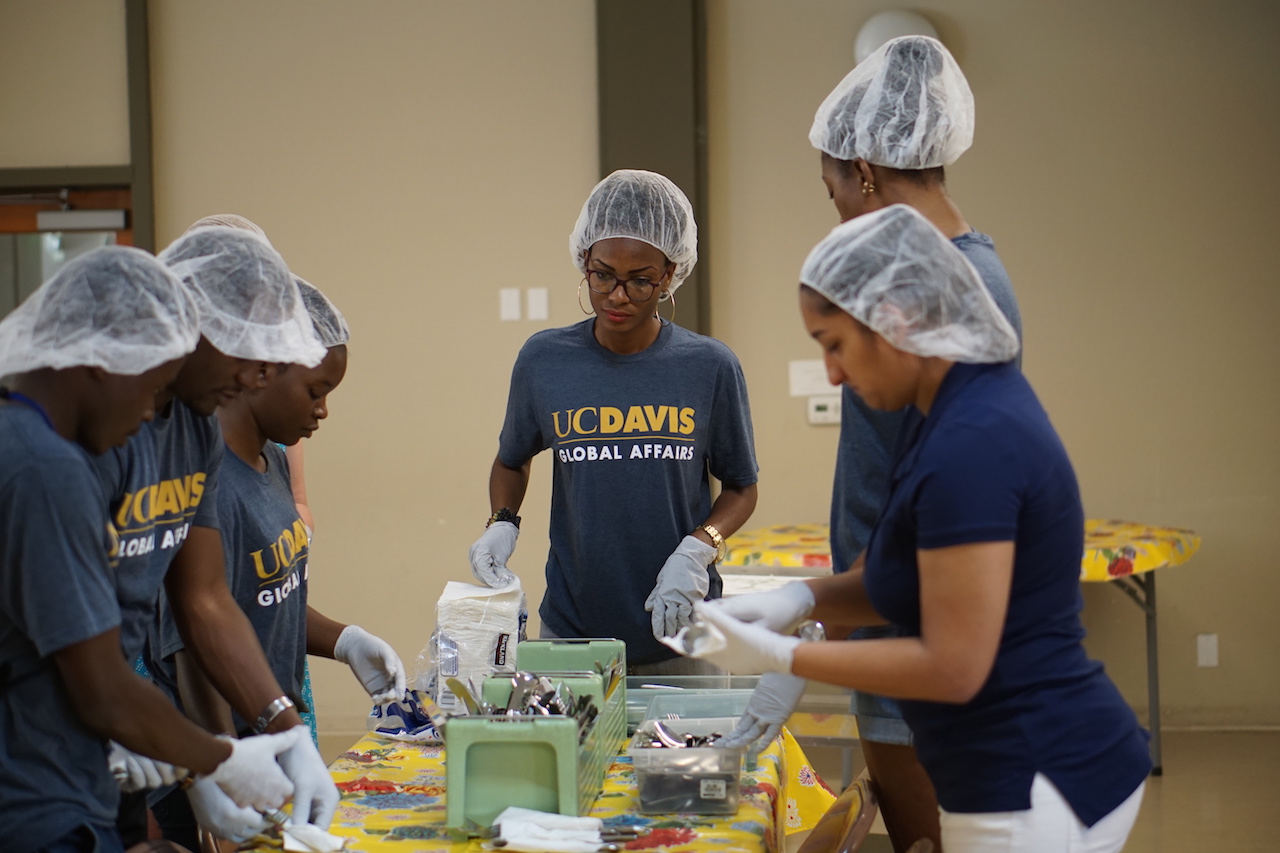 The impact of the weekly community service activities was significant. After spending four hours on two Saturday mornings, preparing and serving meals with the Davis Community Meals program, fellows were humbled and inspired. For Gwendoline Singem Mambo, an agro-food processing engineer from Cameroon, her immediate thought was on the impact such a program could have in her home country.
"The community meal service was inspirational to me," she said. "It was quite fulfilling for me to assist in preparing meals for the underprivileged and homeless. I couldn't help thinking about the numerous homeless people on the streets of our big cities back home in Cameroon and what a difference providing them with just a meal a day will make. The community meal service is a project I will probably look into in the future."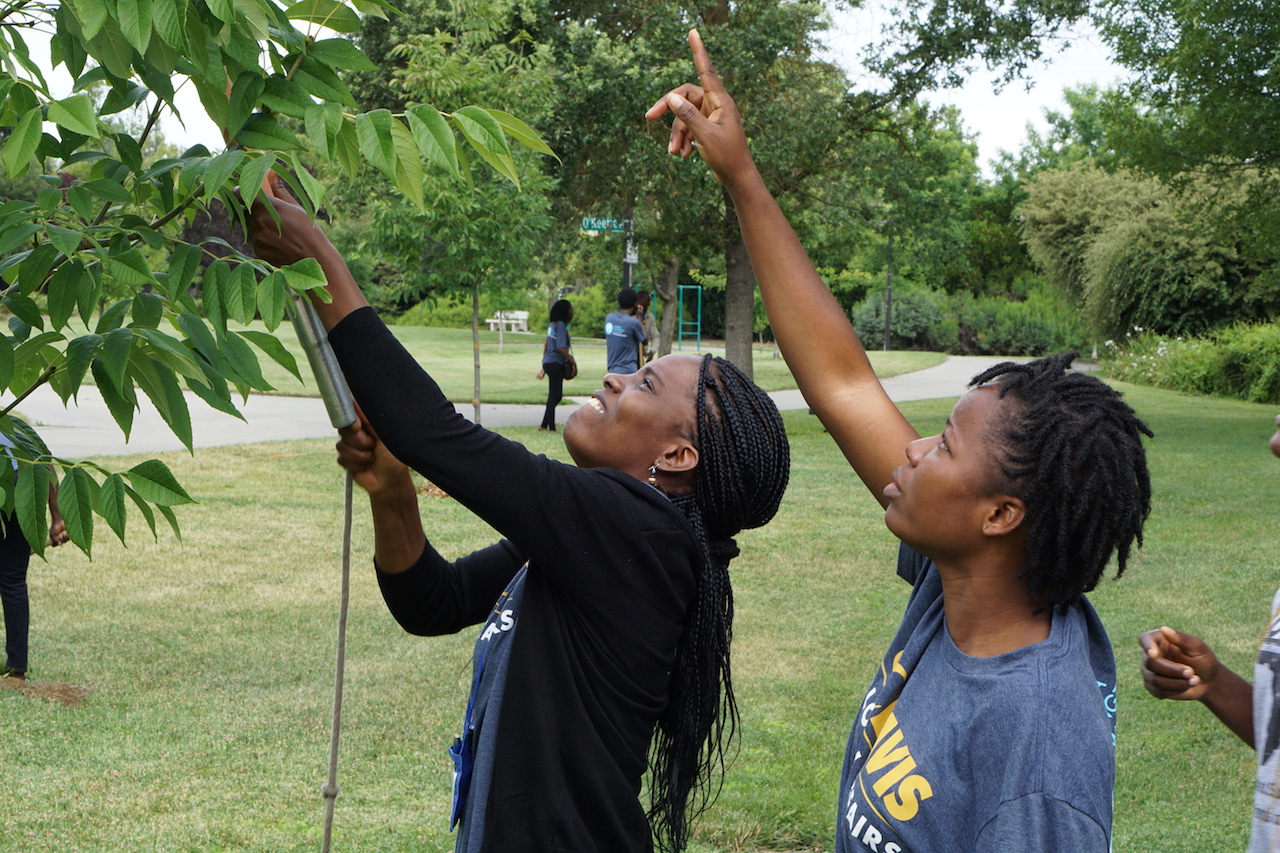 Likando Nabuyanda, an engineer from Zambia, said the experience let him see the potential of helping people just by offering his time. 
"It's eye opening to be engaged in these activities and see the reality of people who need help and how us as leaders can create these opportunities to help," he said. "This makes me more aware of the need for us leaders to give our time to noble causes like community service." 
Nabuyanda, whose area of work is water supply and sanitation, added, "I see that you can find avenues other than your area of expertise to help people and this inspires me to do just that."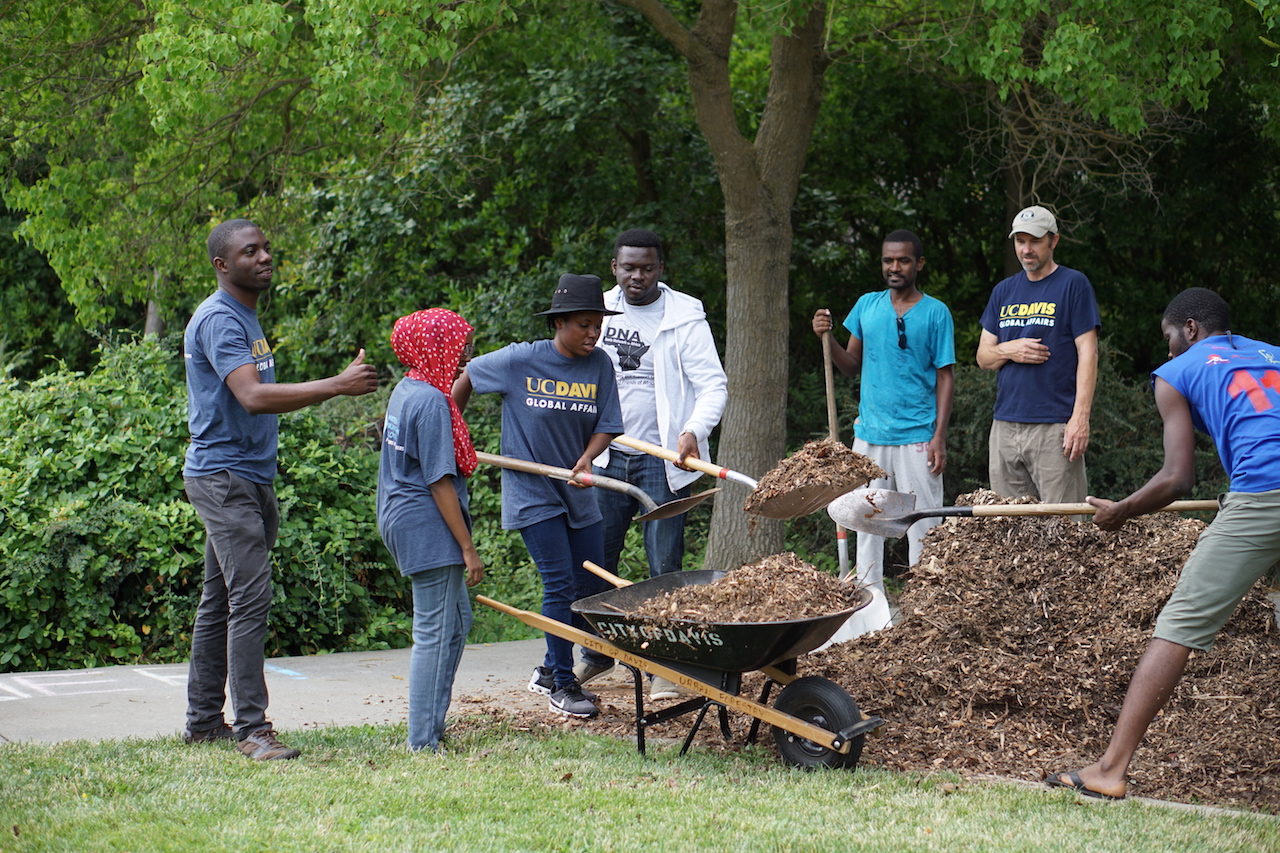 For Abraham Genetu Tiruneh, a physician from Ethiopia, community service is part of his overall life philosophy that, "to live is to give. To live well is to sacrifice for the good of the public. If we say we are leaders, we should lead by example. We should be servants to our community."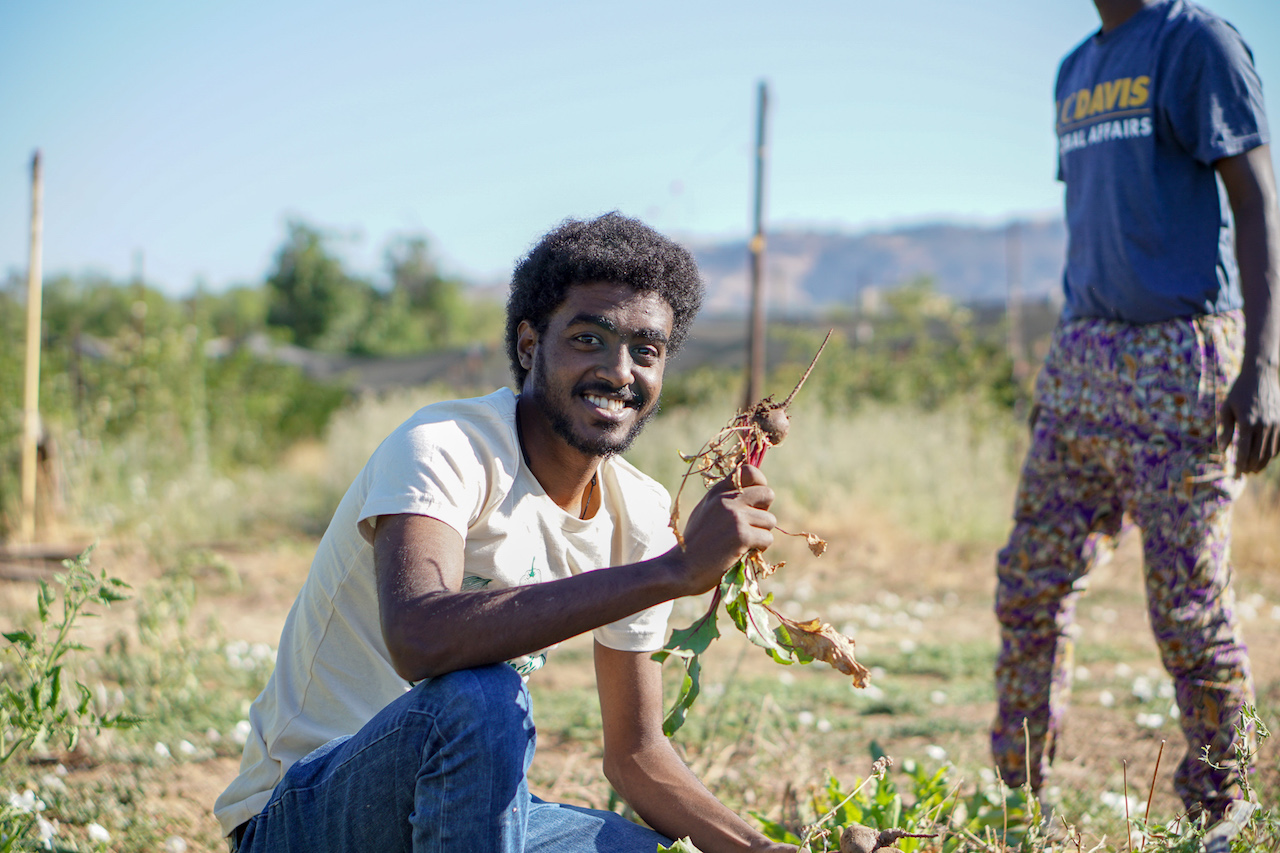 Temperatures are known to reach scorching levels during summer time in Yolo County and in late July when the UC Davis cohort of Mandela Fellows completed the final community service activity of the fellowship there was no exception. Still, these young African leaders took up the challenge and by midday had planted 30 trees along the perimeter of Jack Slaven park in Woodland.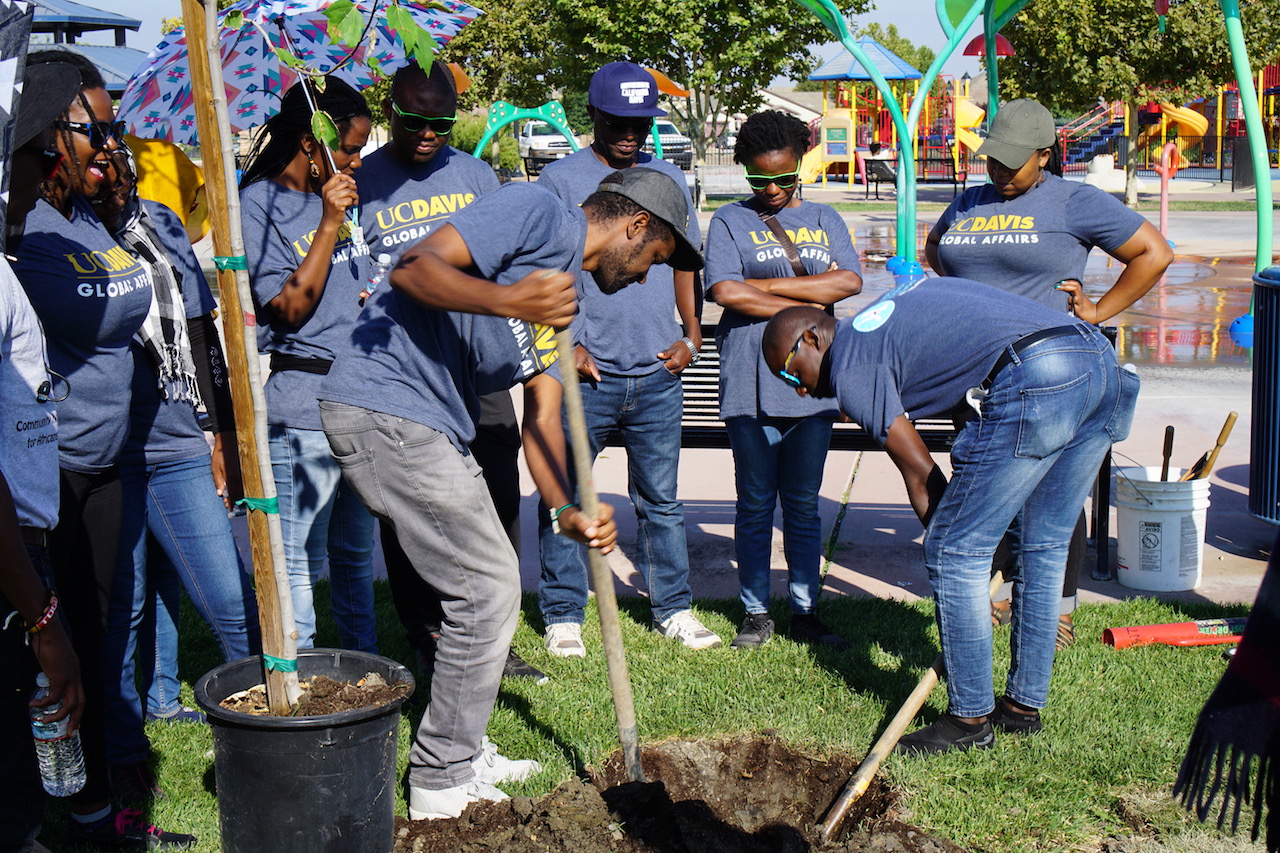 In total, the 2018 UC Davis Mandela Washington Fellows planted 30 trees in Woodland, pruned and mulched 59 trees along the Davis greenbelt, harvested 960 pounds of produce from Gauchito Hill Farm in the Capay Valley in support of Yolo Food Bank and spent eight hours preparing meals and serving an underprivileged community with Davis Community Meals.
Konsella-Norene noted it was a true reciprocal exchange. "It is this spirit of community engagement and partnership with local organizations that we hoped to expose fellows to and encourage them to continue that spirit of community engagement when they return to their home countries," she said.
---
About Global Affairs at UC Davis
Global Affairs brings the world to UC Davis, welcoming more than 8,400 international students, scholars and leaders, and hosting programs that inspire global curiosity, understanding and engagement. Compelled by the valuable outcomes of thinking globally, we make transformative opportunities a reality by supporting the thousands of students and faculty studying and researching internationally-and by facilitating collaborations that tackle the world's most pressing problems through more than 150 international partnerships.

Putting our vision of a UC Davis community that engages, thrives, and leads in this interconnected world into action, Global Affairs is now in pursuit of an ambitious goal: Global Education for All.
---
About the Mandela Washington Fellowship
The Mandela Washington Fellowship for Young African Leaders is a program of the U.S. Department of State, administered by IREX. The University of California, Davis, is a sub-grantee of IREX and is supporting the U.S.-based academic program of the Fellowship.
Primary Category
Tags