UC Davis Blum Center Funds Global Service Experience for Future Engineers
By Rowan O'Connell-Gates, student writer, Global Affairs
Two years ago, four UC Davis undergraduate engineering students hatched a plan to address water issues in a small Peruvian village known as La Huaylla. Pairing with Engineering Without Borders, the students created a comprehensive five-year plan focused on assessing the environment, implementing designs, educating the community, and providing upkeep.
With funding via a "Poverty Alleviation Through Action" grant from the Blum Center for Developing Economies within Global Affairs at UC Davis, the students were able to complete the installation of their designs this past summer. Now back on campus and nearing graduation, the future engineers have time to reflect on their experiences in Peru.
"One of the major issues the community had was they just didn't have enough water throughout the day," said Evan Barnell, fourth year mechanical engineering student and co-leader of the project. "The reservoir had some water, but the way the pipes were designed, it didn't flow right."
Roughly 30 years prior, an organization had installed the system with the goal of simply completing the project and leaving. Because of this, the people of La Huaylla had few ways to improve the system.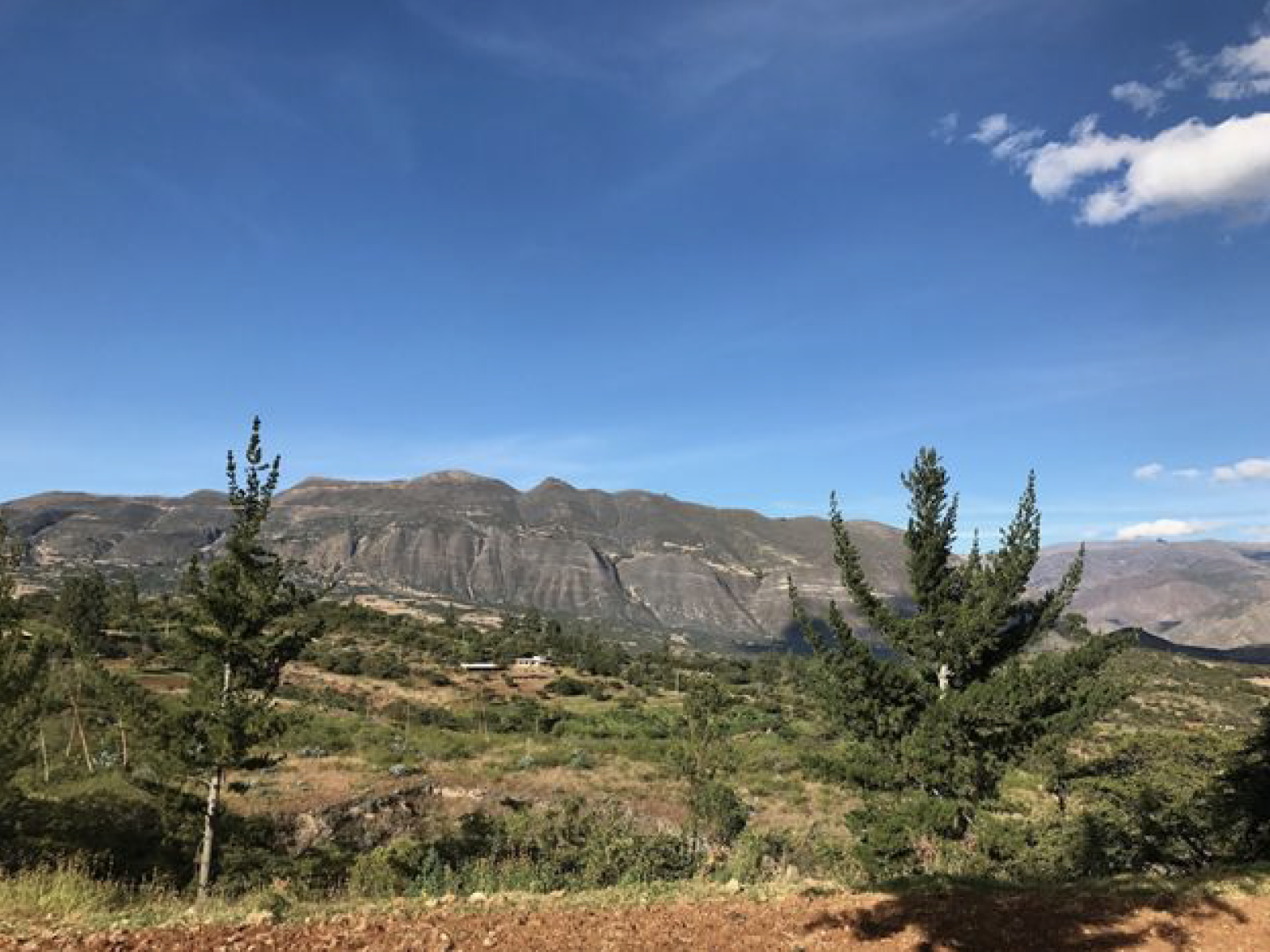 In all likelihood the community would still be dealing with water issues today had it not been for an introduction to Jeff Navarrete.
Navarrete, a civil engineer and UC Davis alumnus, spent 2014 to 2016 working as a Peace Corps volunteer in La Huaylla. When Barnell and his UC Davis classmates began their search for an Engineers Without Borders project they were directed towards Navarrete, who had noted the water issues and the community's willingness to work with individuals from other countries.
In the summer of 2016, Nicolas Dante Dilliott, fourth year civil engineering student and the team's project manager, joined Barnell for an assessment trip while Navarette was finishing his final year with Peace Corps.
In addition to meeting community members and assessing the inconsistent water supply, Barnell and Dilliott tested the water to gain an understanding of its cleanliness. The results pointed to a need for chlorination and reconstruction of the current systems. After Barnell and Dilliott returned to UC Davis, Navarette installed a drip chlorinator. And in California, Barnell and Dilliott began work on improving designs with fourth year biological systems engineering student Nisha Marwaha.
Come 2017, Barnell, Dilliott, Marwaha, and fourth year civil engineering student Alexandra Nicolopoulos earned the grant from the Blum Center for Developing Economies. Eight people made the trip from UC Davis: the four Blum Fellows, two fellow engineering students, a professional engineering mentor, and alumnus Jeff Navarette.
From the start, the group made it clear that they wanted to work with the community, not for them. With this in mind, the team began working with the local Peruvian municipality overlooking La Huaylla.
"We don't just go in and do a project then get out; it's a commitment," Dilliott said. "We're all working there every day with the community members."
With community building as a part of the plan, not only were community members out working every day, they also chipped in for the material costs. As work began, what immediately stuck out to the team, was the work ethic of the La Huayllans.
"These are people carrying 100-pound bags of cement on their shoulders," Dilliott said. "It's incredible. We tried to do it for a couple days and we were just totally wiped, while they're just doing it like it's nothing."
Because of the team effort, the water system overhaul was completed in a month. This involved replacing two of the three water catchments, leading the processes of pouring cement, using rebar to promote structural integrity, and replacing sedimentation and valve chambers. The valve chambers were key as the UC Davis students made sure to design them in a user-friendly manner for future upkeep.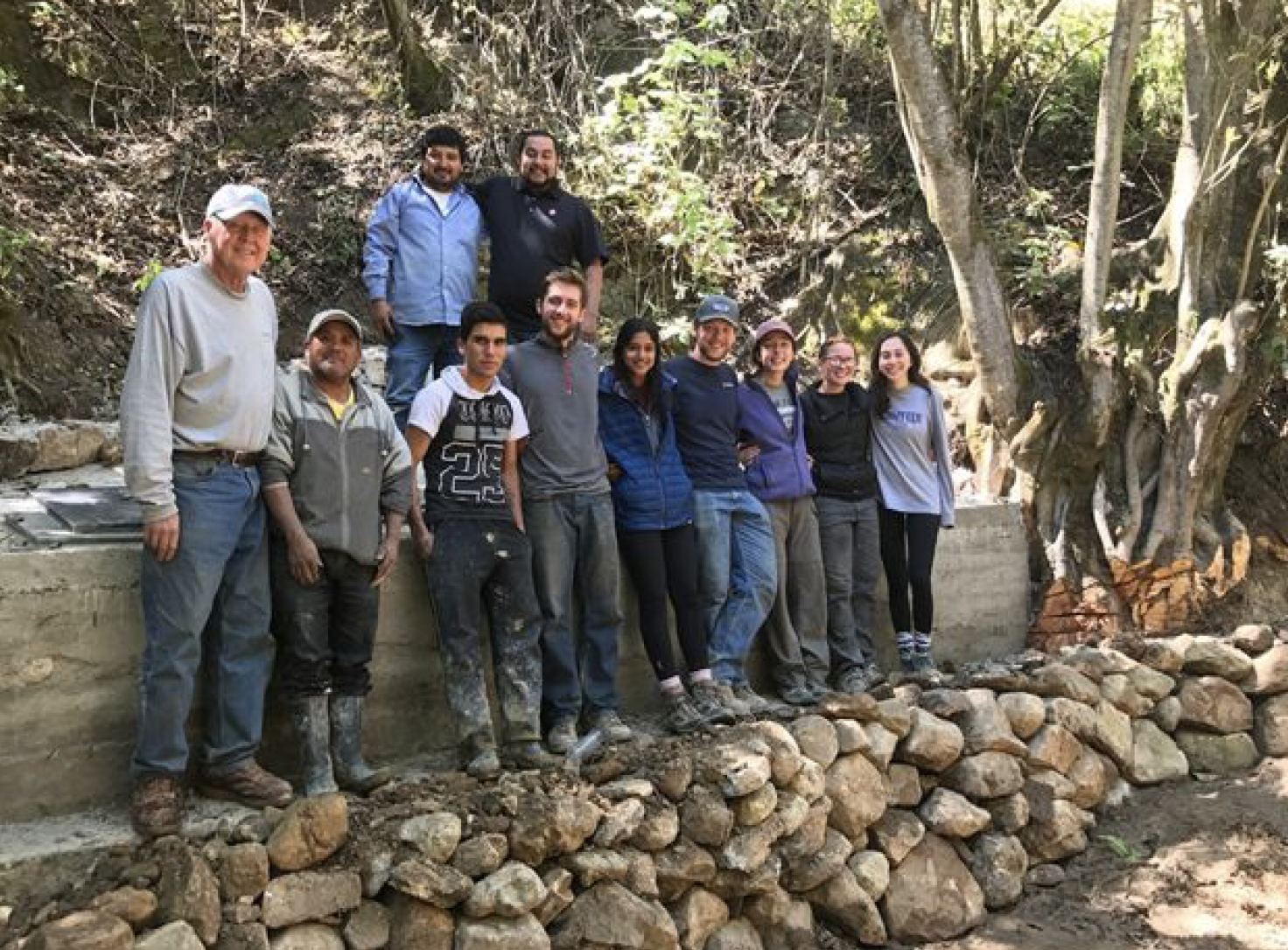 While there were contributions from La Huaylla and the municipality, the majority of the funding for the project came from the Blum Center grant. "We couldn't have done it without the Blum Center funding," Dilliott said. "The grant went right towards the materials and the transportation for everything."
In addition to construction, the team also sought to educate the youth of La Huaylla so that clean water could become a mainstay.
"Team members would go to schools once or twice a week to play soccer and teach water sanitation, water health, and talk about what we were doing," Dilliot said.
Marwaha and Nicolopoulos oversaw the education aspect of the trip and even painted a mural with the kids titled "Agua es Vida" to provide a representation of the progress reached. "We wanted to really integrate the entire community and I think that starts with the youth," Marwaha said.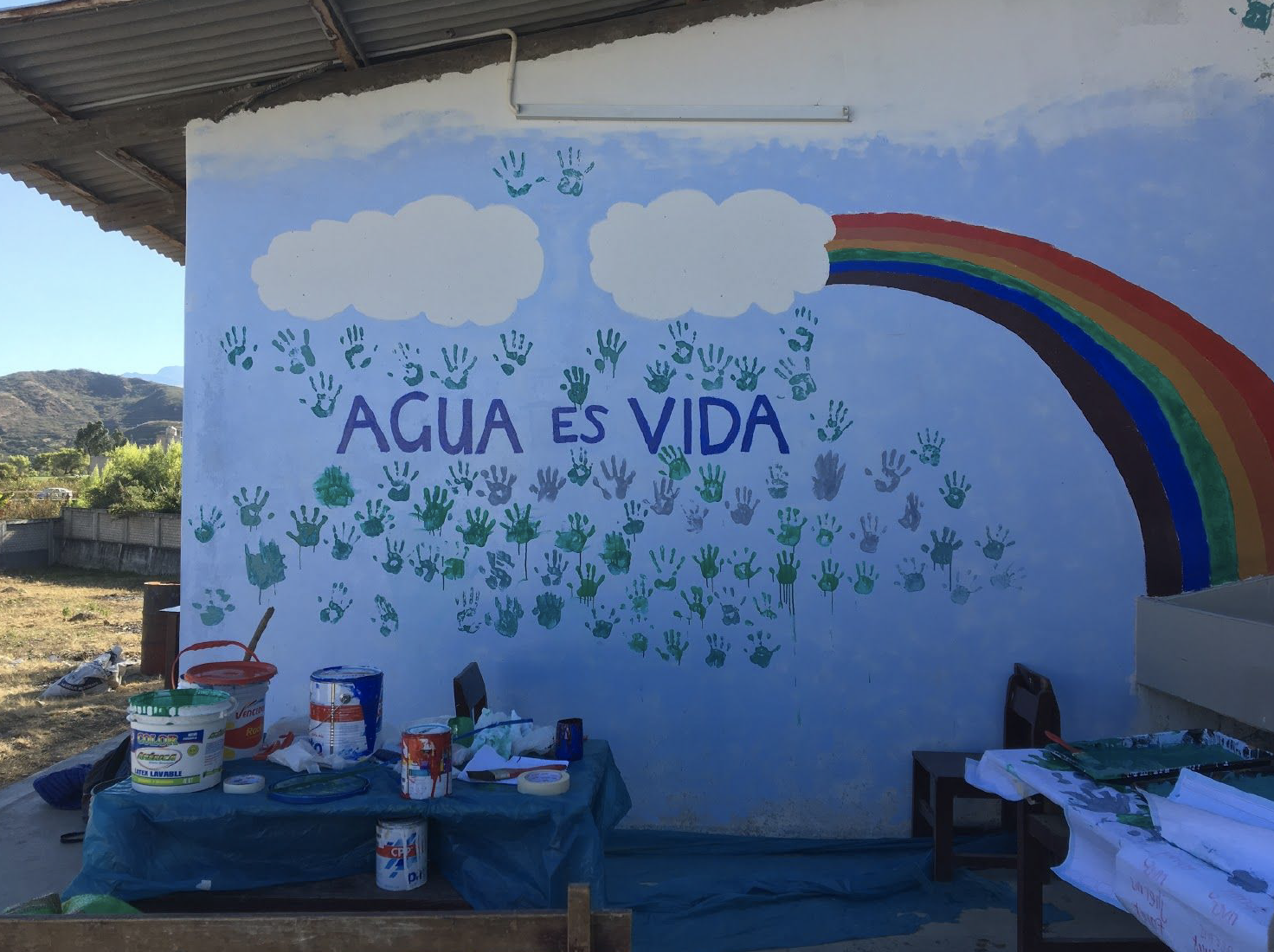 Throughout their time in La Huaylla, the team couldn't have felt more welcome, becoming close with numerous families. Staying in a local church, they were provided daily meals at nearby restaurants. 
"A lot of people say Peruvian food is really good and I've heard it before, but once you actually go down there, it's just even better," Barnell said.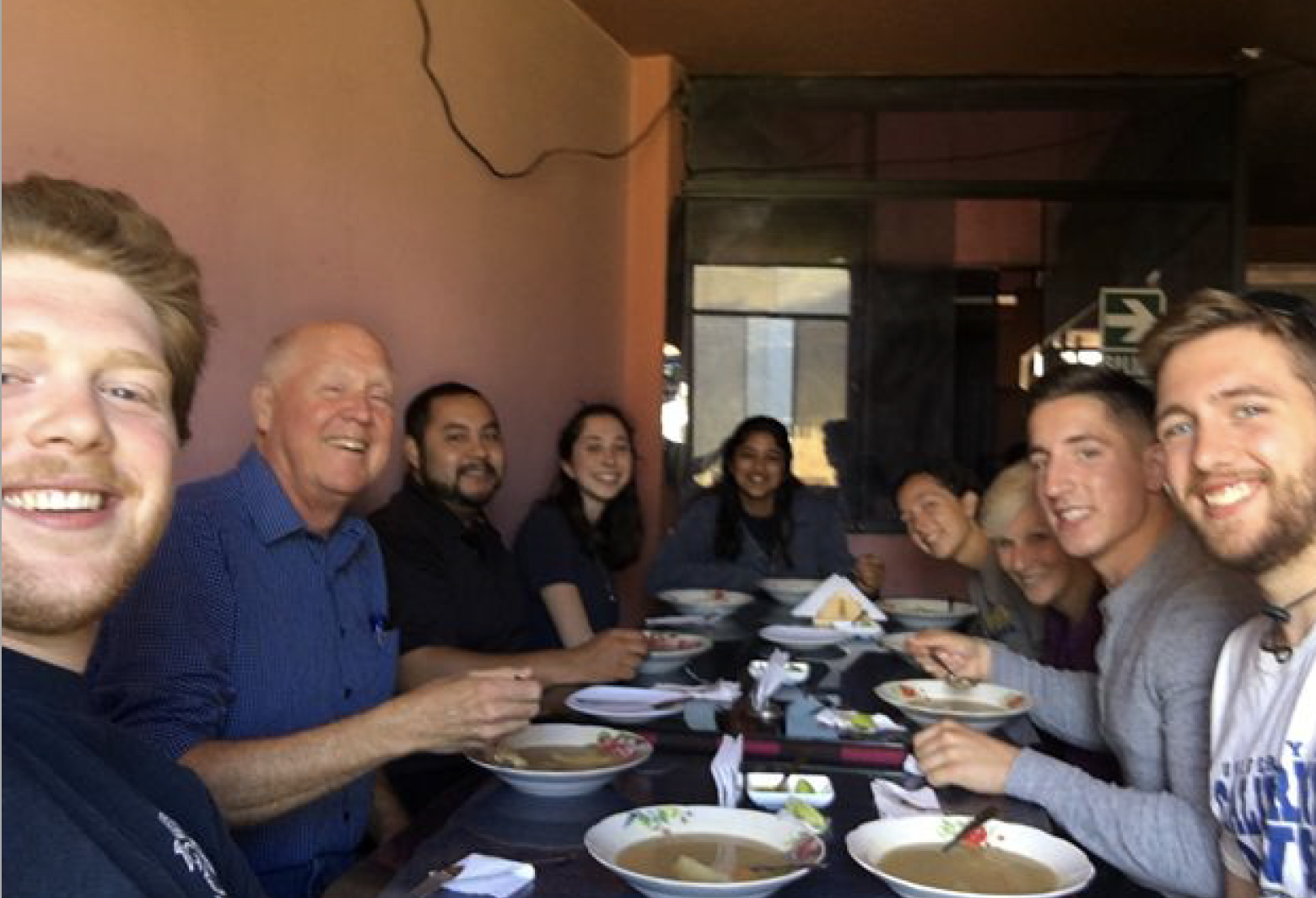 Ultimately, the trip provided UC Davis students with the opportunity to apply their academic knowledge in real life. With real life consequences and real life rewards. 
"When you implement your design, you are in the real world," Dilliott said. "You learn so much more by building it."
Multiple times on their trip, the students were forced to make quick decisions relating to design changes, due to unforeseen structural or environmental issues.
"Those on-the-spot changes really reinforce important concepts that you learn in class," Dilliott said. "You also learn that the engineering part of it is the easy part. The hard part is managing all your stakeholders and communicating what you are actually doing. And you can't learn that in class."
With the second part of their five-year project behind them, the group of UC Davis seniors is already looking toward the future. Although all four of the Blum Fellows will be graduating in spring, they want to see their comprehensive project through.
 "I'm tentatively planning on putting in a new pipeline, and putting in a new reservoir," Dilliot said. "When this project closes out, then we can find another community in Peru. When we go there the next year, we check up on everything in La Huaylla."
One of many examples of the impact UC Davis students and alumni are having around the world, this Peru project certainly spurred a commitment to service. Current UC Davis students are encouraged to apply for similar experiences: the deadline for this upcoming summer's Blum Center "Poverty Alleviation through Action" grants is Feb. 28, 2018.
---
Integrating education and experience, the Blum Center for Developing Economies prepares and funds UC Davis students to thrive in tackling projects that are transformative for students and for communities in more than 19 countries around the world.
As a part of Global Affairs at UC Davis, the Blum Center aims to inspire global curiosity, understanding, and engagement.
---
Building upon a long-standing tradition of public service, the UC Davis College of Engineering has a visionary plan for the future in which innovative research and quality education will make life better for everyone.
Primary Category
Tags