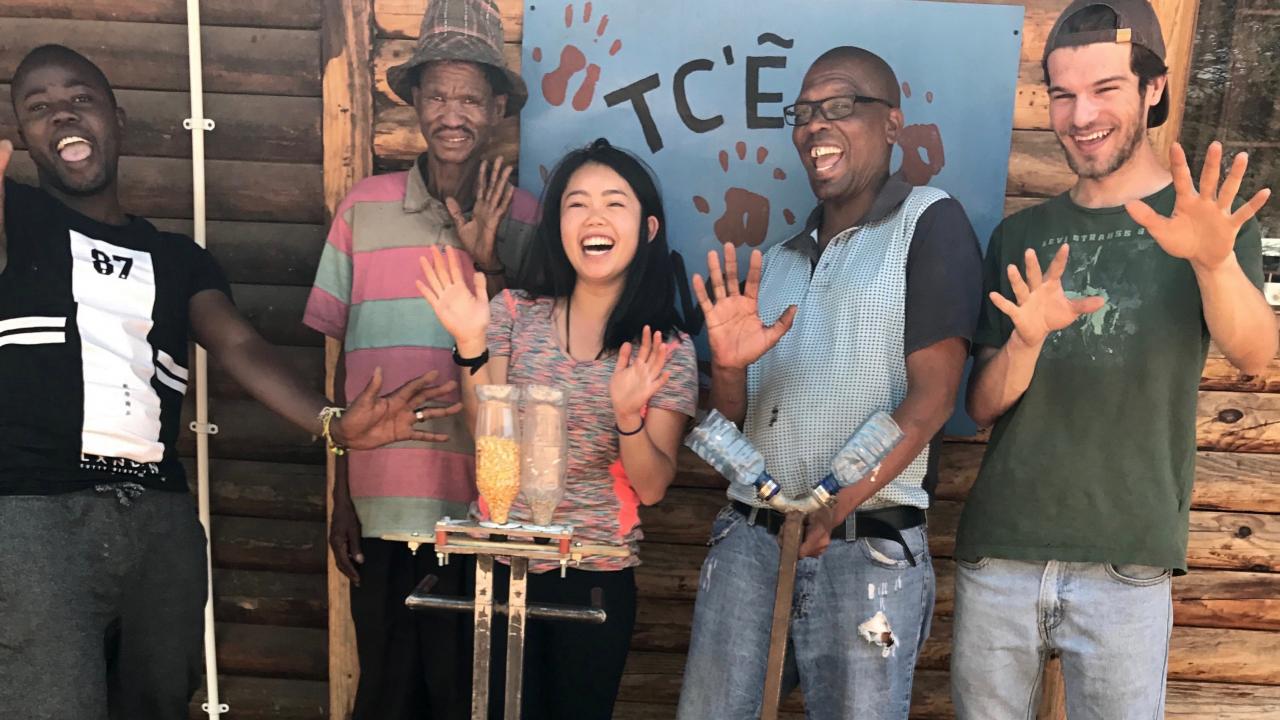 By Rowan O'Connell-Gates, student writer, Global Affairs
Prior to her senior year of high school, fourth year Environmental Science and Management major Stephanie Lew, traveled to Nicaragua, gaining a better perspective on the world. Yearning for another international experience and looking to put her passion for food development to action, Lew spent this past summer working on an agriculture development project in D'kar, Botswana as a UC Davis Blum Center Fellow.
Already realizing the emerging impact of food development, during her third year at UC Davis, Lew discovered "D-Lab," a two quarter course that teaches hands-on skills with a focus on developing countries. Administered by the UC Davis Program for International Energy Technologies, the courses enable students like Lew in formulating sustainable poverty alleviation projects.
"With development you don't just come up with your project and go somewhere and implement it. It's based off of a need, and finding that need takes connections and time," Lew said. "D-Lab connected me with a project."
Through the D-Lab course, Lew was introduced to the Precision Planter, an agricultural tool designed by Mathambo Ngakaeaja, in rural Botswana. Shaped like a metal spear, the planter is mounted with bottles of seed and fertilizer, which are dispensed into the spaded soil with less damage to the earth and a greater potential crop yield.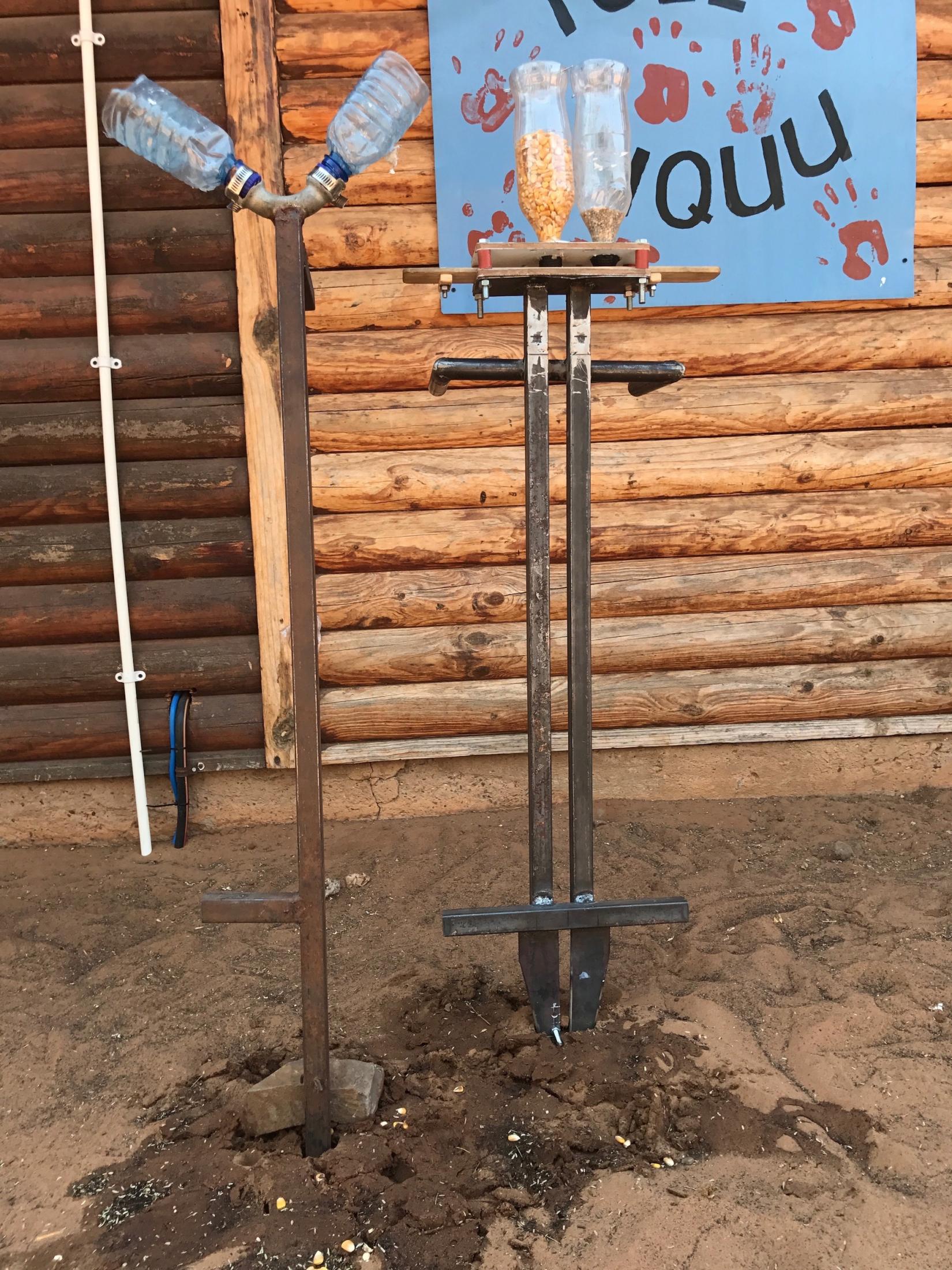 While the idea for the tool was foolproof, the design needed work. And despite being new to a project like this, Lew saw an opportunity she couldn't pass up.
"The project was focused on building a technology for agriculture, which was different for me," Lew said. "I'm not an engineer, I'm not a design major, I'm an environmental science major, so it was a learning process. And I learned a lot."
Inspired by the Precision Planter, Lew submitted a proposal to become a Blum Center Fellow, a joint initiative between the Blum Center and UC Davis colleges and schools. With the fellowship, Lew's development aspirations became a reality. Lew and her project partner, fifth year Biological Systems Engineering major Alex Wilder, spent spring quarter improving upon the Precision Planter design. By the end of the school year, they were preparing for their trip to Botswana.
Upon arriving in D'kar, Wilder and Lew were put up in a local hostel, comprised of one bedroom with twin beds, one bath and a living area. Bucket showers were the norm, refrigerators were few and far between, and canned food was plentiful. Wilder and Lew quickly realized they were far from the comfort of their home.
"The second day I was there, I just wanted to be home. I missed the comfort of my own bed," Lew said. "However, I do I believe that in order to grow, you need to step out of your comfort zone, and put yourself in those kinds of new positions."
To offset for their initial discomfort, Wilder and Lew threw themselves into their work. The first week of their month-long stay was characterized by the implementation of new designs on the Precision Planter. With the help of the tool's creator Ngakaeaja, the UC Davis students worked in the local metal shop, soldering, welding and cutting materials.
After completing the new prototype, Lew, Ngakaeaja, and Wilder spent their second week taking the tool to the various agricultural communities around D'kar. The three asked farmers to try out the tool and provide feedback as to what they liked and disliked. This aspect of the project was incredibly important, because it involved the entire community in both the redesign and feedback stages.
"At the end of the day, if they don't like the project then they're not going to adopt it, so we shared our project with everyone, working with the community, and Ngakaeaja," Lew said.
The final two weeks of their stay involved Wilder and Lew meeting with local government and redesigning the agricultural tool based on the community feedback, which mainly entailed adding ergonomic handles, allowing users to have greater comfort and control in the field.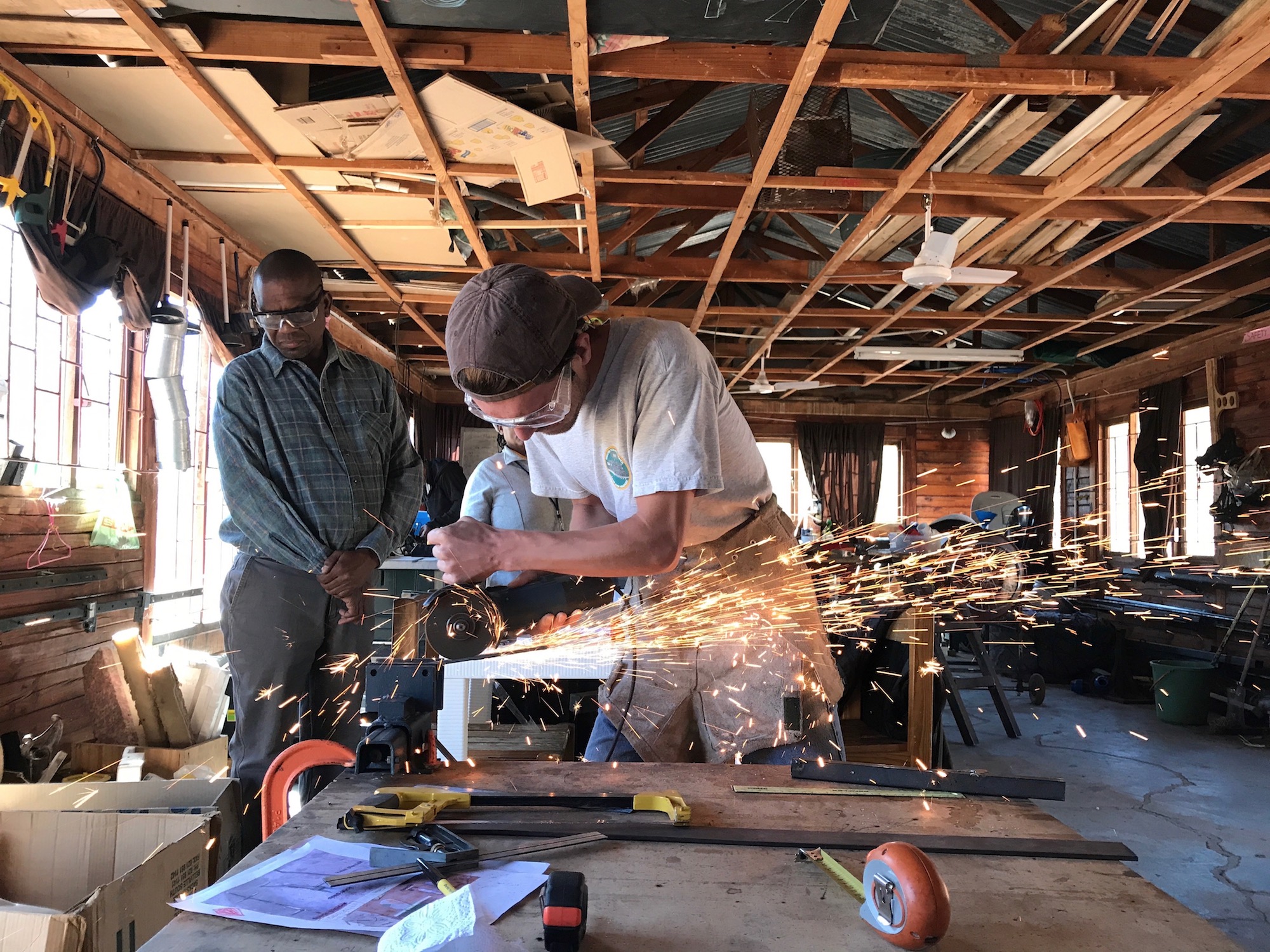 With the final design complete, Lew and Wilder traveled to present their designs to local government officials. The support was so overwhelming that the government agreed to subsidize agriculture communities that used the tool. In addition, the tool was lauded for its alignment with the conservation and agricultural goals of the area.
Looking back on another collaborative success story, Blum Center Executive Director Liliane Larson described the unique opportunity provided by Blum Center programs.
"Our Blum Fellows develop skills such as: adaptability, responsibility, project management, resiliency, and persistence," Larson said. "This enables our students to become agents of change in the world."
Today, as Lew reflects on her initial discomfort during the trip, she chalks it up to being an important experience. From Lew's point of view, it's okay to struggle at first in a new situation.
"It was definitely a life changing experience," Lew said. "In the end, I'm really happy I did it. Although it was hard to adjust, I grew in so many ways."
As one of the Blum Center's more than 200 past grantees, Lew and her project partner Wilder exemplify the global impact of UC Davis and the opportunities students have to both gain real-world skills and engage with communities in implementing real-world solutions. Larson adds that experiences like these are waiting for more UC Davis students.
"The Blum Center provides a variety of opportunities for undergraduate and graduate students interested in learning about global inequality," Larson said. "Students applying to become Blum Fellows will receive mentoring and funding to successfully implement their projects worldwide. This type of international hands-on experience is both transformational and rewarding."
Current UC Davis students are encouraged to apply for similar experiences. The deadlines for undergraduate student grants is February 28, 2018 and for graduate student grants is March 30, 2018 through the Blum Center's website.
---
About Global Affairs at UC Davis
Global Affairs brings the world to UC Davis, welcoming more than 8,400 international students, scholars and leaders, and hosting programs that inspire global curiosity, understanding and engagement. Compelled by the valuable outcomes of thinking globally, we make transformative opportunities a reality by supporting the thousands of students and faculty studying and researching internationally-and by facilitating collaborations that tackle the world's most pressing problems through more than 150 international partnerships.

Putting our vision of a UC Davis community that engages, thrives, and leads in this interconnected world into action, Global Affairs is now in pursuit of an ambitious goal: Global Education for All.
About the Blum Center for Developing Economies
Integrating education and experience, the Blum Center for Developing Economies prepares and funds UC Davis students to thrive in tackling projects that are transformative for students and for communities in more than 50 countries around the world. As a part of Global Affairs at UC Davis, the Blum Center aims to inspire global curiosity, understanding, and engagement.
Category
Tags