New UC Davis Fund to Support Students Advancing Local and Global LGBTQIA+ Rights
Fund Established by Former UC Davis Provost Ralph Hexter and his Husband Manfred Kollmeier
UC Davis recognizes that there is a need for continued global engagement to support the well-being and rights of the LGBTQIA+ community and to raise awareness of the challenges faced by these individuals in countries across the globe. To support and enact these opportunities, Global Affairs has launched a new fund, the Global Aggie Award for LGBTQIA+ Rights, thanks to the generosity of former UC Davis Provost and Executive Vice Chancellor and former Interim Chancellor Ralph J. Hexter and his husband Manfred Kollmeier.
The new Global Aggie Award for LGBTQIA+ Rights will support UC Davis students in gaining global learning experiences that advance local and global LGBTQIA+ issues and address the needs and strengths of the LGBTQIA+ community. The new fund aligns with UC Davis' commitment to diversity, equity, inclusion and social justice, and to educating the next generation of change makers. As a part of this commitment, Global Affairs is championing a campus initiative and Provost's Priority of Global Education for All—a goal aiming to provide 100% of undergraduate, graduate, and professional students with global learning opportunities that change their lives and our world.
"UC Davis is deeply committed to excellence in diversity, equity and inclusion and to building a more just world. We recognize that ensuring LGBTQIA+ individuals' well-being and rights, both locally and globally, is critical. We're also deeply committed to supporting and engaging our students in advancing these efforts through a variety of global experiences," said Joanna Regulska, vice provost and dean of Global Affairs. "We're extremely honored to have the remarkable support of Ralph and Manfred to launch this new Global Aggie Award for LBGTQIA+ Rights. The fund will make a difference in the lives of many, now and in the future."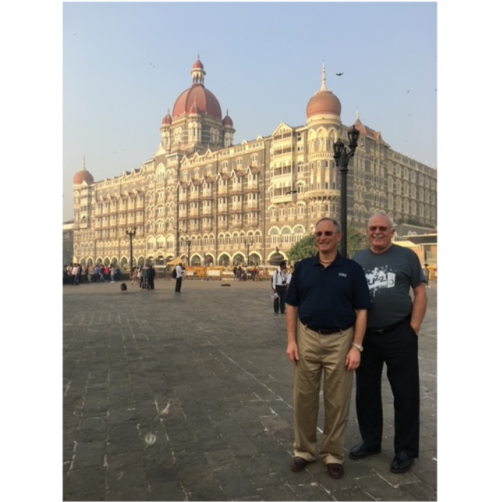 "Coming ourselves originally from different countries, we have always been aware that the pathways by which LGBTQIA+ people have come out, come together, and then formed communities vary widely around the world," said Hexter and Kollmeier. 
"We think it is particularly important for those of us in the United States to learn about these different histories and contexts beyond our borders, and in this instance, the different ways communities in other countries have resisted discrimination and fought for their rights – with varying success, for some LGBTQIA+ individuals face serious threats, even death, in their home countries. All these differences are themselves rooted in the widely differing attitudes towards gender, sexuality, family, and community. Indeed, some cultures have long afforded a place in the social order, sometimes even honor, for non-binary individuals and others who do not conform to modern 'Western' expectations of heterosexual relations between cisgender people. The imposition of  more traditional 'Western' values by colonizers often disrupted earlier and more open patterns. The legacy of 'modernity' and 'globalization,' then, is mixed, bringing in some cases new repression, in some cases, inspiration for 'liberation.'" 
The UC Davis Global Learning Hub in Global Affairs will manage applications for undergraduate, graduate, and professional students to apply to pursue a diverse range of activities that address LGBTQIA+ well-being and rights. These may include participating in internships or projects with organizations that are promoting and addressing LGBTQIA+ well-being and/or rights, conducting research with a global dimension, or pursuing other global learning opportunities centered on these issues.
"UC Davis, with its ambitious goal of Global Education for All, its strong LGBTQIA+ community and programming, and its engagement in Human Rights, can now encourage and support students to learn about and engage these issues in globally-oriented projects," said Hexter and Kollmeier.
Global Affairs will partner with UC Davis faculty whose work advances local and global LGBTQIA+ well-being and/or rights and will build upon partnerships with units across campus, including the LGBTQIA+ Resource Center and the Human Rights Studies program.
"The Global Aggie Award for LGBTQIA+ Rights will broaden global learning opportunities and increase students' global awareness, engagement with global diversity, and involvement with global action to ensure equity and justice for LGBTQIA+ people," said Regulska.
This new award represents a unique opportunity for students. UC Davis will be among the first universities to provide students with funding and support to learn about and advance LGBTQIA+ well-being and rights beyond traditional study abroad programs, including through domestic, experiential and research opportunities. 
 
Make a Gift to Support the Global Aggie Award for LGBTQIA+ Rights
---
About UC Davis Global Affairs
Global Affairs brings the world to UC Davis, welcoming more than 10,000 international students, scholars and leaders, and hosting programs that inspire global curiosity, understanding and engagement. Compelled by the valuable outcomes of thinking globally, we make transformative opportunities a reality by supporting the thousands of students and faculty learning and researching globally—and by facilitating collaborations that tackle the world's most pressing challenges through more than 150 global partnerships.
Putting our vision of a UC Davis community that engages, thrives, and leads in this interconnected world into action, Global Affairs is in pursuit of an ambitious goal: Global Education for All.
Primary Category
Tags