UC Davis Leads Virtual Humphrey Fellowship Leadership Enhancement Workshops
By Allie Dodson, student communications assistant, Global Affairs
Despite not being able to host an in-person cohort this year due to COVID-19 concerns, UC Davis has remained committed to serving as Humphrey Fellowship Program partners, working in multi-campus collaboration to enrich the experiences of Humphrey Fellows in in-person programs at other universities around the U.S. UC Davis has hosted virtual workshops, seminars, and various enhancement opportunities, including the recent workshop Succeeding as a Leader in a World of Change and Opportunity. 
Throughout two five-session workshops this March and April, more than 60 fellows from 40 countries had the opportunity to explore evidence-based approaches to leadership behavior, such as learning how to articulate vision, empower people, and create diverse and motivated organizational cultures. Rather than being presented as a set of characteristics, leadership is explained as a set of behaviors and actions that catalyze lasting change. This leadership model is based on 35 years of research conducted in more than 80 countries and addresses what leaders can do to make a lasting difference in their world.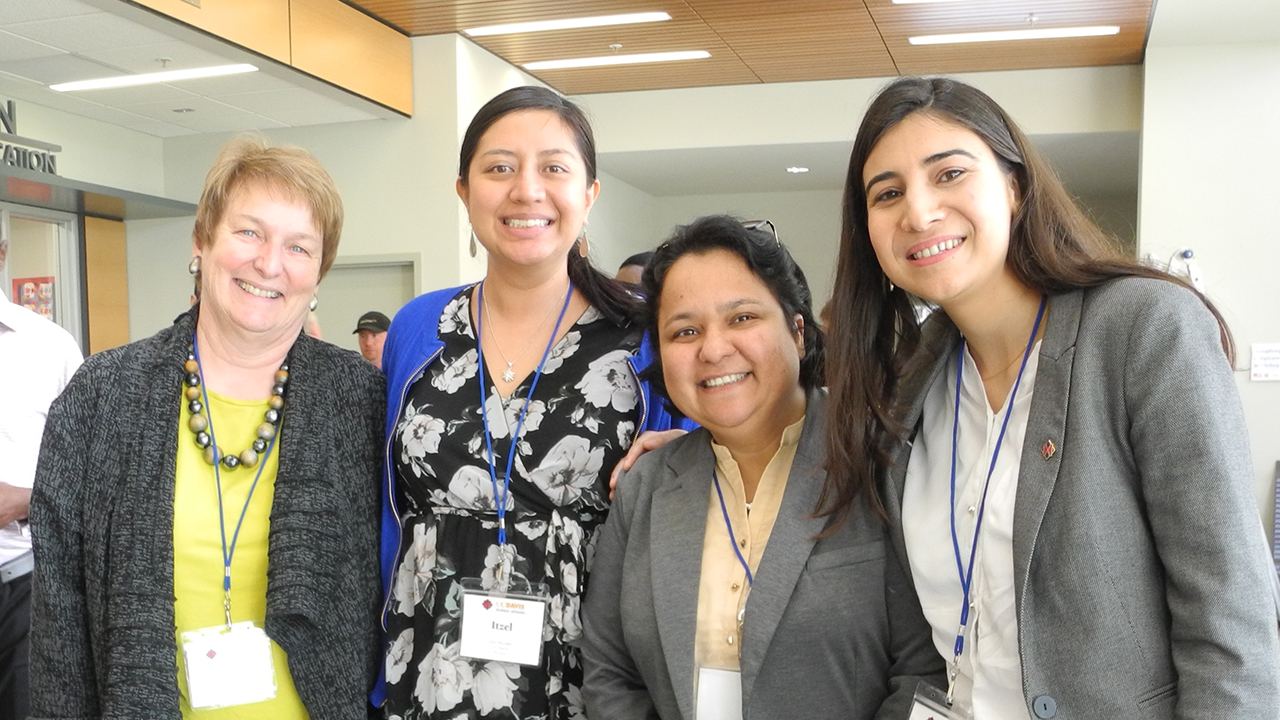 In workshop sessions run by Dan Schwab, leadership consultant, fellows were treated to remarks by speakers such as Joanna Regulska, vice provost and dean of UC Davis Global Affairs, and Andrew Olmem, member of the Fulbright Foreign Scholarship Board. They had the opportunity to build lasting connections with the rest of their cohort. Participants visited breakout rooms to discuss supplemental material, their visions of leadership, and their professional challenges.
"UC Davis is thrilled to partner with other Humphrey Fellowship Program institutions and lead the Succeeding as a Leader in a World of Change and Opportunity workshop. Collaborating across Humphrey host campuses was challenging in a pre-COVID-19 world; however, the virtual opportunities make our longtime interest in more partnerships, workshops, and open discussion among cohorts a bright spot in what has been a devastating situation for many," said Karen Beardsley, director of the Humphrey program within Global Affairs at UC Davis.
The workshop served as a launching pad to create fellow-to-fellow mentoring groups, which have the potential to continue even after the fellowship ends. In feedback following the workshop, participants named their favorite part of the event as "the opportunity to interact with other Humphrey Fellows about the dimensions of leadership." Manoj Kaphle, a Humphrey Fellow based at Cornell University, commented on his peers' philosophies of leadership, sharing that participating in the program made him realize that everyone is a leader, as long as they are given a "platform to act."
"While it doesn't replace the tactile element that you get from an in-person training, having the ability to use technology to meaningfully connect on such an important topic was a source of inspiration and growth for everyone involved. We were able to provide feedback and support to apply the learning to our real-world situations even across great distances from one another," said Nikki Grey Rutamu, associate director of the Humphrey Program at UC Davis.
Indeed, now, more than ever, there is a need for leadership to address challenges on local, national, and global scales with digital platforms presenting a unique opportunity for global connection and growth.
---
About Global Affairs at UC Davis
Global Affairs brings the world to UC Davis, welcoming more than 10,000 international students, scholars and leaders, and hosting programs that inspire global curiosity, understanding and engagement. Compelled by the valuable outcomes of thinking globally, we make transformative opportunities a reality by supporting the thousands of students and faculty learning and researching globally—and by facilitating collaborations that tackle the world's most pressing challenges through more than 150 global partnerships.
Putting our vision of a UC Davis community that engages, thrives, and leads in this interconnected world into action, Global Affairs is in pursuit of an ambitious goal: Global Education for All.
Primary Category
Tags