UC Davis Partners with University of Agriculture Faisalabad in Pakistan for Collaborations in Horticulture and Animal Science
By Bonnie Shea, executive director of communications and marketing, Global Affairs
On June 1, 2021, the University of California, Davis (UC Davis) and the University of Agriculture Faisalabad (UAF) in Pakistan signed an agreement of cooperation to partner on research and capacity building collaborations in horticulture and animal science. The agreement builds upon past agreements between the two universities signed in 2008 and 2013 as well as ongoing collaborations between UC Davis and Pakistan.
"UC Davis served as one of the partners in the implementation of the USAID-funded Agricultural Innovation Program in Pakistan under the overall initiative on Promoting Science and Innovation in Agriculture in Pakistan," said Ermias Kebreab, professor and Sesnon Endowed Chair of animal science, associate dean of Global Engagement, and director of the World Food Center in the College of Agricultural and Environmental Sciences at UC Davis.
"Our College of Agricultural and Environmental Sciences Global Engagement Office directed and oversaw the execution and completion of the training of personnel with the selection of 14 Pakistani students (nine M.S. and five Ph.D. students), all of whom completed their degrees at various U.S. land-grant universities, including UC Davis," said Kebreab.
In partnership with various agricultural universities in Pakistan, including UAF, UC Davis has also worked to improve horticulture production in Pakistan by supporting farmers in growing more high-quality perennial crops and by creating better post harvest technology.
"This new agreement will help us in our quest for funding from U.S. and Pakistani sources to continue the long-standing collaboration, particularly in agricultural research, human capacity development and support for extension services in Pakistan," said Kebreab.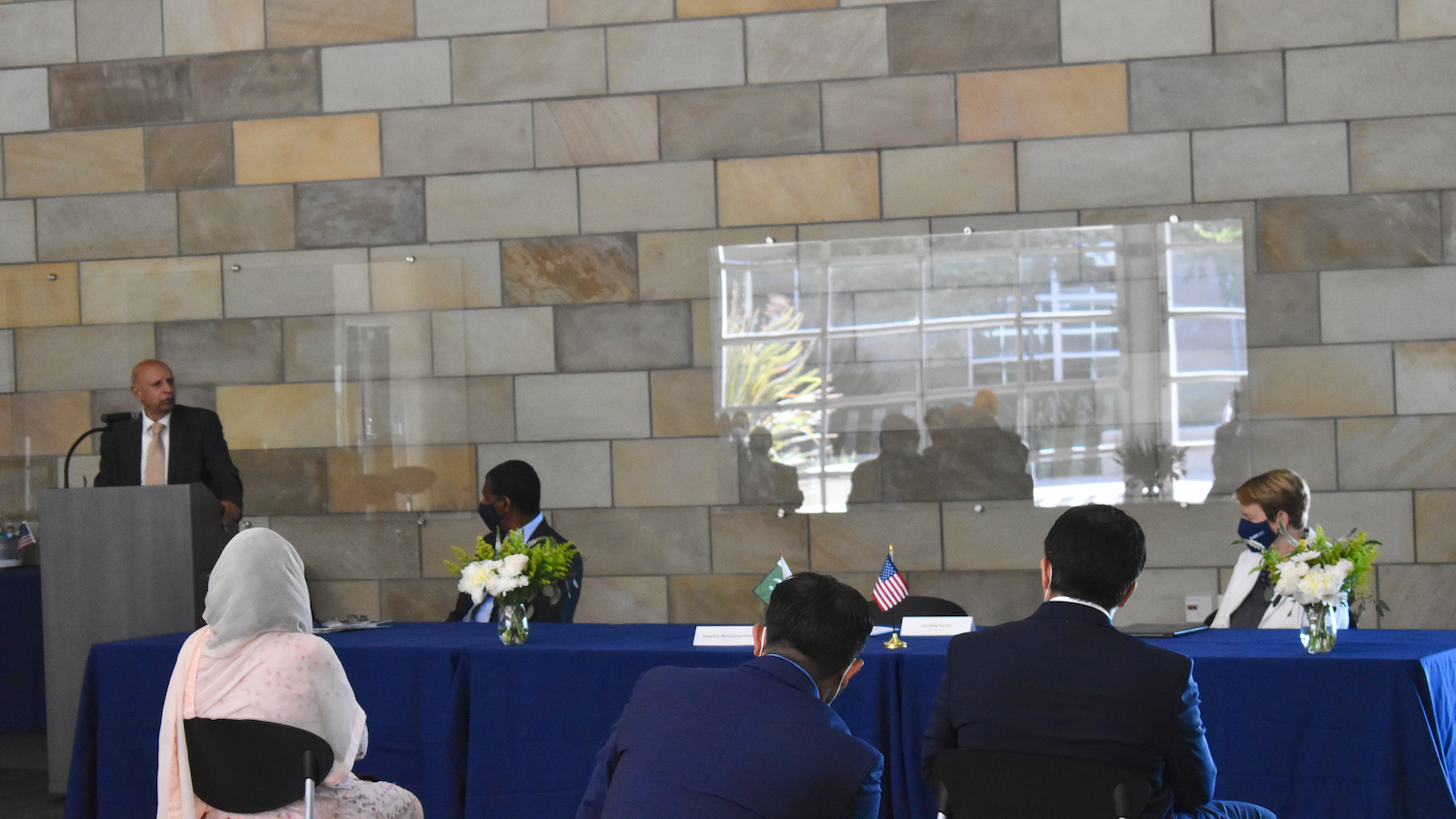 As a part of the agreement signing, Kebreab and Joanna Regulska, vice provost and dean of Global Affairs at UC Davis, welcomed a Pakistani delegation to campus. Led by Governor of Punjab and Chancellor of UAF Chaudhry Muhammad Sarwar, California State Medical Board Member Asif Mahmood, and Consul General of Pakistan in Los Angeles Abdul Jabbar Memon, the delegation also met with government officials in Sacramento.
Agriculture is a mainstay in Punjab, Pakistan, where the population exceeds 110 million. The flagship university of Punjab, UAF is a public university committed to preparing the next generation of agricultural workers and managers and translating the latest research to ensure food security, improve people's lives and drive the economy. UC Davis is a public, land-grant, research university internationally known for working collaboratively across disciplines to solve the world's most pressing challenges. UC Davis is ranked first in the world in plant and animal sciences and first in the U.S. and second in the world for agricultural sciences and forestry.
"As we face today's local and global challenges and opportunities, we know they are interconnected, cross borders, and require collaborations," said Regulska. "We are committed to contributing towards all 17 UN Sustainable Development Goals, such as ending hunger, combating climate change, eradicating inequalities and more. We're proud to partner across the world in these efforts and look forward to the mutually-beneficial collaborations to come through this new agreement with our colleagues at the University of Agriculture Faisalabad in Pakistan."
Primary Category
Tags