January 2023 Global Engagement Insider
Global Engagement Insider Newsletter - January 2023
Funding, opportunities, announcements, and resources for UC Davis globally engaged faculty and staff
Global Funding and Engagement
Global Affairs Opportunities
The Chancellor's Awards for International Engagement recognize individual faculty and staff members for their outstanding international engagement in carrying out the university's teaching, research and service missions. There are two categories of awards: faculty (Academic Senate or Academic Federation) and staff. 
Deadline: January 9, 2023
Global Affairs, the Office of Diversity, Equity and Inclusion, Sustainability and Grand Challenges have partnered to offer grants to promote multidisciplinary collaborations focused on one or more of the United Nations Sustainable Development Goals (SDGs). This year, we expect to fund up to five awards of up to $7,500. One award will go to a proposal focused on climate change. Another will go to a proposal focused on ensuring equal opportunity and reducing inequalities of outcomes, including by eliminating discriminatory laws, policies and practices and promoting appropriate legislation, policies and action (SDG 10.3). One award is for CAMPOS/CAMPSSAH scholars. The final two awards are open to those focused on any of the 17 SDGs. 
Deadline: January 9, 2023
The Excellence in Teaching of Study Abroad Award recognizes the commitment of instructors who design and teach Study Abroad programs and make international experiences accessible to all UC Davis students. The selection committee members will review all nominees. Two awardees will be selected: one member of the Academic Senate and one member of the Academic Federation. 
Deadline: January 9, 2023
This faculty workshop series offers UC Davis faculty members from all disciplines, colleges and schools concrete tools, techniques, and strategies for globalizing their course content. The "hands-on" workshops assist faculty in developing global learning frameworks and practices, grounded in theory and with measurable outcomes, to make their students' learning experiences more responsive to global challenges and opportunities.
Deadline: February 3, 2023
The California Israel Fund and the UC Davis Office of Research are pleased to announce a new call for joint research projects in the sciences (including, but not limited to mathematical & physical sciences, biological sciences, engineering, agriculture, & medicine). Proposals are invited that strengthen collaborations between UC Davis faculty and researchers at Israeli institutes of higher education. All UC Davis faculty members with PI status are eligible. Preference will be given to proposals creating new collaborations that are likely to result in long-term projects. Both full proposals (up to $20,000 over 2 years in support of a joint research project) and mobility requests (up to $5,000 one-time for research-related travel to support the exchange of knowledge) are welcome. Funding will commence in summer 2023.
Full details, requirements, and application instructions are available through InfoReady.  
If you have any questions, please address them to Whitney Cheung (wkcheung@ucdavis.edu).
Deadline: February 3, 2023
The Global Learning Hub, a part of Global Affairs, has issued the 2024 call for new faculty-led study abroad program proposals. The Global Learning Hub supports "Global Education for All," a campus goal to provide 100% of our undergraduate, graduate and professional students with global learning opportunities that change their lives and our world. Academic Senate and Academic Federation faculty with faculty appointments are eligible to submit proposals. 
Information Sessions
- Friday, January 6, 2023, 10–11:30 a.m., ONLY on Zoom (Meeting ID: 959 1905 6344)
- Friday, January 27, 2023, 2–3:30 p.m., in person, 3119 conference room, International Center and Zoom (Meeting ID: 929 0310 6854)
Deadline: February 13, 2023
UC Davis Opportunities
The France-Berkeley Fund invites applications for up to $12,000 in seed funding for new collaborations between faculty and research scientists at UC Davis and their counterparts in France. There is a required campus match of up to $8,000 per award, with home departments confirming a monetary contribution equivalent to one-third of the total grant request. For more information, contact Ahmad Hakim-Elahi, executive director, sponsored programs at ahakimelahi@ucdavis.edu.
Deadline: January 31, 2023
The Rx One Health Field Institute is a transformative field-based experiential learning course focused on One Health core competencies for graduate students and early career professionals from all disciplines. In 2023, Rx One Health will take place in California from June 18–July 1, 2023. Biodiverse and magnificent landscapes will provide a backdrop for immersive One Health learning! Applications are now open, and a limited number of partial and full scholarships are available.
Deadline: January 31, 2023
External Opportunities
This program provides scholars up to one month at St. Andrews, during which time they can conduct research and explore collaborations. Fellows are expected to engage virtually throughout the year. Fellows are awarded a stipend, accommodations, roundtrip airfare and transfers for their time at St. Andrews.
Deadline: March 1, 2023
Fulbright Opportunities
UC Davis staff members are encouraged to consider applying for IEA Seminars to forge empowering connections with counterparts in other countries. In these intensive two-week visits, participants learn about the host country's education system and establish networks of U.S. and international colleagues.
France and Germany Deadline: February 1, 2023
In February 2023, the Fulbright U.S. Scholar Program will launch its 2024-25 competition! Hundreds of awards across all world regions will allow academics, professionals and artists to teach, research, and carry out professional projects abroad. Curious to see what awards in 2024-25 have to offer? Join the first webinar of the year to learn more about the Fulbright U.S. Scholar Program, awards and the application process:
Webinar: February 15, 2023
Global Affairs Events
March 9, 2023 Save the date for a celebration with globally engaged faculty, staff and scholars. We will announce the winners of the Chancellor's Awards for International Engagement and Excellence in Teaching of Study Abroad Awards and acknowledge the recipients of Seed Grants for International Activities and Grants for Advancing Sustainable Development Goals. 
Global Affairs Co-Sponsored Events
January 19, 2023 The Global Tea Initiative for the Study of Tea Culture and Science at UC Davis announces its 8th annual colloquium: Tea and Value. What do we value and how do we value it? Register to attend this all-day, in-person event.
February 25, 2023 Global Affairs is a proud sponsor of the Mondavi Center's 2022-23 season, including a performance by Grammy-nominated artists Alfredo Rodríguez and Pedrito Martinez. Ticket discounts are available for current and retired UC Davis faculty and staff.
External Events
January 10-26, 2023 This webinar series brings together different perspectives to examine the place of the Arts and Humanities in relation to society, politics and the economy through the lenses of individual students, academics and researchers, institutional governance, national policy, and global discourse.
Global Spotlights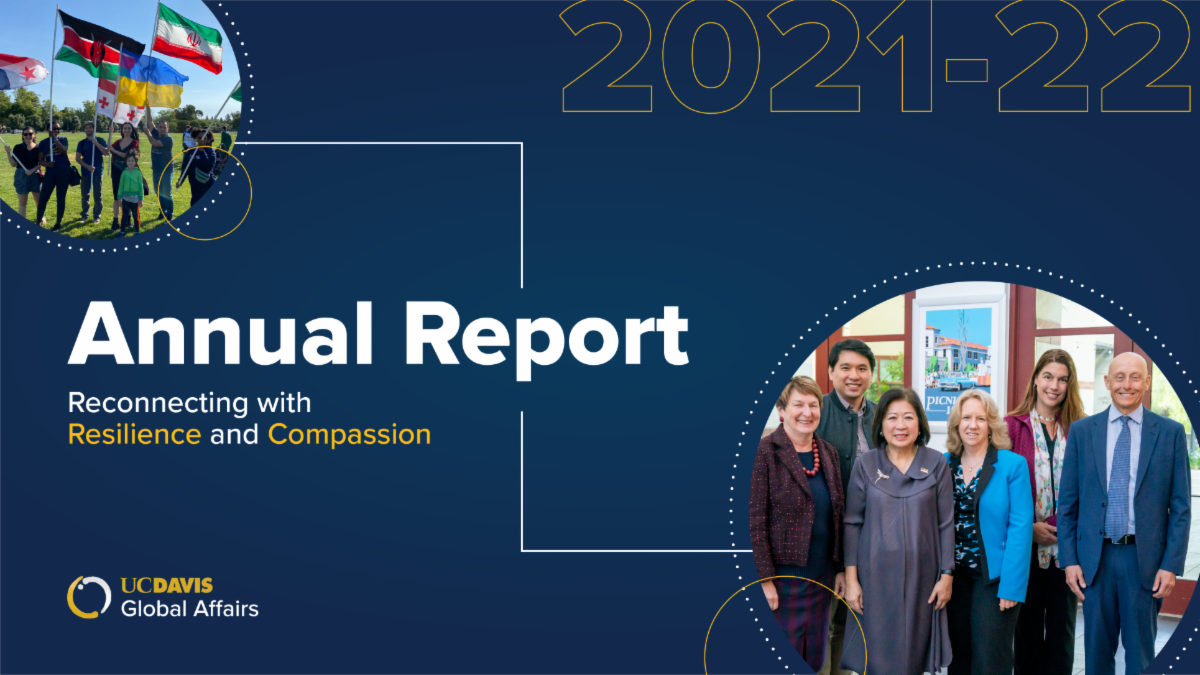 Global Affairs Annual Report 2021-22
Season's Greetings from all of us at UC Davis Global Affairs! We hope you enjoy reading our 2021-22 Annual Report, which shares how UC Davis reconnected with our global community this past year with resilience and compassion.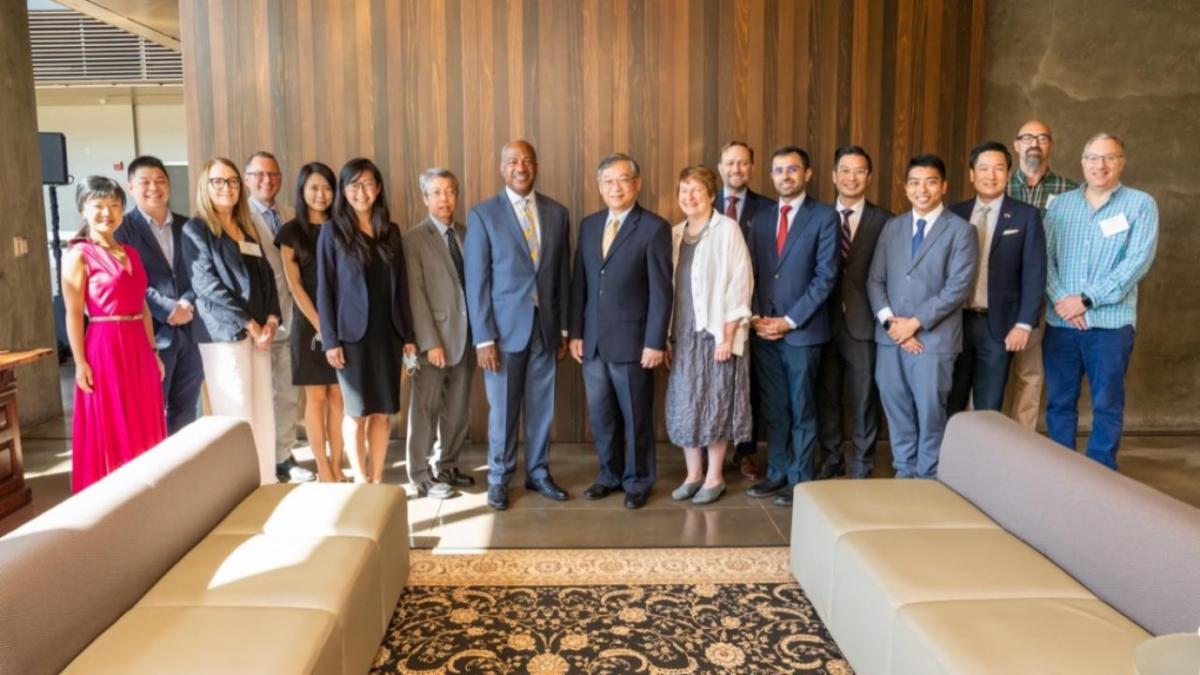 UC Davis Hosts Delegation from Singapore
UC Davis welcomed Gan Kin Young, Singapore's Minister of Trade and Industry, for a day-long exploration of agriculture and aquaculture. UC Davis leadership and faculty, government officials and industry representatives discussed vertical farming, cultivated proteins and aquaculture as they relate to advancing food security.
Harvesting Light to Grow Food and Clean Energy Together
UC Davis Fulbright visiting scholar Matteo Camporese and Majdi Abou Najm, associate professor at the Department of Land, Air and Water Resources, were featured in a UC Davis News article about their published study.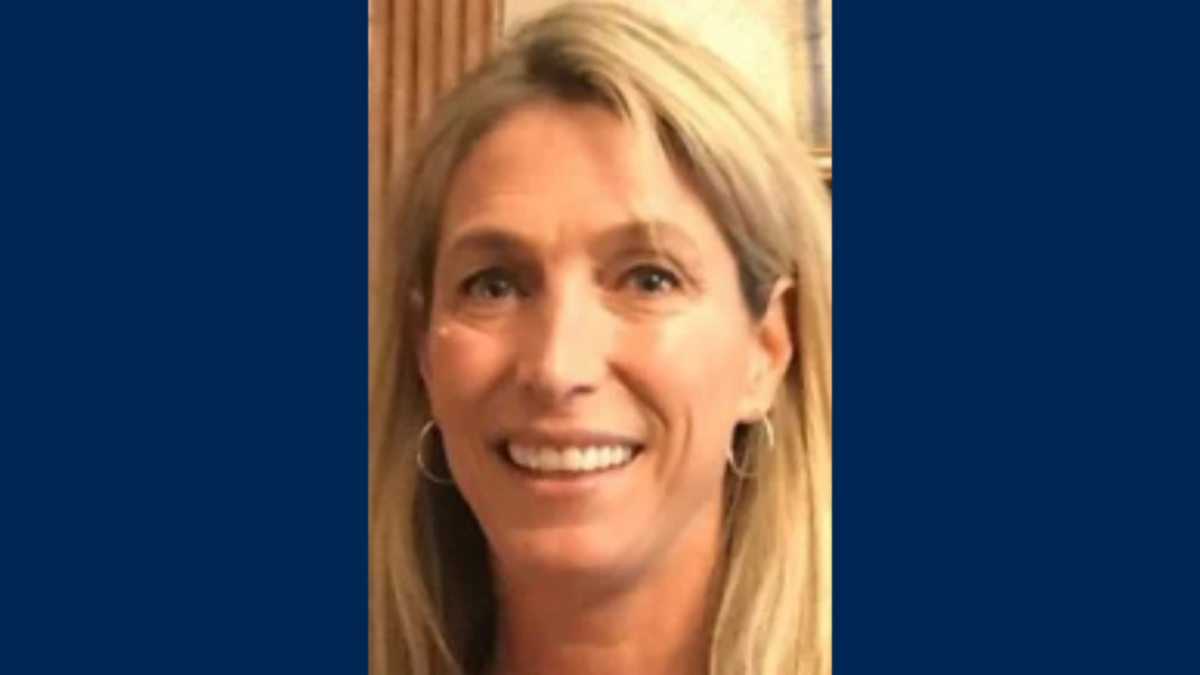 Christine Kreuder Johnson to Serve as U.S. Science Envoy
Christine Kreuder Johnson, professor of veterinary medicine, was approved by the U.S. Secretary of State to serve as a U.S. Science Envoy in 2023 to engage internationally at the citizen and government levels to enhance relationships between other nations and the U.S., develop partnerships and improve collaboration.
International Visitors and Agreements
Recent International Delegation Meetings (December 1-31, 2022)
Indonesia Endowment Fund for Education | Indonesia
Consulate General of China in San Francisco | China 
International Visitor Leadership Program/Global Ties Sacramento | Japan
Nara Institute of Science and Technology | Japan
Recent International Agreements Signed (December 1-31, 2022)
Zhejiang University | China
Osaka University | Japan
Learn more about hosting visitors from around the world, or the international agreement process on the Global Affairs website.
---
Primary Category
Tags