An International and Collaborative Boon for Corn Research
Hailing from Mexico's Instituto Tecnologico del Valle de Oaxaca (ITVO), plant biologist Javier Lopez-Baltazar first came to UC Davis in 2010 as a Fulbright Visiting Scholar to research alongside UC Davis scientists.
Lopez-Baltazar was drawn to campus and to the Fulbright opportunity because of one of the world's leading experts in plant physiology and molecular biology: Alan Bennett. A distinguished professor of plant sciences in the College of Agricultural and Environmental Sciences, Bennett is also the executive director of the UC Davis Chile Life Sciences Innovation Center within Global Affairs.
Having studied abroad as a graduate student in Quebec and then as a postdoc at UCLA, Lopez-Baltazar recognized that this research opportunity in Bennett's lab would arm him with experiences that couldn't be matched elsewhere.
"Given my Ph.D. in agronomy, I have always wanted to spend some time in a world-class university like UC Davis," he says. "In fact, the teachers in graduate school who most inspired and motivated me to become a scientist stopped by Bennett's lab while I was working there!"
A Life-Changing Experience
Lopez-Baltazar's Fulbright experience also had an immense impact on his life back in Mexico. "Meeting other Fulbrighters from different countries who all had a similar yearning to learn about a new culture was a fantastic, life-changing experience," he says. "I am so fortunate to now have the opportunity to share these experiences with my students at ITVO—and to encourage them to pursue graduate education in agricultural sciences at UC Davis."
Likewise, Bennett and his lab gained much from having the international perspectives and experiences of Lopez-Baltazar—so much so that after returning to his teaching and research in Oaxaca following his Fulbright experience, Lopez-Baltazar received an invitation from Bennett to again join his research team in January 2015—this time working on the process of nitrogen fixation in an indigenous landrace of maize in the Sierra Mixe of Oaxaca. Nitrogen fixation is a process that causes free nitrogen, a relatively inert gas and plentiful in air, to combine with other elements in order to form reactive nitrogenous compounds; these play a key role in agriculture and the manufacturing of fertilizer.
Fruits of International Research Labor
Lopez-Baltazar was instrumental in the research team's field experiments in the Sierra Mixe, which ultimately indicated that atmospheric nitrogen fixation contributed between 30 percent and 82 percent of the nitrogen nutrition of Sierra Mixe maize landrace. In short, the team discovered that instead of requiring synthetic fertilizers, the indigenous variety of Mexican corn was able to fix nitrogen from the atmosphere. The results of the team's fascinating work were published in PLOS Biology in August 2018 and heavily covered by media outlets, with Lopez-Baltazar being listed as a co-author.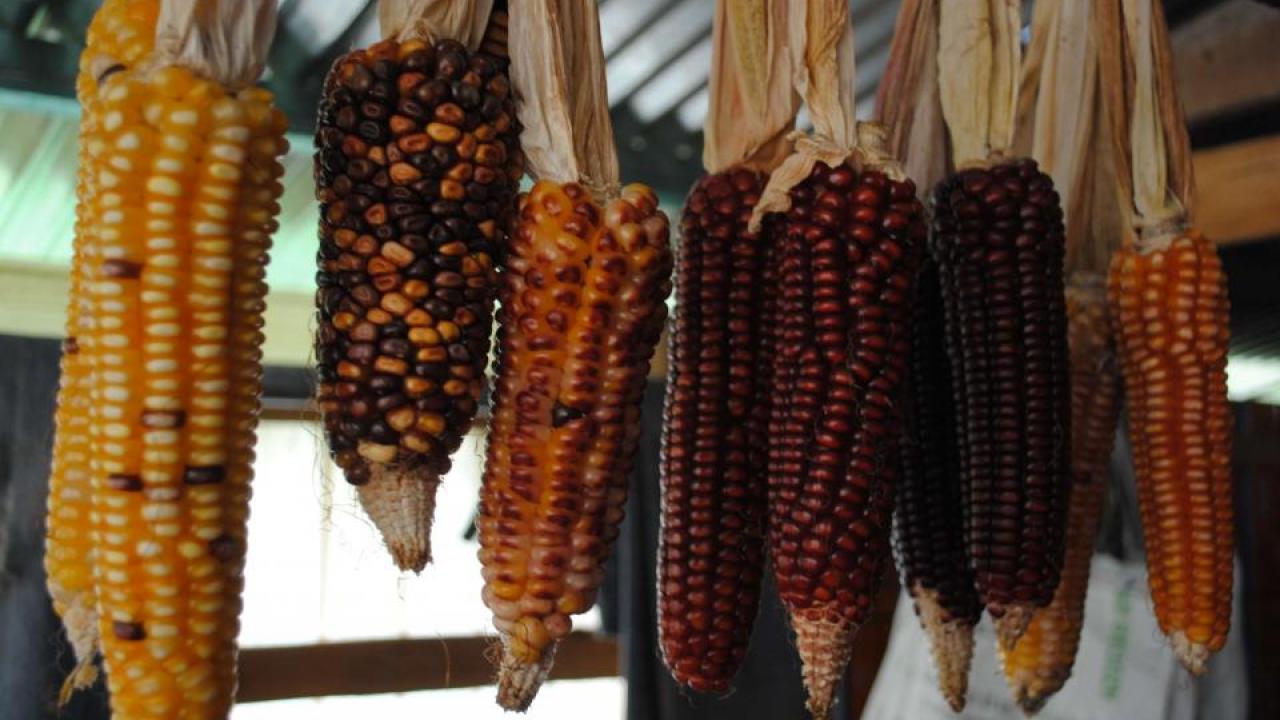 "The current research came after Lopez-Baltazar's Fulbright, but during his Fulbright he was also a co-author on another groundbreaking paper that was featured on CBS MORNING," says Bennett. "His contributions to the current corn research were very important, and he was able to connect UC Davis with the field sites in Oaxaca."
The pair continues to collaborate on projects with common appeal—most recently receiving a collaborative grant in 2018 from the University of California Institute for Mexico and the United States (UC MEXUS), an organization dedicated to binational and Latino research that contributes to society in both Mexico and the U.S. 
"We decided to apply for the UC MEXUS grant in order to establish new collaborative initiatives with the potential for creating permanent ties between UC Davis and ITVO," says Lopez-Baltazar. "Hopefully, this effort will grow and continue with the support of other institutional and extramural funds."
Through this latest collaboration, Bennett, Lopez-Baltazar and the rest of the research team will test whether the activity of atmospheric nitrogen fixation is expressed in fields outside of Sierra Mixe—and whether the associated microbial community can be transferred to other varieties of maize. Each investigator will visit the other's laboratory to plan experiments, evaluate results and continue the research, making connections in the community of Mexican microbiome researchers.
"Ideally, the results of these experiments will address a key issue in agricultural sustainability and establish a productive collaboration in the rapidly developing field of beneficial plant-microbiome interactions," says Lopez-Baltazar. "We are also taking the opportunity to forge linkages between the UC Davis and microbiome researchers in Mexico."
---
---
About Global Affairs at UC Davis
Global Affairs brings the world to UC Davis, welcoming more than 10,000 international students, scholars and leaders, and hosting programs that inspire global curiosity, understanding and engagement. Compelled by the valuable outcomes of thinking globally, we make transformative opportunities a reality by supporting the thousands of students and faculty studying and researching internationally—and by facilitating collaborations that tackle the world's most pressing problems through more than 150 international partnerships.
Putting our vision of a UC Davis community that engages, thrives, and leads in this interconnected world into action, Global Affairs is now in pursuit of an ambitious goal: Global Education for All.
Primary Category
Tags