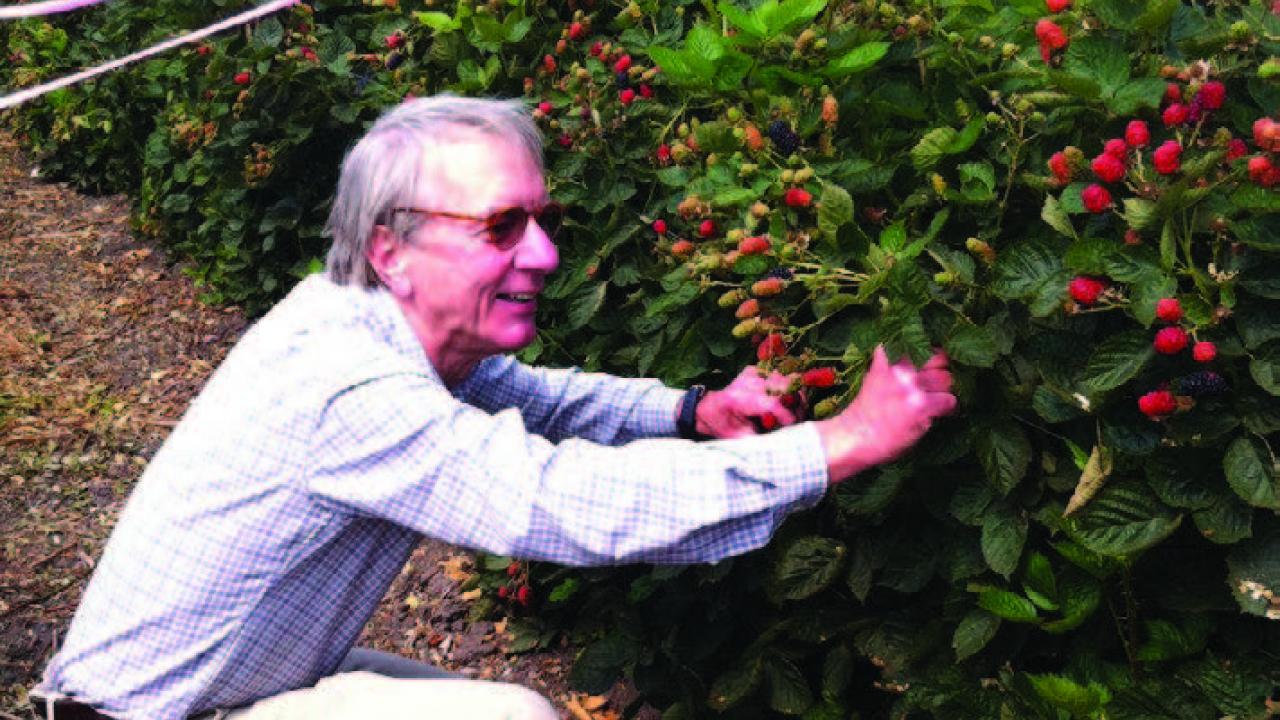 By Mark Gaskell, UC Davis Extension, 2011-12 U.S. Fulbright Scholar to Morocco
The objective of my Fulbright scholarship was to help the Moroccan Agronomic Research Institute (INRA) develop programs with small fruit berry crops, thereby contributing to long-term rural development in Morocco. I would continue to train Moroccan agronomic researchers in small fruit crops and assist them in establishing a network of berry field trial sites.
My contacts and collaborators in Morocco helped me enormously in carrying out the program. For my wife and me, the opportunity to live and work in an Arab and Muslim culture has been an unforgettably enriching experience.
Morocco's proximity to Europe, a climate similar to California and manual labor supply enable Moroccan farms to supply many out-of-season fruits and vegetables for the European Union. However, for farmers to be successful with these new crops, they need sound technical advice based on knowledge gained from research under local conditions.
Morocco's INRA has developed field and laboratory research with traditional Moroccan crops such as wheat, barley, citrus, figs and olives, but it has lacked prior knowledge and experience with blueberries, raspberries and blackberries. I was able to offer my knowledge and experience. I have seen beneficial effects also for my work with growers in California because my experience with small fruit crops in diverse conditions also improves my effectiveness with research and development of these crops in California.
For carrying out the work, I had a great ally in an INRA researcher who was completing a Ph.D. thesis on blueberries, who took charge of the field trials, helped put together training events and assisted in developing a network of research collaborators for the new berry crops. I worked closely with her on specific field and classroom training, selecting sites, designing and planning the field trials, and enlisting the collaboration of growers. In developing a three day workshop for training INRA scientists and interested growers, I received assistance from the Agricultural Attaché at the U.S. Embassy in Rabat.
This initial series of training events fulfilled the objective of familiarizing Moroccan agricultural field technicians and researchers on essential aspects of production and post-harvest management of blueberries, raspberries and blackberries. Field visits enabled the Moroccans—some of whom had never had the opportunity to even taste the fruit—to feel comfortable about the growing requirements of these crops. As a result, more than 20 researchers and field technical personnel have formed a small fruit research network to continue to exchange information and expand involvement in research and training opportunities for small fruit crops. In addition, some successful strawberry producers are beginning to produce blueberries, raspberries and blackberries to export to the EU via established strawberry marketing channels.
Category
Tags