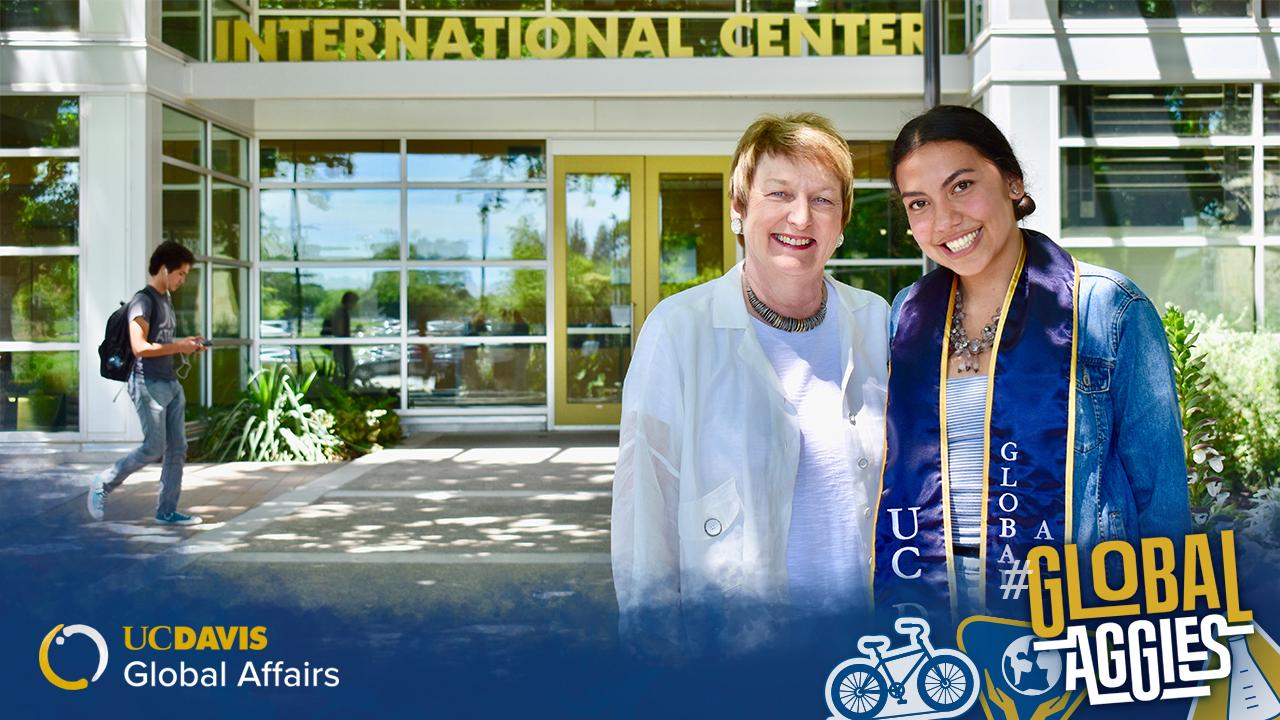 Before Melanie Montoya left her Los Angeles hometown for her first-year dorm assignment in Miller Hall at UC Davis, she had never lived outside her family's Hispanic neighborhood. Upon arrival, her two roommates from China greeted her. In that moment, she recalls, her intercultural journey began.
"They came all the way from China to study in the U.S." she says. "I walked into a world where my roommates understood Chinese and I had zero understanding of the language. And I wasn't just going to meet them, I was going to live with them for a whole year!"
While the trio didn't eat the same foods or grow up with the same customs, they were nonetheless excited to start imparting their lives with each other.
"I was able to share a lot of my vibrant Hispanic culture, and they demonstrated to me that more tight-knit bond of community," she says. "Even though we were obviously strangers, we were able to work out the differences. One was a design major like me, and I just remember staying up late with her learning about her world in China. It was a meaningful experience for me."
Home and Away
After settling in at UC Davis, Montoya joined the local chapter of Hermanas Unidas, an intercollegiate organization that provides leadership opportunities and resources for Latinx female students. While being with these "sisters" felt like home, it wasn't until her UC Davis Study Abroad experience that Montoya began to challenge her notion of how to live on her own.
During her yearlong program at the Universitat de Barcelona in Spain, the design major began connecting to a new culture for the first time—kick-started by an impromptu trip to San Sebastian.
"I didn't have enough money to get a hostel or a hotel, so I ended up couch surfing!" she says. "I was able to stay with a local girl and her family who were super nice and caring. That was part of my journey of wanting to explore—finding myself alone, getting out of my comfort zone and meeting new people who lead different lives than me."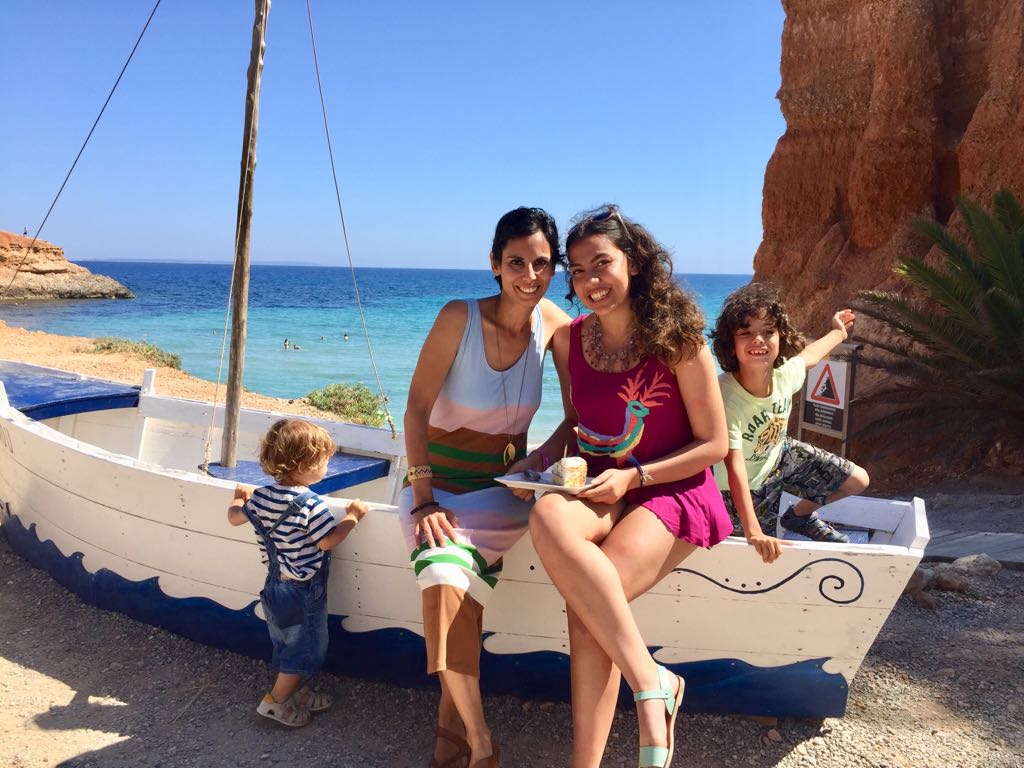 As luck would have it, Montoya soon discovered she had two cousins already residing in Spain—one in Madrid, one in Valencia (both of whom she'd never met). After taking a leap and reaching out to them, she was able to spend Christmas and New Year's in Madrid with one cousin, and Easter break in Valencia with the other.
"My cousin in Valencia took me around the city and told me stories about my mom I'd never heard before, because she lived with her in Sinaloa, in Mexico, before she moved to the U.S.," says Montoya. "I had no idea Spain would feel like home to me so quickly!"
"Global" Job Shadowing
Back from Barcelona, Montoya received word that she had been accepted into the UC Davis Leadership Job Shadow Program, and would be mentored by Joanna Regulska, vice provost and associate chancellor of Global Affairs.
"After sitting in on meetings about the Global Education for All initiative, I saw there was all this potential for students to gain a global education—regardless of whether they study abroad," she says. "These meetings just put into context that as I look to my future, I definitely know I want it to involve international experience."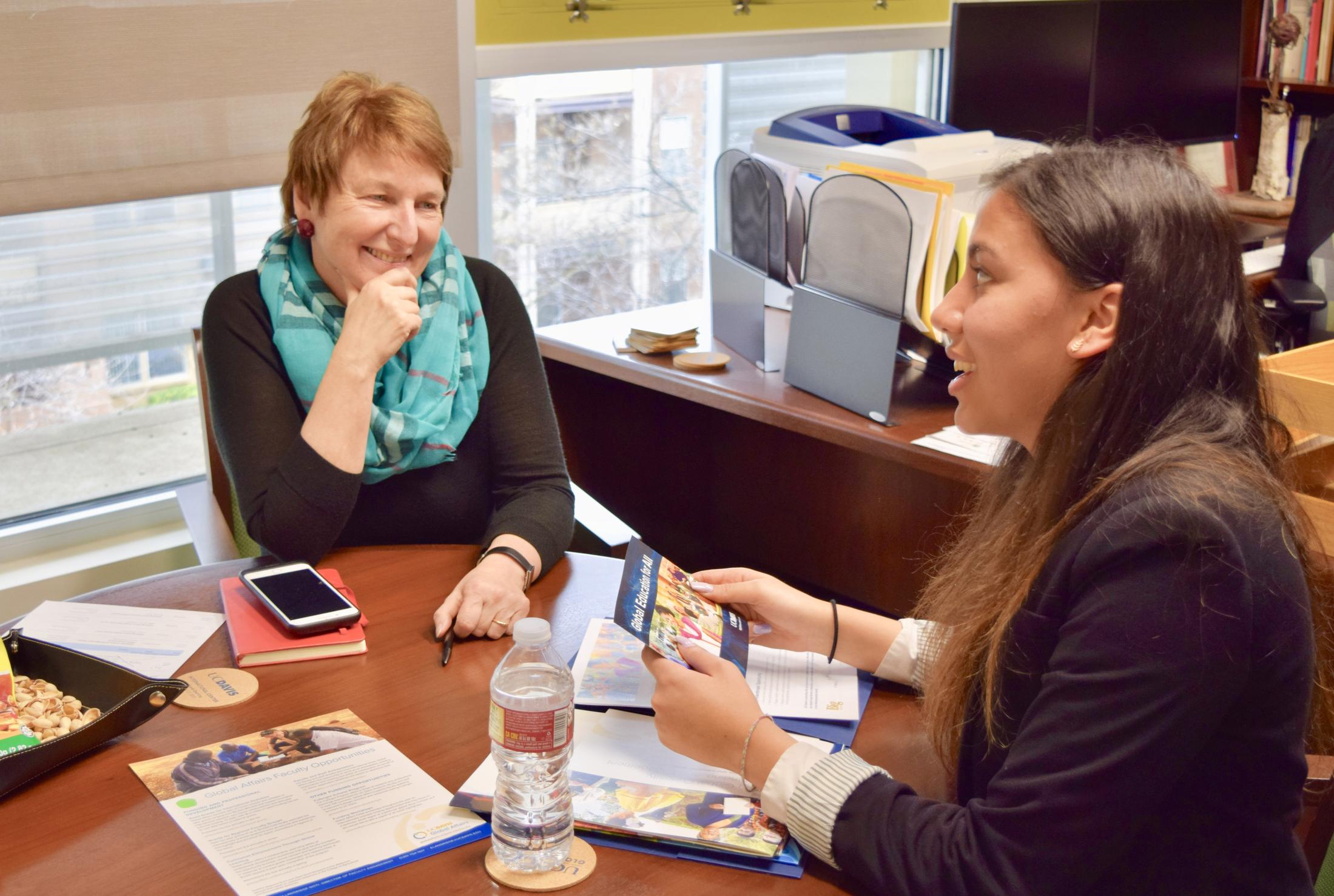 With this in mind, Montoya plans to return to Spain after graduation to expand on her research into narrative environments, or public spaces that communicate a story or message—research she began while studying audiovisual communication in Barcelona.
"During that time, I was visiting a lot of museums and collecting so many types of experiences. As a design major, a part of me fell in love with narrative environments and talking to people—just understanding the world based on people's experiences."
Montoya has been researching the intersection of narrative environments and fashion, based on everything she has cross-culturally observed in Spain, Mexico, and the U.S.
"I translated that into my research by making a garment, with the garment being the experience," she says. "I made a sustainable tunic out of two recycled garments and went around campus asking people to create something with it in two minutes. In this way, I was able to make fashion into a narrative environment."
Since capturing these environmental contrasts and creations with her Polaroid camera, Montoya has decided to bring her garment back with her to Spain, to see what narrative experiences participants from that cultural vantage point might create.
"I actually found a letter I wrote to JCPenney back when I was in second grade," she says. "It's really badly written, but I asked JCPenney if I could be a designer. Turns out I am one now."
This is part of a series featuring Global Aggies – members of the UC Davis community who are living the Global Affairs mission: to inspire global curiosity, understanding, and engagement. Learn more about Global Aggies at UC Davis. 
---
About Global Affairs at UC Davis
Global Affairs brings the world to UC Davis, welcoming more than 10,000 international students, scholars and leaders, and hosting programs that inspire global curiosity, understanding and engagement. Compelled by the valuable outcomes of thinking globally, we make transformative opportunities a reality by supporting the thousands of students and faculty studying and researching internationally—and by facilitating collaborations that tackle the world's most pressing problems through more than 150 international partnerships.
Putting our vision of a UC Davis community that engages, thrives, and leads in this interconnected world into action, Global Affairs is now in pursuit of an ambitious goal: Global Education for All.
Category
Tags