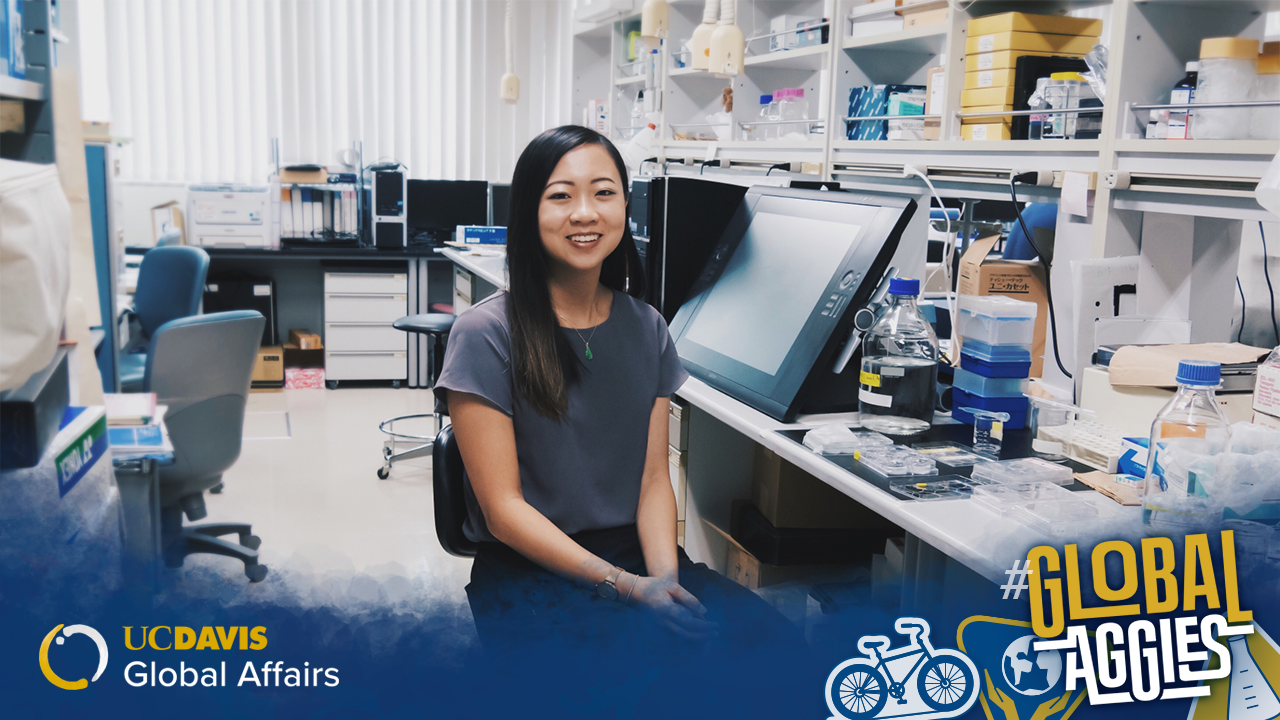 Specialized lab experience on campus leads to international research fellowship
This past summer, Amanda Nguyen, a global disease biology major in the College of Agricultural and Environmental Sciences, traveled just south of Tokyo, Japan, to research the memory of itch through the NIGINTERN Program—a competitive summer internship hosted by the National Institute of Genetics at the Graduate University for Advanced Studies (SOKENDAI).
In addition to sightseeing and cultural activities, during her six-week stay, Nguyen worked alongside her assigned lab's head professor, fellows and graduate students, developing and honing novel techniques for conducting laboratory research on the neurophysiology of itch and nerves.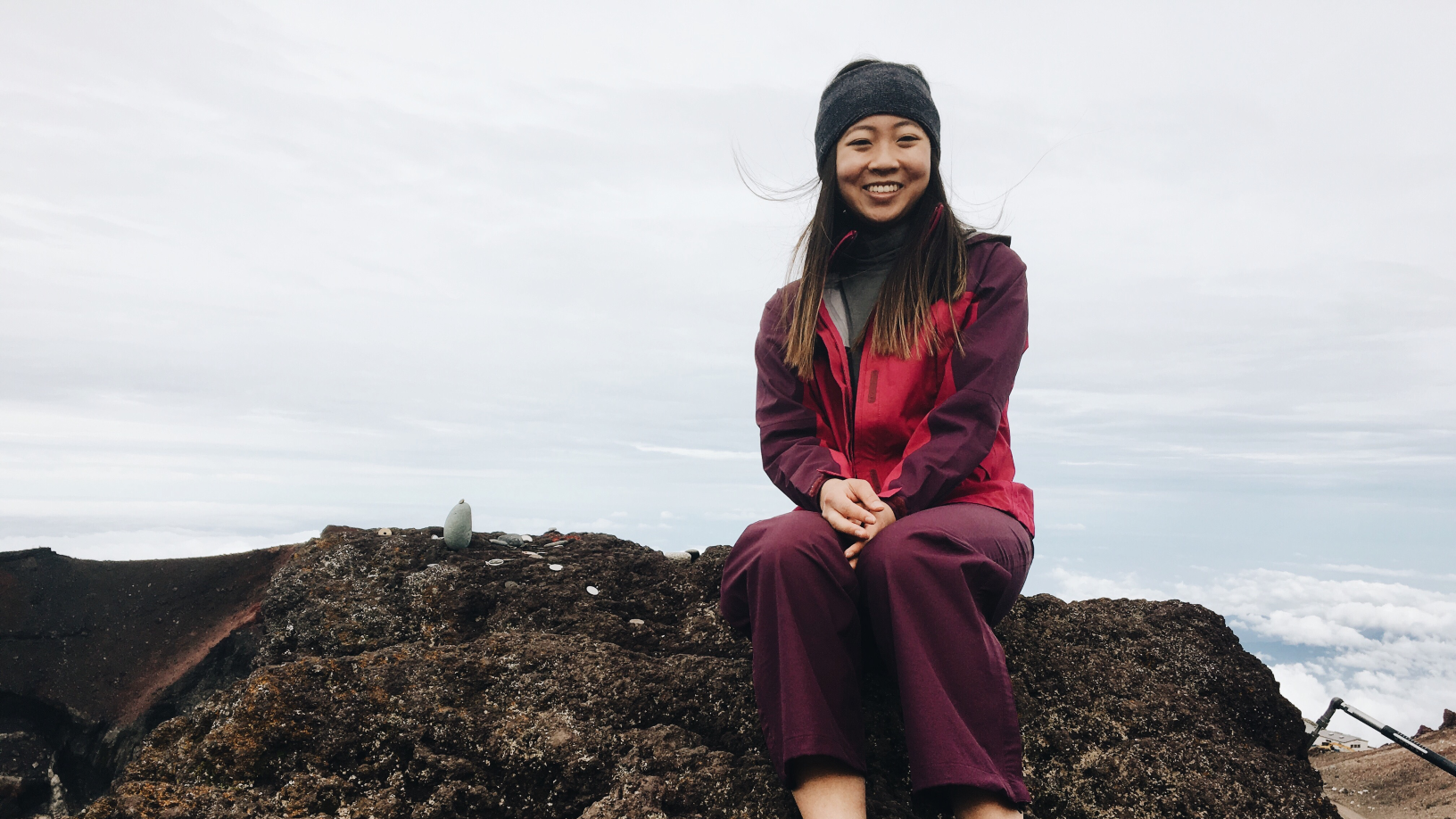 This was not Nguyen's first time in the lab; she had already been helping facilitate research in the lab of UC Davis College of Biological Sciences Distinguished Professor Earl Carstens since her first quarter on campus.
"It all started in Dr. Carstens' lab," she says. "Because he is hugely involved in international projects and collaborations, I got the chance to work with a lot of the people who came through the lab, which was a really great experience because Dr. Carstens and the lab members encouraged me to shadow these visiting international scholars, professors and Fulbrighters so I could begin mastering the skills they were experts in."
One such international scholar was a visiting lab researcher, Assistant Professor Keiko Takanami, who was a fellow from the National Institute of Genetics as a part of the Japan Society for the Promotion of Science (JSPS). She got to talking with Nguyen about her research back home: working in the field of itch from a neurophysiological perspective.
"Once I started spending time with Dr. Takanami in the lab, she told me about the internship, which is how I ended up getting directly involved in working with people who have a love for international collaboration," she says.
For this internship, all students were expected to have some baseline knowledge about how to conduct lab research so that they could chip away at their respective projects, rather than spend time on instruction or learning how research works.
"It was super intense!" says Nguyen. "But I really loved how it built upon the work I had been doing back in the U.S. And working with Dr. Takanami was really great because we were able to talk about what skills I wanted to learn and master in the time I was going to be in Japan."
"The idea behind this research is that in patients with conditions like atopic dermatitis or eczema, a condition usually caused by an inflammatory immune response, there is a heightened memory of itch," she says, "which contributes to what we call the itch-scratch cycle."
This cycle starts with the awareness of an itchy spot on your body, which you scratch. That scratching could subsequently induce skin barrier damage—especially if you have a condition like atopic dermatitis or eczema—because you start scratching all the time. This can lead to inflammation, which induces more itch. And then the cycle starts all over again.
Through research projects, Nguyen was able to help locate brain regions associated with itch-related memory using a plethora of techniques she hadn't previously been exposed to, like a specific kind of staining method for analyzing the activated brain regions whenever the memory of itch was induced.
While the NIGINTERN Program accepted nine undergraduate and graduate students in their pre-final years, Nguyen was the only student admitted from the U.S.—and the only student with previous research experience in the field, thanks to her years of work in Carstens' Lab.
"Even though the other students were predominantly from Europe and Asia, we all had this camaraderie because we were interested in the same kinds of things and were able to nerd out together on science," she says.
Researcher-Clinician in the Making
In addition to her courses and research hours in the lab, Nguyen serves primarily homeless patients as the undergraduate manager of the Willow Clinic, a university-affiliated student-run clinic, and works as a student research assistant with the UC Davis Health Department of Anesthesiology and Pain Medicine. She hopes to pursue an M.D./Ph.D. track upon graduation.
"Our lab is very itch-centered now, but Dr. Carstens has done great work in studying the neurophysiology of pain as well, and itch and pain go together in our field," she says. "So that lab experience is what piqued my interest in this position and postgraduate study."
And as a global disease biology major, Nguyen counts herself lucky to be part of a program with a research practicum requirement.
"At first I thought the practicum requirement would be daunting, but reflecting on it now it really encouraged me to take early steps to being part of a research lab during my undergraduate career," she says.
"The major has made me really conscious of being open to interdisciplinary work and getting involved in research early on, and I feel like that has made all the difference." 
This is part of a series featuring Global Aggies—members of the UC Davis community who are living the Global Affairs mission: to inspire global curiosity, understanding and engagement. Learn more about 
Global Aggies at UC Davis
. 
---
About Global Affairs at UC Davis
Global Affairs brings the world to UC Davis, welcoming more than 10,000 international students, scholars and leaders, and hosting programs that inspire global curiosity, understanding and engagement. Compelled by the valuable outcomes of thinking globally, we make transformative opportunities a reality by supporting the thousands of students and faculty learning and researching internationally—and by facilitating collaborations that tackle the world's most pressing challenges through more than 150 global partnerships.
Putting our vision of a UC Davis community that engages, thrives, and leads in this interconnected world into action, Global Affairs is in pursuit of an ambitious goal: Global Education for All.
Category
Tags