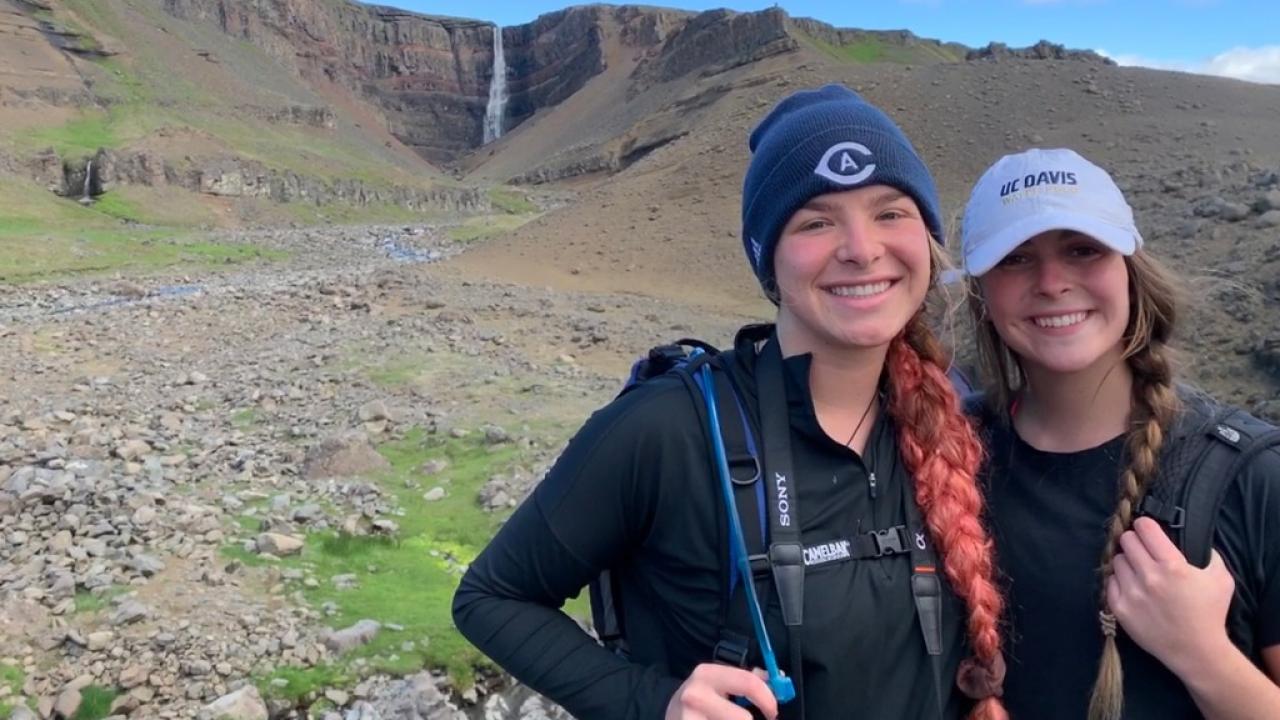 By UC Davis Athletics
"While many students study abroad to fulfill a language requirement, or to learn more about the culture of a country, UC Davis water polo players Julia Hartmann and Allyson Clague went for an entirely different purpose — thermodynamics.
As engineering majors, the curriculum can be rigorous and demanding at every level, especially at UC Davis. As a student-athlete, it can be even harder to keep pace. Enter, summer abroad.
'I think just being a collegiate athlete, you don't think it's going to be possible to study abroad," said Hartmann. "I mean, most sports can't — they have training all year long. We're very lucky here with our water polo program at Davis that you do have some weeks off in summer, and it was nice that they offer summer abroad here because we would not be able to do a quarter abroad.'
'I thought this might be my only time to ever to do a summer abroad program because of our sport and schedule since we work out all fall, and play during winter and spring.'
Hartmann, a biological systems engineering major, is a junior academically, but redshirted her first year on the water polo team. Hartmann had a breakout season in 2020, totaling 13 goals with appearances in every game of the shortened season, and recorded her first career hat trick against No. 7 Cal.
'Yeah, this would have been the only summer that I could go abroad,' added Clague. 'Next summer would be for internships and stuff like that. I got a pamphlet from Erin McMurry (Student-Athlete Outcomes Advisor) and I looked at it and thought 'this would be cool!'
Like Hartmann, Clague redshirted her first year on campus, and is a mechanical engineering major. Clague finished third on the team with 19 assists through 20 games, and was the leading scorer against No. 2 Stanford, recording a hat trick against the defending NCAA champion. 
The course, Thermodynamics in the Land of Fire and Ice, is taught by professor Paul Erickson, and is otherwise known as ENG 105 — a four unit class. Held in Reykjavik, Iceland, students learn about renewable power and thermodynamic science in a country powered entirely by geothermal and hydroelectric resources. In an immersive, fast-paced course, Hartmann and Clague really felt that their experience in the class was tenfold what it would've been on campus in Davis. Condensing an already short summer session that typically runs six weeks, the thermodynamics class was fit into a four-week time span with three hours of class every day. And lots of field trips."
Read the full story at the UC Davis Aggies website. 
Category
Tags