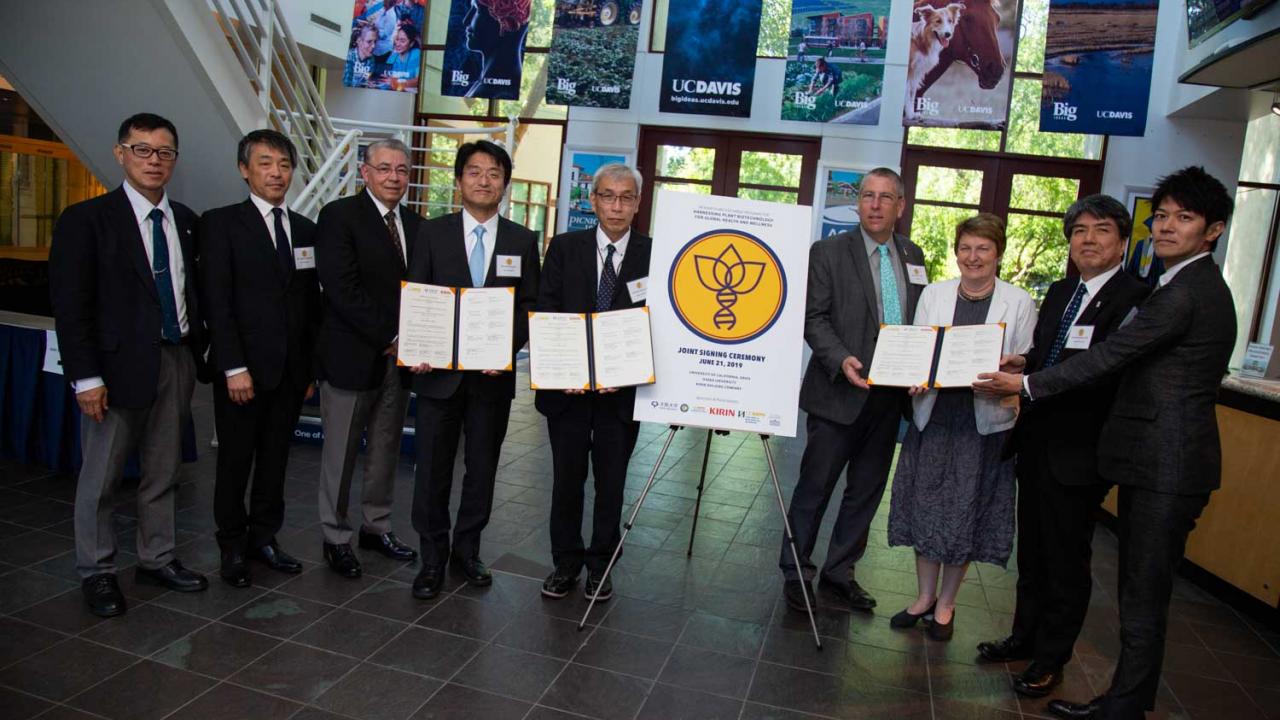 By David Slipher, College of Biological Sciences 
"Educators from Osaka University and the University of California, Davis, are proud to announce the launch of a new biotechnology research and training program between Japan and the United States. The approximately $233,000 (25 million yen) in initial support comes from Kirin Holdings Company, an international food, beverage and pharmaceutical wellness brand.
Graduate students from both universities will gain access to world-class research facilities and professional training across many areas of plant biotechnology, with an emphasis on human health. By traveling between Osaka University and UC Davis, graduate students and their faculty mentors will share cross-cultural experiences that grow scientific knowledge—and potential new technologies. 
'We are happy to expand our global engagement with the United States," said Professor Genta Kawahara, vice president of global engagement at Osaka University. "The UC system, especially UC Davis, is Osaka University's closest and strongest international partner.'
Bridging the Pacific
On Friday, June 21, leadership from Kirin and Osaka University traveled to the UC Davis campus for a ceremonial signing of the international agreement.
'The future of biology research will come through international collaboration, mentorship and technology exchange," said Mark Winey, dean of the UC Davis College of Biological Sciences. "The exchange program, thanks to the generous support of Kirin CEO Yoshinori Isozaki, creates a wonderful opportunity to share, innovate and provide students with an international research experience.'
The College of Biological Sciences has pledged $10,000 to support the new partnership. The College of Engineering will also partner in the endeavor.
'This partnership is an alliance to solve the difficult, multidisciplinary problems that challenge the global community,' said Ricardo H.R. Castro, executive associate dean of research and graduate studies and professor of materials science and engineering in the College of Engineering. 'Engineering is happy to partner with the College of Biological Sciences, Osaka University and Kirin, hoping to bring engineering aspects to support the translation of science for novel plant-based therapeutics.'
One goal of the exchange program is to help train the next generation of plant biotechnologists, giving them the perspectives and skills to move seamlessly between countries and cultures to address research problems of global importance.
'Given the complexity of today's global challenges, partnering with other universities and with industry is critical, particularly as we strive to prepare our students for today's interconnected and multicultural world,' said Joanna Regulska, UC Davis vice provost and associate chancellor of Global Affairs."
Read the full story at the College of Biological Sciences website.
Category
Tags