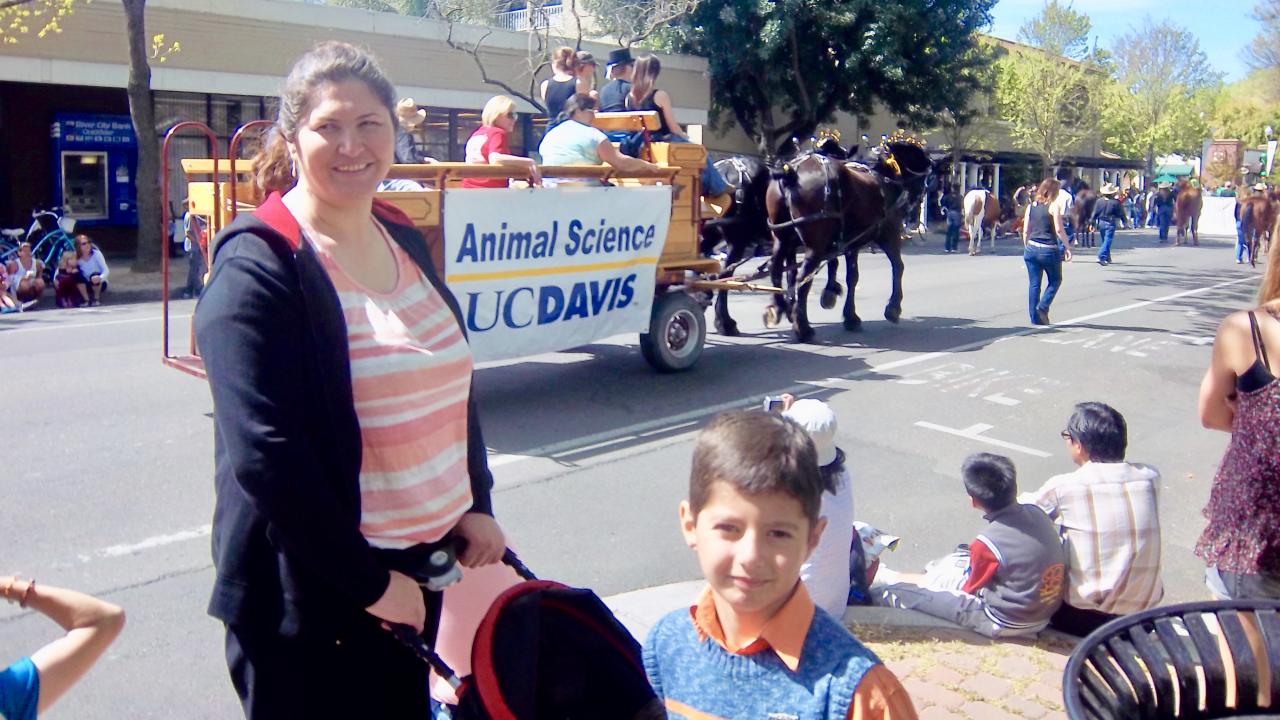 By Rovshan Abbasov, 2010-11 Visiting Fulbright Scholar at UC Davis
Rovshan Abbasov, from Khazar University in Azerbaijan, spent the 2010-11 academic year in the United States on a Fulbright Scholarship. The following details memories of his time in the U.S. and at UC Davis. 
Introduction
America is so far away that the moment a person makes the trip there, he feels that he is in a totally new place from the perspective of distance, time, and general values. Coming from a place where the same things are repeated every day and ending up in a new place like that gives a person feelings of happiness and satisfaction and brings many topics to discuss in one's family. We have been comparing everything practically since the day we landed here.... the food, the roads, the stores, the libraries, and more. 
After seeing all these differences, I think that every person should visit America at least once in their lifetime. Every person in America, no matter what their identity, loves this land, because America is a unique place. 
Mahammad's School
Every now and then, something a person considers a huge problem at first is easily solved. I thought that putting my son Mahammad into school in California would be an insurmountable obstacle. But this problem was solved quickly, in just half an hour. I took Mahammad to one of the schools near our home, and said that I wanted to put him in school.
The answer I got was very simple: "He can come to classes starting tomorrow."
I was very glad. I didn't believe that this issue could be resolved so easily. When I asked them which books we needed to buy, they said that he didn't need to buy any books, and that it would be enough to just buy a backpack. They also wanted me to bring some document the next day with Mahammad's photo on it. A copy of Mahammad's visa from my wife's passport was just the thing for the job. No other documents were needed. Half an hour later when I went home and told my wife that the problem of putting Mahammad in school had been resolved, she didn't believe me. I should add that a year before, when we were trying to put Mahammad in first grade in Khirdalan, we had to spend almost a month preparing various documents for him. 
Mahammad attended second grade at Margaret Montgomery School for the year. He enjoyed riding back and forth to school on a two-wheeled razor-scooter I bought him. It wasn't hard to see gradual changes in his behavior. 
California schools give almost no homework. Instead, the children are taught many things in school. During that year, Mahammad learned the names of all the past presidents of America. At his school, children are given a great deal of freedom during class time. They gather in small groups of 3 to 4 children and sit on a rug, where the teacher gives them assignments. They don't have to ask for permission to go to the restroom or get a drink of water. 
What I liked most about the school was that it organized events frequently in the evenings. On reading nights, students and parents come to the school, take turns reading works, and then discuss them. The main goal of these events is, to borrow the teacher's words, "to prepare good readers."
When we returned, even though I'm happy about many things, one thing makes me very sad. That is the understanding that Mahammad will not be able to study in that school anymore. After all, what parent would want to take their child out of a school that taught him English and turned him into a different person in one year?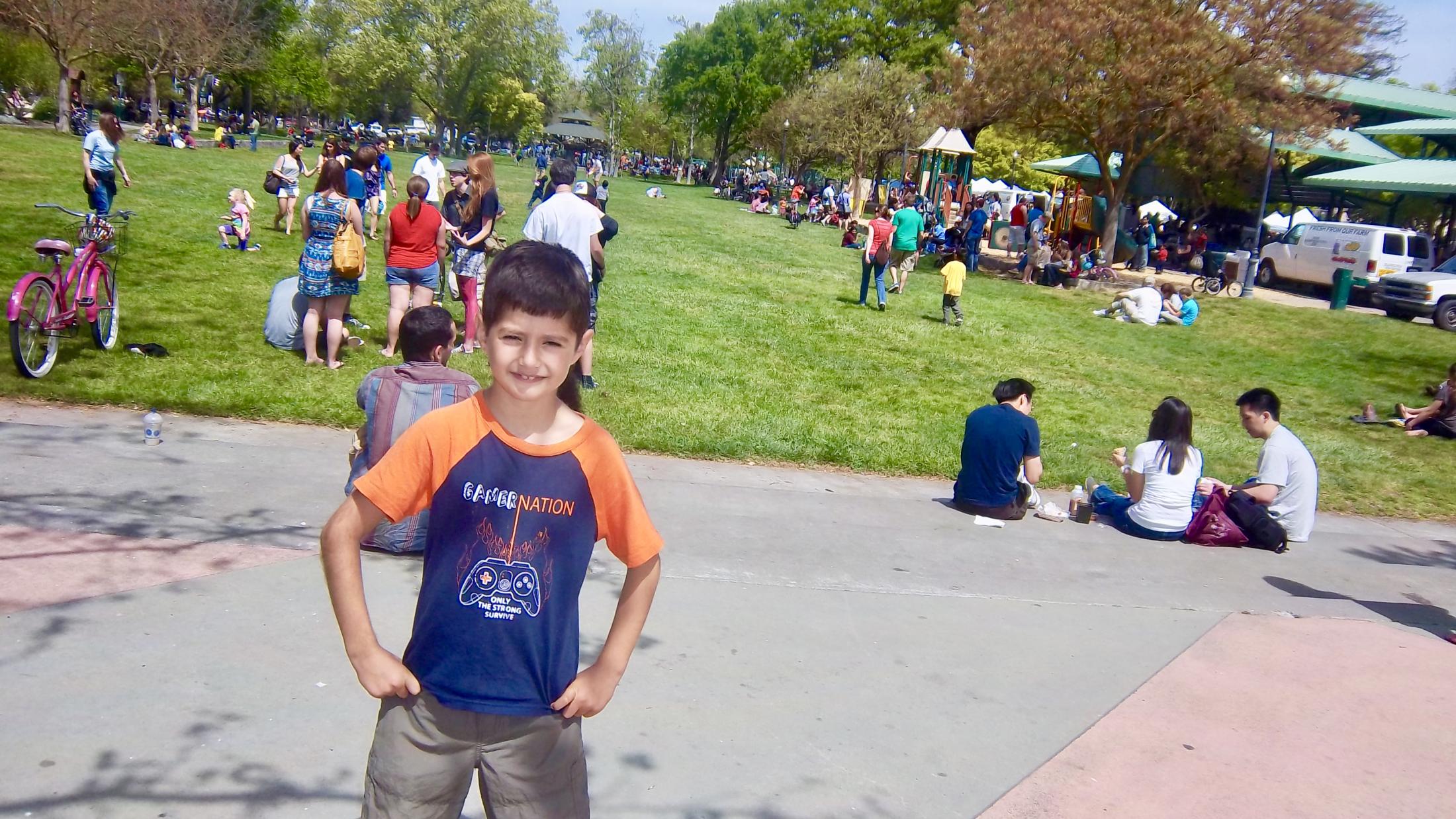 Emil
Emil is my youngest son. He was born just two months before our trip to America, and that was what we worried about most. It can cause problems for a child who was born in one environment to live in another environment. And that is what happened. A few days after we arrived in America, one of Emil's eyes became red, concerning us. But the work of American doctors quickly healed Emil. The whole time we stayed there, Emil was under the care of doctors. I should also say that Emil's medical costs were paid by a program called Kaiser Permanente, and we were absolved of all the costs. 
Fulbright
It is a great joy to win the Fulbright Fellowship. This joy was my destiny.
The Fulbright Program gives the opportunity for scholars living in any country of the world to come and carry out research in America. I came to the University of California, Davis, and stayed here for 10 months.
UC Davis is a wonderful place for everyone who wants to have best experience. The students, the large campus, the computer labs, and the cafeterias allow a person to feel like he is entirely in an academic environment. I considered myself one piece of the environment. 
The academic work I was doing was very interesting. It was related to the Caspian Sea level fluctuations. Every Friday I met my host professor, Distinguished Professor and Gerald and Lillian Orlob Endowed Chair Professor of Water Resources Engineering Leven Kavvas, and we discussed a variety of issues regarding my study.   
We traveled frequently to San Francisco, Stanford, Santa Cruz, and Santa Rosa to meet with other Fulbright Scholars. There were various events. One of those events was a wine tasting in Santa Rosa. At the event we tried all the types of wine made in California and evaluated them. Another of the events was a banquet hosted at the University of California, Berkeley. Fulbright Scholars from various universities participated. The banquet, which was held in Sindbad restaurant in a park on the coast of San Francisco, was unforgettable.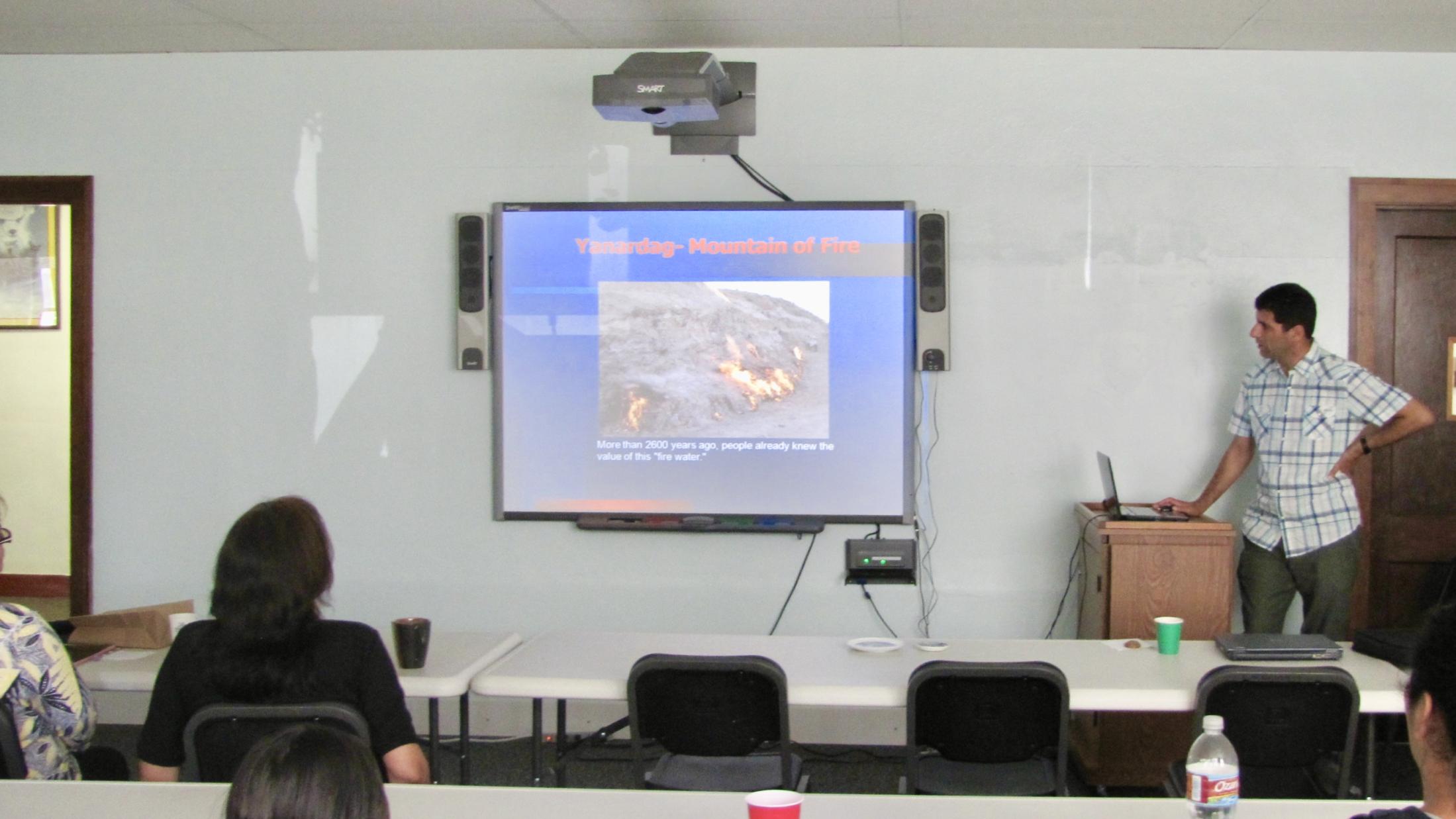 Davis 
Davis is the name of the city where I lived in California. I admit that I have never seen a place more beautiful than this in my life.
Davis is a quiet, cultural and student-filled city. My favorite activity was to walk the streets of Davis and drink coffee, meeting with friends and having academic discussions.
The Borders bookstore located in Davis was another world. I frequently went to this bookstore and drank tasty Seattle Coffee while I read various books. Bookstores in America are large. Chairs are set out for shoppers, and they can sit in these chairs and read as many books as they like. I'll add that I relax by reading books that are not about my major. When I read books on my major, I feel like I am at work. When I was at Borders, I always preferred to look at popular literature not related to my academic work so that my brain could relax a little. Unfortunately, 10 days before I left, Borders closed. Davis lost one of its beautiful features. But the books I bought from Borders will always remain with me as a memento. 
Every Wednesday and Saturday fantastic farmers' markets are held in Davis at which local farmers sell their own produce. Walnuts, oranges, apples, and quince are the most delicious produce of Davis. All the fruits of Davis are organic and also very tasty. 
One of the best attributes of Davis is that it has almost no winter. I will never forget walking around in a short-sleeved shirt in February. The city is almost entirely made up of parks and places to walk. We always took walks in these places as a family.
Davis is also called America's bicycle capital. Here everyone rides bikes. Old people, children... everyone has a bicycle. If I said that I had never ridden a bike, people would have probably been very surprised.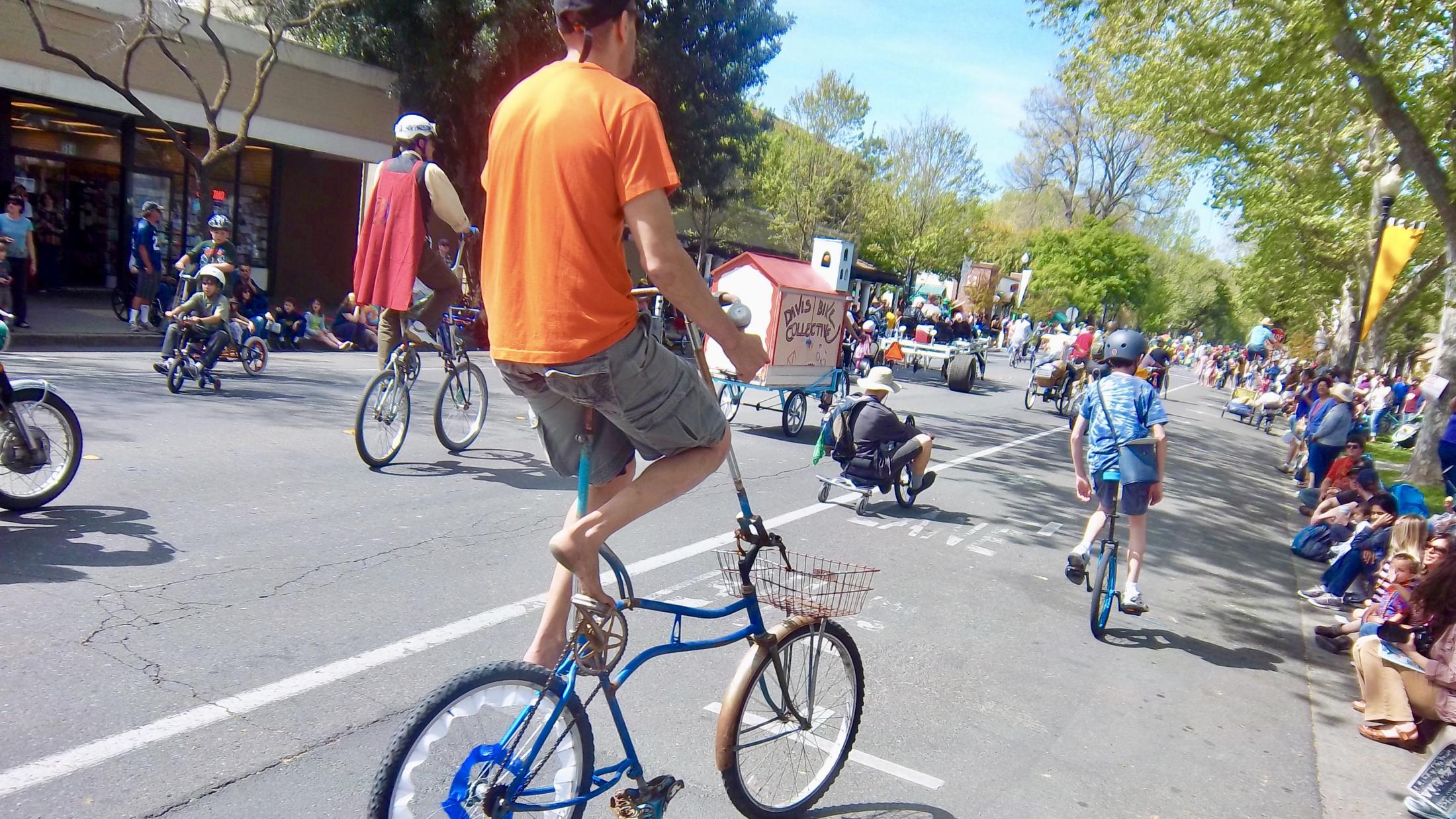 July 4th
The 4th of July is America's Independence Day. If you are in an American city on this day, then definitely don't forget to watch the fireworks in the evening. These fireworks shows are very remarkable. On this day we went to Sacramento as a family and walked around the city until 9:00 p.m. when a fireworks show began on the bank of the river. People everywhere were drinking beer, celebrating while watching the fireworks. All of this creates unforgettable memories. 
Family Recreation
Every evening we had to go somewhere. The little inexpensive car I bought was a big help to us. My very favorite thing to do was to take the children to some restaurant or to the parks of Sacramento and San Francisco. On Saturdays, we would go to places located at least about two hours away.
One of these trips was to the famous Lake Tahoe. Tahoe is located on the border of Nevada and California. This lake is distinguished for its beauty. The water is very clear and clean.
Looking at this lake, I thought about our Absheron lakes. Now it's interesting that everyone is thinking about drying out the Absheron lakes, as if they turned out to be a cause of disease. But wasn't it us who turned these lakes into sources of disease? Why aren't we thinking about restoring them?
Fulbright Trips
Fulbright gives every participant the chance to visit five different American universities. I took advantage of four of these opportunities. My first trip was to Minnesota. In order to get to White Earth College, located in northern Minnesota, I drove a car for five hours. It is very interesting to drive along those roads that stretch out as they go along. 
On another trip, I visited a small college in southern Oklahoma. In order to get to that college, I crossed the Great Plains. The Great Plains are a beautiful nature zone taking up a large part of America. They look very much like the lowlands of Azerbaijan. Buffalo live there. It was very interesting to see live buffalo and to visit nature preserves there. 
After making a presentation at the college, which is located in the city of Lawton, I went to an open military museum located there. This museum displays old military cars. As I was looking at these cars, I heard the type of magnificent military march that stirs up deep emotions in a person. Then soldiers passed me and went somewhere. That reminded me of my own army years. 
Michigan and Minnesota
Even though Michigan is a cold place, I have warm memories of it in my heart. On my first visit to America, I had gone to the famous Michigan State University (MSU). Since then, it was my dream to return and see my friends at the Water Research Institute there. That's why from the time I arrived in America, I was thinking about how to get to Michigan.
When I came to Michigan, Cindy met me at the airport. Cindy works in the MSU Water Research Institute. She was a big help to me when I went to American through the Junior Faculty Development Program (JFDP) in 2007. On this trip, I stayed there for four days. During that time, I made a presentation about my academic research. Every day my friends there came to the hotel where I was staying and invited me to lunch or dinner. It is interesting that my friends at the Water Research Institute didn't even eat breakfast without me. It was also interesting that MSU never closes the email accounts of its alumni. The MSU email account opened for me five years ago still works. That's why I love this university so much. 
The main reason behind my trip to Minnesota was to see my old friend Joe Magner, who I met five years ago at a conference. We have always kept in touch. On this trip, Joe invited me to the University of Minnesota. I had to give a lecture in one of his classes. Then he introduced me to his wife, daughter and brother-in-law. I had a delicious dinner together with them in an Italian restaurant.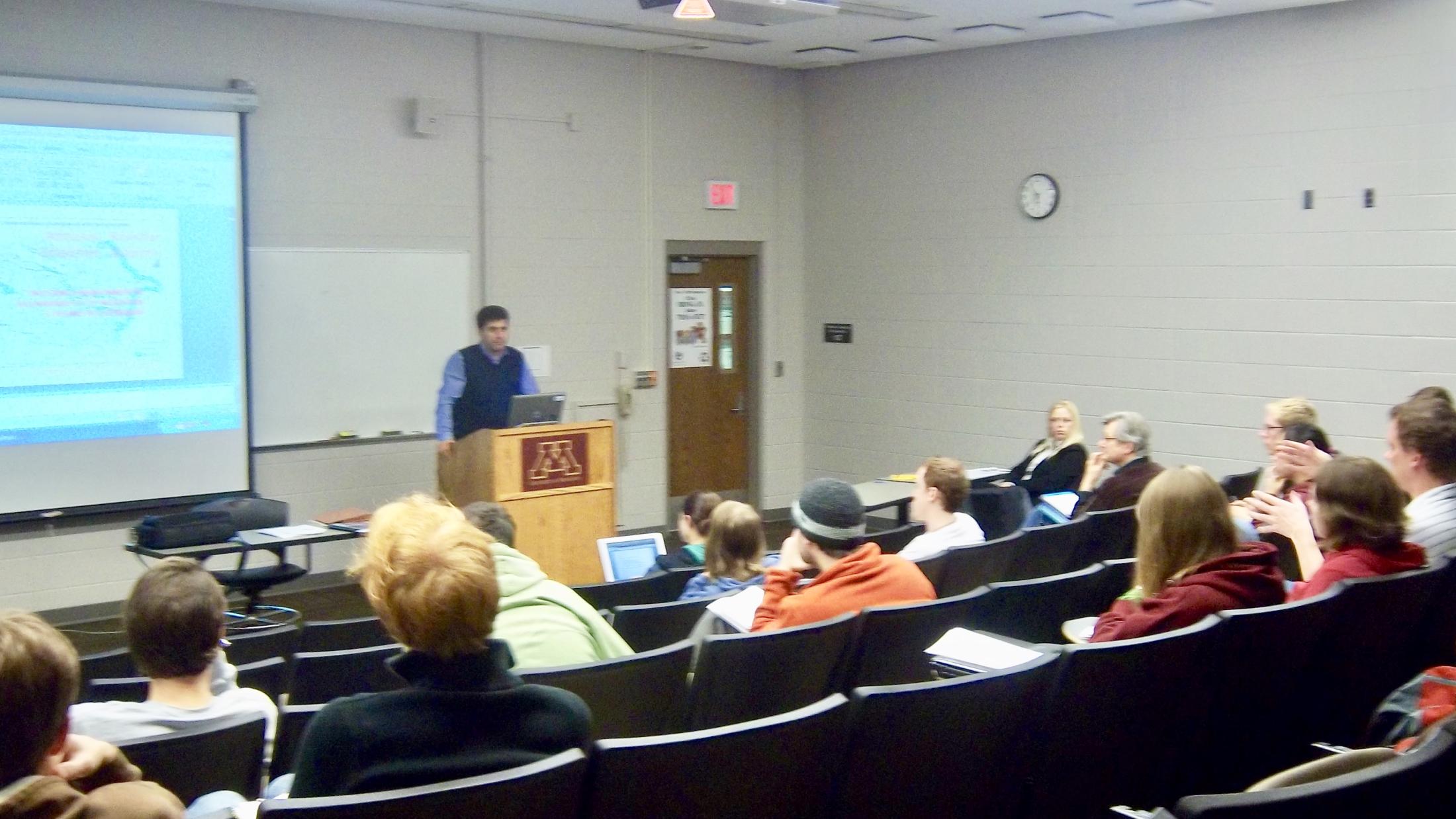 Going Back
My family had to come back 10 days before I did. Their tickets were out of Los Angeles. I didn't buy tickets from Sacramento to Los Angeles; I decided that I would drive them to Los Angeles and we could see that city for a couple of days at the same time. We drove along the coast through very beautiful places on the way to Los Angeles. We arrived there in about seven or eight hours by car. We visited Hollywood and Disneyland. Later I sent my family off and went back. Then I left 10 days later. 
Unlike people working in other professions, scholars and teachers have many chances to go to America. These opportunities are created by America's various education and academic programs.
That's why I would advise our teachers to take advantage of these opportunities. I myself have been in America twice, and for a long time. My first trip was through the Junior Faculty Development Program, and my second trip was through the Fulbright Program. 
Now I know that I will go there again. Not just me, but also Mahammad, Emil, and my wife. Mahammad will remember his childhood as he visits Davis and California again, and will see the kind and smiling people there again. Absolutely... 
---
About Global Affairs at UC Davis
Global Affairs brings the world to UC Davis, welcoming more than 10,000 international students, scholars and leaders, and hosting programs that inspire global curiosity, understanding and engagement. Compelled by the valuable outcomes of thinking globally, we make transformative opportunities a reality by supporting the thousands of students and faculty studying and researching internationally-and by facilitating collaborations that tackle the world's most pressing problems through more than 150 international partnerships.
Putting our vision of a UC Davis community that engages, thrives, and leads in this interconnected world into action, Global Affairs is now in pursuit of an ambitious goal: Global Education for All.
---
About the Fulbright Program at UC Davis
The Fulbright Program offers a range of research and professional exchange opportunities for UC Davis students, faculty, staff in over 130 countries—and brings international scholars and students here for collaborations that transform the campus community and build bridges to all parts of the world. 
Category
Tags