UC Davis Global Affairs Chief Joanna Regulska Honored with IIE's Inaugural Senior International Officer Award
Regulska recognized by IIE for transforming the international education landscape
By Bonnie Shea, director of communications, Global Affairs
Joanna Regulska, vice provost and associate chancellor of Global Affairs at the University of California, Davis, has been honored as the first-ever recipient of the Senior International Officer (SIO) Award from the Institute of International Education (IIE). 
IIE, a leading organization in the field of international education, created the award as a part of its Centennial to recognize a senior international officer demonstrating extraordinary leadership and long-term contributions to the field of international education. 
The award, which was presented to Regulska in Washington, D.C. on May 29 by IIE President and CEO Allan E. Goodman, is reserved for SIOs showing leadership across the spectrum of international education, while developing cohesive strategies, driving innovation, advancing impact, and fostering relationships.
"Dr. Regulska has transformed the international education landscape. Given her illustrious track record – and continued commitment to advancing international education around the world – there is no other SIO more deserving of this award," said Goodman.
Throughout her more than three decades in the field, Regulska has led large-scale programs, established collaborative partnerships, and substantially improved globally focused services—all of which have led to groundbreaking institutional global engagement.
Since becoming the first chief global strategist as vice provost and associate chancellor of Global Affairs at UC Davis in 2015, Regulska has set strategies and expanded connections with partners around the world. She has also overseen the development of innovative programs for students, faculty, scholars, and staff, and has made key administrative decisions in building a comprehensive global office. 
Regulska is currently championing two visionary initiatives at UC Davis: an ambitious goal to provide 100 percent of students with valuable international or intercultural experiences before graduation through a UC Davis Big Idea of Global Education for All; and a strategy for strengthening the university's international research, education and engagement efforts through Global Centers in regions around the world.
"Joanna being selected to receive this inaugural award from IIE confirms her extraordinary and distinguished contributions to the field, to UC Davis, and to the broader global community," said UC Davis Chancellor Gary S. May. "IIE has been a strong partner for UC Davis and we look forward to continuing our important work with them in support of international education and collaboration."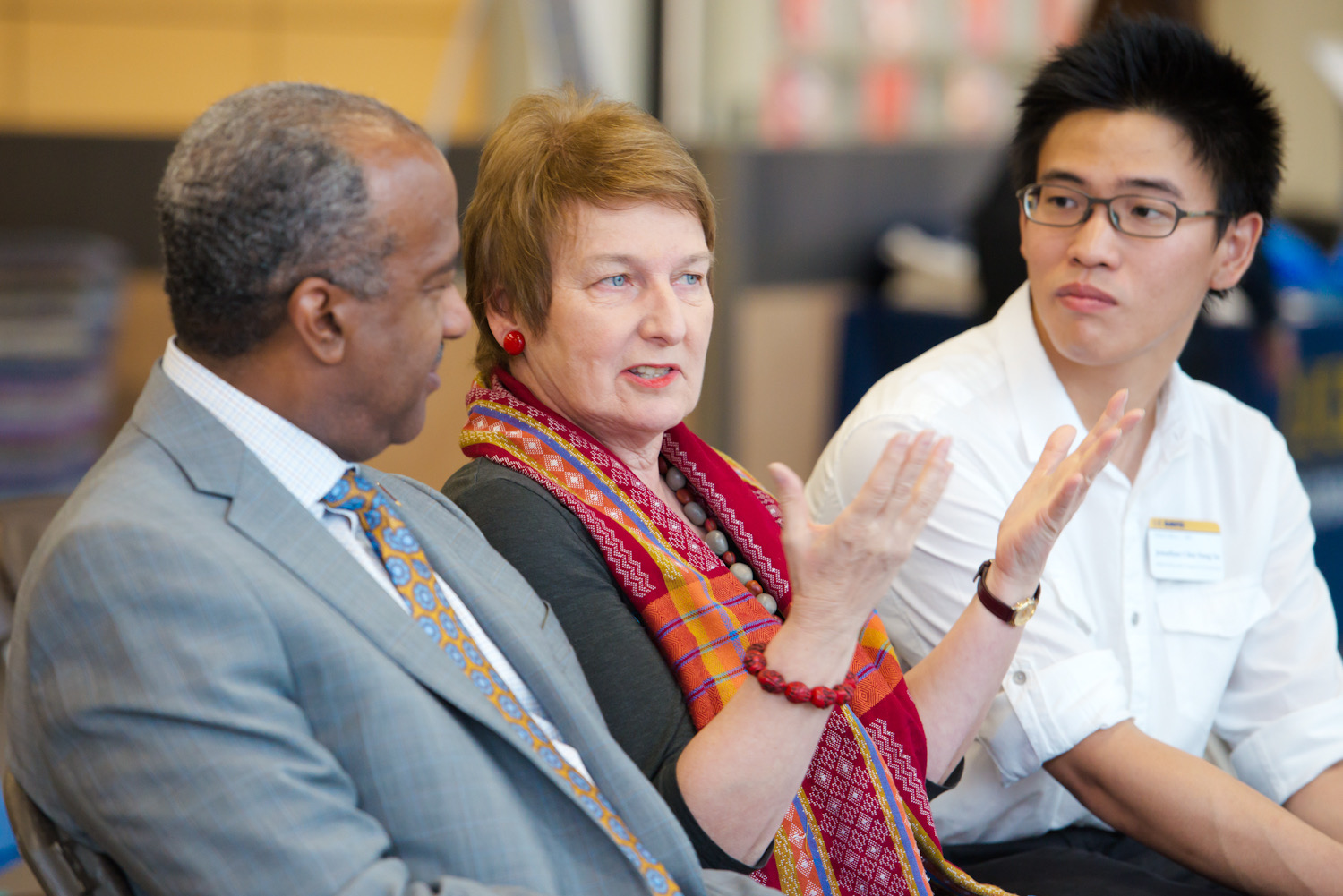 Under Regulska's leadership, Global Affairs at UC Davis has grown tremendously. Several new programs have been expanded including award and grant programs for faculty, an ambassador program for faculty and staff, and diversified Study Abroad and global learning opportunities for students. She has championed UC Davis joining new networks including Universitas 21 (U21), UN Academic Impact, and the U.S. Chapter of the UN Sustainable Development Solutions Network, with efforts towards mapping involvement with the UN Sustainable Development Goals (SDGs) currently underway.
New staff members have been added to develop key areas including communications, faculty engagement, global engagement, global learning, international partnerships, and travel security—leading to improved campuswide processes and resources. Regulska is known for being a passionate advocate for international education and global engagement—and a generous mentor to up-and-coming SIOs, rising professionals in the field, and students.
"A visionary in the field, Joanna continues to inspire colleagues, partners and students around the world with her dedication and creative energy," said UC Davis Provost and Executive Vice Chancellor Ralph J. Hexter. "She has truly transformed the landscape of international engagement at UC Davis."
In just four years, Regulska has been the driving force behind many first-time achievements  at UC Davis—ranging from being selected as an institutional host for the Mandela Washington Fellowship for Young African Leaders and as a campus host for UN Millennium Fellows to establishing a campus policy for travel security and a streamlined process for international agreements. Last fall, Regulska set in motion an international and interdisciplinary research conference that attracted more than 200 experts from 22 countries to UC Davis.
New rankings and recognition have followed suit. UC Davis ranked third among large universities in producing Gilman Scholars for 2016-17, ranked tenth for number of international scholars hosted in 2017-18, and produced the largest number ever of UC Davis Fulbright U.S. Students for 2018-19.
Before her time at UC Davis, as Rutgers University's first vice president for international and global affairs, Regulska led another major effort to build its first centralized office, which earned NAFSA's Senator Paul Simon Award for comprehensive internationalization in 2014.
Beyond her SIO role, Regulska is a professor of Gender, Sexuality and Women's Studies at UC Davis and is a respected scholar concentrating on women's political activism, grassroots mobilization, democracy and democratization, with a focus on Europe and the Caucasus. She is the author or co-author of eight books, author of over 100 articles, chapters and reviews, and a member of numerous advisory boards. She founded the Local Democracy Partnership Program, serves on the Founder Board of The Foundation in Support of Local Democracy, and established graduate degree programs in gender studies at the Central European University (Hungary) and Tbilisi State University (Georgia).
In recognition of her scholarly work, the President of Poland awarded Regulska the Cavalier Cross of the Order of Merit of the Republic of Poland (1996), the Knight's Cross of the Order of Restitution of the Republic of Poland (2004), and the Commander's Cross of the Order of Polonia Restituta (2014). Regulska earned her master's degree from the University of Warsaw, Poland and Ph.D. from the University of Colorado, Boulder. She received a Doctor Honoris Causa from Tbilisi State University, Georgia (2011), and a Fulbright U.S.-Korea International Education Administrator Award (2013).
"It is an honor to receive this distinguished award from an organization I admire," said Regulska. "I would like to share this recognition with my cherished colleagues from UC Davis, Rutgers University, and many partners around the world. I am continually inspired by their knowledge, wisdom and commitment to advancing this shared vision of global engagement and to creating access to global learning for all students."
---
---
About Global Affairs at UC Davis
Global Affairs brings the world to UC Davis, welcoming more than 10,000 international students, scholars and leaders, and hosting programs that inspire global curiosity, understanding and engagement. Compelled by the valuable outcomes of thinking globally, we make transformative opportunities a reality by supporting the thousands of students and faculty studying and researching internationally—and by facilitating collaborations that tackle the world's most pressing problems through more than 150 international partnerships.
Putting our vision of a UC Davis community that engages, thrives, and leads in this interconnected world into action, Global Affairs is now in pursuit of an ambitious goal: Global Education for All.
About the Institute of International Education (IIE)
Established in 1919 with the founding premise that international exchange could make the world a more interconnected place, the Institute of International Education has championed international education and pioneered new models of collaboration across institutions of higher education with a worldwide reach. Today, IIE proudly supports flagship educational and cultural exchange programs on behalf of the U.S. Departments of State and Defense, in addition to government, corporate and foundation programs. IIE is proud to assist scholars, students and artists threatened by conflict and unrest in their home countries.
Primary Category
Tags