UC Davis Mandela Washington Fellowship Inspires Global Change
As Fellows Return Home, They Reflect on how Their Experiences will Shape Their Futures
In June, UC Davis welcomed the 2022 cohort of Mandela Washington Fellows, 25 young leaders from sub-Saharan Africa who are dedicated to promoting positive impact in their home countries. The Mandela Washington Fellowship is the flagship program of the Young African Leaders Initiative (YALI), administered by the U.S. Department of State. UC Davis is one of 27 campuses across the United States selected to hold an Institute this summer. UC Davis's six-week Leadership Institute in Public Management focused on building technical and leadership capacity within governmental, regional or international organizations.
This year, Fellows came from different professional backgrounds, including public health, medicine, agriculture, civil and environmental engineering, development economics, urban planning, public policy and beyond. Throughout the six weeks, Fellows participated in programming that included academic study, site visits, workshops, mentoring, networking, community service and cultural exchange. Through presentations and workshops delivered by UC Davis faculty and staff, along with guest speakers, Fellows learned various skills that are applicable to public management.
Fellows helped with various community service projects and volunteered with Davis Community Meals, Woodland Tree Foundation and Yolo Food Bank. They also visited the Sacramento Municipal Utility District, the state Capitol Building, UC Davis Horticulture Innovation Lab, UC Davis Student Farm, the Tahoe Environmental Research Center and the Tahoe Regional Planning Agency to hear from speakers and partners about their work and its impact on the region, state and planet. 
Inspiring a Better World
Collins Obi, an energy specialist from Nigeria, expressed excitement that the Fellowship programming has fit perfectly with his professional background.
"From the site visits, I could connect to my engineering background and the interface between policy-making and science became more lucid to me. In fact, in one of the sessions with our faculty, we went hands-on in the use of ARC-GIS software. It was indeed an amazing experience," said Obi.
Fellows met with many experts and leaders working in sectors throughout California and UC Davis, including California Secretary of State Dr. Shirley Weber, Dr. Janine Bera, chief medical officer at Wellspace Health, and Selika Josiah Talbott, senior fellow at the UC Davis Institute of Transportation Studies.
For Marilyn Azumah, a healthcare professional and nurse from Ghana, the guest speakers instilled a new meaning of leadership. "There's no leadership without servitude, you cannot be a leader without serving people," said Azumah. Hearing from the women among the group of speakers reinforced this for Azumah. "We can aspire to go higher as women. We shouldn't be limited by society or by culture," she proclaimed.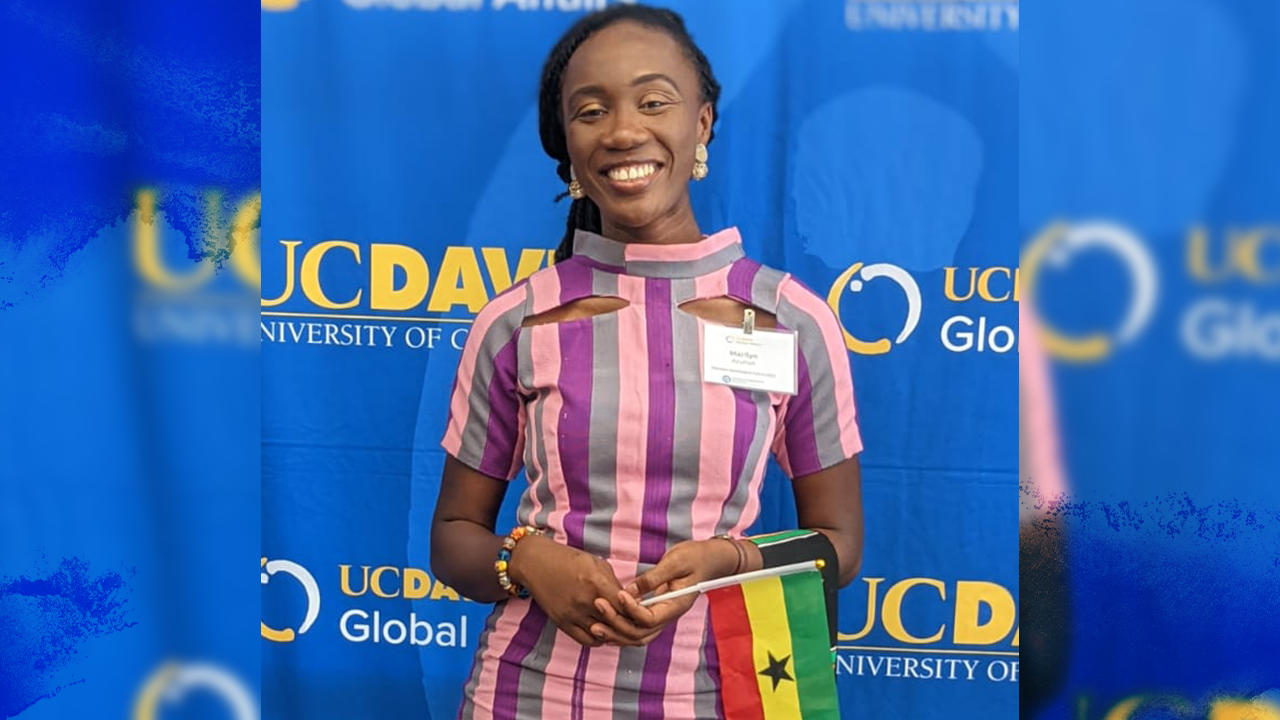 Local Improvements with Global Impact
After returning to their home countries, Fellows are committed to implementing the new tools and knowledge learned at the Institute. Immanuel Freeman, a public infrastructure project engineer from Liberia, plans to use tools learned during the Fellowship to benefit his community at home.
"The one change that I plan to implement after the Fellowship involves the streamlining of my engineering workflow within the area of safe drinking water supply," said Freeman. "I intend to utilize tools such as Geographic Information Systems to improve the way we monitor and manage our water supply infrastructure in Liberia."
As a senior nursing officer at Komfo Anokye Teaching Hospital in Kumasi, Ghana, Azumah dedicates herself to developing post-discharge care in order to improve healthcare equity.  She identifies her ultimate goals as raising awareness for non-communicable diseases and preventing complications, and creating a local health support system and check system for patients with chronic illness. She strives to influence local and international health policies in these areas with her work.
One way Azumah plans to bridge the gap between patients and primary health providers after discharge is through telemedicine systems, along with researching ways to transform transitional patient care. She, along with the rest of her cohort, received mentorship to aid them as they grow and develop within their careers and pursue their transformative goals. Azumah's mentor, Laura Van Aucker, an assistant clinical professor in multiple programs at the Betty Irene School of Nursing, is helping her do that.
With a passion for promoting renewable energy, Obi plans to prioritize sustainability and near-zero greenhouse gas footprints within his energy projects at home. "Through real-life examples via the fellowship site visits, UC Davis utility systems, campus planning and infrastructural design, it was demonstrated that it's possible and can be done from end-to-end of a project life cycle," said Obi.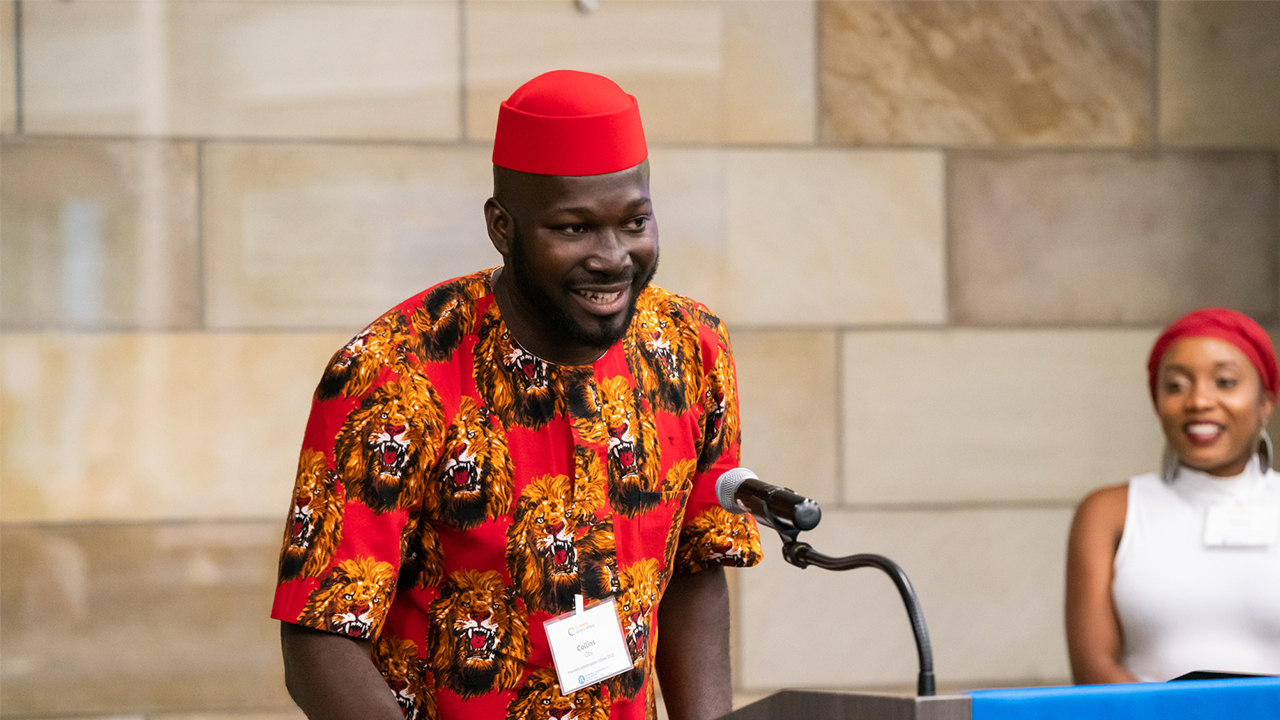 Addressing Global Challenges
As professionals working to improve development outcomes, the Fellows align themselves with the UN Sustainable Development Goals (SDGs). Collins works towards achieving SDG 7: Affordable and Clean Energy.
"As an energy specialist working with a Nigerian Utility, my current role focuses on providing energy augmentation solutions to grid supply by deploying affordable, clean, reliable, and sustainable decentralized energy resources to power unserved and underserved communities in Nigeria and beyond," said Obi.
Immanuel works towards SDG 6: Clean Water and Sanitation, and SDG 4: Quality Education. "As an engineer, I aspire to focus on the provision of safe drinking water and improved sanitation for people living in slum communities in sub-Saharan Africa. Furthermore, I currently lecture at the University of Liberia and aspire to continue with the goal of transferring my knowledge and building the next generation of African engineers," said Freeman.
As a healthcare professional, Azumah prioritizes SDG 3: Good Health and Well-Being, which she believes is essential in promoting development.
"When people are wealthier, they become more productive, they become more assertive, they become more efficient. If you're not having good health, if you're sick, you can't go to work. You can't provide for your family," she said. "We as health workers, we as nurses, we as health people, going into the community to advocate and also to educate people about their health will make people live a healthier life."
In their final week, Fellows joined the Mandela Washington Fellowship Summit, a two-day event held virtually for all 2022 Mandela Washington Fellows across the country. Fellows heard speeches from members of Congress and key policymakers, and networked with various Fellowship stakeholders. The Summit concluded with Ignite Talks, in which nominated Fellows presented short speeches on insights gained during their careers and personal lives. Daniel Oladoja was chosen as UC Davis's nominee, and presented an Ignite Talk discussing climate change.
As the Fellows depart this month, they will each bring home the knowledge, skills  and connections gained during the Institute. Fellows will stay connected to UC Davis staff and faculty and will join the vast network of Fellowship Alumni, where they will have access to ongoing professional development opportunities.
---
About Global Affairs at UC Davis
Global Affairs brings the world to UC Davis, welcoming more than 10,000 international students, scholars and leaders, and hosting programs that inspire global curiosity, understanding and engagement. Compelled by the valuable outcomes of thinking globally, we make transformative opportunities a reality by supporting the thousands of students and faculty learning and researching globally—and by facilitating collaborations that tackle the world's most pressing challenges through more than 150 global partnerships.
Putting our vision of a UC Davis community that engages, thrives, and leads in this interconnected world into action, Global Affairs is in pursuit of an ambitious goal: Global Education for All.
About the Mandela Washington Fellowship
The Mandela Washington Fellowship is a program of the U.S. Department of State with funding provided by the U.S. Government and administered by IREX. For more information about the Mandela Washington Fellowship, visit mandelawashingtonfellowship.org and join the conversation at #YALI2022.  
Primary Category
Tags