UC Davis Welcomes 17 New Fulbright Visiting Scholars
Rowan O'Connell-Gates, student writer, Global Affairs
UC Davis welcomes its newest Fulbright Visiting Scholars: a total of 17 international scholars who have made their way from 12 countries to the university for the 2017-18 academic year.
The Fulbright Program, aimed at increasing mutual understanding between the United States and other countries, has multiple facets, bringing both international scholars and students to the United States and funding American scholars and students in studying, researching, and teaching around the world. As a result, institutions, including UC Davis, gain academic, research, and cultural contributions.
The UC Davis Fulbright Scholar Program is managed by a team within Global Affairs, with liaisons including Vice Provost and Associate Chancellor of Global Affairs Joanna Regulska, Director of Global Professional Programs Karen Beardsley, and Assistant Director of Global Professional Programs Jennie Konsella-Norene, as well as an administrative official, Director of Services for International Students and Scholars Wesley Young.
The Global Affairs team works collaboratively to provide programmatic and administrative support for the Fulbright Visiting Scholars during their time at UC Davis. Much like with the Hubert H. Humphrey Fellows, Global Affairs makes an effort to aid the scholars with their acclimation to the United States.
"We partner with the Fulbright Bay Area Enrichment Program," Konsella-Norene said. "They do a lot of programming for Fulbright Visiting Scholars with different events throughout northern California; this helps them build a tight-knit community."
"On campus we also plan UC Davis specific events such as visits to the Robert Mondavi Institute for Wine and Food Sciences, the Haagen Daz Honey Bee Haven and Russell Ranch. We have also ventured to Sacramento to visit the California State Capitol and the California State Railroad Museum," Konsella-Norene said.
When the scholars are not participating in community programs, they can be found all across campus fostering relationships with UC Davis faculty and students and adding to the university's research mission. Depending on their professional backgrounds, Fulbright Scholars are hosted anywhere from the Robert Mondavi Institute for Wine and Food Sciences to the UC Davis Center for Mind and Brain.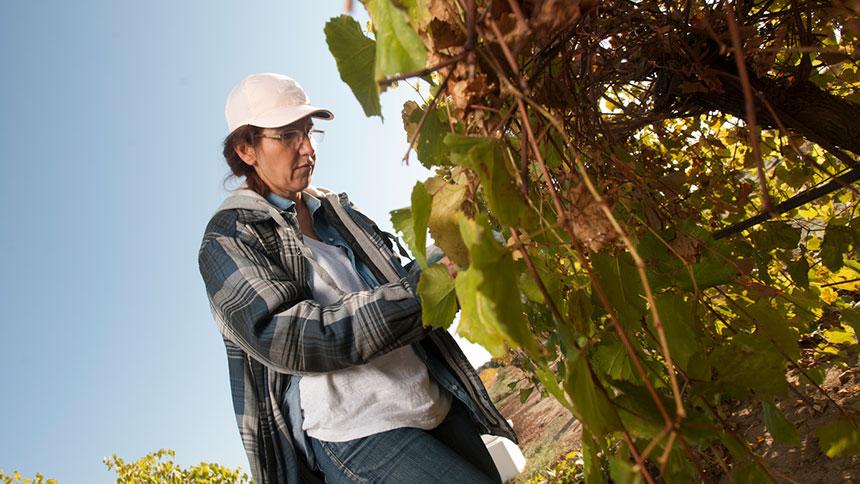 The 2017-18 Fulbright Visiting Scholars represent five colleges and schools. As a result of the diverse skill sets of scholars, the UC Davis community gains new approaches and perspectives related to teaching, research, and even in personal and professional endeavors.
"There is an incredible amount we can learn based on the areas of expertise and research of Fulbright Visiting Scholars, but also based on their home countries," Konsella-Norene said.
"The Fulbright Program is really built on the concept of mutual understanding and the exchange of ideas and knowledge. As with all of our international students and scholars there is so much to learn from one another. And as our world continues to become more interconnected that exchange of information is becoming all the more important," Konsella-Norene said.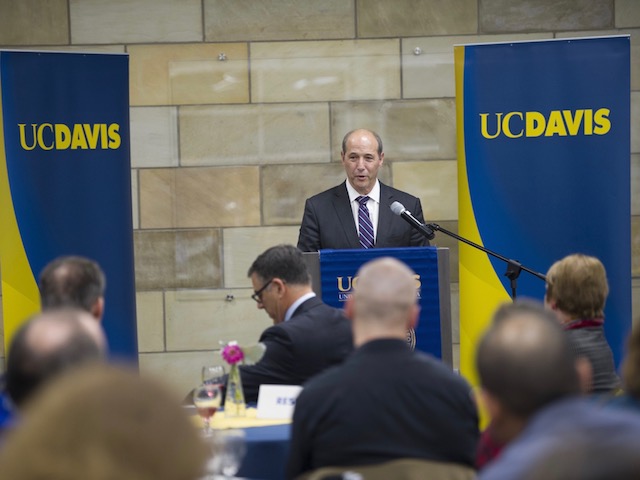 UC Davis' active participation in the Fulbright Program—from encouraging faculty, student, and administrator involvement to hosting an annual Humphrey Fellow/Fulbright Scholar and Student Reception and even hosting the Fulbright Foreign Scholarship Board for meetings this past fall—is a shining example of its strong commitment to international exchange. A commitment through which the whole community stands to benefit.
---
2017-18 UC Davis Fulbright Visiting Scholars
 
Girish Bekaroo — Mauritius
Elsa Andrea Brugnoli — Argentina
Nihal Buzkan — Turkey
Pedro Luis Borges Chaffe — Brazil
Apramita Devi — India
Dan Domocos — Romania
Carla Alejandra Gimenez — Argentina
Daniel Estanislao Goszczynski — Argentina
Hui Chen Hsiao — Taiwan
Syed Hussain — India
Sundus Javed — Pakistan
Muhammad Farooq Hussain Munis — Pakistan
Blandine Marie Ivette Nacoulma — Burkina Faso
Sebastian Ezquiel Demyda Peyrás — Argentina
Tudor Richard Selescu — Romania
Saida Sharifova — Azerbaijan
Rafal Zwolak — Poland
---
More information on Fulbright opportunities at UC Davis can be found on the Global Affairs website. The next Fulbright Scholar Program workshop for UC Davis faculty and administrators interested in applying for the Fulbright U.S. Scholar Program is on May 18 from 12 to 1:30 p.m. at the International Center.

More information on upcoming Fulbright workshops for UC Davis students interesting in earning funding through the Fulbright U.S. Student Program can be found on the Fulbright website.
---
About Global Affairs at UC Davis
Global Affairs brings the world to UC Davis, welcoming more than 8,400 international students, scholars and leaders, and hosting programs that inspire global curiosity, understanding and engagement. Compelled by the valuable outcomes of thinking globally, we make transformative opportunities a reality by supporting the thousands of students and faculty studying and researching internationally-and by facilitating collaborations that tackle the world's most pressing problems through more than 150 international partnerships.
Putting our vision of a UC Davis community that engages, thrives, and leads in this interconnected world into action, Global Affairs is now in pursuit of an ambitious goal: Global Education for All.
---
About the Fulbright Program
The Fulbright Program is the flagship international educational exchange program sponsored by the U.S. government and is designed to increase mutual understanding between the people of the United States and the people of other countries.
Primary Category
Tags