Recognition for innovation and excellence
Chancellor Staff Excellence Awards
UC Davis Chancellor Gary S. May presented Chancellor Staff Excellence Awards to recipients for their extraordinary steps they have taken that go above and beyond their official duties, and honor staff who allow "our colleagues and our students to flourish."
Zachary Frieders
Zachary Frieders, executive director (interim) of the Global Learning Hub has expanded Study Abroad opportunities to engage more of the UC Davis community. His recent innovative program such as the UC Davis Nepal Seminar takes place in between quarters, giving more students the opportunity to study abroad that would otherwise be limited by their academic schedule. At the same time, he developed USA Study Programs that allow UC Davis Students to explore new regions of the United States while gaining intercultural skills they would experience overseas. His commitment for international engagement is apparent in these new programs and make Study Abroad opportunities more inclusive. 
Jennifer Moylan
Jennifer Moylan, Study Abroad program coordinator and advisor, has taken the lead in hosting campus engagement activities that promote inclusivity and exposure to diverse cultures. One nominator recalls she "jumped at the chance" to lead two First Year Aggie Connections, where 25 first year students meet regularly during one quarter to connect on a shared interest or theme. Her commitment to engage with first year students showcase her service above and beyond her duties at Study Abroad. She also hosted two Spoken World Story Jams that had storytellers with deep international and intercultural identities share their unique experiences. 
Erin Schlemmer
Erin Schlemmer, Study Abroad program coordinator and advisor for the new Ag Science and Sustainability Internships in Costa Rica, Erin Schlemmer has continuously come to the rescue when students have needed her most. Whether it is arranging new internships for students whose original placements fell through, or staying with a student after a bug bite landed them in the hospital, Schlemmer is recognized by her colleagues for always finding a solution.



CASE (Council of Advancement and Support of Education) Award
Global Affairs Communications Team
The Global Affairs Communications Team was awarded a Circle of Excellence Award from CASE, the Council of Advancement and Support of Education. CASE is a global association made for the advancement of professionals in communications, marketing, development and alumni relations. 
With more than 2,856 entries, the Circle of Excellence Awards are given annually to institutions whose staff have delivered exceptional results through their publications. The Global Affairs Viewbook successfully illustrated the reach and impact of Global Affairs, as well as emphasized the importance of their mission, to inspire global curiosity, understanding, and engagement. 



Institute of International Education's Senior International Officer (SIO) Award
Joanna Regulska
Joanna Regulska, vice provost and associate chancellor of Global Affairs at the University of California Davis, received the first-ever Senior International Officer (SIO) Award from the Institute of International Education (IIE) in Washington D.C. IIE is a leading organization in the field of international education, with a century of experience developing new educational exchange programs among intuitions around the globe. 
The SIO Award recognizes a senior international officer demonstrating extraordinary leadership and long-term contributions to the field of international education. Before joining Global Affairs, Regulska spent more than three decades dedicated to promoting institutional global engagement. As the first chief global strategist of Global Affairs, Regulska has led the expansion of new programs including new awards and grants  for faculty, launching a Faculty and Staff Ambassador program, and diversifying study abroad and global learning opportunities for students. At the same time, Regulska's leadership has been the driving force behind many first-time achievements at UC Davis—ranging from being selected as an institutional host for the Mandela Washington Fellowship for Young African Leaders and as a campus host for UN Millennium Fellows, to establishing a campus policy for travel security and a streamlined process for international agreements.



Mandela Volunteer Award
Ellen Kasakov
Ellen Kasakov, programs coordinator, intercultural programming for the Global Learning Hub, was been chosen to be part of the inaugural cohort of Summit Volunteer Corps members for the 2019 Mandela Washington Fellowship Summit. During the duration of the summit, which took place at the beginning of August, Kasakov supported 700 Mandela Washington Fellows who were in attendance.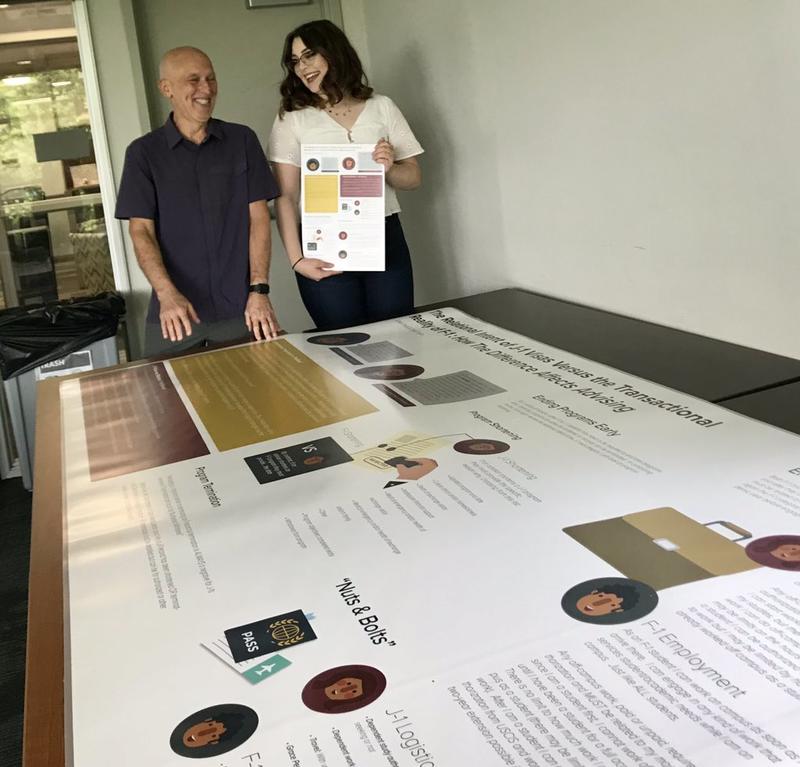 NAFSA Award
Olivia Trujillo and Robb Davis
Olivia Trujillo, student graphic designer and Robb Davis, international student advisor from Global Affairs, were awarded with NAFSA's Best Visual Presentation for their poster "J-1 Student Advising for F-1 Student Advisors (Or Reverse!) at their 2019 Poster Fair. Their poster outlined the critical differences between F-1 and J-1 student advising and the processes. 
NAFSA is the world largest non-profit association dedicated to international education and exchange. It host's an annual conference and expo where informative visuals are presented in a Poster Fair. Annually, their 10,000 attendees who span from more than 3,500 institutions and over 100 countries, vote for the poster they believe has the best visual presentation. 
Staff Assembly Award
Jennie Konsella-Norene
Jennie Konsella-Norene, assistant director of global professional programs, received the Citation of Excellence Award from UC Davis Staff Assembly. The Citations of Excellence Awards Program seeks to recognize outstanding achievement of individual staff members and staff teams. 
This year, the UC Davis Staff Assembly awarded Konsella-Norene for her exemplary achievements in supporting research and grant programs. Her proven track record of winning external grants and providing leadership in hosting prestigious fellowship programs has increased visibility to UC Davis. For over a decade, she has managed the Seed Grants for International Activities, which have brought in over $40 million of external funding to the university. Most recently, Konsella-Norene led the way in managing the cohorts of Fulbright Afghanistan Leadership Seminar that UC Davis welcome each fall. Due to her high level of support, UC Davis has been able to renew prestigious fellowship programs, including the Mandela Washington Fellowship for Young African Leaders, who have been hosted by UC Davis Global Affairs for the past four summers. 
 
The PIE News PIEoneer Finalist
Article 26 Backpack
Article 26 Backpack, a project housed in UC Davis Global Affairs that uses technological tools to empower universal academic and employment mobility has been shortlisted as a finalist in the Digital Innovation of the Year-Technology category of the 2019 PIEoneer Awards. The PIEoneer Awards are awarded by The PIE News, an international media company that promotes the interaction of professionals in international education though news, magazines and consultancy. 
The PIEoneer Awards are meant to celebrate innovation and achievement in international education. Specifically, the technology category seeks to recognize new digital innovations that solve problems within the international education sector. Article 26 Backpack was developed to address the social and institutional barriers posed on refugees and vulnerable young professions pursuing a degree or employment in a country disrupted by war, and other causes including economic collapse, and natural disasters. Through an international team, made up of UC Davis, American Association of Collegiate Registrars and Admissions Officers and the Issam Fares Institute for International Affairs and Public Policy at the American University in Beirut, users are able to securely store electronic copies of documents needed to continue their educational or professional journey outside of their home country. 
---
About Global Affairs at UC Davis
Global Affairs brings the world to UC Davis, welcoming more than 10,000 international students, scholars and leaders, and hosting programs that inspire global curiosity, understanding and engagement. Compelled by the valuable outcomes of thinking globally, we make transformative opportunities a reality by supporting the thousands of students and faculty studying and researching internationally—and by facilitating collaborations that tackle the world's most pressing problems through more than 150 international partnerships.
Putting our vision of a UC Davis community that engages, thrives, and leads in this interconnected world into action, Global Affairs is now in pursuit of an ambitious goal: Global Education for All.
Category