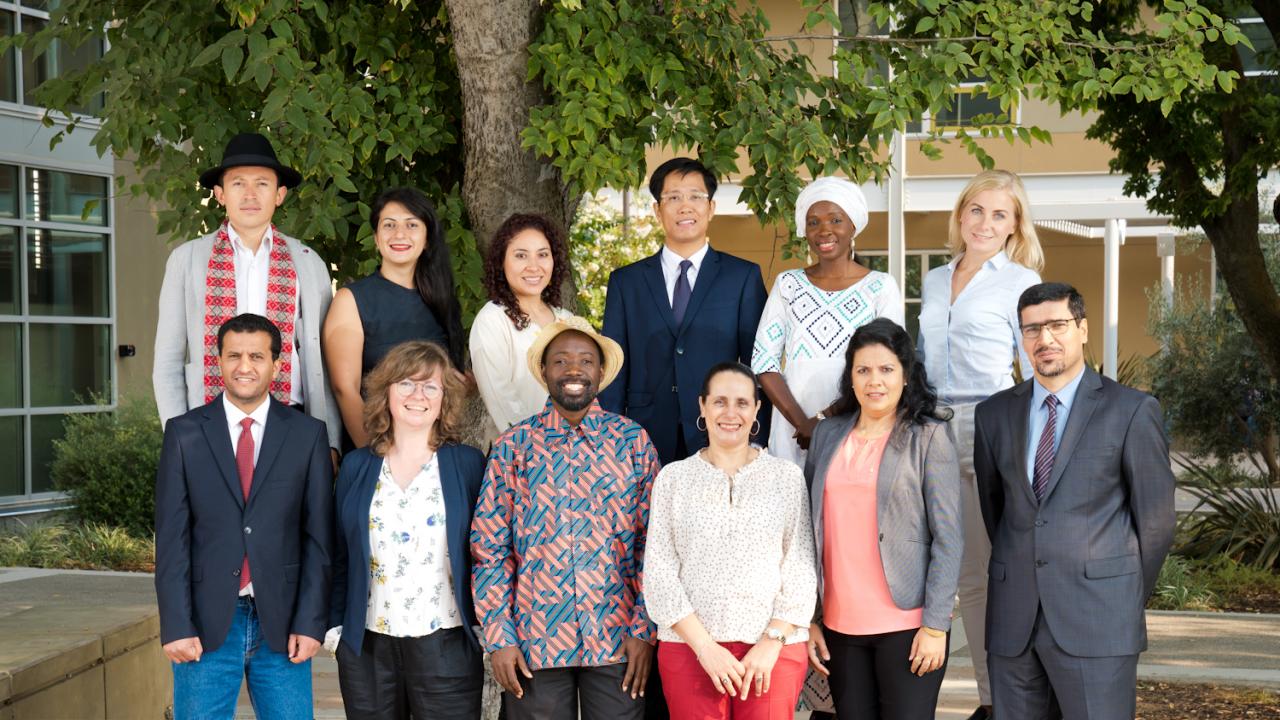 Compiled by Haley Fredericks, communications student assistant, Global Affairs
Through collaborations and engagements with UC Davis faculty, advisors, professional affiliations and community members, UC Davis Hubert H. Humphrey Fellows undertake individualized programs of academic, professional, and leadership development. 
This year's 2018-19 UC Davis Humphrey Fellows volunteered in the community, traveled to Washington D.C. and various states for meetings at public and private agencies, gave class and community presentations, attended forums and conferences, and networked and collaborated with professionals. 
Acting Locally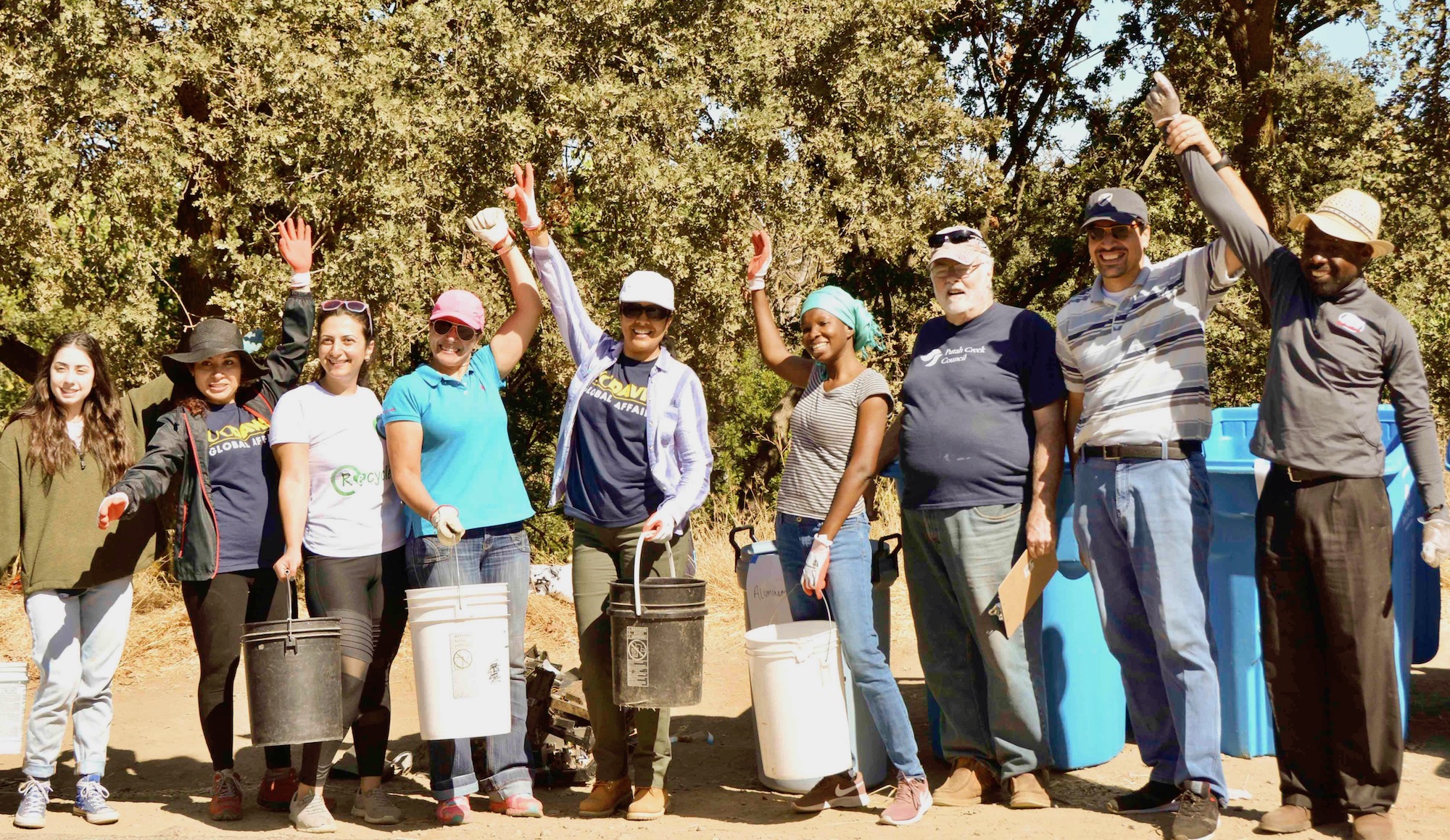 Community service is an important aspect of the Humphrey Fellowship Program. In September, the UC Davis Humphrey Fellows joined 150 volunteers in an effort to pick up trash from three miles of Putah Creek's channel, floodplains, adjacent roadways, and a tributary. Cumulatively, they successfully removed and properly disposed of 3,225 pounds of garbage. The plant-savvy fellows also had the opportunity to remove invasive species by cutting stinkwood (Dittrichia graveolens) before it was able to produce seed, minimizing biological pollution.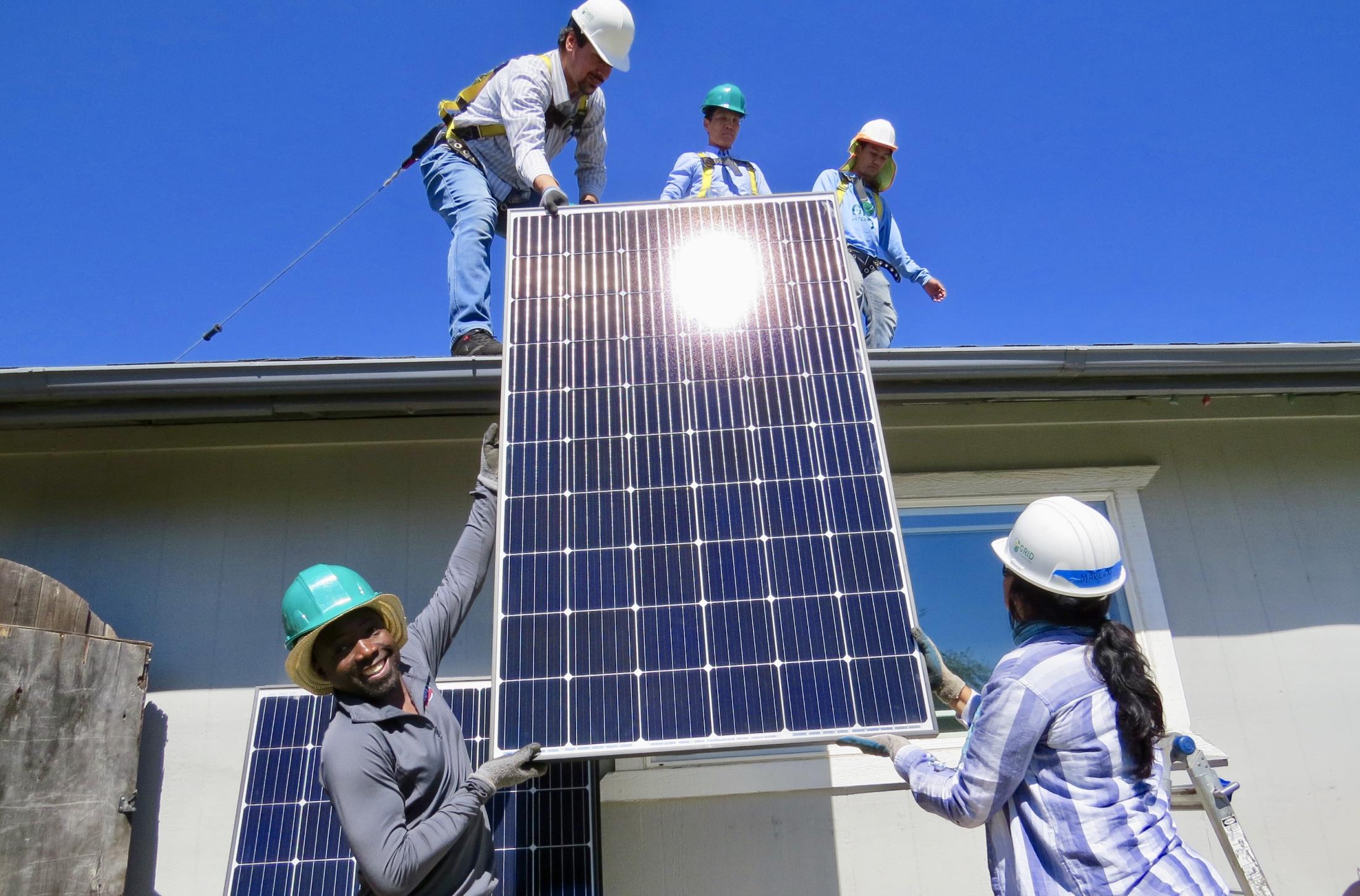 In October, the fellows then had the opportunity to not only take a tour with GRID Alternatives North Valley, but to help mount and install solar panels for a low-income household. The fellows were able to enhance their technical knowledge and skill sets related to renewable energy while also contributing to the local community.
Acting Globally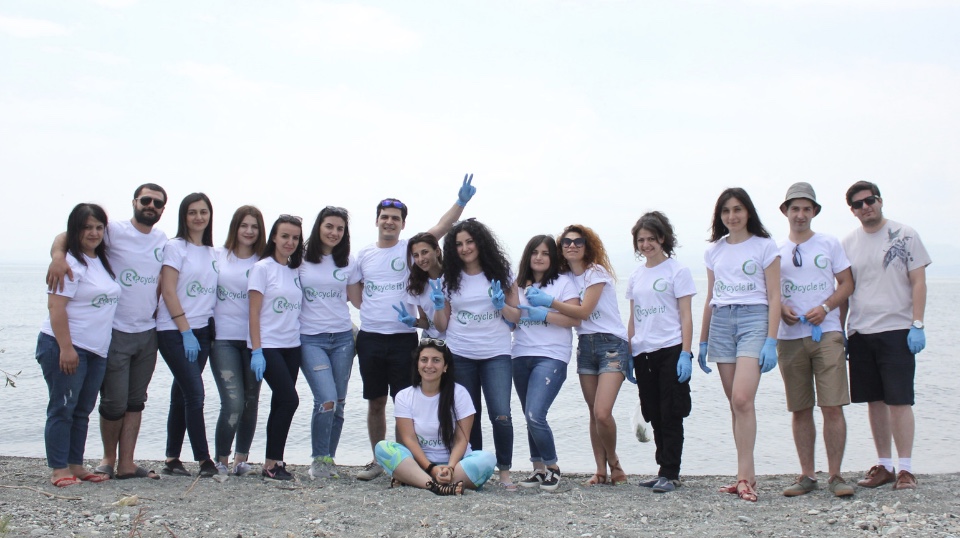 This year, UC Davis Humphrey Fellow Irina Mkrtchyan (Armenia) received a grant from Coca-Cola to support her "Recycle It" project with Innovative Solutions for Sustainable Development of Communities (ISSD). Mkrtchyan is the co-founder of ISSD, an Armenian NGO that works to ensure sustainable development through implementation of innovative projects in waste management, agriculture, education, and business, and promotion of a circular economy and women's empowerment. "Recycle It" works to create a new culture of sorting and recycling in Armenia through awareness campaigns, installation of sorting bins, environmental training sessions, and cleanup events.  
Exploring Politics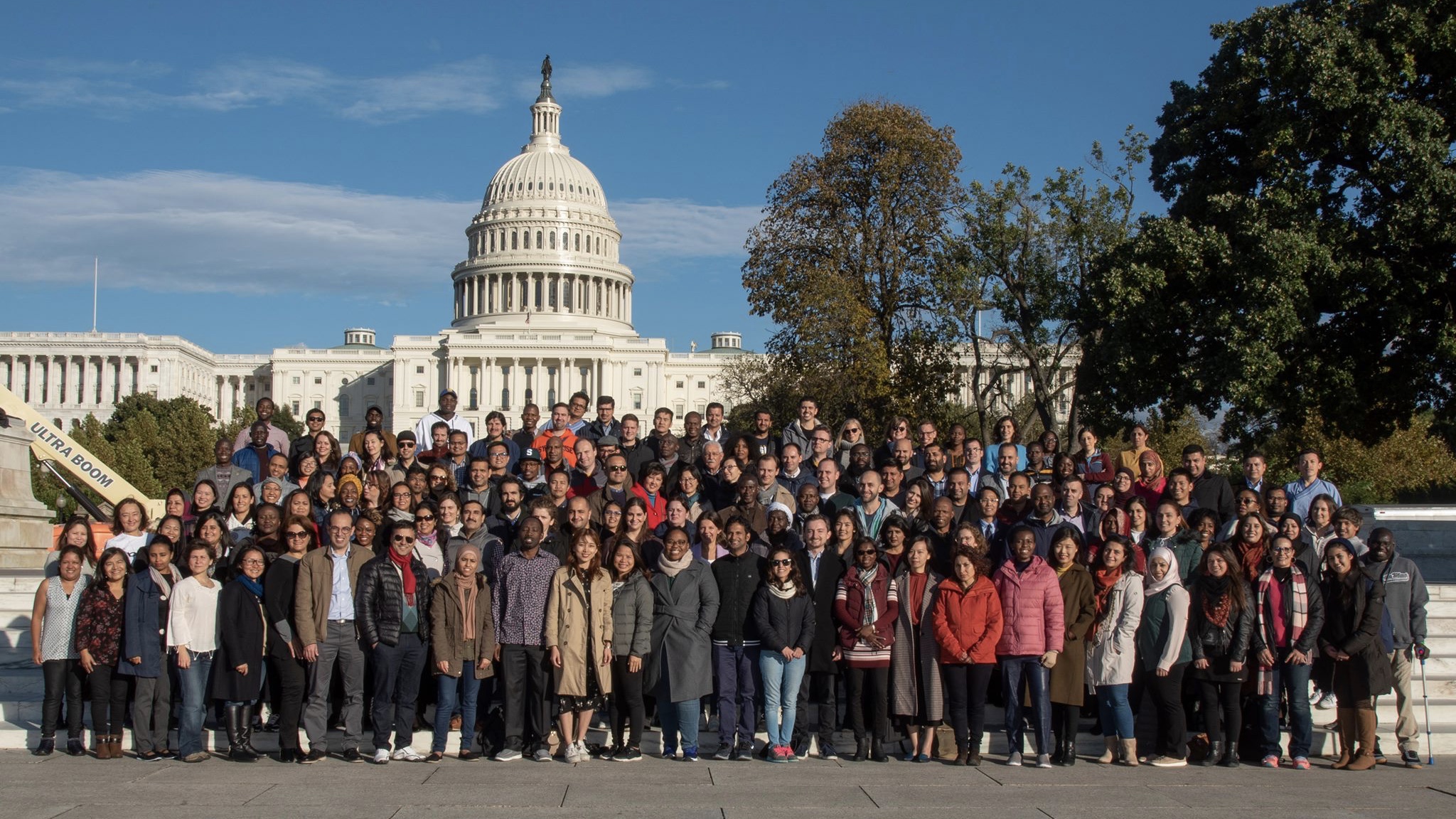 In the fall, the UC Davis Humphrey Fellows joined 171 program fellows from other host universities for the Global Leadership Forum in Washington, D.C, to focus on challenges associated with climate change. Among other activities, they visited the World Resources Institute and the World Bank, met with senators and politicians, and had the opportunity to network and see the sights of the U.S. capital.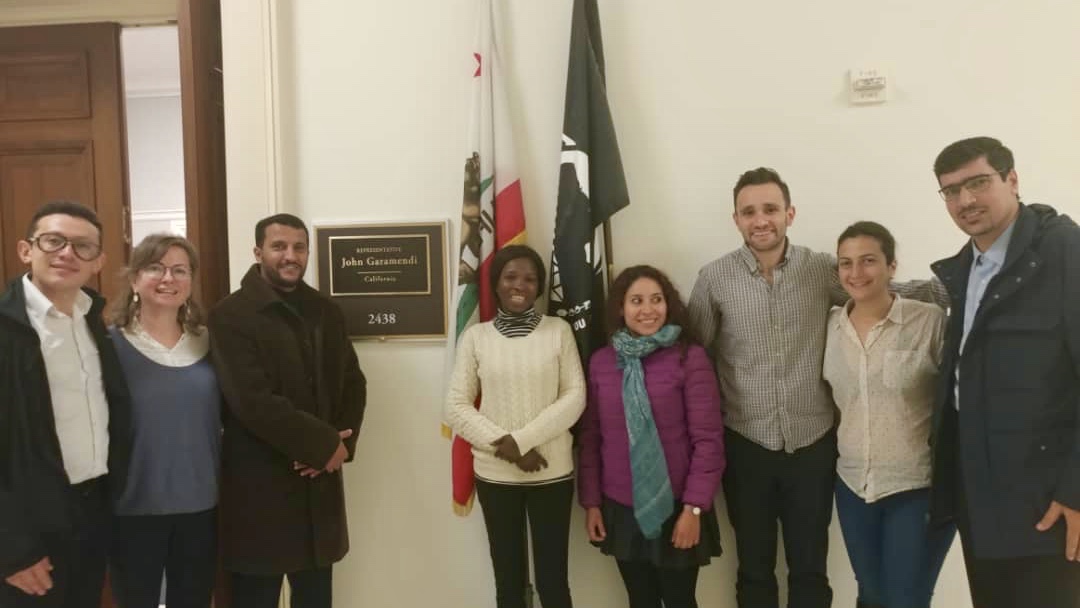 The fellows met with Bradley Bottoms, Deputy Chief of Staff for Representative John Garamendi (representing California's third district). Topics discussed included issues of rural area development, creation of economic opportunity zones, and modernization of California's waterways. The fellows also learned about the process of drafting, introducing, voting, and passing pieces of legislation in Congress.
While in Washington, D.C., the UC Davis Humphrey Fellows also explored museums highlighting American history, natural history and more. Humphrey Fellow Binta Traore (Mali) said she and other fellows visited the National Museum of African American History and Culture, and had a heartbreaking experience listening to the story of "people seen as commodities."
On the last night of the Global Leadership Conference, the fellows attended a Diplomatic Reception at the U.S. Department of State. Marie Royce, Assistant Secretary of State for Bureau of Educational and Cultural Affairs, and Allan Goodman, President and CEO of the Institute of International Education (IIE), provided special remarks for the fellows.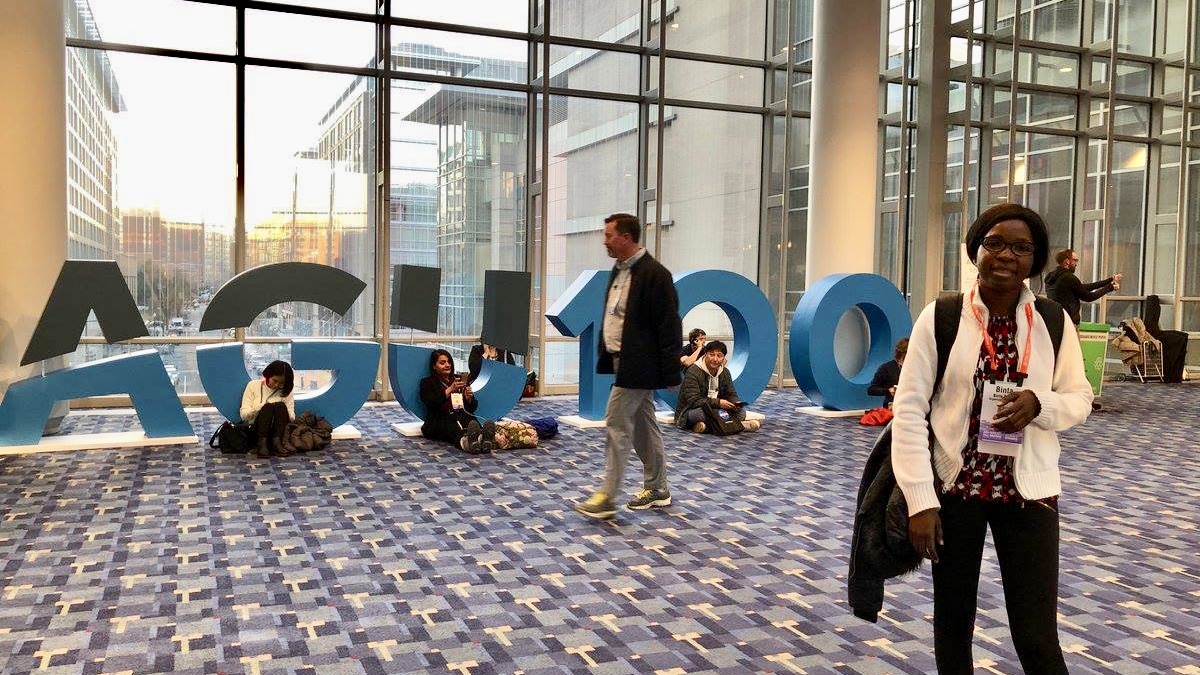 Binta Traore (Mali) was the first person from the Ministry of Mines of Mali to attend the American Geophysical Union Fall Meeting in Washington, D.C. This event focused on ethics, diversity and inclusion, while exploring the many dimensions of science's impact on society. This year was the 100th year celebration, with over 24,000 participants and many networking opportunities.
Meeting, Presenting, and Workshopping
Discussions with Government Officials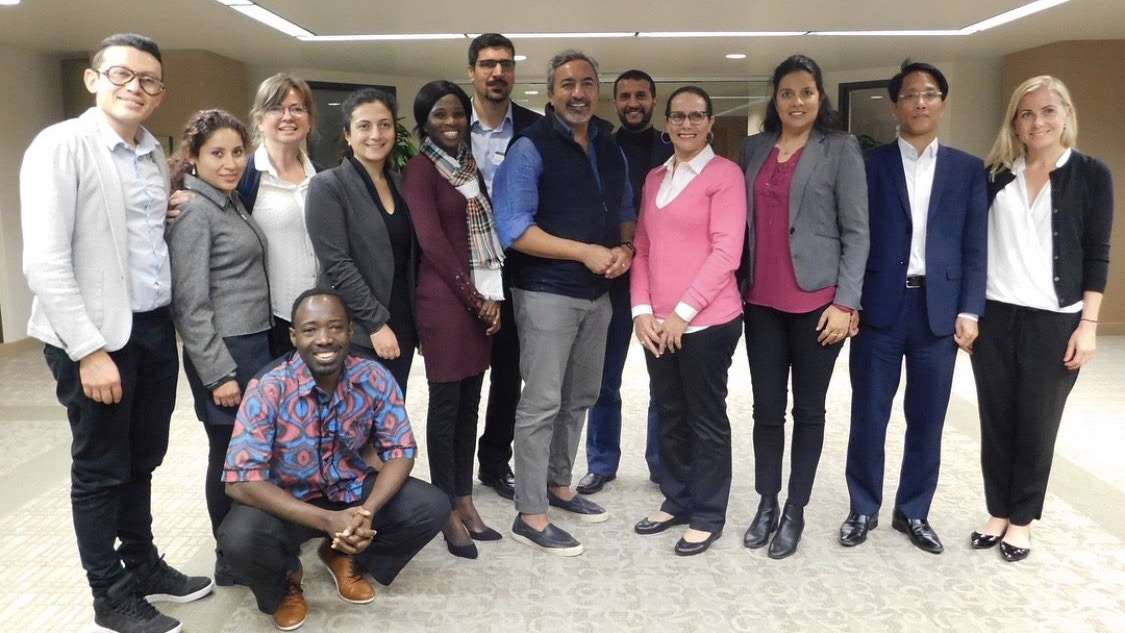 In October, the UC Davis Humphrey Fellows met with Representative Ami Bera (representing California's 7th congressional district), in Sacramento. They discussed various issues, including combating climate change, reducing waste, and how to best mitigate challenges in their home countries.
Attending the Global Climate Action Summit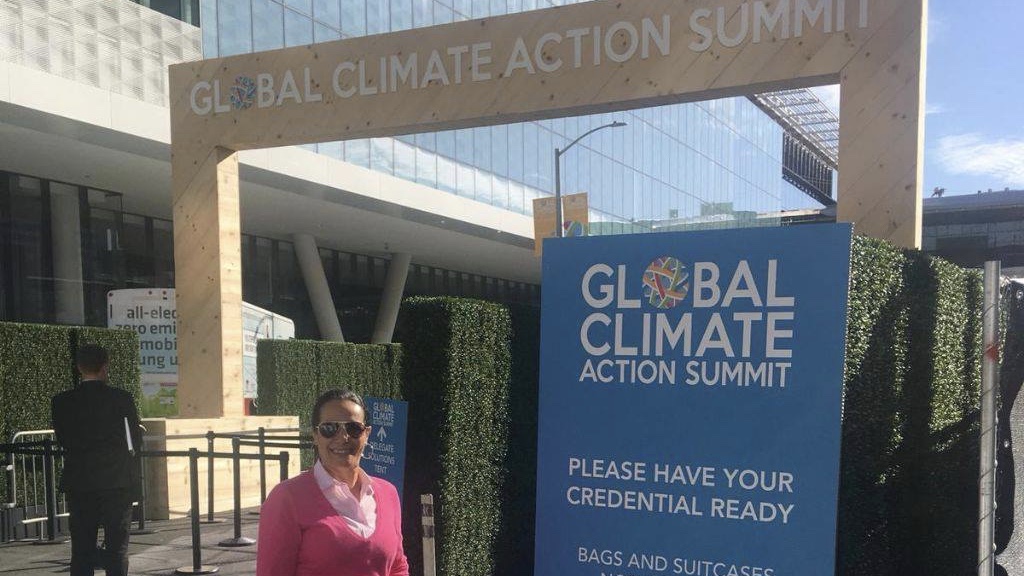 At the Global Climate Action Summit, leaders from around the world, including UC Davis Humphrey Fellows, had the opportunity to attend climate action panels, workshops, tours and other special events in San Francisco.
Participating in the UN Climate Change Conference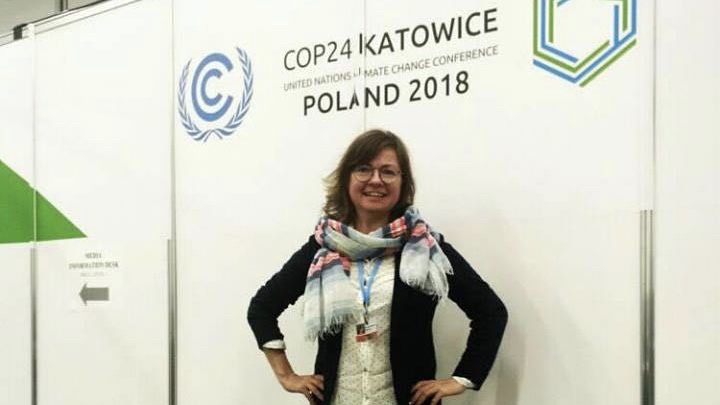 In December, Angelina Davydova (Russia) attended the UN Climate Change Conference in Katowice, Poland. She moderated a training session on climate journalism for a group of journalists from Central Asian countries. Davydova facilitated a half-day meeting and planning session of NGOs, think-tanks, journalists, and representatives from Eastern Europe, Central Asia and the Caucasus, co-organized by the Climate Action Network and the Friedrich Ebert Foundation.
Davydova also moderated two sessions in Russia's country pavilion (one about opportunities and obstacles to Russia's low-carbon development and one about education for sustainable development), and spoke at a session dedicated to climate-related educational programs, sharing her experience of teaching environmental and climate journalism (bringing in her experience as a Humphrey Fellow).
Attending Law Conferences
Professional development is an essential part of the Humphrey Fellowship. In February, some UC Davis Humphrey Fellows attended the UC Davis School of Law and Jindal Global Law School Conference: Law and Sustainable Development. The conference brought together scholars from a variety of fields, including corporate law, human rights and environmental law. Participants discussed the role of law in achieving and implementing sustainable development through innovation, intellectual property, and environmental issues.
Meeting a "Sister City" Mayor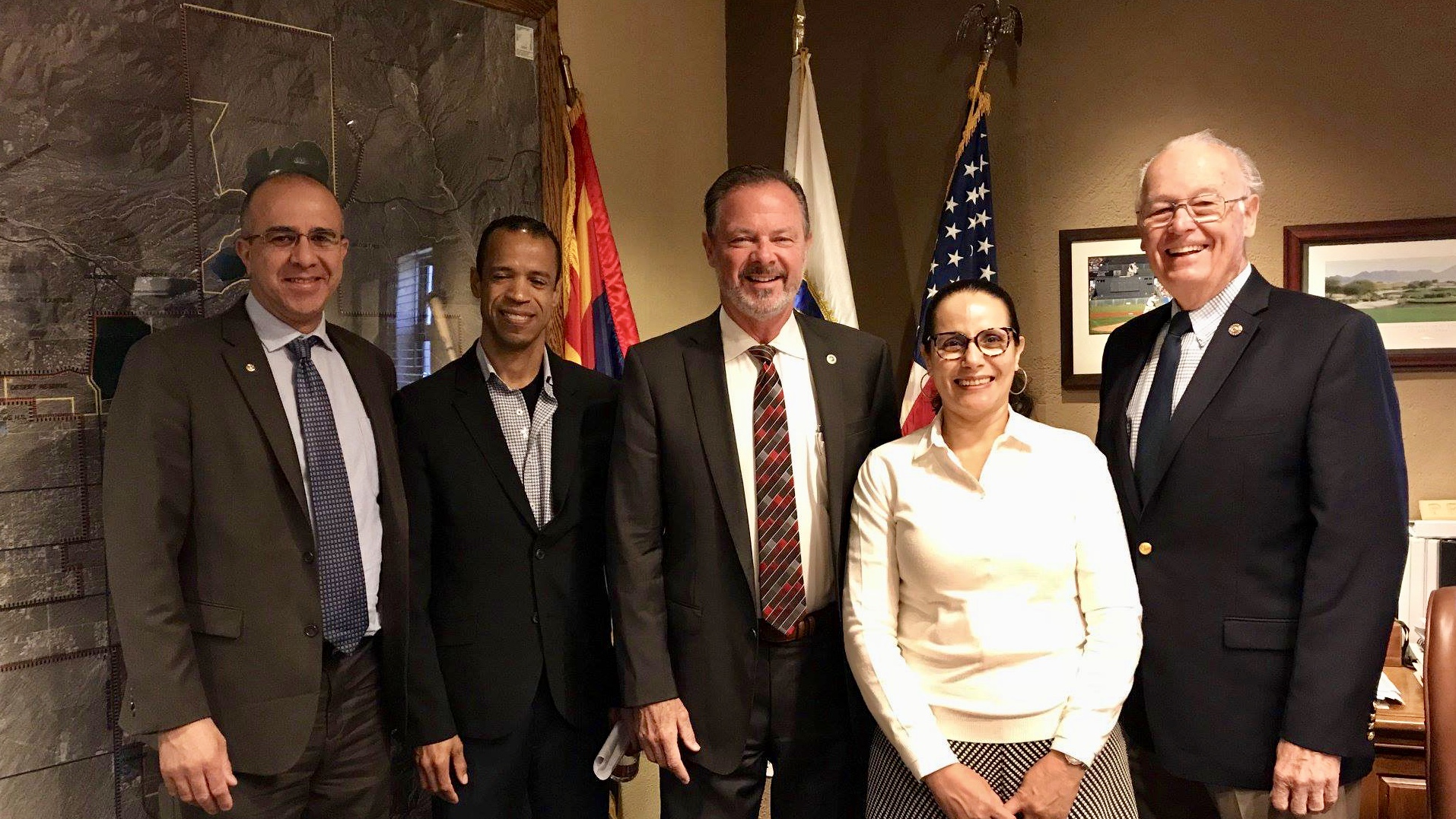 In March, UC Davis Humphrey Fellow Mina Kamal (Morocco) met with Jim Lane, the mayor of Scottsdale, Arizona, and other city officials, to exchange information about "sister cities" Scottsdale and Marrakech, Morocco. 
During their meeting, Kamal and the officials discussed strategies to mitigate drought, which is considered one of the most pressing issues facing both of these cities. The mayor explained Scottsdale's techniques for reusing treated wastewater through reverse osmosis to irrigate golf courses and recharge the aquifer. Kamal, who was the head of the environment department for the Wilaya of Marrakech-Safi Region in Morocco prior to her fellowship, discussed Marrakech's strategy of using reclaimed water through tertiary treatment to irrigate golf courses and the Palm Grove. At the end of the meeting, all stakeholders agreed to continue to exchange information and best practices regarding wastewater treatment and reuse.
Partnering with the International Relations Student Association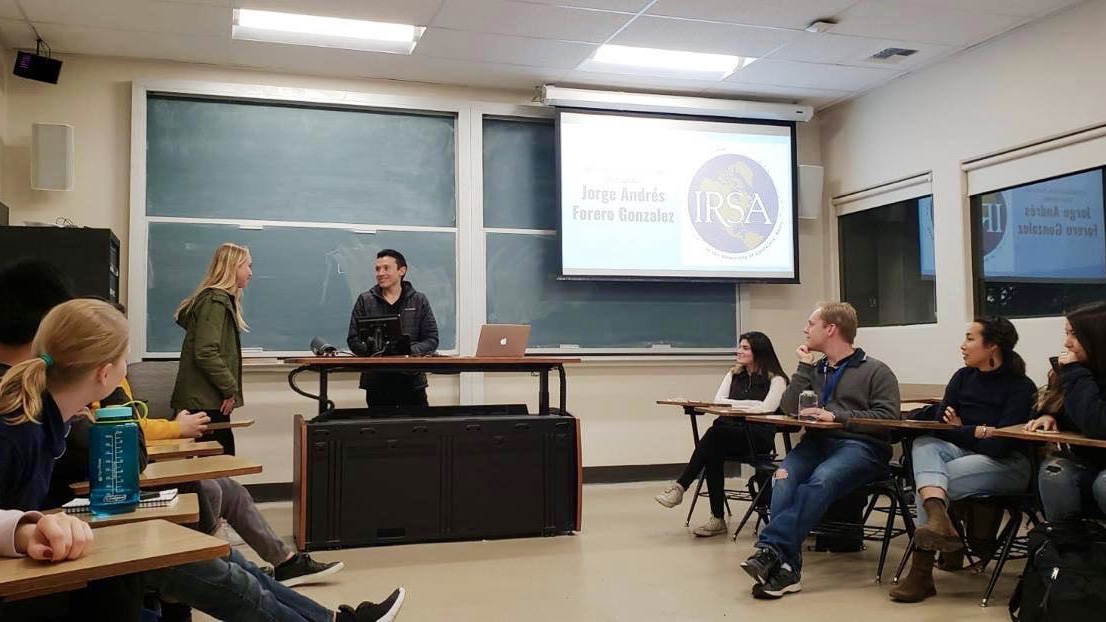 UC Davis Humphrey Fellow Jorge Andrés Forero-González (Colombia) gave a presentation on peace-building in Colombia to the International Relations Student Association (IRSA). Forero-González's presentation was entitled "Colombia in the Planet and Peace-building" and covered an overview of the country within the context of the continent, the importance of indigenous nations, black communities, and peasant communities in Colombian history, local culture, and peace-building plans. 
UC Davis students inquired about the various possibilities of building peace in scenarios of war and challenges to the reconciliation processes; Forero-González remarked that it is time to exchange knowledge, network, and build bridges together to solve global problems. He stated that he, "feels like a generation is working together building hope in weekly problems with a global vision."
Learning About Energy Resilience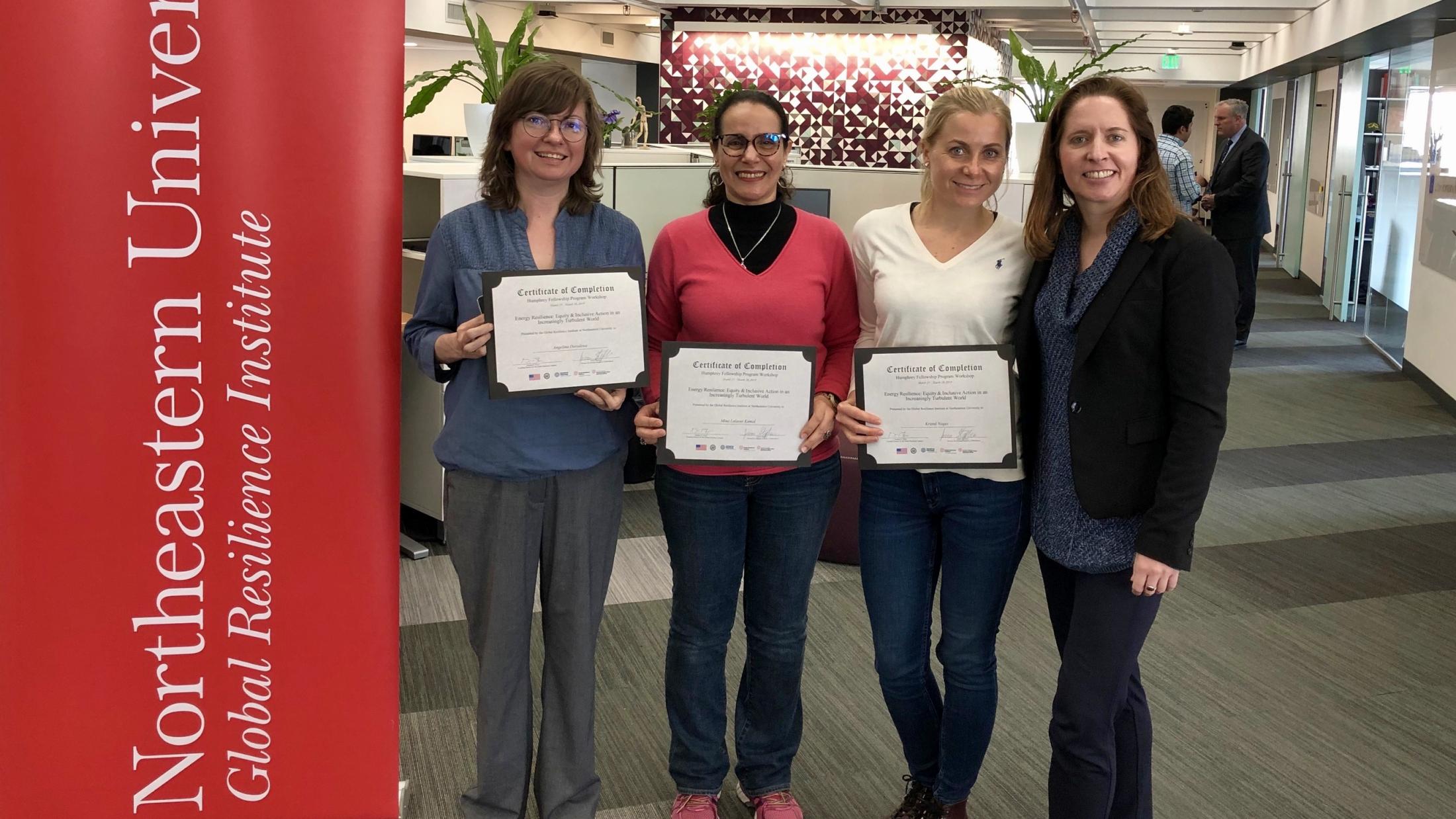 In April, UC Davis Humphrey Fellows Angelina Davydova (Russia), Mina Kamal (Morocco), and Kristel Nõges (Estonia) attended the Humphrey Fellowship Program's Enhancement Workshop on Energy Resilience, organized by Northeastern University and sponsored by IIE and the Hubert H. Humphrey Fellowship Program.
Speaking About Climate Change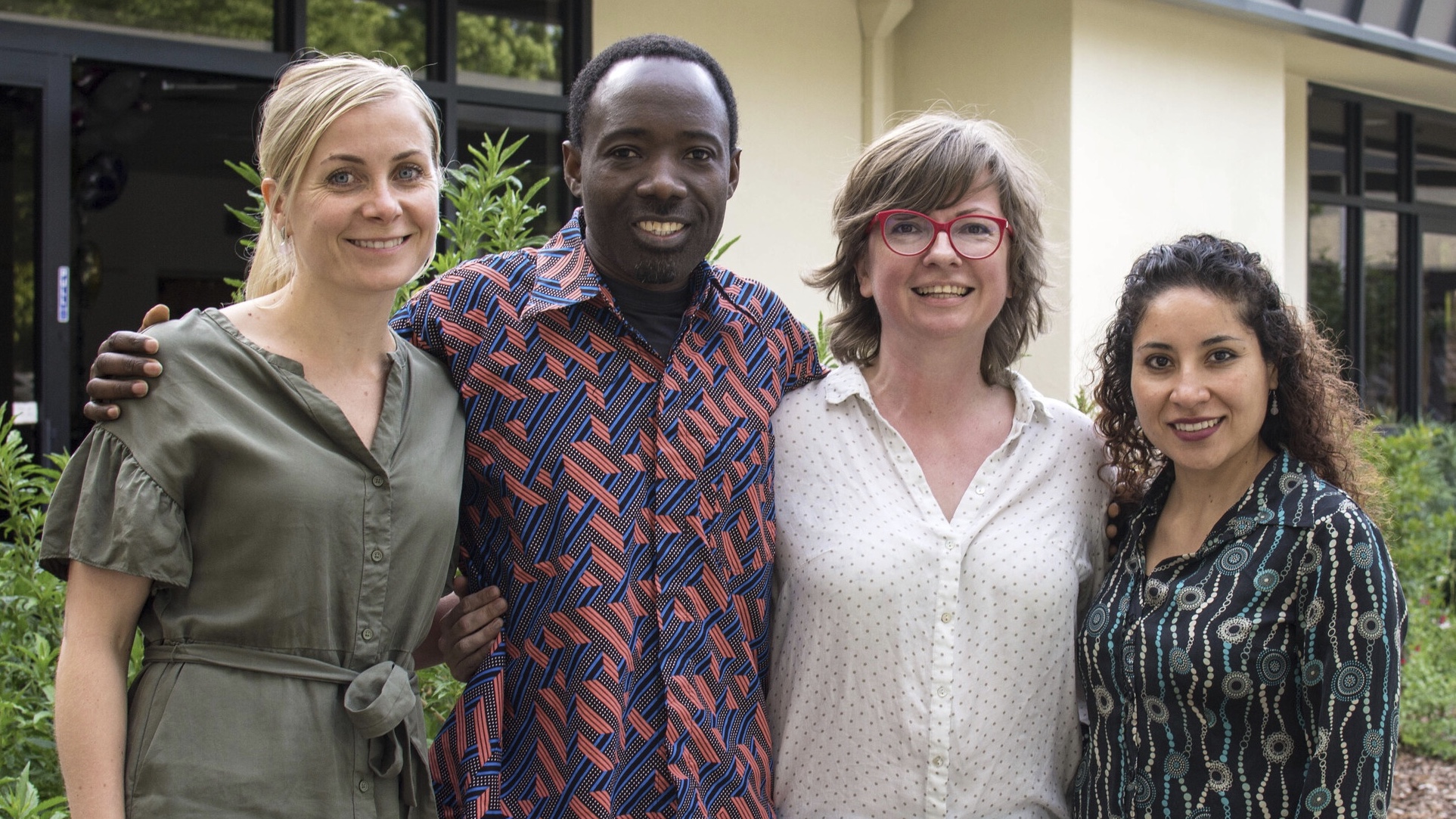 In May, four of the 2018-19 UC Davis Humphrey Fellows, Sophia Espinoza (Bolivia), Angelina Davydova (Russia), Kristel Noges (Estonia), and Venance Segere (Tanzania), presented to the Davis community about climate change in their home countries. Each fellow had a unique perspective to offer. The event was co-hostedby Cool Davis, YOLO Interfaith Alliance for Climate Justice and St. James Gospel and Environmental Justice.
Presenting on Environmental Challenges
UC Davis Humphrey Fellow Mina Kamal (Morocco) presented to the introductory graduate course "Philosophy and Practice of Agricultural Development." Her lecture focused on environmental challenges and opportunities in Morocco, including waste, water and solid household waste.
Collaborating on Research, Professional Affiliations
In the winter, UC Davis D-Lab and UC Davis Humphrey Fellow Irina Mkrtchyan (Armenia) started a project to build a working prototype of a mobile plastic recycling device for educational use.
The prototype will be taken to Armenia for students at the 50 partner educational institutions of ISSD to recycle plastic that is being collected on their premises.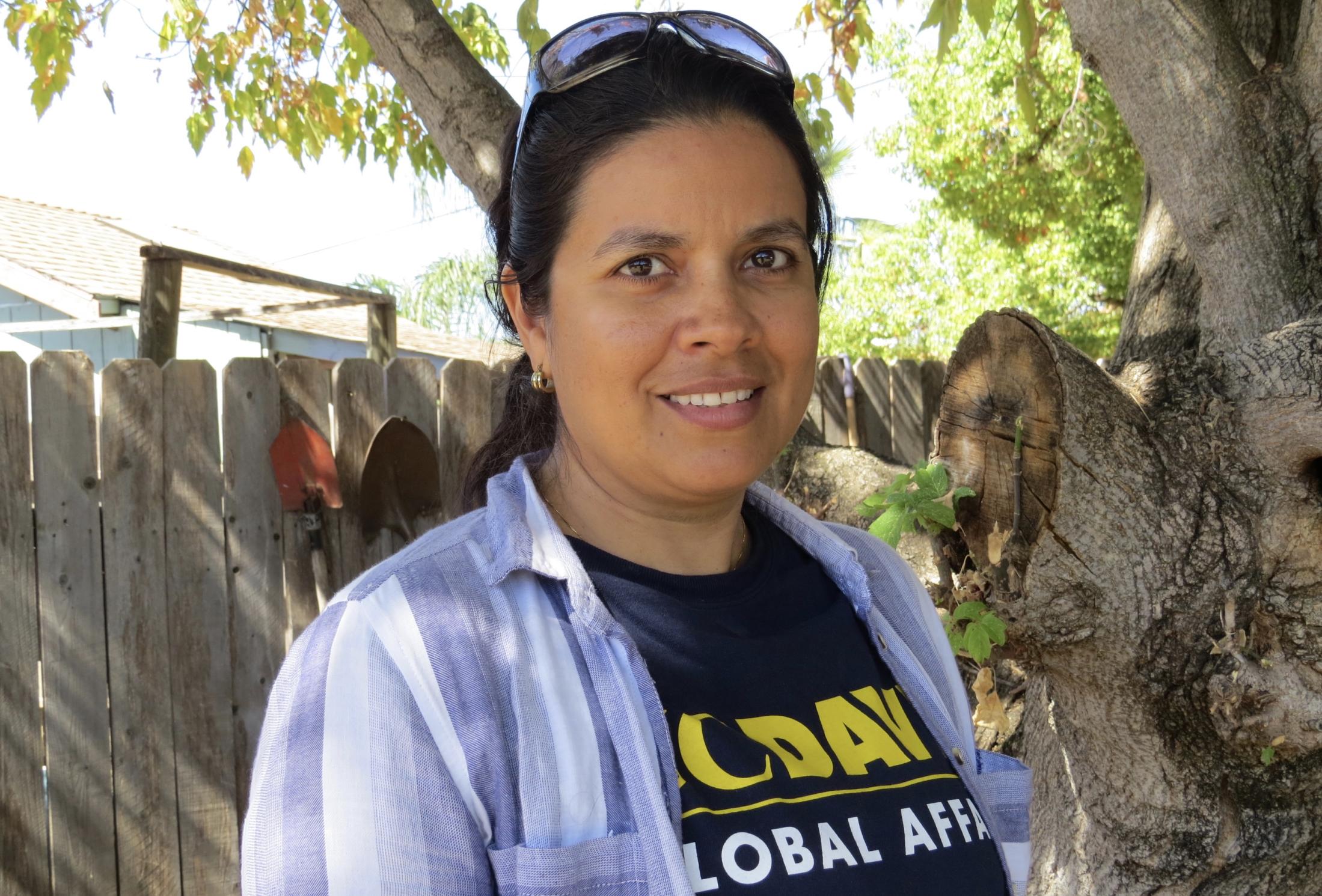 UC Davis Humphrey Fellow Marlen Navarro (Cuba) worked extensively with the Seed Biotechnology Center on campus and performed a number of trails with brassica (broccoli). She also at one of Sacramento City College's world history course.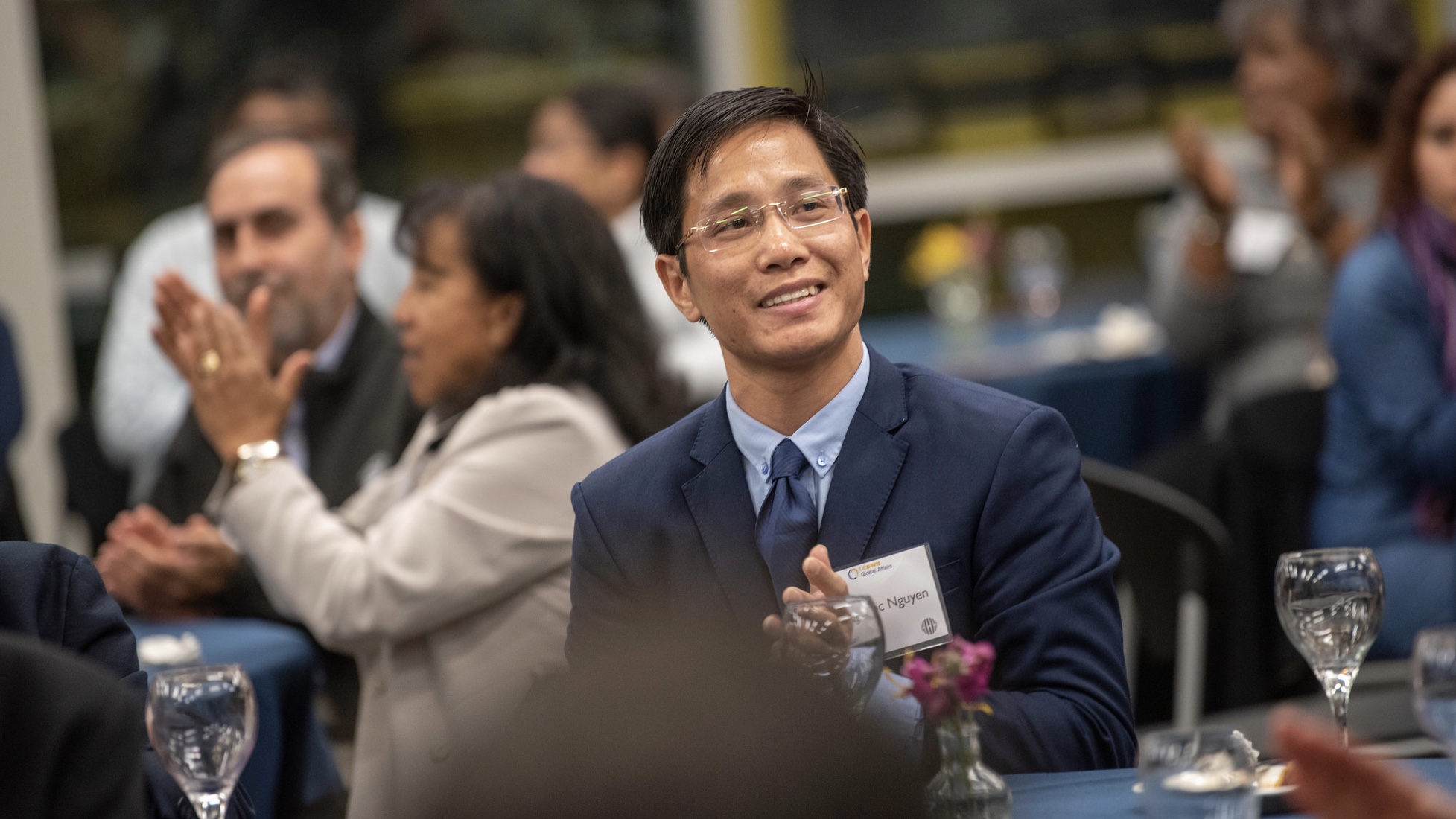 UC Davis Humphrey Fellow Son Nguyen (Vietnam) achieved a top priority of his fellowship year, receiving his Project Management Professional, a certification given by the Project Management Institute, and an essential next step for him as he transitions into more of a leadership role in his home country.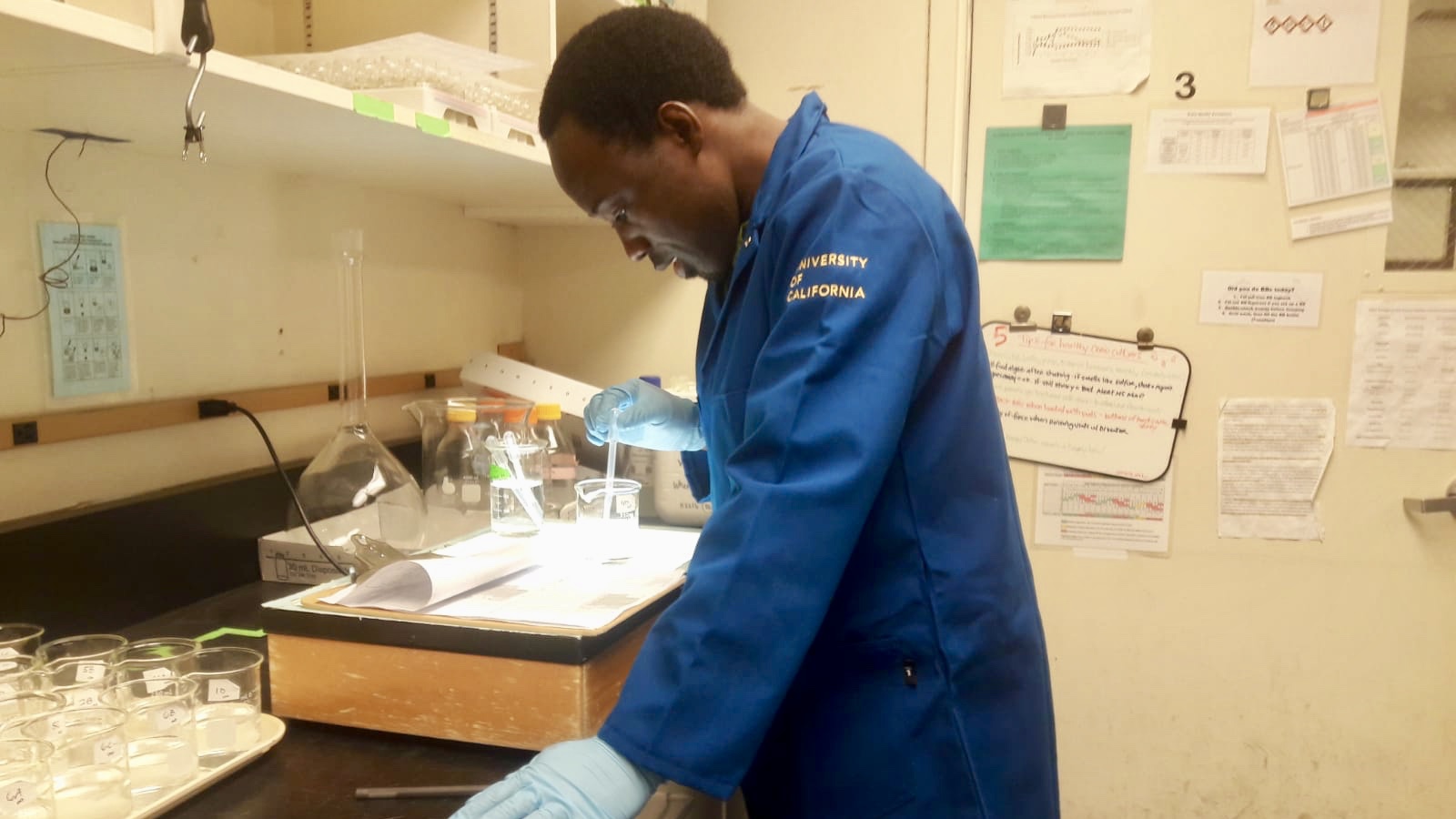 Working with the UC Davis Aquatic Toxicology Lab, Humphrey Fellow Venance Segere (Tanzania) tested toxicity levels of water samples from different sources, including the Sacramento River, by checking the survival rate of aquatic animals when they are exposed. These water samples are presumed to have pollutants which affect the health and behavior of aquatic animals, consequently affecting the food chain.
"The skills I am learning here will benefit my community as I am planning to start the Ngerengere River water monitoring program in my city of Morogoro" said Segere. "Despite its significance, the river continues to be polluted from industrial, domestic and agricultural activities. This poses health concerns for community members who depend on the river for their well-being."
During his fellowship experience, Humphrey Fellow Abdelkader "Gadri" Abdulla (Libya) had a rewarding professional affiliation with the UC Davis Wastewater Treatment plant, which has similar facilities (size, scope, technologies) to what is being adopted in Libya, leading to a fruitful joint exchange.
Similarly, Humphrey Fellow Hossein Babazadeh (Iran) had a productive professional affiliation with Isaya Kisekka, assistant professor of agricultural water management and irrigation engineering, as well as with the Stokholm Environmental Institute (SEI) in Davis.
Celebrating a Successful Fellowship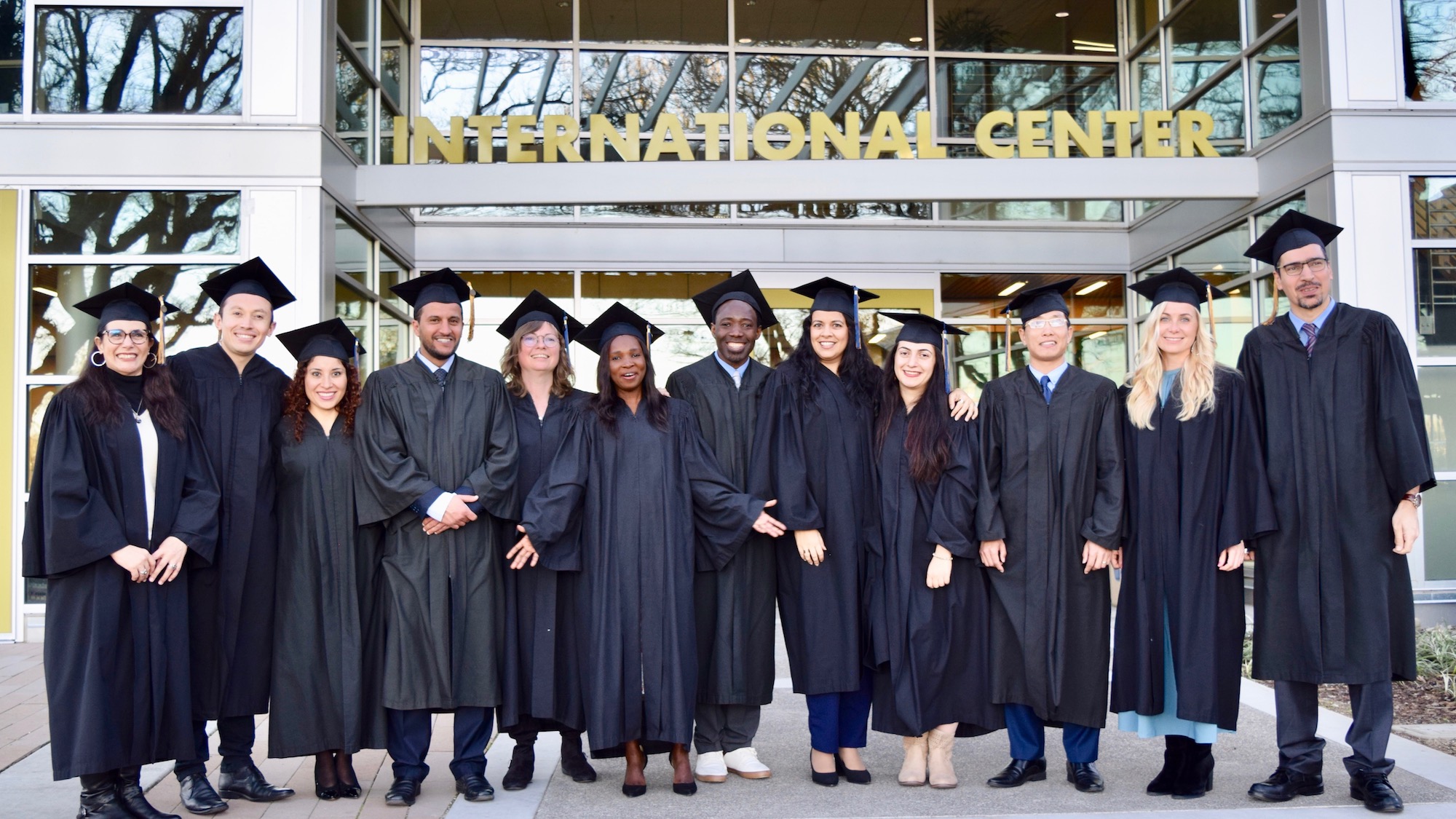 As a part of a Humphrey Fellowship Program tradition, Global Affairs honored the 12 UC Davis Humphrey Fellows of 2018-19 with a graduation celebration.
---
About Global Affairs at UC Davis
Global Affairs brings the world to UC Davis, welcoming more than 10,000 international students, scholars and leaders, and hosting programs that inspire global curiosity, understanding and engagement. Compelled by the valuable outcomes of thinking globally, we make transformative opportunities a reality by supporting the thousands of students and faculty studying and researching internationally—and by facilitating collaborations that tackle the world's most pressing problems through more than 150 international partnerships.
Putting our vision of a UC Davis community that engages, thrives, and leads in this interconnected world into action, Global Affairs is now in pursuit of an ambitious goal: Global Education for All.
---
About the Hubert H. Humphrey Fellowship Program
An initiative of the U.S. State Department's Bureau of Education and Cultural Affairs, the Hubert H. Humphrey Fellowship Program was founded in 1978 by President Jimmy Carter to honor the late senator and vice president, Hubert H. Humphrey, an advocate of international connections and understanding.
Category
Tags