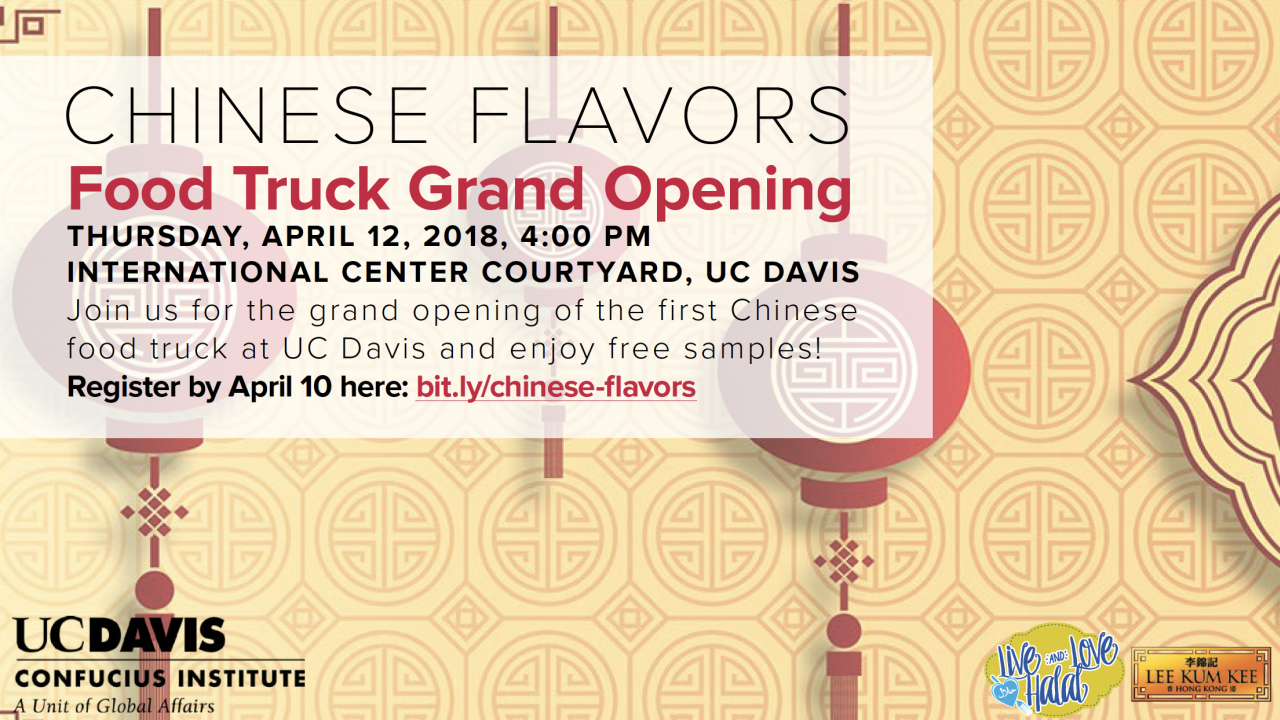 By Rowan O'Connell-Gates, student writer, Global Affairs
A part of UC Davis Global Affairs and among a broad network of Confucius Institutes throughout the United States, the Confucius Institute at UC Davis is planning for a busy spring.
Beginning with the first day of April, the Confucius Institute—which is the first of its kind to focus on Chinese food and beverage—is hosting a cooking competition. Titled the Chinese Flavors: Innovative Cooking Competition, individuals 18 years and older from all over the community are invited to create and submit original recipes by April 9.
The competition partners with Hong Kong based food company Lee Kum Kee. Famed for their sauces, Lee Kum Kee's sponsorship of the competition requires contestants use one of their sauces in the original recipe. Other than the sauce, contestants are encouraged to get creative with their ingredients. If one's recipe is chosen after submission, they will be invited to compete in the final competition on May 12.
"All contestants, including those not in the final competition are welcome to attend the awards ceremony," Confucius Institute Director and Distinguished Professor Michelle Yeh said. "Afterwards, there is a gala dinner at the Robert Mondavi Institute for Wine and Food Science from 6 to 8 p.m."
In the final competition at UC Davis, chosen contestants have 45 minutes to prepare their submitted recipes. First prize in the final round is $1,000 followed by $600, and $300 for the second and third place respectively.
A month prior to the final competition, the Confucius Institute will roll out one more large community event. On April 12, in partnership with Global Affairs, Lee Kum Kee, and Live and Love Halal, the Confucius Institute will be unveiling the first Chinese food truck on campus, called Chinese Flavors, in the courtyard of the UC Davis International Center at 4 p.m.
Following welcoming remarks from university leadership, Chinese Flavors will be providing free samples to attendees. In addition, those who register online for the event will receive a coupon granting them two dollars off any menu item in the future. Chinese Flavors will be parked at various locations around campus, ensuring everyone has a chance to try Chef David Tu's authentic Chinese cuisine.
Whether it's by taking your cooking skills to the next level or by trying out a new food offering this spring, the Confucius Institute is providing opportunities to both learn and grow culturally right here on campus.
---
About Global Affairs at UC Davis
Global Affairs brings the world to UC Davis, welcoming more than 8,400 international students, scholars and leaders, and hosting programs that inspire global curiosity, understanding and engagement. Compelled by the valuable outcomes of thinking globally, we make transformative opportunities a reality by supporting the thousands of students and faculty studying and researching internationally-and by facilitating collaborations that tackle the world's most pressing problems through more than 150 international partnerships.

Putting our vision of a UC Davis community that engages, thrives, and leads in this interconnected world into action, Global Affairs is now in pursuit of an ambitious goal: Global Education for All.
Category
Tags