Global Aggies: Amplifying Global LGBTQ History in the Classroom and Across East Asia
An expert in East Asian studies with a dedication to advancing LGBTQ history through international collaborations, Howard Chiang joined the faculty of UC Davis in 2017 and is now an associate professor in the College of Letters and Science's Department of History.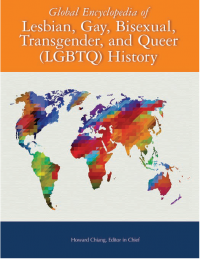 His pioneering three-volume Global Encyclopedia of Lesbian, Gay, Bisexual, and Transgender, and Queer (LGBTQ) History, for which he served as editor-in-chief, won the 2020 Dartmouth Medal thanks to its merging of global LBGTQ history into one resource. Awarded by the American Library Association, it was named the best reference resource of 2019 and includes extensive global coverage, with contributors hailing from nearly 40 different countries.
Born in Taiwan and raised in Canada, Chiang says that throughout the cross-cultural editorial and research process, he thoroughly appreciated working with experts in fields different from his own area of specialization.
"This includes the stellar board of seven associate editors that co-edited the encyclopedia with me, as well as the hundreds of authors who contributed," he says. "I enjoyed learning about queer actors, stories, and events in the past and, by extension, synthesizing them into a framework."
Chiang's primary research focuses on the history of modern China and global Sinitic-language cultures and communities. Chiang is especially interested in the critical studies of science, medicine, gender, and sexuality.
"I've always been interested in the history of sexuality," he says. "As a student, I discovered that although there is a healthy body of literature on this topic in the European and American contexts, very little has been written about queer history in East Asian societies. That motivated me to pursue more in-depth research on LGBTQ history in China and Sinophone cultures."
Chiang's lifelong interest resulted in the book After Eunuchs: Science, Medicine, and the Transformation of Sex in Modern China, which analyzes the history of sex change in China from the demise of castration in the late Qing era to the emergence of transsexuality in Cold War Taiwan. It received the 2019 International Convention of Asia Scholars Humanities Book Prize and the 2020 Bonnie and Vern L. Bullough Book Award from the Society for the Scientific Study of Sexuality. 
His most recent publication is Transtopia in the Sinophone Pacific (2021), a detailed analysis of sex transformation, queer inhumanity, cinematic castration, and civic change. Chiang says he coined the word transtopia as a neologism for peeling back the layers of cross-cultural politics in anti-transphobic inquiry. In essence, transtopia refers to different scales of gender transgression that are not always recognizable through the Western understanding of transgender.
Global Collaborations to Overcome Obstacles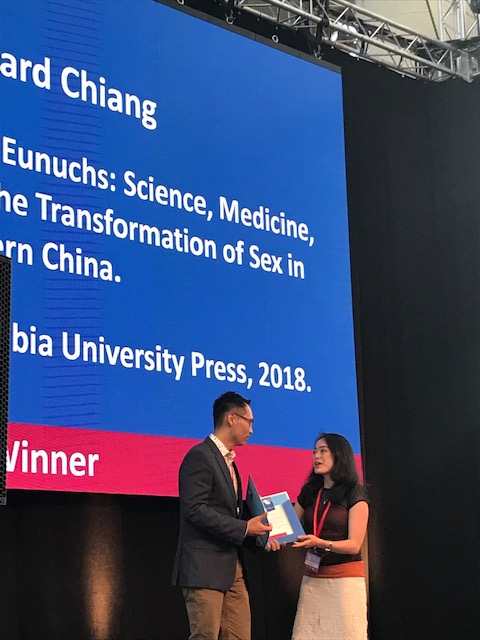 "Because the interest of sexual minorities is often neglected in history textbooks and mainstream media, I wanted to do something about that," he says.
"I also wanted to do something about how regional LGBTQ histories tend not to speak to one another," he says.
Viewed in this light, Chiang says The Global Encyclopedia of LGBTQ History represents a work of synthesis that highlights the need and importance of international collaboration in LGBTQ history.
"Within national or local contexts, LGBTQ subjects tend to be invisible, which make the study of their history challenging," he says.
"Collaboration helps scholars overcome obstacles that might otherwise hinder their individual research. Knowing people, becoming networked, and learning from each other are very crucial for a small, but growing, field like LGBTQ history," he says.
Chiang notes that in a related way, across regional divides, queer historians are also often marginalized in their own field.
He sees global collaborations as providing a level of support that these historians typically don't receive from the larger profession.
Expanding LGBTQ Curriculum Opportunities
On campus, Chiang is affiliated with the UC Davis Departments of East Asian Studies, Science & Technology Studies, Cultural Studies, and Gender, Sexuality, and Women's Studies, thanks to his myriad teaching and research endeavors. Since 2019, he has also served as the founding chair of the Society of Sinophone Studies.
"UC Davis is a global university in terms of both the subject areas we teach and the faculty and student population," he says, noting this affords him this interdisciplinary flexibility.
So when it comes to his students, helping them understand how gender and sexual minorities have been treated in different areas of the world plays a key role in fostering their own appreciation for cultural differences—not only in the classroom but also in general social interactions.
"For instance, in the history department at UC Davis we offer courses on global sexualities and sex, science, and society," he says. "These are regularly offered alongside upper-level courses in the history of gender and sexuality that cover almost every major continent in the world."
Similarly, as a part of the Global Education for All initiative at UC Davis, Global Affairs recently launched a Global Aggie Award for LGBTQIA+ Rights to support UC Davis students in gaining global learning experiences that advance local and global LGBTQIA+ issues and address the needs and strengths of the LGBTQIA+ community.
To enhance intercultural competency, empathy, and connection, Chiang is quick to emphasize the importance of reading scholarly work in gender studies, and taking courses in the history of sexuality.
"This helps both students and teachers become more fully engaged with global trans and LGBTQ history," he says, "and aid in the expansion and interdisciplinary nature of the fields."
This is part of a series featuring Global Aggies—members of the UC Davis community who are living the Global Affairs mission: to inspire global curiosity, understanding and engagement. Learn more about 
Global Aggies at UC Davis
.
---
About Global Affairs at UC Davis
Global Affairs brings the world to UC Davis, welcoming more than 10,000 international students, scholars and leaders, and hosting programs that inspire global curiosity, understanding and engagement. Compelled by the valuable outcomes of thinking globally, we make transformative opportunities a reality by supporting the thousands of students and faculty learning and researching internationally—and by facilitating collaborations that tackle the world's most pressing challenges through more than 150 global partnerships.
Putting our vision of a UC Davis community that engages, thrives, and leads in this interconnected world into action, Global Affairs is in pursuit of an ambitious goal: Global Education for All.
Primary Category
Tags